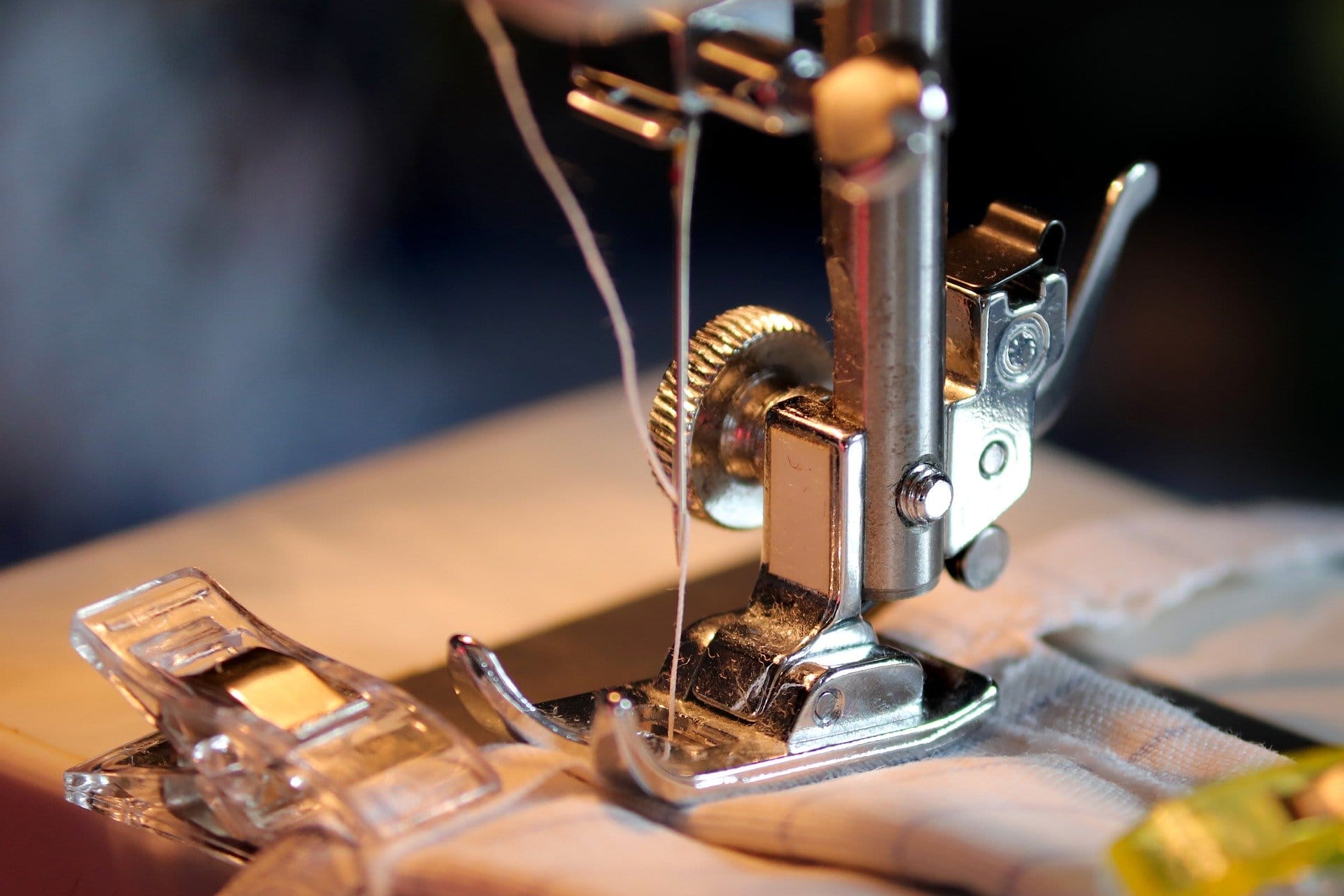 Threads come in different types. You can choose from a variety of colors and diverse kinds of materials. That is the beauty of embroidery. It lets you enjoy the craft by giving you a lot of choices and not only in your fabrics and designs but in your threads as well.
Each method of embroidery uses a specific kind of thread. But there are times that you can use it for other types of fabric craft. For example, you can use an embroidery thread in your sewing machine. That will not make a lot of difference in the stitches.
One thing that you need to remember is to choose the thread that fits your project. You can always adjust depending on the design. There are a lot of alternatives available when it comes to embroidery. You can always be flexible and creative with your projects as long as the outcome is how you want it to be.
Is there a difference between embroidery thread and sewing thread?
Threads used in fabric craft differ from each other. You classify them according to the type of project that you are working on. The most common threads used in designing fabrics are embroidery and sewing thread.
You can use both as an alternative for each other because of some similarities. But they also have differences in some aspects.
Embroidery and sewing thread are both used for sewing and for designing fabrics such as shirts and jeans. But the two of them differ in their texture.
Embroidery thread is a special kind of thread used for embroidery work. It has a unique sheen coating that you can notice right away, whereas the sewing thread does not have this sheen coating. It is only a plain thread without any texture on it.
What is the difference between embroidery thread and regular thread?
Embroidery thread is sometimes mistaken for a thread for other crafts. Choosing threads for sewing or embroidery is a bit challenging. That even seasoned experts find it confusing at times.
If you are new to fabric craft, knowledge on the different weights and sizes of threads is necessary as this helps you choose the appropriate material to use for your project.
There are three differences between embroidery and regular thread. Here are the things that you need to take note of.
First is their purpose. You use embroidery thread for different types of embroidery while you use a regular thread for sewing garments.
Second is their material composition. You use rayon and polyester for embroidery threads, while regular threads are either made of cotton or wool.
The third is its texture. Embroidery thread has sheen covering, while regular thread does not have any sheen.
Their differences are what classifies them from each other. But you can use them for the same purpose of designing a piece of fabric.
Is embroidery thread stronger than an all-purpose thread?
Knowing the different kinds of threads in embroidery is essential. It is like knowing the basic hand stitches. You have to familiarize yourself with the types of thread that you need to use for your project.
Using random threads may end up disappointments and unfortunate events. It is a must for beginners to know the difference between the two types of threads.
They need to know different embroidery and all-purpose thread. You may think that you can use any thread for your project, but that is not the case.
You need to take note that the strength of your needle plays an important part. Take, for example, the difference in strength between embroidery and all-purpose thread.
These two differ a lot when it comes to how durable and robust they are. Embroidery thread is more potent than an all-purpose thread. Here is why:
Embroidery thread has to go in and out of the fabric several times. Either it is hand embroidery or machine embroidery. It also grips other materials included in the design, which is why it needs to be reliable. You use an all-purpose thread for basic stitches and edging. You will use this thread 95% of the time. But it cannot withstand canvas or a very fine sheer fabric.
An all-purpose thread has a limitation into what fabric it can sew. It is because its strength is not that durable to withstand heavy fabrics. You cannot also use it for projects that need exposure to very high heat and direct sunlight.
Rayon and polyester is the primary material of embroidery thread. You can also find embroidery thread made of cotton and silk. Rayon and silk thread work well with lightweight and medium-weight fabric. But if you are using a heavier fabric, you need to use a polyester embroidery thread.
All-purpose thread is usually made of cotton or wool. It is not as heavy and thick as 'heavy-duty thread' nor as thin and light as embroidery thread.
Can you hand sew with embroidery thread?
Choosing a thread for your embroidery project can sometimes get challenging. It gets confusing at times because of the variety of options. You might even end up buying the wrong ones if you are a beginner in embroidery.
If you are still not sure what to buy, always go with embroidery thread. That is the safest option you have. It is what most embroidery enthusiasts use to design their fabrics.
There is a technique that you can use when hand sewing with embroidery thread. It usually comes in 6-ply, which means six strands put together in one strand.
How many strands of embroidery thread do you use?
To make it easier when you sew, pull out 2-3 strands and use it for sewing. Using the whole 6-ply strand will be demanding as you need to go back and forth. With fewer thread strands, it is easier to stitch from one point to another. But you can still go with six strands to achieve a standard embroidery look.
Can you use embroidery thread for quilting?
Fabric craft has a lot of varieties. One of those is quilting. For embroidery beginners, this might sound unfamiliar. Quilting is done to create different art quilts. Some of the examples are bed coverings and clothing. It can produce different effects depending on the chosen patterns. It can also flatten one area so that other parts can stand out.
Quilting also needs specific materials to start with. One of the most important is the thread. The thread holds everything together when you are doing quilting.
Whether you are quilting by hand or machine, it is vital to choose the best thread for your project. The most common thread for quilting is a cotton or polyester thread. But you can also use an embroidery thread for your quilting projects.
If you are not yet familiar with quilting, here is the step-by-step process on how it is done.
1. Prepare your materials – To start quilting, you will need a few articles. Prepare the following:

cotton or polyester thread
batting
coordinating fabric for binding
cutting mat
quilting ruler
rotary cutter
pins or clips
needle
2. Choose a quilt pattern – If this is your first time doing a quilt, start with small patterns. It will help you learn the basic techniques. Baby quilts are the best for beginners. You can choose from a variety of patterns that suits your preference.
3. Prewash your fabric – This is not required, but it does help remove extra dye things in your material. It can also help remove dirt and marks in the fabric that may confuse once you start stitching.
4. Prepare your pieces – Determine how big you want your quilt should be. Make exact measurements before cutting all the parts as this can give an assurance that your articles will fit the entire size of your quilt. Lay each piece in the cutting board and use a ruler to measure the exact size.
5. Arrange your quilt – This is the enjoyable part because you get to design your quilt. You can follow your pattern or make adjustments to the design. Make sure that you lay-out the fabric exactly how you want it. After arranging, stock them up by rows. It will be easier to track which comes next in the pattern as you sew. Put the next piece on top of the other.
6. Start sewing – Sew each piece together to begin your quilt. Remember not to pick the pieces randomly. Sew them according to how you arranged them by rows. Use your pins to avoid the parts from moving while you sew. Having a consistent seam on your pieces is essential to have your pattern line up.
7. Combine the rows – After you sew each row, it is time to sew them all together. Take each row and place them adjacent to each other. Sew along the bottom of each row to hide the seams. Repeat the process to the remaining rows. After that, cut the excess fabric and get ready to baste the quilt.
8. Basting the quilt – This is the process of layering your quilt and pinning it in place before you start to sew. Lay your fabrics in the order you want them to appear in your quilt. You can have the backing pattern on the side down and the front pattern side up. Line up all the sides and iron it to smoothen any wrinkles.
9. Sew all the pieces together – After sewing the rows and basting the quilt, it is time to sew everything together. Use your sewing machine to start sewing in the center. You can also begin whichever side you feel comfortable. The important thing is that you will be able to sew the pieces together without leaving a part behind.
10. Sew the binding – You can finish your quilt by sewing your binding. Fold the binding at the back part of the quilt. Then start sewing as this will also serve as the lock of your edges. Workaround the sides of your quilt and make sure that your seams are even.
Quilting may take a longer time to finish than you expected. But you will have a lot of fun doing it while arranging your pattern until the last step. You will learn more techniques as you progress and use it to shorten your sewing time.
Do you have to use embroidery thread for machine embroidery?
It is not necessary to use an embroidery thread for machine embroidery. You can always opt for another kind of thread, but you need to make some adjustments.
If you wish to use a cotton type of thread, you need to adjust your stitching pace. Stitch slowly to reduce and match the size of your needle to the size of your thread. By doing this, you can assure that your fabric does not get damaged.
Also check:
What kind of thread is used for machine embroidery?
As mentioned above, you can use any type of thread for machine embroidery. I recommend using polyester or rayon, but using other threads is still possible. Here are some of the threads that you can use for embroidery machines.
Rayon
Polyester
Cotton
Silk
Specialty
The type of thread you want to use for machine embroidery will have different results. But you can always use some techniques to work it out if you're going to use other types of threads. It is still good to be creative and explore other options.
It is good to know a variety of techniques when it comes to fabric craft. You get to be more creative and flexible when it comes to doing designs.
One of the most important things is that you will be able to grasp the basics. It is a must in fabric craft. Without knowing the basics, it will be difficult to progress as you move forward.
Now that you get to know about quilting, you can start learning its basics. It is not a well-known fabric craft among beginners. But it is an enjoyable craft that you can try while getting to know more about fabric craft.
Aside from that, you also get to create fantastic items out of simple materials. Learning a new craft is always more exciting when you get to experience something new.