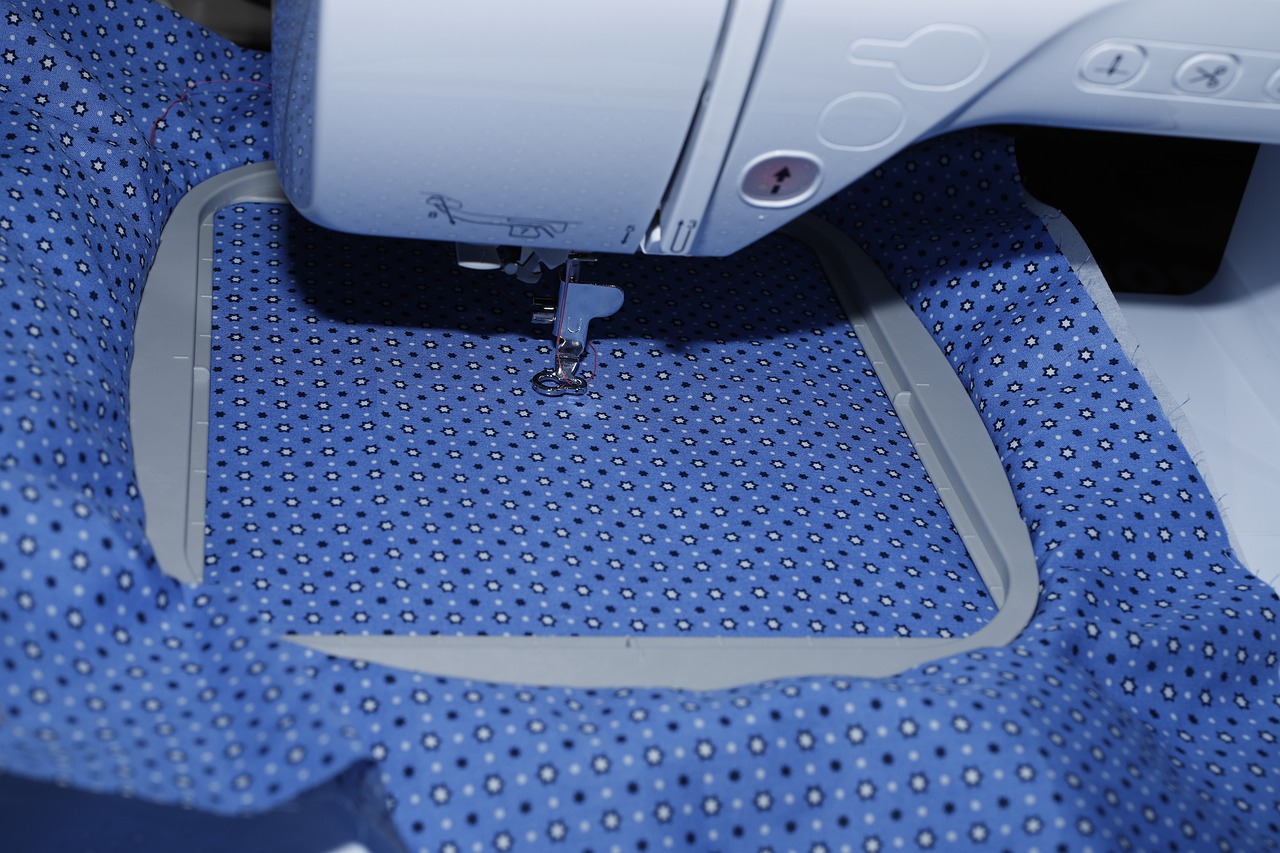 There are many reasons why you should buy an embroidery machine. For example, you can personalize almost any of your garments. So, yes, embroidery machines are worth it! But, do not bother buying expensive ones if you think you will not use them often.
Embroidery machines are fantastic tools to decorate your clothing and apparel. But, machines with more features tend to cost more and take up more space in your workplace. So, it is vital that you first know what you need before you buy one.
Five Reasons To Buy An Embroidery Machine:
Note that it is okay not to buy an embroidery machine if you do not plan to use it often. Also, it is better to buy something else that you will regularly use to maximize your investment! But, these machines are excellent personalizing tools, and here are five more reasons to buy one!
Even the most basic models will help you stitch out names or simple designs to personalize garments. So, you can save money by not asking retailers to monogram your items.
When you embroider on your clothes, you also add some flair and make them more unique!
You can also make small items using your embroidery machine. For example, you can do in-the-hoop projects that let you stitch pieces together.
Besides embroidery, you can also use your embroidery machine for quilting through fabric layers.
You can also embroider stitched appliques using your embroidery machine.
How To Choose An Embroidery Machine
If you decided to buy an embroidery machine, the options might seem confusing and overwhelming. Also, you may be unsure of the features you need and the price you are willing to pay. So, here are ten tips on how to choose an embroidery machine:
Ask yourself: What is the purpose of your embroidery machine?

Embroidery machines can do more than creating simple designs and logos. So, it is best to consider what you want to do with yours. Also, it would help to consider if you will use it for home or business use because it will play a significant role.

For example, if you wish to use it for business, you might want to get one that can manage large-scale production. But, basic models might be better if you will only use the machine for home use.

Are you buying from a reputable brand?

Generally, reputable brands produce quality embroidery machines, but not all are suitable for you. So, it is best to start checking the manufacturers' websites and blogs to know about their products.

It is also an excellent idea to read through comments on forums to feel customer satisfaction. Also, reading comments will help you identify issues with specific models.

Looking for an embroidery machine from the best brands will also help you narrow down your budget. For example, you will find similar devices that are cheaper from some brands than others.

Another essential thing to check is if there are online tutorials available using the machine you want. Ensuring that there are available instructions will help you get started quickly. So, it is best to buy an embroidery machine that many people talk about on the internet.

Is the embroidery machine versatile?

If it is your first time buying an embroidery machine, you may consider buying one that also sews. But do not worry about the extra features if you already have a sewing machine because they can come in handy.

These combination machines usually offer more features, which give your money more value. Also, it can help you save space if you do not have a sewing machine yet.

What is the largest design size the machine can embroider?

When looking for an embroidery machine to buy, it is best to check the physical inner size of the device. Note that the longer the embroidery machine is, the wider the embroidery designs it will produce.

You will know the largest design size when you look at the distance between the needle and the body. Once you know the largest size, it will help you determine your limits.

How many hoops come with the machine?

An embroidery machine is great on its own, but you will get the most out of your investment if it comes with accessories. Note that embroiderers often use different hoop sizes, so it is best to check how many hoops come with your machine.

More expensive machines may have features you would use later on, but cheaper ones may provide the same items as accessories. So, rather than buying the more costly model, you can save money by getting the accessories later.

Is there a variety of built-in designs?

It is also an excellent idea to buy an embroidery machine with various built-in designs. Many embroidery machines only include a few built-in patterns, but what do you do if you want more? So it is best to check if you can transfer your designs to the device.

Some machines use software programs you can use on your computer to add more designs. But, some machine models also offer free software that you can download from the manufacturer's website.

Is it convenient to transfer designs?

As I mentioned, many embroidery machines only come with limited built-in designs. So, it is best to get one that allows you to transfer your designs conveniently.

It is best to get an embroidery machine that can connect to a computer or load data from a flash drive. Also, you can get a device that connects to the internet and allows you to get more designs online. But, I do not recommend buying a machine that needs a computer to run!

Does the embroidery machine have the screen size and features you want?

Screen size is also an essential factor to consider when buying an embroidery machine. For example, you would not want to look at a tiny screen that gives you a difficult time. Also, it is not advisable to get one that has a screen that is too large for your liking.

It would also be best to get a machine with the features you prefer, like a colored or black and white screen. So, it is best to get one that you can work with comfortably to get the most out of your investment.

Can the embroidery machine combine designs on the screen?

Although it may seem simple, not all embroidery machines can combine designs on the screen. So, you may want to buy one that combines patterns to work a few in one run. But, you could also buy software with this feature if you choose a device without this option.

Does the machine come with a warranty and service?
Remember that an embroidery machine is an investment, so it is best to get the most out of it. It will help to check if your device comes with a warranty and service offers. Also, it would be better to see whether the seller offers repair services if something goes wrong.
What Supplies Do You Need For Embroidery Machine?
If you decided to buy your first embroidery machine, it is best to know what supplies you need to get started. Here are five supplies you need for your embroidery machine:
1. Stabilizer
As I always mention, stabilizers are one of the essential supplies you need for machine embroidery. It is a material that goes at the back of your fabric to support it and ensure accurate stitches.
If you are new to machine embroidery, it is best to have at least one of each type of stabilizer. Also, you can use a water-soluble topping over materials like towels to keep the stitches from sinking into the fabric. So, it is best to get one if you do not want unpleasant embroidery pieces.
2. Temporary Adhesive Spray
You might also need temporary adhesive sprays if you work with on-fusible stabilizers. Also, you can remove and reposition items many times without worrying about the stickiness wearing off. So, it is best to get one if you want your stabilizers and fabrics to adhere correctly.
If you cannot find temporary adhesive sprays in your local stores, you can also use other tools. So, you can use pins or tape as long as they temporarily attach your stabilizers and do not ruin your fabric.
3. Needles
Although you can use other needles, it is always best to use embroidery machine needles. Also, it would help to choose the needle size according to the fabric you want to use for embroidery.
Here are some tips for choosing a needle for embroidery:
Use a regular needle to embroider on woven fabrics.
Use a ballpoint needle to embroider on knits.
Titanium needles can help you repel the gumminess that can appear when using sticky-based stabilizers. But, titanium needles can cost more, although they last longer than other types.
Note that the lighter your fabric is, the smaller the needle you need to embroider on it.
4. Embroidery Thread
If you want to create more embroidered designs, it is inevitable to need and buy more threads for your excellent embroidery sewing machine. Here are some tips for choosing the best embroidery floss:
Check your pattern if it recommends a specific embroidery floss.
Consider the texture you want for your embroidered design.
It is also essential to buy from a reputable brand to ensure the quality of the thread.
In most cases, cotton, rayon, and polyester embroidery threads are quality fibers you can use.
Consult the machine's instructional manual to check the best thread weight for your device.
5. Bobbin Thread
Besides the upper embroidery thread, it is also essential to ensure quality bobbin thread for your machine. So, it is best to recheck the manual for the recommended bobbin thread.
The bobbin thread helps pull the needle to the back of the fabric and makes the top look smooth. Also, note that your bobbin thread should be lighter than your upper thread, but it does not have to be in the same color.
Buying an embroidery machine does not have to be too challenging, even if it is your first time. I hope these guidelines and suggestions help you relax a bit more. Also, I hope it gives you some direction on what device can best work for you.