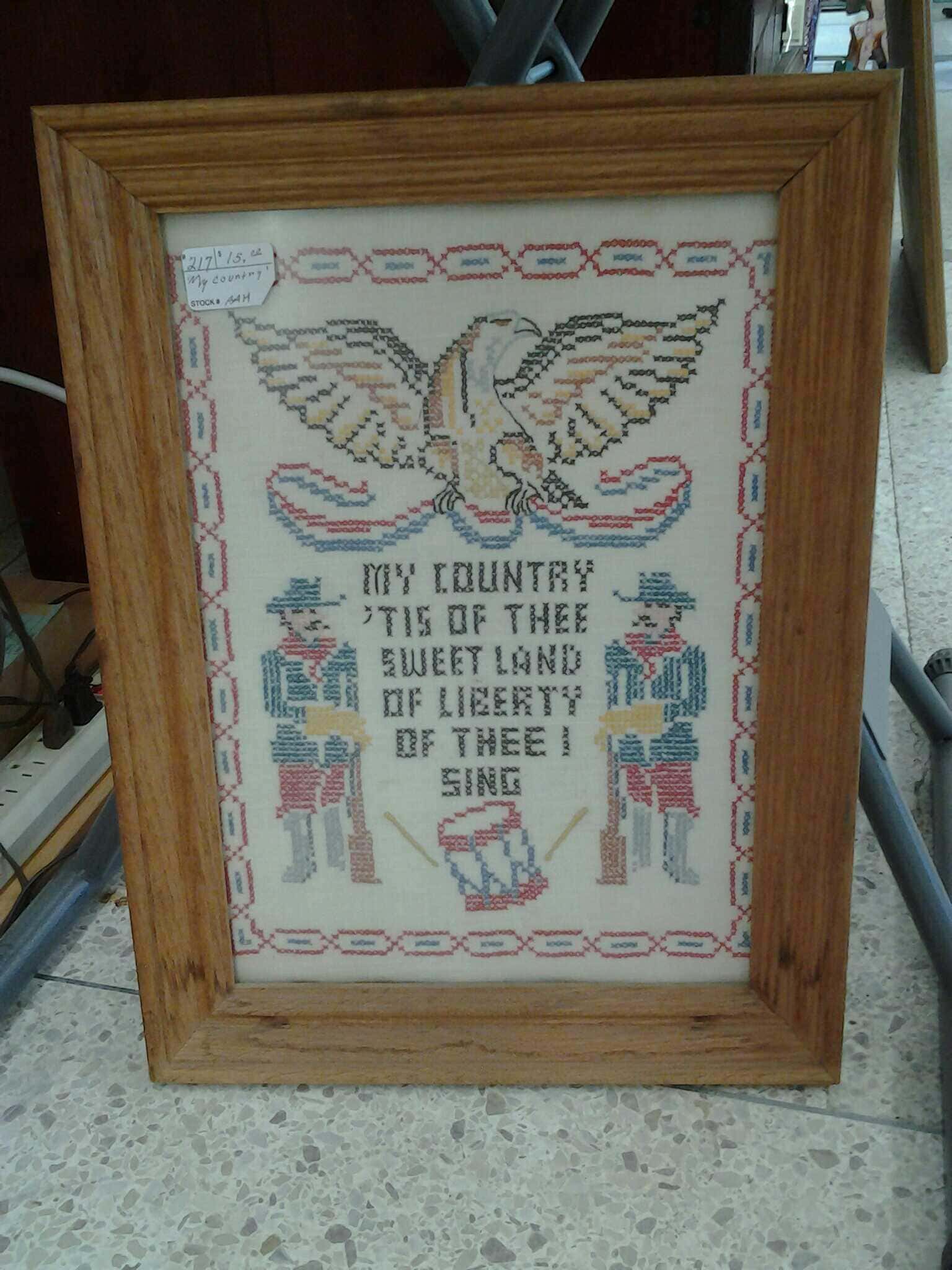 Understanding your fabric is important when you want to increase your cross-stitch design. Each fabric has a unique characteristic and fabric count. Knowing the fabric count of your cloth will help you figure out how to resize your patterns.
When you cross-stitch, you may encounter designs that you think are too small for your fabric. If you think the design is not proportionate to your Aida cloth, you can adjust its size to suit your liking. So, how do you do that?
There are two ways to adjust the letters in your cross-stitch. Even if your pattern instructs you to do stitches on a certain count or size, you still have the option to change it.
The common size for your cross-stitch is the 14-count Aida cloth. This means that there are 14 squares in every inch of the fabric. If this is the regular size, then using a smaller count Aida can make your letters and figures look bigger.
That is the great thing about cross-stitch, you may choose the fabric and the materials to use. You also have the option to change the size of your design fast and easy. So, instead of using the regular 14-count Aida cloth, use 6,8, or 11-count Aida.
These sizes have bigger squares which means there are bigger squares in every inch of the fabric. This translates that the letters in your design will look bigger even if you use the same chart or pattern
The second option is to use the same Aida cloth but adjust the design. Say you will use the 14-count Aida cloth. If your chart indicates 40 X 45 stitches, you need to double it. When you adjust the chart to make the letters bigger, the new chart will be 80 X 90.
Another example, say the chart indicates 3 X 5 x's. To make this size bigger, you will need to stitch in 6 X 10 x's.
If you are a beginner, it is safe to use the first method. Use an Aida cloth with a smaller count, and your design will always look bigger.
How Do I Make The Letters Smaller In Cross-Stitch?
The easiest way to make your letters smaller in your cross-stitch design is to use a cloth with a higher count. This means that cloth with a higher count has smaller squares in every inch.
If in the first part of the chapter, you use Aida cloth with a smaller count, here you need to do the opposite. You know that the regular size for cross-stitch is the 14-count Aida 14. To make your design look smaller even if you are not adjusting the chart, use 18-count or 24-count Aida.
Another option you can do is to use linen. Linens have 28 to 30-count. This means that in 28-count linen, there are 28 "x" stitches. Let's compare 24-count Aida to 28-count linen.
The 24-count Aida cloth has 24 stitches, while the linen has 28 stitches. This means that the linen will produce a smaller design because there are more stitches per inch.
The important thing to understand to adjust the size of your letters or designs is to know the fabric count. The higher the fabric count, the smaller the stitches in every inch.
How Do I Make The Numbers Smaller In Cross-Stitch?
The principle in decreasing the size of letters also applies to numbers. Once you use a fabric with a higher fabric count, you will create smaller stitches.
For instance, your pattern calls for 14-count Aida. If you want to make smaller designs, then use Aida with higher fabric count like 16 or 18.
How Do You Increase The Size Of A Cross-Stitch Pattern?
There are two elements that you need to consider to adjust the size of your design. These are the number of stitches (length and width) and the fabric count.
In this section, you will learn how to increase pattern size using these elements.
There is a formula to do this. Get your pattern and check the number of stitches for your design. Then, check the fabric count of your Aida cloth. Below is the formula that you need to follow.
number of stitches ➗ count of Aida = approximate size in inches
Say you are using the regular 14-count Aida. Then, assume that your pattern has a dimension of 20 stitches long and 18 stitches wide. Using the formula, you will compute each measurement to get the estimated size in inches.
Let's compute for the length. The number of stitches in length is 20, then divide it by 14 which is the Aida count. It goes 20 ➗ 14 = 1.4 inches (3.6 cm.) long. For the width, it will be 18 ➗ 14 = 1.3 (3.3 cm.) inches.
These figures are now the new dimension of your design. You can follow this formula in any fabric count you want.
Let's take 18-count Aida. Using the same pattern, let's compute the dimension.
Length: 20 ➗ 18 = 1.1 inch (2.8 cm.)
Width: 18 ➗ 18 = 1 inch (2.54 cm.)
This will be the size of your pattern if you are going to use 18-count Aida. Now, compare the sizes of your designs in 14-count and 18-count.
The 14-count Aida will produce a design that is 1.4 X 1.3 inches (3.6 X 3.3 cm.). Meanwhile, the 18-count Aida will result in 1.1 X 1 inch (2.8 X 2.54cm.). This shows that the 14-count Aida will produce a bigger size for your design.
How Do You Decrease The Size Of A Cross-Stitch Pattern?
The most convenient way to reduce your pattern size is to use a fabric with a higher count. Say your pattern calls for a 14-count Aida, replace it with 18-count. Since the squares in the 18 count Aida are smaller, your finished pattern will also look smaller.
You do not need to compute or alter the design. Follow it but on a different fabric count. If for instance, you think that 16 or 18-count Aida cloth still looks big, you can use higher counts like 20 to 28-count.
Another option is to use linen. This fabric has smaller squares. It has fabric counts from 18 to 40-count. The key here is the higher the fabric count, the smaller the squares.
For better understanding, say you are using 14-count Aida. You will have to use 28-count linen to come up with almost the same length of stitches per inch. This implies that if you will follow the exact pattern but will use a higher count, your design will be smaller.
How Do You Make Cross Stitch Letters?
When you want to make letters or text designs, first determine the style you want. You may check online for some free stitch or alphabet generators. Choose the best style you want, so you know what to print.
After you have chosen the font, print them for reference or template. Then, print blank charts of the pattern. You are going to use these blank graph charts to transcribe the letters.
Make sure to print several copies of this blank graph chart in case you will need more for your other texts.
Get one of the blank charts and determine the center. In case you have a big pattern, you need to join several blank charts to mimic the size of your actual fabric size.
Then, find the center of your blank chart and determine the placements of your letters. Once you have determined the area where to place each letter, start transcribing them.
Start from the middle letters. This will make sure that your text design will be at the center of your pattern. It is also easier to adjust the outside texts in case you want to adjust the design.
If you want to customize an existing chart, measure the space of the text you want to change. See to it that your chosen space is at the center of the pattern to make sure the text will also be at the center.
Make sure you copy or transcribe each letter according to the pattern. This is to ensure that they are even and will match the squares in your graph chart.
Always check the spacing of each letter according to your printed pattern.
After you have completed copying the letters on your graph chart and you are happy with it. You may start preparing your fabric, and you are ready to stitch.
Related: How To Make Puff Sleeves Smaller Without Sewing 
How Big Will My Cross Stitch Be?
The dimension of your cross-stitch design depends on three factors.
The number of your vertical stitches
The number of horizontal stitches
The fabric count of your chosen fabric
As explained earlier, you will get the design dimension using this formula.
Number of stitches ➗ the thread count of your fabric
For instance, your pattern states that the length is 200 stitches and the width is 100 stitches. Say you are going 14-count Aida, calculate the length by dividing 200 stitches by 14. The answer is 14.3 inches.
Use the same formula for the width. You divide 100 stitches by 14, you get 7.4 inches. Now, your actual cross-stitch design is 14.3 inches (36.3 cm) long and 7.4 inches (18.8 cm) wide.
The margin around it depends on you, but make sure that it is not less than 3 inches.
To get how much fabric you need, add the 3 inches (7.6 cm.) margin to the length and width. Here is how you calculate it. Get the length 14.3 inches + 3 inches margin = 17.3 inches (43.9 cm.). For the width, 7.4 inches + 3 inches margin = 10.4 inches (26.4 cm).
For this pattern, you will need a fabric with a dimension of not less than 17.3 inches by 10.4 inches (43.9 cm by 26.4 cm).
Types of Cross-Stitch Fabrics
Aida Fabric is among the most popular cross-stitch fabrics. It started in 1890. This fabric was referred to as the "Cross Stitch Fabric". This was because most people learn to cross-stitch using this fabric.
Aida is often made from 100% cotton and comes in several colors. Among its fabric counts are 11, 14, 18 and 28
Herta is a type of Aida that is often used for teaching beginners to cross-stitch.
Aida Country French is a luxurious type of Aida. This fabric is soft and is suitable for baby quilts, clothes, and other washable garments. The Country French Aid comes in 14 and 16 thread counts.
Aida Yorkshire is another type of Aida. This has a rustic texture and has 14 fabric-count.
Linen fabric looks like a basket weave. Its thread counts are 18, 22, 26, 28, 30,32, 35, 40, and 46 count. Linen gives that "old fashioned" look to your project.
Linens are a bit more challenging to use than Aida fabric. You need more skill to control the tension to create even stitches. This fabric is more suitable for seasoned cross-stitchers.
Even Weaves or Plain Weaves have the same thread count for its warp and weft. Its popular type is the Hardanger with a thread count of 22. Hardanger is popular as a method of embroidery.
The Hardanger fabrics mostly come in Europe. It is an inexpensive alternative to linen fabrics.
These are some of the popular fabrics that you can use as a reference when you buy yours. If you are a beginner, it is best to start with Aida fabric.
Increasing or decreasing your cross-stitch pattern is not difficult. It does sound intimidating, but it only takes basic logic. The key point is to know your fabric count. Once you understand fabric counts, then you will know how to resize your design.
The fabric count indicates the number of "x" stitches in every linear inch of the fabric. This means that a 14-count fabric has 14 "x" stitches in one inch (2.54 cm.). An 18-count fabric has 18 "x" stitches in one inch (2.54 cm.).
Taking these two fabric count samples. You can picture in your mind which one will produce a bigger design. The fabric with a lower fabric count will result in a bigger size because it has larger squares.
It will only take 14 stitches to occupy an inch space, while 18-count needs more stitches to fill in space. This is easy to understand.
You will have a better understanding if you familiarize yourself with fabric counts. Try to experiment. Get two different fabric count cloths. Make the same number of stitches on both fabrics. Then, compare them.
Now, you got the point. Enjoy cross – stitching!