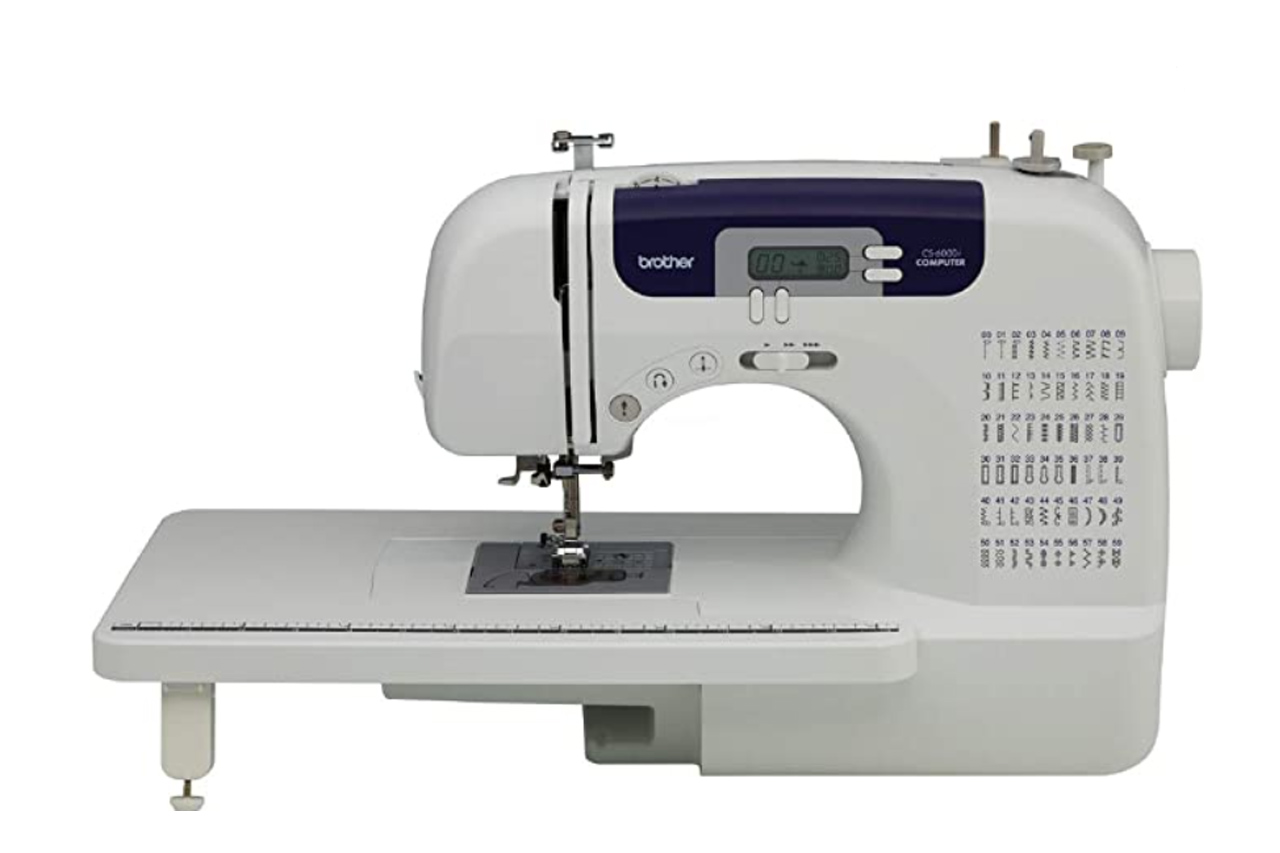 If you want to gain some quilting experience because you're just starting, it's essential to understand what machine would be best for you. The price, functionality, and user-friendliness of the device are a few things you might want to consider.
While a primary machine is a great starting point, you'll need a little more advanced for regular quilting. You can make quilts without a particular device.
Instead, you'll want a powerful machine with a sizable throat. Quilters with more sewing experience might prefer to spend their money on a device with extra features, like a quilting sewing machine with an automatic needle threader.
Fortunately, you found the right place if you don't have the time to research on your own for the best machine for a beginner quilter. In this guide, you'll find some of the best machines for beginner quilters, their outstanding features, and their prices.
1. Brother CS6000i 60-Stitch Computerized Sewing Machine
One of the ideal sewing machines for novice quilters is the Brother CS6000i Computerized Sewing Machine. It is a perfect option for diverse stitching tasks.
This reliable machine has 60 stitch options, including quilting, appliqué, heirloom, straight, and various ornamental stitches, including seven buttonhole makers.
In some specific stitch designs, you will have an adjustment option for length and width up to 7 mm. You can change the dimensions by pushing the plus and minus buttons on the LCD panel.
The machine has printed the stitch designs and their matching numbers, making it quick and easy for you to choose the patterns.
The Brother CS600i Computerized Sewing Machine has snap presser feet, unlike prior machines that used screwed presser feet. The presser foot will release when you press the button.
Push the back of the presser foot holder to remove it. All that is necessary to lock it is to put the new presser foot and lower the presser foot lever.
With a free-arm machine, you can stitch those challenging corners. The sewing machine has easy automatic needle threading and a drop-in bobbin, which makes stitching a wonderful experience. This machine can sew up to eight hundred fifty stitches every minute.
With its automatic bobbin winder, needle threader, and thread cutter, the Brother CS6000i makes it easier for beginners to complete demanding projects.
It is also portable since it weighs only 13 pounds. Even though it is the best affordable sewing machine for quilting, it is simple to use with a foot pedal or an on/off button.
Check the price here: Brother CS6000i
2. Brother HC1850 Computerized Sewing and Quilting Machine
For quilting, stitching, embroidery, and simple monogramming projects, the Brother HC1850 is an ideal option. It is an entirely computerized sewing device that enables you to select several sewing options with a button.
You may free-motion quilt using one of 14 quilt designs. It has 130 built-in stitch choices, including eight different buttonhole styles. Its eight presser foot, each of which you can use for various designer tasks, is a further noteworthy feature.
The Brother HC1850 has a broad table you can detach for quilting purposes, making large sewing projects and quilting tasks simple.
You will get an instructional DVD with the machine, making it simple to learn the tips and comprehend the different stitching possibilities.
The sewing machine's feed system, which provides ideal stitching possibilities, enables sewing on all types of fabrics, including thick ones.
It is one of the best quilting sewing machines for beginners because all stitching movements will be visible on the LCD screen, and the display will allow you to control the different stitch size options.
Check the price here: Brother HC1850
3. SINGER 7469Q Computerized Sewing and Quilting Machine
The computerized sewing and quilting machine from SINGER 7469Q has a lot of cutting-edge capabilities. For example, thanks to its programmable needle capabilities, you can maintain the needle in the necessary up and down positions for a superb quilting experience.
This sewing machine includes an automatic buttonhole maker among its 98 built-in stitches. Another feature is the adjustable twin needling, which allows automatic stitch adjustments with a single button press.
The SINGER7469Q contains various automatic features uncommon in other entry-level sewing machines. For example, a 13-needle setting helps finish edges, zippers, and seams.
This sewing machine is self-lubricating, enabling you to keep working without needing lubrication regularly. Additionally, it has an automatic bobbin winder and a top loading bobbin that is simple to drop, making sewing enjoyable.
With all things considered, the SINGER7469Q is an ideal sewing machine for beginning quilters. It includes an enlarged worktable for massive crafts and quilting tasks and an extra table and presser foot as a courtesy to quilting aficionados.
Check the price here: SINGER 7469Q
4. SINGER 9960 600-Stitch Computerized Sewing Machine
One of the most fantastic sewing machines for beautiful quilting is the SINGER 9960 Quantum Stylist 600-Stitch Computerized Sewing Machine with Extension Table. The flip-top cover displays stitch references, making picking simple by placing equivalent numbers next to each pattern.
It has 600 built-in stitch possibilities, including 13 automatic buttonholes, 103 regular utility stitches, and 34 decorative stitches. This device also has 450 stitches of upper and lower-case letters, numbers, and characters from several alphabets.
The automated SINGER 9960 has an audible warning system that you can choose to activate or deactivate. Like other standard machines, it automatically selects the necessary characteristics, so you don't need to adjust the stitch length and width manually.
Thread and needle cutters and tension controls are two additional automatic features. The automatic bobbin winder also handles rewinding problems.
When working with quilting works, the adjustable feed dogs perform admirably. It has two LEDs that provide ample light for the workspace.
However, the SINGER 9960 is not portable compared to other machines since it is heavy—it weighs roughly 28.2 pounds. Large tasks and quilting projects are uncomfortable because of the 6.5′′ throats.
Check the price here: SINGER 9960
5. Laura Ashley CX155LA Computerized Sewing & Quilting Machine
Your sewing project will have a happy ending thanks to the 11 quilting and sewing feet that come with the Laura Ashley Limited Edition CX155LA Computerized Sewing & Quilting Machine. It has 155 built-in stitches, 55 alphanumeric patterns, and a one-step 8-style buttonhole maker.
The mid-range Laura Ashley Limited Edition CX155LA sewing machine is affordable and accessible. It is the ideal machine for quilting enthusiasts.
Sewers will find it simple to choose because it is a computerized machine. But, to have a hands-on experience, you might have to read the instructions.
This model includes an expanded table with 33% more area for quilting and heavy sewing jobs. There are available automatic features to improve working simplicity.
They have numerous functions, like needle threading and one-step buttonholes with eight settings. However, you can only select stitches and adjust the tension manually.
Thanks to the automatic thread cutter, any fabric gathering or messes are easy to manage. Additionally, when you have many projects ahead of you, the sewing machine will be the finest choice because it has 11 quilting and sewing feet.
It's also the most fantastic sewing machine for quilting novices.
Check the price here: Laura Ashley CX155LA
How Do I Choose A Quilting Machine?
It is best to examine the throat width when choosing a quilting machine. This feature determines essential aspects of quilting, including the capacity for piece size, batting thickness, and pattern width.
Getting the device with the broadest throat your money can buy is crucial.
Most modern sewing machines will come with one or two quilting choices. But, as you gain experience and become an advanced quilter, you will need more quilting options. Besides the throat width, of course, you must get a machine that has quilting features.
In this case, it would be best to use quilting machines with more possibilities. You may efficiently utilize your device for other projects if it offers additional stitch possibilities.
The sewing machine's power is the last thing to examine. The machine's power is crucial when you want to quilt using batting and numerous layers. At first, you may believe that you don't need a powerful quilting machine because you can outsource these extra layering tasks.
But, it would be best to invest in a powerful machine immediately because you can utilize it for various tasks in the future.
Here are more things to consider when choosing a quilting machine:
Speed Control
The speed of the machine determines how efficient it is. The machine's speed slider makes it easy to adjust your machine's stitch speed as needed.
The new sewing machines have an on and off button that you can use to operate them with ease. In ancient mechanical devices, you have to press the pedal that puts tension on your body parts. The newest quilting machines also have capabilities for simple speed control.
Quilting Bar
The quilting bar is a feature most quilting machines have that helps produce ideal results. The bar, which connects to the presser foot, enables the quilter to spread out the lines on the quilt and quilt it uniformly. You can widen it to fit your needs, which is especially helpful for topstitching.
Stitch Control
With reasonable control, you will get even regular stitches on the quilt. The stitches won't have zig-zags if you set the machine to a standard speed and move it smoothly. It requires a lot of work and training. Even your device might function more efficiently with the regulator off.
Best Machine for a Beginner Quilter: Tips for Choosing a Quilting Machine
Many still think quilting is too challenging for them. However, with suitable materials and tools, learning can be more manageable. It means you must choose the best quilting machine that meets your needs. Here are some tips when choosing the best quilting machine for you. Keep reading!
Decide What You Need
You must be honest about your demands before picking which quilting machines you want to buy. What kind of machine you'll need and what would work best for your projects depends on your expertise level.
Beginners might not be adept at many quilting techniques yet, necessitating a primary machine. More experienced quilters can use upgraded but still simple equipment. Professional quilters frequently select devices with the most features to maximize productivity.
Device Features
Today's market offers a wide variety of quilting machines. The choices differ according to size, ability, style, etc. You can start assessing the features of each device once you've decided what you need.
Finding a machine you can use well without becoming overly stressed is best. You'll often want to be more experienced in quilting machines with plenty of capabilities. Adding more features could be okay if you want to improve your quilting techniques.
Brands
You can choose from various brands and designs of quilting machines. However, they might differ in efficiency, cost, and quality. So, instead of purchasing the first machine you encounter, it is beneficial for you to research each alternative.
Thanks to this research, you'll be guaranteed to acquire a machine that suits your demands. Remember that you might be unable to locate one that meets every need, so pick the brand that best suits you.
Pricing
The cost of sewing machines varies greatly, with some costing only a few hundred dollars and others costing thousands. Before making a purchase, you must establish a reasonable budget. It is also best to save money for additional supplies you might require for your first project.
Warranty
After you've decided, it is best to look for the warranty terms of the brands you're considering. It would be wise to select a machine with a warranty to safeguard your investment.
Also check: Best Machine for a Advanced Seamstress