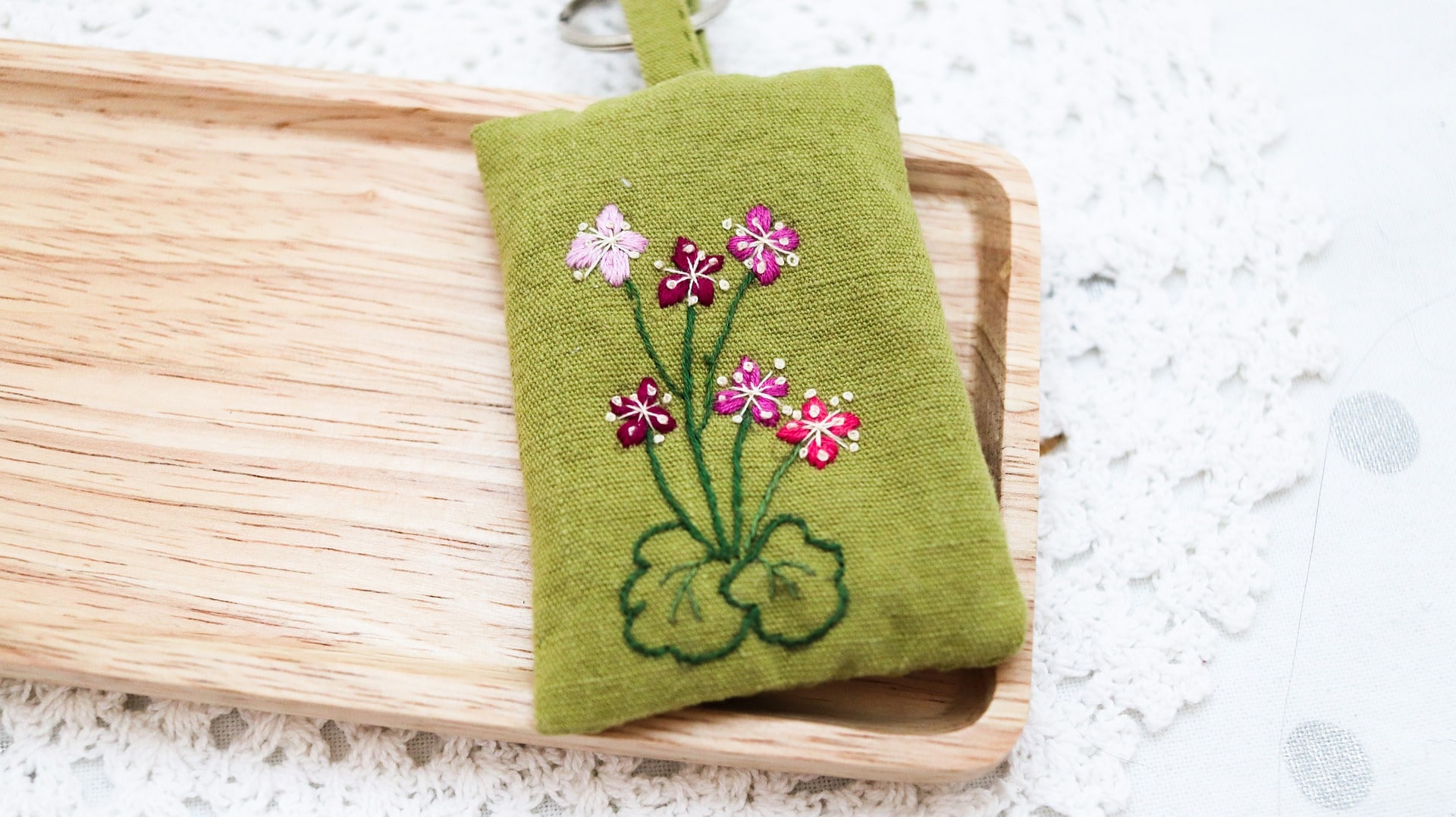 The art of fabric crafts has evolved over time. It opened new styles and ways of decorating fabrics more enjoyable. Like how technological advancements, fabric crafts also introduced different methods of designing fabrics. Two of the well-known methods used are needlepoint and embroidery. These two methods may sound similar but they are actually different.
If you are a new fabric craft enthusiast, it is important to know the different methods used. Read on below to know more about fabric craft techniques that best suit your preference.
What is the difference between needlepoint cross stitch and embroidery?
As mentioned above, needlepoint cross stitch and embroidery differs in some ways. Needlepoint is a technique done by hand and uses surface embroidery.
It is usually stitched in a very fine canvas like Penelope, mono, and interlock. It is also the method used to create a fabric purse, rugs, upholstery, and wall designs.
But, embroidery is the art of creating fabric designs using needle and thread. It has two types which are machine embroidery and hand embroidery.
Machine embroidery – It is the type of embroidery done by using an embroidery machine. It creates various patterns on different kinds of fabric. You can use beads, quills, sequins, and yarn when creating a design. This method makes it easy to place these little details when using a machine.
Hand embroidery – It is the method of creating fabric designs using needle and thread. You can also choose any fabric that fits your design.
What is the difference between cross stitch and embroidery?
There is also another method used in creating fabric designs called cross stitch. This method is a type of counted thread hand embroidery. It uses an X-shaped pattern in creating stitches.
Compared to embroidery, cross stitch uses a specific kind of tiled fabric. It is to make sure that every stitch is accurate and the design is well-followed.
In embroidery, you can use a lot of different kinds of stitches. Like running stitch, chain stitch, and blanket stitch. It can also create different kinds of fabrics as long as it will not be difficult for you to create the design you want.
Is cross stitch easier than needlepoint?
When you are new to fabric craft, it is important to know which method best suits your preference. That is important so that you can choose a design on your own.
To do that, you must know which method is easier to learn and execute. Most of those who are new to designing fabrics get confused. Most of their questions are which among the methods is easier. Is it between cross stitch or needlepoint as these two are the most used out of other methods?
Cross stitch is the method best recommended for beginners. It is because it is less complicated than needlepoint. You only have to follow a pattern while creating X-shaped stitches on an even-woven fabric.
You can be more creative when using needlepoint, but it can be tiring and difficult. It is because you need to do it on a canvas that is stiffer and heavier.
But, when you start to progress, you will definitely be able to master both methods. You can also use whichever method as you please.
Is learning embroidery hard?
Learning embroidery is not easy when you are about to start. There are a lot of terminologies and techniques that you need to familiarize with. Yet, the beginning is always the hardest but when you finally learn the know-how of it, things will be a lot easier. Embroidery may sound too technical but it actually involves more creativity.
Learning this craft is actually an easy and inexpensive hobby that anyone can try and enjoy. It will only become difficult if you are not passionate about it. It should not feel like a huge investment of time and money to enjoy it.
How do I begin embroidery?
Learning embroidery can be a bit confusing at first. You might get overwhelmed at first. Most especially by the many tutorial videos, and vast numbers of materials that you will need. To give you a helping hand, we prepared a simple guide on how you can begin embroidery.
First thing on the list is the materials that you will need:
Fabric – This is very important as it is where you will be sewing your design. For your first embroidery project, choose a light-colored fabric. Such as cotton or linen so that it will be easier for you to stitch. Make sure to avoid Aida cloth since it is only used for cross-stitching. The length of the fabric depends on your design. A big design needs a larger cut while a cute design needs a shorter cut.
Embroidery hoop – You will need this to keep the fabric tight so that it will be easier to embroider. It comes in wood or plastic, you can choose which suits you better. A 6-inch hoop is good for a variety of projects that you want to do.
Embroidery Floss – It comes in tons of colors so you can choose which one you will need. Most of the embroidery enthusiasts recommend the DMC brand as it is easy to find and inexpensive as well. Avoid buying or using floss that is used in creating craft bracelets as it will be very frustrating to use.
Needles – Of course you will need this to thread the embroidery floss. There are also many kinds of embroidery needles that you can choose from. The best option is a sharp needle with an eye that is large enough to control an embroidery floss is a good option.
Water-soluble pen or marker – There are other ways in transferring your pattern to the fabric. Using a water-soluble marker is the easiest one. It will allow you to draw to the fabric without leaving any markings.
Scissors – You can use any scissors you have around as long as it is comfortable to use. Make sure that it can cut the floss clean so that your work will not have any fraying on its end.
The second step is to put your fabric in the embroidery hoop so you can start stitching. Before doing anything, you must first determine what type of stitching you will use. To help you with this, here is the list of stitches that you can use in embroidery.
Straight stitch – This is also called the running stitch. It is the most basic stitch that you will use a lot in embroidery. It is the process of making short or long straight lines. The lines depend on your design to complete your patterns.
Back Stitch – It serves as an outline of drawings or patterns as it makes the outline crisp and neat. This might be a bit difficult as it requires focus to create something that looks great and pleasing to the eye.
Split Stitch – You can use this stitch when you want to add a little bit more flavor and volume to your design. For example if you want to add specific details and outlines of animals, you can use this stitch.
Stem Stitch – This stitch looks great on letters and numbers. But you should be careful with the sharp corners as it may frustrate you. You can also use this for outlining as it is somehow like a backstitch. But, instead of linking the stitches at the ends, you will bring the needle right next to the last stitch. It may sound complicated but it is easier when you try doing it.
These are the basic stitches in embroidery. When you have mastered a few stitches, you can now try doing more complicated ones. Such as french knot, satin stitch, and detached chain stitch.
Now that your materials are ready and you are familiar with the stitches, you can now start stitching. Here are a few finishing tips:
Rinsed your finished embroidered fabric to remove markings and wrinkles on the fabric.
Press away excess water with a towel or damp cloth so it will not distort the stitches.
Place the embroidery between a towel and start ironing. It is to flatten out the design and to keep the cloth straight.
What is the embroidery cloth called?
There are a lot of embroidery clothes that you can use. It depends on your design and style. As mentioned earlier, there are two types of embroidery. The machine and hand embroidery uses different fabrics. Here are some of the fabrics that you can use for your next embroidery project:
Canvas
Evenweave fabrics
Aida
Hardanger Fabric
Muslin
Toweling
Ready-made items
Linen/Cotton Blend
How do you transfer an embroidery pattern to fabric?
If you are not comfortable drawing your design straight on your fabric, there are a lot of other ways how to do it. Here are some methods that you can try:
Tracing – This is the easiest method that you can use when transferring your pattern to the fabric. It is because it is less complicated. It is usually used on smooth and light-colored fabrics. All you have to do is print your design on a tracing paper or any thin paper you have. After that, you can start tracing the design on the fabric.You can put a light source behind your embroidery pattern so that you can see through your fabric. You can use a marker or pen for tracing but make sure that it does not blot on the other end.
Heat transfer pens and pencils – This method is a bit difficult and somehow bothersome. Its markings are permanent and cannot be washed off even when soaked. To do this, you need to print your pattern in a reverse manner first. Then, trace the design on the backside of the paper using your heat transfer pencil.
Water-soluble stabilizer – If you are working on dark colored fabrics, you this method. Also if you have a complicated design, this method is perfect for that. You can print your preferred design straight to the stabilizer. Then place that on your fabric and you will see the pattern afterward.
There are other ways that you can try. But these three methods are the simplest to follow most especially for beginners.
Can you use Aida for embroidery?
Aida is one of the fabrics that you can use for embroidery. It is the most common fabric used for cross stitch. It is because it has an easy-to-count square pattern perfect for the X-shaped stitches.
Aside from that, you can also use it for counted thread, and surface embroidery techniques. This cloth was woven with fibers that range from 11-count to 22-count. It is the reason why it forms an easy-to-follow square for stitching.
The best thing about Aida when it comes to embroidery is that you can see clearly where your needle goes exactly. It makes stitching easier and less stringent.
You can also see where the next pattern should go. That makes it a perfect match for those who want to have a clean and satisfying finished product.
Why is Aida cloth so stiff?
Aida is so stiff because most of the fabric manufacturers use starch or what they call "size". They put a reasonable amount of starch to make it firmer than other fabrics and so that it is easier to stitch.
The good thing about the stiffness of Aida is that it makes it easier to locate the holes for stitching. Even without putting the fabric in an embroidery loop, you can see it clearly.
Should I wash Aida cloth before stitching?
Washing the Aida cloth before stitching dissolves the starch in the fabric. As a result, the cloth becomes elastic and loses its stiffness. The purpose of Aida's stiffness is so that it will be easier to pattern the X-shape stitch on its surface.
Washing it before stitching will make it more difficult for you to work on. It is because its holes will tighten up making it less visible.
Now that you already have an idea about embroidery, you can now start your fabric craft journey. It only takes perseverance and patience to master the art of fabric design. The longer time you spend learning its basics, the easier it is for you to master and appreciate its beauty.
You can also check: