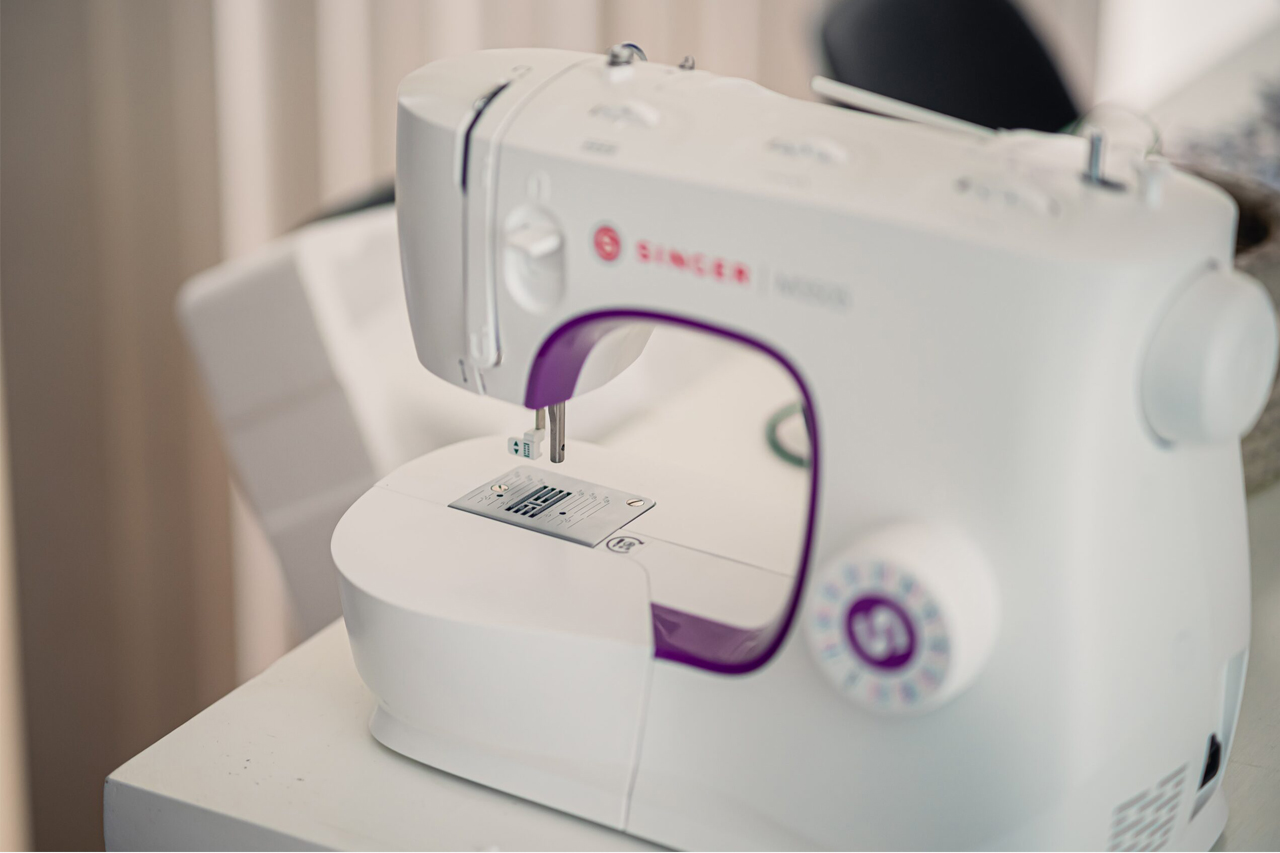 Schmetz works with any sewing machine brand, so you can use it with a Singer machine.
Schmetz engineers work with different sewing machine manufacturers to ensure that their needles can perform correctly in any domestic sewing machine for any work like ordinary sewing, embroidery, or quilting.
Most sewers who have used Schmetz sewing needles can attest that they can work with any machine without issues or problems.
What needles are compatible with a Singer sewing machine?
Sewing machine needles are standardized and compatible with various machine brands, including Singer. Singer manufactures sewing machines and their machine needles. Using the same brand of needles as your sewing machine is recommended to get the optimum results.
Almost all domestic machines are made to fit any brand of the same needle style. All sewing machine needles are manufactured to fit the standard slot where a needle is placed.
Some sewing machine brands, especially the popular ones, produce their needles and recommend that the same brand be used for the best results. Famous sewing machine needle makers such as Schmetz are tried and tested to work on any household sewing machine brand like Singer, Janome, Pfaff, Bernina, Husqvarna Vikings, etc. Most domestic sewing machines use the Schmetz needle system 130/705 H.
You may also encounter other sewing machine needle brands like Organ sewing needles, which can fit your sewing machine. They are not as popular and accessible as Schmetz or Singer sewing needles, but they are compatible with the most popular sewing machine brands, as many users can attest.
Looking for sewing needles compatible with a Singer machine or any other household sewing machine is not hard as sewing machine needles are pretty easy to find and do not cost much. It would help to consider whether your needle is right for your project.
Are Schmetz needles universal?
Schmetz needles are universal because they work with all major home sewing machine brands such as Brother, Babylock, Elna, Janome, Pfaff, Husqvarna Viking, New Home, Singer, and White. These domestic sewing machines use the needle system 130/705.
The standard domestic needle of Schmetz has one flat side and one round side at the shank. The needle is made with a slightly rounded point allowing it to sew a massive range of fabrics. It works well on woven and knit fabrics.
With a Schmetz universal sewing machine needle, you can sew a knit blouse or repair an old pair of jeans. But, as your skills advance and you get serious with sewing, you will find that other needle types will make better results.
Schmetz produces universal sewing needles available in different sizes, ranging from 0.6mm to 1.1mm thick. The needle size you choose for sewing depends on the thickness of the fabric you will use.
You can identify the size of a Schmetz needle because it is stamped on the shank of each needle that they make. You choose the size of your sewing needle based on the weight of your fabric.
If you are sewing a heavy material, use a thicker needle. For delicate and fine fabrics, use a thinner needle.
The upper color band at the shoulder of the needle indicates the needle type of Schmetz needles.
Here is a list of the wide range of Schmetz sewing machine needles you can try. Click on the links for each needle type. You can easily find these varieties of Schmetz needles on Amazon.
Universal Needle
The Schmetz universal needle is a general-purpose needle. You can use it for a wide range of fabrics because of its slightly rounded point. The universal needle also comes in assorted sizes. You can identify it with the 130/705 H or HAx1 on the packaging.
Buy it here: Schmetz Universal (130/705 H) Household Sewing Machine Needles.
Jersey Needle
The Schmetz jersey needle is usually used on gauze, imitation fur, jersey, knitted fabrics, and cotton knitwear. You can identify it by its orange upper color band. The medium ball point of the jersey needle prevents it from damaging or breaking the knit fibers.
Buy it here: Schmetz Jersey Ball Point Sewing Machine Needles
Stretch Needle
The unique features of a stretch needle are the shorter eye and the remarkable transition from the scarf to the eye. The stretch needle also has a medium ball point. These features help in preventing skipped stitches.
The stretch needle is ideal for elastic materials and highly elastic knitwear. Examples of stretchy and flexible fabrics are swimwear fabrics, fine jerseys, silk jerseys, and velour cloth. You can also use the stretch needle on cotton knitwear.
You will know a stretch needle by the yellow marking on the shoulder.
Buy it here: Schmetz Stretch Sewing Machine Needles (130/705 H-S)
Super Stretch Needles
Schmetz brand has a super stretch needle with a special design in the scarf area. It creates a larger needle thread loop which is more easily grabbed by the hook.
Super stretch needles can handle even highly elastic fabrics and help avoid skipped stitches. The fabulous stretch needle is more durable and has a reinforced blade helping reduce needle breakage and help make straight and smooth stitches.
Combining a wider and shorter eye with a wider thread groove makes it suitable for thicker sewing threads. With this type of needle, there is less stress on the thread, so breakage is lessened.
The Super Stretch needle can be used on any domestic sewing machine using the needle system 130/705 H. It is a great substitute when sewing with thicker threads. You can identify it by its white marking.
Buy it here: Schmetz Super Stretch Sewing Machine Needles
Jeans Needle
The Schmetz needle has a modified medium ball point and a reinforced blade, making it tough to use thick fabrics like denim. You can use it on materials like twill, canvas, and jeans. You will know a jeans Schmetz needle with its blue marking.
Buy it here: Schmetz Jeans Sewing Machine Needles (130/705 H-J)
Microtex Needle
The microtex needle, identified by its purple marking, has a sharp round point which allows it to make accurate stitches on extremely fine or densely woven fabrics. You can use it when you need to make straight stitches when topstitching on edges of a garment or for topstitching collars or button stays.
You can smoothly sew materials like silk, microfiber fabric, and taffeta with the Microtext needle. It is also the ideal needle to use when working on coated fabrics like oilcloth, foil, and synthetic leather.
Buy it here: Schmetz Microtex Needles (130/705 H-M)
Leather Needle
The leather needle's unique feature is the cutting point which is ideal when you sew hard materials like leather, synthetic leather, paper, and other heavy non-woven synthetic fabrics. You cannot use the leather needle on knit and woven fabrics as it may damage the material.
You will know the leather needle by its brown marking on the needle's shoulder.
Buy it here: Schmetz Leather Sewing Machine Needles (130/705 H LL)
Quilting Needle
The quilting needle has a unique tapered design, making it easier to penetrate fabrics and helping avoid skipped stitches. The needle is specially designed for piecing and machine quilting.
The slim point of the needle can penetrate effortlessly through three layers of a quilt without ruining the fabrics.
A green marking on the shoulder area of the needle can identify the quilting needle with the slightly rounded point and a unique taper.
Buy it here: Schmetz Quilting Sewing Machine Needles (130/705 H-Q)
Topstitch Needle
The topstitch needle has a long needle eye, making it easier for the thread to glide through it. This needle type is ideal when sewing with two or thicker threads. It also does excellent work when decorating and topstitching.
You can use the topstitch needle with a slightly rounded point with a wide range of materials. You can identify it with its light green marking.
Buy it here: Schmetz Topstitch Sewing Machine Needles (130N)
Metallic Needle
The metallic needle thread has an elongated eye, allowing metallic and other specialty threads to glide easily. The longer eye prevents shredding and breaking of delicate metallic threads.
The metallic needle has a slightly rounded end and a dusky pink marking.
Buy it here: Schmetz Metallic Sewing Machine Needles (130MET)
Embroidery Needle
The unique features of the needle are the light ball point, wide eye, and groove that allows easy feeding of sensitive embroidery threads preventing thread breakage.
The Schmetz embroidery needle allows you to sew decorative stitches using the household sewing machine. You can spot it from other specialty needles by its red marking.
Buy it here: Schmetz Embroidery Sewing Machine Needles (130/705 H-E)
Gold Embroidery Needle
Schmetz has a more specialized needle for embroidery, the gold embroidery needle. It has a titanium nitride coating, a slightly rounded point, an enlarged eye, perfect when embroidering with the most fragile specialty threads.
The large eye allows thicker threads to be fed quickly. The special coating resists adhesives, makes the sewing of coarse and thick fabrics easier, and makes the needle more durable.
You can use the gold embroidery needle without changing the needle for delicate embroidery and large embroidery motifs. This needle is excellent for embroidery with a higher stitch number.
You can identify the Gold Embroidery Needle by the gold-colored surface.
Buy it here: Schmetz Gold Embroidery Sewing Machine Needles (130/705 H-ET)
Hemstitch Needle
The features of the hemstitch needle which make it unique are the wings on each side of the needle. You can identify the needle only by its unique design and size, as it does not have a color band like the rest of the Schmetz needles.
You can use the hemstitch needle to create decorative effects on your sewing project. It is the needle type used for heirloom sewing. You can create accented seams on light or medium-weight loosely woven fabrics.
Buy it here: Schmetz Hemstitch Sewing Machine Needles (130/705 H WING)
Quick Threading Needle
The quick threading needle is considered universal with a slip-in threading slot in the eye. This needle type is beneficial for people who have difficulty threading a needle. You can use the quick threading needle for various materials like woven and knit fabrics.
You can identify it only from the particular threading slot in the eye and has no color code.
Buy it here: Schmetz Quick Threading Sewing Machine Needles (705 HDK)
Double Eye Needle
The double eye needle is a universal needle with two eyes. It uses two different threads, perfect for shading and texturing effects for embroidery and topstitching. You can use it for woven and knit fabrics.
There is no distinguishing code or color on the needle aside from the unique double eye.
Buy it here: Schmetz Double Eye Sewing Machine Needles (705 DE)
Twin Needles
Twin or double needles are two needles mounted on one shaft. The twin needles are used to make two rows of stitches simultaneously. This particular needle uses two spools of thread and one bobbin thread.
You can use twin needles for sewing seams on elastic or stretchy fabrics. You can also use different colors for each needle to add a decorative touch to your stitches.
Buy it here: Schmetz Universal Twin Needles 130/705
Knowing that there are so many different types of needles that you can choose from may be overwhelming. Still, as you advance your sewing skills, you will discover that these needles were specially designed to make sewing more efficient and more enjoyable for sewers to tackle any sewing project.
Also check: