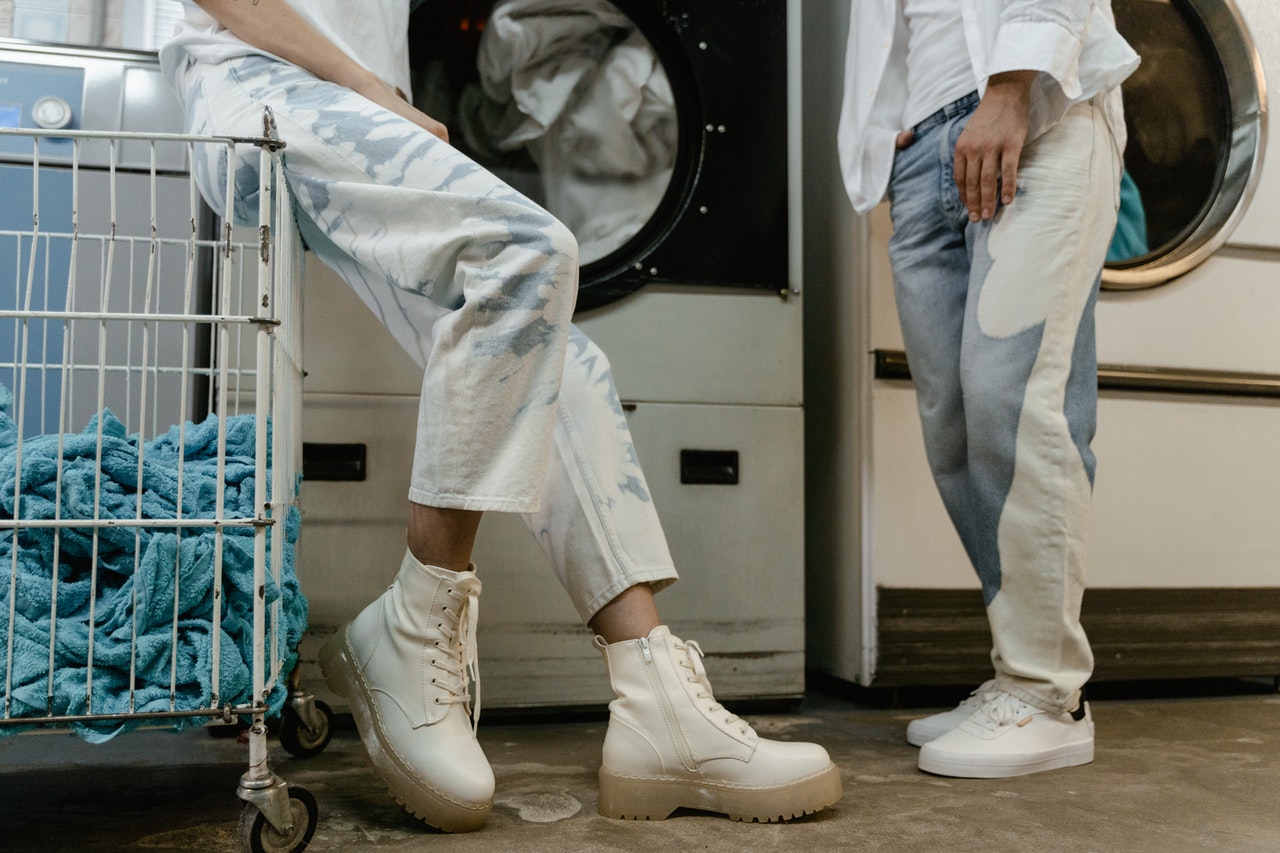 You can wash off acrylic paint on your shirt. Dried paint on clothing is hard to remove. If you want to quickly remove acrylic paint from your shirt, wash it off while the paint is still wet.
Acrylic paints are like latex paints, meaning they are water-based paints. They are the type of paints that dry faster than oil or watercolor paints; they are mainly used for kids' artworks to be quickly posted and used as decor.
But since acrylic is water-based, you can wash off a shirt with acrylic paint. The earlier you do it, the easier the color will come off.
When working with acrylic paint, you may encounter the occasional paint splatter on your clothes or the shirt you are painting. But you can avoid these acrylic paint stains by following these few sensible tips.
Do not wear your favorite shirt. Wear something old or stained that you will not worry about washing off new paint stains. Use something that you will not care about damaging while you paint.
Have paper towels or clean rags easily accessible as you work on your acrylic painting. It is easier to blot away a fresh glob of paint than to scrape away hardened or dried acrylic paint.
When painting on a shirt, you need to insert a piece of cardboard inside to avoid seepage of acrylic paint from the front to the back of the shirt.
Before you start painting, use a separate piece of fabric with similar material to your shirt to test your paint mixture. If you do this first, no shirt will go to waste.
Is acrylic paint permanent on shirts?
Acrylic paint can be permanent on shirts. When you properly dry acrylic paint on a shirt, it will last a lifetime. There are two means to make acrylic paint permanent on fabric; using a textile medium then, heat drying to make the acrylic paint and textile medium bond with the material.
If you want acrylic paint to be permanent on your shirt, textile medium and proper heat drying should be present. When you do not add the medium, the acrylic paint hardens then eventually crack and chip off the fabric.
Without the medium, acrylic paint is just like ordinary paint. You can use it to cover or design your fabric, but it can still be treated and removed. To make it lasting and permanent, you have to heat dry the painted area then wait for about a week before putting it in the wash.
But if you don't want acrylic paint on your shirt, say, you accidentally stained a nice shirt with acrylic paint, you can remove it with the help of some cleaning chemicals and thorough rinsing.
How do you make acrylic paint washable on fabric?
Even if acrylic paint dries up so fast, you can use several unique treatments to remove acrylic paint stains on the fabric. You can use simple household cleaning agents like dish soap or chemicals like acetone to get the stain off. You will be more likely to remove acrylic paint on fabric when it is still wet and has not been ironed or dried in the dryer.
Pretreating acrylic paint is almost a sure way of getting the acrylic paint off. It would help scrape most of the paint before applying any unique treatments to remove acrylic paint. You can still remove hardened acrylic paint using a paintbrush or a toothbrush to get the tiny bits of paint from the fabric weave.
Listed are several treatments you can apply to your acrylic-stained clothing:
Dish soap
The simplest solution to remove acrylic paint on fabric is using an ordinary household item, the dish soap. This method is the cheapest and most straightforward, but it will work best on wet paint.
The first thing you have to do is mix equal amounts of water and dish soap. Soak a clean cloth in the dish soap solution and dab at the paint stain. Avoid rubbing the stain to prevent it from spreading across the fabric's surface. After the paint has been removed, rinse the stained area with cool water.
Ammonia and vinegar
You will need to mix ammonia and vinegar, both regular items in the pantry. These two ingredients are safe to mix and will not produce hazardous chemicals. Using this method will need more products and more work but will be more effective on dried acrylic paint.
If the acrylic paint is still wet, follow the pretreatment method suggested by getting as much paint off the fabric as possible.
Then, soak the paint-stained portion of the garment in cold water—Mix one-part ammonia with one-part white vinegar and a pinch of salt.
Drain the water from your clothing to remove excess water, ensuring it is damp and not dripping.
Soak a sponge on the ammonia-vinegar solution and gently rub it on the painted spot. Rinse the stained area with water and check if any paint remains.
You can repeat the process to obliterate the paint and if the acrylic paint has hardened already.
You can wash in the washing machine as you usually would, but do not use the dryer unless you are sure that all paint has been removed.
Isopropyl Alcohol
Isopropyl alcohol is another common household item that effectively removes acrylic paint. The method is quite effective in eliminating wet or even dried acrylic paint. One good thing about using this method is that it is available in grocery stores or pharmacies.
Arrange the stained clothing exposing the paint on a sink or a basin. Pour isopropyl alcohol directly on the stained area and let it soak on the alcohol.
After soaking, use a spoon or blunt knife to remove the paint as much as you can. Then, rinse the stained area while removing the remaining flecks of color.
Wash the clothing in the machine as usual.
Nail polish remover/ acetone
Nail polish remover contains acetone, a pretty effective chemical in removing paint stains. These are strong chemicals that can irritate your skin; that is why it would be wise to wear gloves when working with them. It would help test the chemical first on a hidden portion of your clothing. Spandex and other synthetic fabrics will react with acetone and can be damaged.
To remove the acrylic paint stain, soak a clean rag in nail polish remover or acetone. Press the soaked sponge or rag on the stained area for about five minutes.
Check if the paint loosened. Use a spoon to scrape away the loosened paint. Rinse with cool water.
If not all the paint was removed, repeat the whole process as needed. Then, wash the garment and use warm water and detergent to rinse the acetone or nail polish remover.
Hairspray
Hairspray effectively removes paint on different fabric types because of its polymers, hydrocarbons, and alcohol contents. But using hairspray should be done with caution as some chemical ingredients may damage some materials.
Place your stained clothing on a sink or basin. Spray hairspray thoroughly over the stained area. Hairspray will soften the hardened acrylic paint when appropriately soaked.
Work quickly to peel the paint, then rinse the clothing in cool water.
If you sprayed one time and were unsuccessful, you can repeat the process and hopefully get all the paint out. Then, wash off the hairspray from your stained clothing in the washing machine.
Glass Cleaner
Glass cleaners have chemicals like ammonium hydroxide that do a great job in removing both wet and dry paint.
If the paint is still wet, remove as much wet paint as possible by dabbing it with a damp rag. If the color is already dry, peel away as much dry paint as possible. You can scoop the paint with a spoon if too much paint has stained your clothing.
Spray the glass cleaner on the area where the stain has been. With another clean rag, blot the soaked part making sure that you are not rubbing too much to avoid spreading the paint more.
Then, rinse the garment in cool water.
Repeat spraying and blotting as necessary. Rinse your clothing when the paint has been removed.
You can search for glass cleaners online at Amazon. Ensure that it has the critical component, ammonium hydroxide that can remove the paint.
Wood Cleaner
You can also use another household item for cleaning paint: wood cleaner. But it is best used when you have just stained your clothing when the paint is still wet.
First, do a pretreatment of the stained garment to remove as much paint as possible. Rinse the stained area under running water.
Soak a clean rag with undiluted wood cleaner. Dab it on the acrylic paint area and avoid rubbing to keep the paint from spreading on the fabric.
Rinse the garment again and check if you have washed off all the wet acrylic paint from the fabric.
Hand wash or machine wash with detergent to remove the wood cleaner on your clothing. If you do not have a wood cleaner in your household, you can get them online at Amazon.
Lacquer thinner
Lacquer thinner is made of many solvents, including acetone, and is a common item used for paint removal. It is a strong product that should be used with caution because it can burn the skin or cause damage to your clothing. It would help to try the lacquer thinner on a small and hidden part of your garment to check if it can damage the fabric.
Using a blunt knife, scrape the acrylic paint off the stained spot.
Use a clean cloth soaked in lacquer thinner and dab at the stain.
Rinse the garment and repeat dabbing on the stain when necessary.
Wash your garment right away to remove the lacquer thinner odor and avoid damaging the fabric.
For your lacquer thinner needs, you can look them up on Amazon.
Also check:

Can you use acrylic paint on the fabric and wash it?
You can use acrylic paint on the fabric and wash it, but you should take extra care. If you used acrylic paint without fabric medium and heat setting, it would not be very stable to clean.
If you want the painting on your fabric to last longer, you must handwash the painted fabric and never wring it. When you want to wash it in the machine, use a gentle cycle and the lowest setting on the tumble dryer.
Never soak your acrylic-painted fabric in hot water. To ensure that the acrylic paint has dried properly, wait for four to five days before washing your fabric.
When ironing a garment painted with acrylic, use only the low setting on your iron. Also, ironing is only done on the reverse side of the painted fabric.
If the fabric you are painting on needs to be washed many times like a shirt, you would want the acrylic paint to last much longer and be more flexible. Adding a fabric or textile medium will make the acrylic painting on your fabric more flexible, preventing peeling and cracking after your fabric has dried.
To go further in making your acrylic-painted fabric last a long time, you can choose to heat set it. All you need is a flat iron set on medium to hot.
You should not iron your painted fabric soon after painting it. Let it sit for a whole day to ensure that the acrylic paint has dried properly. You only need to iron for three to five minutes on the wrong side of the fabric for the acrylic paint to set correctly.