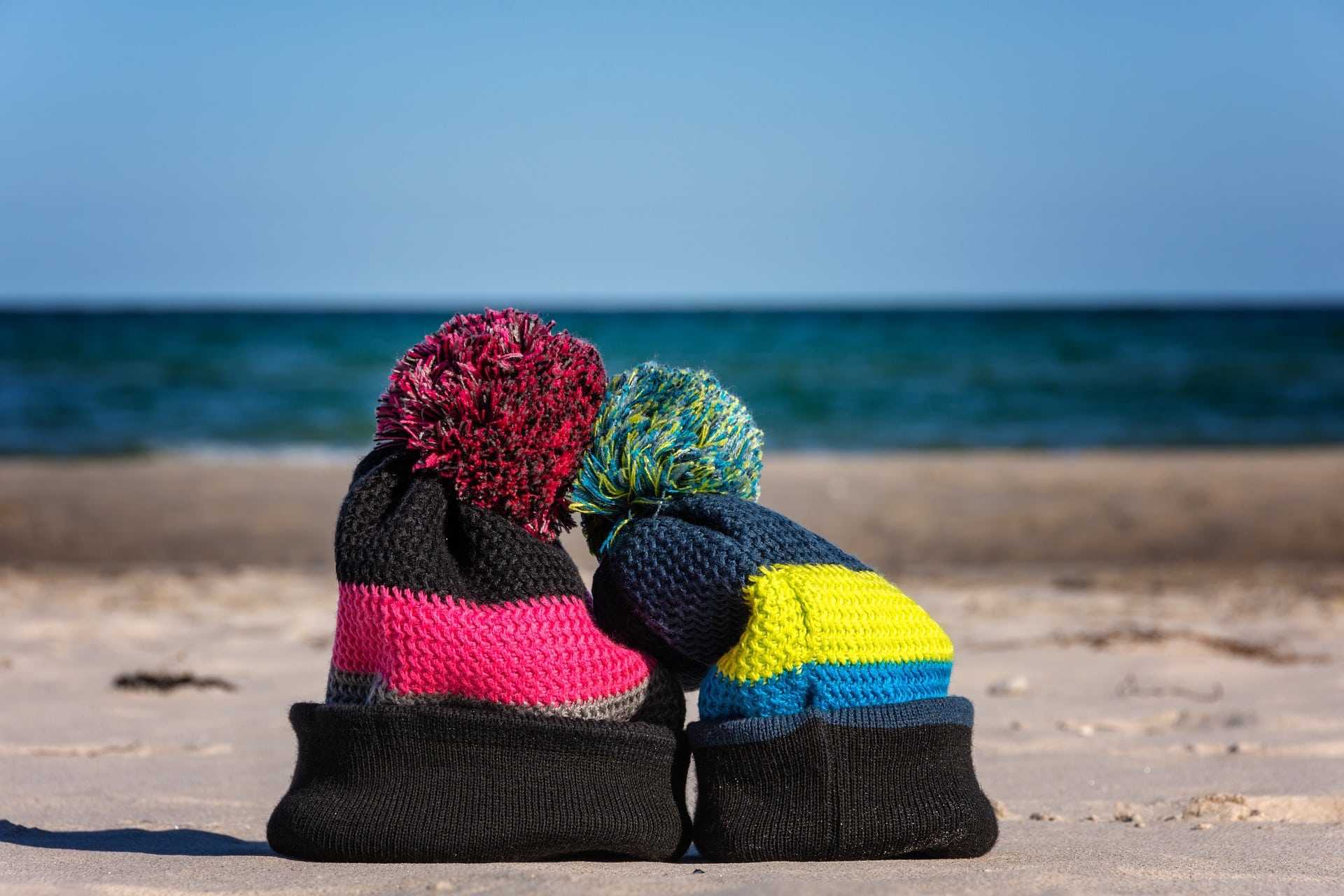 The art of fabric craft goes beyond embroidering decorative objects and cute items. It expands its scope to knitting fashionable pieces. Some examples are hats, sweaters, and dresses.
Working on these kinds of items is not that easy but very doable, even for beginners. It will not take you a long time to learn and finish one masterpiece.
For example, knitting one piece of a hat will only take you around 4-5 hours at most to finish. If you know some techniques, then you can finish it in two to three hours.
Knitting a hat is not that complicated as long as you are familiar with the basics. The most important thing is, you have the desire to learn and create your showpiece.
Is it hard to knit a hat?
Knitting a hat is not that difficult. If you are new to knitting, you can start with a smaller item like a baby hat. It is for you to get used to circular knitting needles, which is very useful for the entire process.
You will also need to learn new styles of knitting, but you do not have to be scared. It is easy to learn and understand, especially for beginners.
How many stitches should I cast on for a hat?
The number of stitches that you need to cast on for a hat is highly dependent on its size. If you have no idea how to get the size of your head, you can use a knitting chart.
You can also use a tape measure to be more accurate. But, if you are making a hat for another person, it is better to ask his measurement to be sure.
Let's say the size of your head measures 19 inches. For that size, you need to cast five stitches in 1 inch. Multiply that to the size of your hat, and you will have to cast a total of 95 stitches.
The number may look overwhelming, but it is a doable number of stitches to cast for beginners.
You have to do a bit of math, but it is not that complicated. It is better to be sure than cast the wrong number of stitches for your hat. Remember that the bigger the hat, the more stitches you have to cast.
How long does it take to knit a hat on a loom?
Using a loom to knit a hat makes everything easier. A loom is a knitting tool that is very useful for shaping your hat correctly. It comes in different sizes, so it is easy to choose which fits your preference.
If you use a loom, it will take you an hour or two to finish one hat. There are limitations in the range of stitches that you can do with a loom. But if you are in a hurry and not yet that familiar with needles, using a loom is the best option.
How do you make a hat for beginners?
There are two ways on how you can make a hat. You can do it manually using needles, or you can use a circular loom. These two methods differ in the way of knitting and the materials used. But for beginners, using a circular loom is the best option.
If this is your first time making a hat, here is a step-by-step process on how to make it. It can take you thirty minutes to an hour if you use this method.
Prepare the materials needed – You can buy these in any craft store near you.
yarn
circular loom
yarn hook
stitch markers
scissors
Secure your yarn in the loom – To do this, tie a part of the yarn in the holding tuck. After that, start wrapping your yarn in a counterclockwise direction. Wrap it around each of the pegs. Do this to the remaining pegs until you cover one whole round of the first column of the loom.
You can do another round if you want to have two rows on each peg. But, this is the only time that you can do this because you need to maintain a single row for the rest of the process.
Do the U-wrap knit – Use your yarn hook to grab the first row of the yarn and hook it over the top of the peg. Do the same for the rest of the pegs and just go all the way around the loom. Once done, push the yarn at the bottom of the pegs. Start wrapping the yarn again around each peg.
Do the U-wrap again for each row. Repeat the same steps until you make enough rows to meet the height of the hat you are aiming for.
Make the brim or the bottom of the hat – There are different ways on how to create the brim depending on your preference. You can either create a thick brim or just let the bottom part of the hat have a cute roll at the bottom.
To create a brim at the bottom, pull your knitted rows upwards, the knitting loom. Grab the first row and loop the loose yarns around the top of each peg. Make sure that each of your pegs has a row looped around it.
Do the U-wrap process again. Grab the bottom row and hook it over the top of the peg. Doing so will lock the brim at the hat's bottom.
Fish a knot to remove the hat out of the loom – Cut a separate yarn about the size of your arm. Hook it in one of the pegs and then extend it five pegs apart. You can then start fishing a knot for each peg. Make sure that all pegs are covered to prevent your hat from getting unraveled. Once done, you can begin removing the hat from the loom.
Locking the hat and closing the head part – There will be three hanging yarns in your hat after taking it off the loom. All you have to do is pull these yarns upwards to close the hole on top. After that, you can do a basic square knot and pull it to make sure it is properly tied. Then you have your hat done.
The above mentioned is the method that most beginners do if they want to create a hat. It is a simple and useful training for basic knitting techniques.
What needles to use to knit a hat?
Needles used for knitting depends on the project that you are working on.
If you are planning to knit a hat, you have two options to choose from.
You can either use a straight needle or circular needle. Both have advantages and disadvantages.
Do you need circular needles to knit a hat?
Using a circular needle to knit a hat will give you an advantage. Its 36-degree length makes it the perfect needle for circumferential items like a hat. Knitting a hat requires other knit styles aside from the basic ones. Circular needles are the most versatile needle you can use to form round stitches.
Can you knit a hat with straight needles?
Knitting a hat with straight needles is possible but not recommended. It will take you a long time to finish, and making a gauge will be difficult.
Another reason is that it will be hard to stitch the top of the hat where precision is highly needed.
Using straight needles to knit a hat is not ideal for beginners. But for seasoned embroiderers, it will be easy for them to use it in knitting a hat.
How do you knit a hat with a needle?
There is another way of knitting a hat. You can do it using a circular loom or using a needle. For beginners, I recommend starting with using a loom.
But knitting a hat with a needle is also a fun way of learning new techniques. If you want to learn how to knit a hat with a needle, follow the steps below.
Prepare the following materials – You can buy these in any craft store near you.
circular needle (US #8 is the standard size)
crochet hook
yarn (about 100-200 meters)
scissors
stitch markers or safety pins
tape measure
sewing up needle
Start casting stitches – You can start with a slip knot. Cast a total of 44 stitches using your circular needle. After casting the stitches, your yarn should look like an arc.
Use the needle to curl up the yarn in a full circle. Stretch the stitches so that it can occupy the needles on both ends.
Do the knitwise – Insert your right needle into the first stitch of the left needle, as this will help in joining both ends of your yarn together.
To make sure that the knots will not unravel, wrap the tails of your yarn into the right needle. Use a stitch marker or safety pin to hold the tail and your working yarn.
Create a rhythm pattern – After creating your first stitch, you have to make a 1:1 stitching pattern. That is one knit and one purl.
To do a purl, insert the right needle upwards into the first knot of the left needle and tie it with your working yarn. Before doing that, make sure to place your working yarn in front.
Continue working with the one knit one purl pattern until you can create a total of 46 stitches, which makes up one rib. Do not forget to use the stitch marker to mark every stitch you create. Complete a total of eight ribs with the 1:1 pattern. You should knit until the stitches reach 20 cm or less depending on the size you want.
After reaching your desired height of the hat, you now have to decrease your gauge slowly. Change your stitching pattern into 1:3. That is one purl and three knits. As the stitch count decreases, pull the needle through slightly.
Remove the stitch markers and draw up 18 stitches. Then slowly remove the knitting needle. To do that, thread a sewing needle through the stitches and pull out the knitting needle.
Cast stitches to close the hole on top and sew in ends to finish. You can also add a cute fur ball on top of the hat as a finishing touch.
Knitting a hat with a needle is a bit confusing but fun and exciting as well. You will get to know new techniques that you can apply in your future projects.
Related: 
How do you join stitches in the round?
There are two ways on how you can join stitches in the round. Beginners usually find this process confusing and complicated. But there are easy ways to do it. Here are the two techniques that you can follow.
First technique – Push a stitch off the left needle and let it hang in there. After that, slip the stitch from the right handle needle to the left. Then pick up the hanging stitch that you left on the right-hand needle.
Tighten up the working yarn to make sure that the stitches will not loosen up. Get your stitch marker to close the round properly while you continue to do more stitches.
Second technique – Transfer the first stitch from the left needle to the right and then bind it off. After that, place a stitch marker and then transfer the stitch back to the left needle.
The stitches will later be joined in the round, and then you can continue stitching.
These techniques are pretty easy to follow. You do not have to stress yourself overthinking on how to join stitches in the round.
You can choose which of the two ways is more convenient for you and use it for your next project.
Knitting a hat is a good exercise for beginners. They can learn a lot of techniques that they can apply to their other projects.
Once you get to familiarize the process, it will be easier the next time you knit. You will get used to it as you progress.