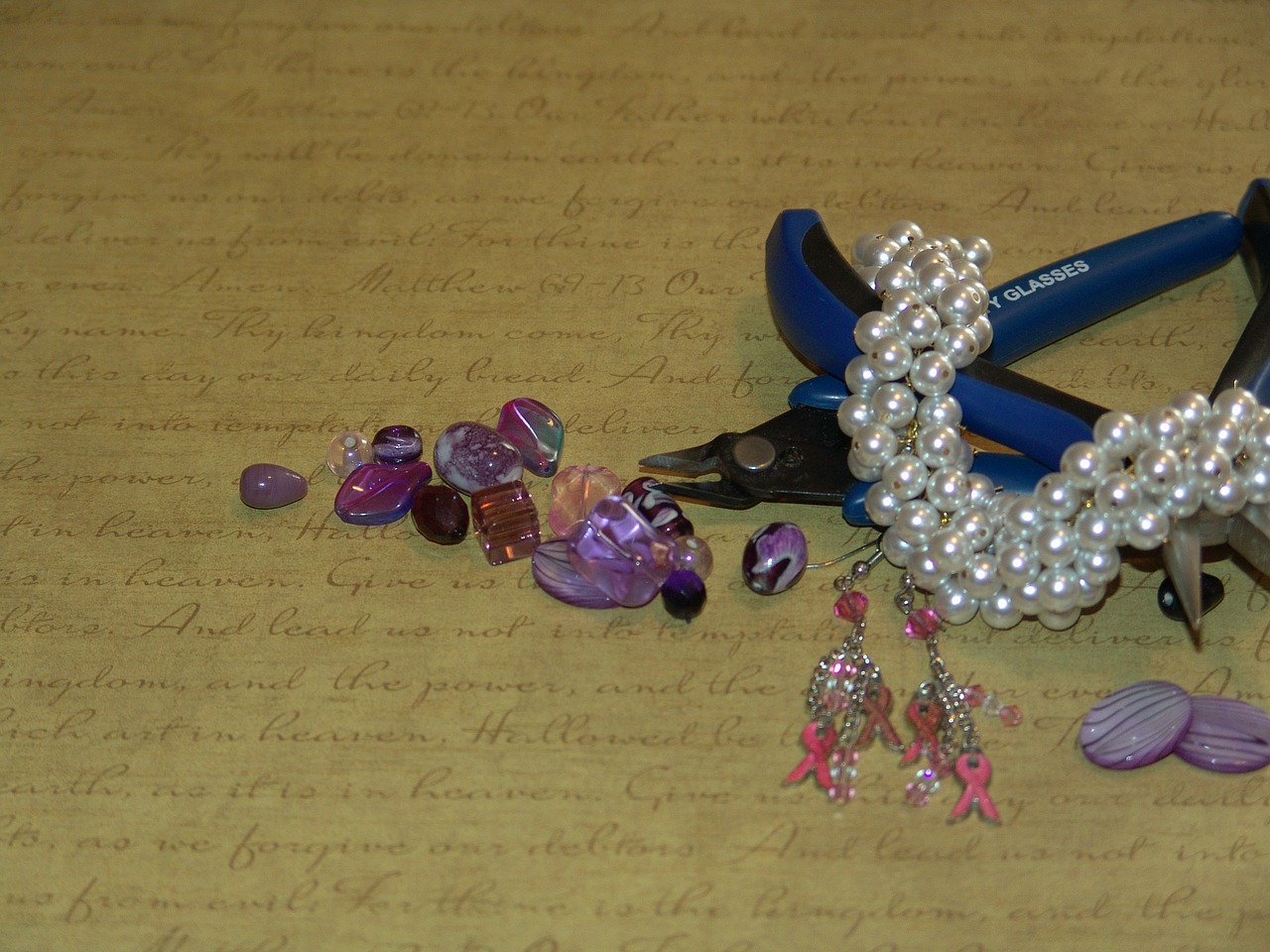 Crimping tools are must-haves for your jewelry-making supplies! They can extend the life of your other pliers and help you finish your beading wires' ends. You can close crimps with this type of pliers and secure the bead on your stringing wires.
Although you can use flat-nose pliers to crimp your crimp beads, crimping tools will give you a much more professional result. It will help in curving your crimp beads. Doing so will help your jewelry piece's wearer not feel any sharp or irritating edges.
It may take a bit of practice before you learn to use crimping pliers if you have never used it before. But it will be worth every effort to you and your jewelry's wearers. Here is a simple guide to follow so you could learn using crimping pliers:
Take one of your crimp beads and thread it onto your stringing material.
Take your wire's end and loop it back into your crimp bead while leaving a small length as a tail.
Position your crimp bead in the second hole – the oval hole with a dip – of your crimping tool. As you close your pliers around the bead, you should see the crimp bead curl.
Turn your crimp bead to its side and position it in your crimping pliers' first smooth oval hole. Close the crimping pliers around the crimp bead ad compress it into a rounded shape.
Finally, once you secure your crimp bead, you need to trim off excess thread.
You need to ensure that your wire's tail end does not scratch your jewelry's wearer. To make sure of this, you need to make sure that the last beads nearest your crimp bead are slightly larger.
You also need to ensure that your beading wire's loop is large enough when you finish. You have to insert one side of your round-nose pliers into your loop. Do this step when you are first threading the wire's end back into the crimp bead.
I have tried several crimping pliers after working on several jewelry-making projects. But I can tell you that not everything has excellent quality! So how do you choose the best crimping tools for you?
Getting the right crimping tool is vital in getting the right crimp. Although it may seem simple, it is more challenging than you think. You need to consider several factors to choose the best one.
There are no definite rules to follow in choosing which sizes of crimps to use with sizes of beading wires. But remember that you also need to use the correct size of crimpling pliers for your crimp beads or tubes.
You can use micro pliers for 1-by-1 mm crimp tubes and regular pliers for 2-by-2 or 2-by-3 mm tubes. But you will need mighty or extra-large pliers for 3-by-3, 3-by-4, or 3-by-5 mm crimp tubes.
There are a lot of options to choose from online. But Amazon is one of the most convenient online platforms to buy your jewelry-making tools. Here are the best crimping tools for jewelry-making that I like. I hope you find the best one for you too!
1. BEADITIVE Bead Crimping Pliers for 2mm and 3mm Beads and Tubes
These Beaditive bead crimping pliers are one of Amazon's Choices among its highly-rated and well-priced jewelry pliers! You can use them to crimp your beads or tubes into position and permanently secure the threads.
Unlike other tools, these crimping pliers create small, smooth, and round crimps. They do not produce obtrusive crimps from the traditional flattening method.
It features high-precision grooves that guarantee a perfect crimp every time you use it. It also has an ergonomic handle design, with a smooth finish that offers comfort while using the pliers.
These Beaditive pliers might be perfect for you, especially if you are new to beading. They are relatively cheap and have excellent quality. But you need to be extra careful when using it for your 3mm because these pliers might break them.
Buy it here: BEADITIVE Bead Crimping Plier for 2mm & 3mm Beads and Tubes | 5-Inch (Blue).
2. XURON – 494 Four in One Crimping Pliers
These American-made Xuron crimping beads are one of the best there is! It is a four-in-one tool that will help you precisely crimp or fold 1, 2, and 3 mm crimp tubes. Its folding stations ensure a secure and attractive result.
Besides its four-in-one functionality, these pliers also have other excellent features! Its tip can double as chain-nose pliers. Its handles also feature soft rubber grips and a return spring that easily opens the tool after each squeeze.
Another great thing about these crimping pliers is that they do not only work for crimp tubes. They will work perfectly for your crimp beads too! You can even use them for all sorts of designs and details, not just to finish your wire ends.
These Xuron crimping pliers are lightweight and comfortable to grip. They are also convenient for manipulating small findings and delicate wires. You will have no struggles in greasing or pinching a crimp using this tool.
You may be skeptical of multipurpose tools first, but you need to give these pliers a chance! The crimps they make are much more firm than what other tools produce, and they will not slip loose so easily. They may not be cheap, but they are very much worth it!
Buy it here: XURON – 494 Four in One Crimping Pliers.
3. FLYING K Jewelry Tools
Another Amazon's Choice among its well-priced products is this Flying K jewelry-making toolkit. These tools are essential for your jewelry-making projects, especially when you work with small details. This set includes:
Crimping pliers
Flush-cutters
Flat-nose pliers
Chain-nose pliers
Round-nose pliers
A beading awl
A bead shovel
And tweezers
It does not matter if you are a beginner or an experienced jeweler. You will love having this jewelry-making toolkit! It comes in a neatly organized pouch, making each tool visible and readily available to use.
These tools will be helpful to you in various jewelry-making projects, even in more intricate sterling silver jewelry designs. You can even use it to repair your jewelry pieces! The toolkit also comes with an instructional page, so there should be no problem figuring out which tool you need.
Buy it here: FLYING K Jewelry Tools, Jewelry Pliers. Including a Crimper, Organized Zipped Case for your Jewelry Making Tools.
4. VOUIU Bead Crimping Pliers
This Vouiu is a must-have for your jewelry beading projects! These pliers are one of Amazon's choices among the thousands of jewelry-making pliers out there. It is ideal for jewelry-making, beading, and other wire-crafting projects.
They feature anti-slip grip handles that offer comfort to their users. There should be no problem in handling this handy tool. But please note that these pliers do not feature a return spring on their handles, so you might find it a little more challenging.
Buy it here: VOUIU Bead Crimping Pliers Jewelry Making Tools.
5. BEADALON JTCRIMP1 Bead Crimp Tool
These Beadalon crimping pliers are easy to use and have a firm grip. Unlike other tools, this product offers comfort while you work with small findings and delicate wires. You can use it to secure your crimp beads and tubes and produce beautiful, professional-looking results.
Using this tool for your jewelry-making projects might help you produce better results. It will tightly secure your crimp tubes and beads while keeping their beautiful shapes. You get what you pay for as you produce perfect crimps every time you use them.
You might also find them to be smaller than other crimping tools. But these are the standard, and they are of excellent quality! They do not break easily and will last for a long time.
Buy it here: BEADALON JTCRIMP1 Bead Crimp Tool, Standard, Blue.
6. PANDAHALL Steel Micro Tube Beads Crimper
These Pandahall pliers are one of the best crimping tools on Amazon! They will work perfectly for your jewelry-making projects. You can use this tool to crimp your beads and tightly secure them.
As you use these crimpers, you will find that they are superior because of their neat, rounded, and even results. You can use them to crimp beads and tubes of sizes 2 to 5mm. You can also use this tool to crimp beading wires, chains, and illusion cords.
Its rounded jaws will leave no marks or flat spots, unlike flat-nose and chain-nose pliers. These crimping pliers will be perfect for closing crimp covers, crimp beads, and round beaded ends. You can also use this tool to fold over ends and pinch clasps without doing any damages.
Buy it here: PANDAHALL 1 Set Deep Blue Steel Micro Tubes Beads Crimper Crimping Pliers Wire Cutter Jewelry-Making Tools 5.11×2.56 Inches.
7. BEAD BUDDY 1 Step Crimper
Crimping has never been easy until you use quality crimping tools! These Bead Buddy one-step crimping pliers will help you make the process simpler. You can easily place your crimp beads or tubes and squeeze them. There is no need to twist or to turn, making things easier.
You can crimp all sorts of crimp materials using these pliers. Use this handy tool to crimp your round crimp beads, crimp covers, or tubes. Note that these pliers might work best for smaller crimp materials. Going as small as possible will help you get the best result.
Buy it here: THE BEAD BUDDY 1 Step Crimper One Squeeze Crimp Tool.