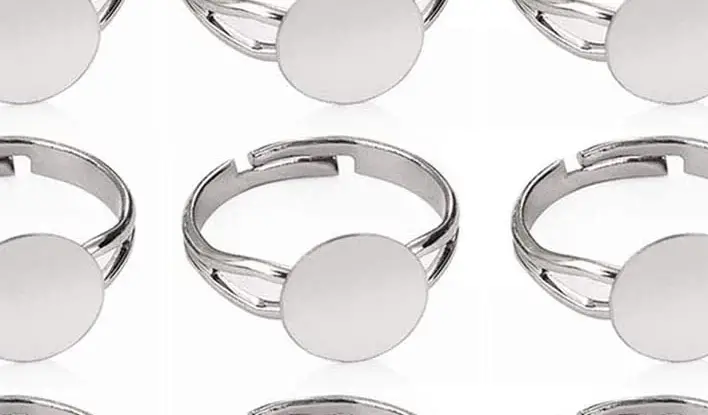 Did you notice that one of the most common jewelry pieces people wear are rings? While others put them on to signify a particular life phase, many wear rings as fashion ornaments. They come in various shapes and sizes, depending on the wearers' preferences.
Many jewelry designers sometimes find it challenging to design rings. But, if you know how to do it properly, it is not as difficult as it seems. Using ring blanks is the easiest way to produce wholesale rings.
Ring blanks are pre-designed finger rings that did not undergo the entire designing process yet. You can use them to make customized rings and other general types of rings.
Jewelry designers shape ring blanks or add gemstones and other details to complete their jewelry designs. In other words, they are simply the ring's base.
Clean ring blanks are ready for gluing gemstones. You can simply apply the adhesive on the bezel and the stone's base. You can also try gluing together a few small rocks if you want to use more gemstones on your design.
If you want to make things easier, you can buy ring blanks that come with a bezel. You should also buy them in bulk, which is the best way to get them for a much lower price.
But, you need to remember that wholesale ring blanks come in varying shapes and sizes. You have to know your market, so you can stock up on the best ring blanks.
Good thing for you, I will share in this post some of Amazon's best ring blanks for jewelry-making. These items have the best ratings and customer reviews and will be perfect for your projects!
1. LANBEIDE 40 Pieces Blank Rings
These LANBEIDE blank rings are durable and beautiful – perfect for beginners! They are 12mm silver-plated blanks with a flat adjustable base and lead and nickel-free. So, there is no need to worry about getting allergies or finger discoloration.
The package comes with forty pieces of blank rings, enough to make many rings! You can make beautiful rings that will fit anyone because these blanks are adjustable. They are comfortable to wear and have a beautiful finish that makes your pieces look professional.
Buy it here: LANBEIDE 40 PCS Blank Rings – Silver Plated Adjustable Flat 12mm Ring Base Blank Jewelry Finding.
2. PANDAHALL Elite 10 Pieces Adjustable Ring Blanks
When it comes to DIY jewelry projects, PandaHall always comes to the rescue! If you are looking for ring blanks from reputable shops, PandaHall is the one for you! I have reviewed many jewelry supplies and tools from this shop, and I have always loved their products.
Another fantastic thing about PandaHall is that you can almost always see their products listed as Amazon's Choice. These ring blanks are Amazon's Choice for ring settings for jewelry making.
The rings' inner diameter is 17mm and 3mm wide. It will fit most wearers comfortably and will look beautiful too! They have beautiful blank cuff-style ring trays that can hold 14mm round glass cabochon.
The rings are also adjustable and comfortable to wear on any finger! You can also put on various stones or glass patterns to make your pieces more personalized!
These ring blanks are pretty solid, unlike blanks from other shops. They are also shiny and will give you excellent quality for their price! But, there are only about ten pieces per package, so you might want to order a few.
Buy it here: PANDAHALL Elite 10 Pieces Adjustable Ring Blanks With 14mm Flat Ring Base Pad Cabochon Settings for Jewelry Making Silver.
3. WAPITI Ring Core Blank
If you are looking for ring blanks that do not have trays, these pieces are an excellent option! These Wapiti ring blank for inlay rings are perfect for your DIY projects. It is tungsten, which makes it more durable and scratch-resistant compared to other materials.
The ring blank's channel for the inlay also looks fantastic! It is flat with high walls and a burnished base, which gives proper adhesion to your decoration. The side bevels are also beautifully-cut. They catch the light nicely, which will make your ring look gorgeous!
As long as you are careful with placing your inlay, you will have no problems working with these pieces. You can even do wood inlay on this one-piece ring core!
You can do it by cutting the strip to the width and a little bit longer than needed. Soak it in water for a short while until it bends. Then, wrap it and around the ring blank and hold it in place with wire.
You will surely love this Wapiti ring core blank. It does not matter if you are a beginner or an advanced jewelry maker. You will enjoy working with this beautiful, durable, and easy-to-use blank!
Buy it here: WAPITI Ring Core Blank for Inlay Ring Jewelry Making – Tungsten, Ceramic – 8mm Wide, 4mm Channel.
4. DROLE Ring Blanks
These Drole ring blanks are perfect if you want classic colors on your jewelry. This package comes with thirty pieces of ring blanks in three colors: gold, antique silver, and antique bronze.
The ring blanks are adjustable, with a size base diameter of 12mm. You can use them to make beautiful rings that can fit most fingers comfortably. They are alloys that are lead and nickel-free. So, there is no need to worry about your fingers turning green or having allergies.
You will get what you pay for, although they may not be as perfect as more expensive pieces. But, you will get something much better than what you may expect. You can use these ring blanks to produce beautiful personalized rings for you and your loved ones.
Buy it here: DROLE Ring Blanks with 12mm Adjustable Ring Bases Antique Silver Antique Bronze Gold Plated Metal Round Finger Ring Trays 30 PCS.
5. PANDAHALL 30 Pieces 5 Colors Brass Ring Blanks
As I mentioned, PandaHall is one of the best shops on Amazon for all your jewelry supplies. This beautiful package includes thirty brass ring pads in five pretty colors, with six pieces for each color.
The ring blanks come in beautiful colors of antique bronze, golden, platinum, rose gold, and silver. Their inner diameter is 17×19.5mm and 20mm in width, the perfect size for DIY rings. They are also adjustable, so your pieces should fit comfortably to anyone's fingers.
These PandaHall chunky rings are brass and have an exquisite finish that will elevate your jewelry designs. They are easy to use too! You can simply glue on your gemstones and other decorations.
Buy it here: PANDAHALL 30 PCS 5 Colors Brass Ring Blanks Pad Rectangle Ring Pad Adjustable Finger Ring Base for Embellishment Jewelry Making.
6. REIDGALLER 10 Pieces Fit 18x25mm Copper Vintage Oval Cabochon Ring Trays
If you want ring blanks that have antique-looking trays, these Reidgaller pieces are perfect for you! The package includes ten pieces of vintage cabochon ring base settings.
The blank bezels are 18x25mm oval cabochons, which look unique compared to other typical round-shaped bezels. The ring diameter is around 17mm, which can widen slightly because of the soft material. These ring blanks are great value for your money.
Buy it here: REIDGALLER 10 PCS Fit 18x25mm Copper Vintage Oval Cabochon Ring Trays DIY Base Setting Blanks for Jewelry Making Components.
7. STERA 925 Sterling Silver Size 8 Ring Blank with 6mm Round Bezel Setting
These Stera 925 sterling silver ring blanks will make your rings look more exquisite and professional. Sterling silver is an affordable and durable metal. It will give your jewelry pieces a beautiful shine, even with regular wear.
These 8mm ring blanks have 6mm round bezel settings, the perfect sizes for your DIY rings. They are also lead and nickel-free, so you do not have to worry about finger discoloration and allergies.
Note that the mountings measure precisely 6mm. Make sure that you buy gemstones that will fit perfectly, so you can make beautiful rings. The package comes with two ring blanks. You can make for couples, loved ones, and friends!
Buy it here: STERA 925 Sterling Silver Size 8 Ring with 6mm Round Bezel Setting Blank Jewelry Findings for DIY Rings, 2 PCS.
8. MONKEYJACK Adjustable Solid Brass Ring Blanks
Another highly-rated ring blank listing on Amazon is this MonkeyJack set. You can quickly turn charms or beads into rings with these solid ring findings. They are adjustable rings with a setting that measures 20x19mm.
You can choose your ring's color among four beautiful colors: silver white, silver, bronze, and rose gold. These brass ring blanks come in a set of ten, so there would be enough to make rings for your friends and family.
Note that although they are adjustable, they may need a bit of your strength to adjust. It is essentially great for your rings' wearers! You can assure them that their rings will not easily fall off their fingers.
Buy it here: MONKEYJACK Adjustable Solid Brass Ring Blanks Bases Findings with Rectangle Pads 0.87×0.75 Inch Jewelry Making 10 Pieces.
9. JDESUN 20 Pieces Ring Blanks
These Jdesun ring blanks are also perfect for beginners who want to make DIY rings. The package includes twenty pieces that come in colors silver and gold. The round finger ring trays hold 12mm round glass cabochons.
They are adjustable, so you can make alterations according to your wearer's needs. The ring blanks are also easy to use! You can easily stick photos or stones onto glass cabochons. Then, simply glue them onto the tray.
Buy it here: JDESUN 20 Pieces Ring Blanks with 12mm Adjustable Ring Bases, Metal Round Finger Ring Trays, Gold and Silver Plated.