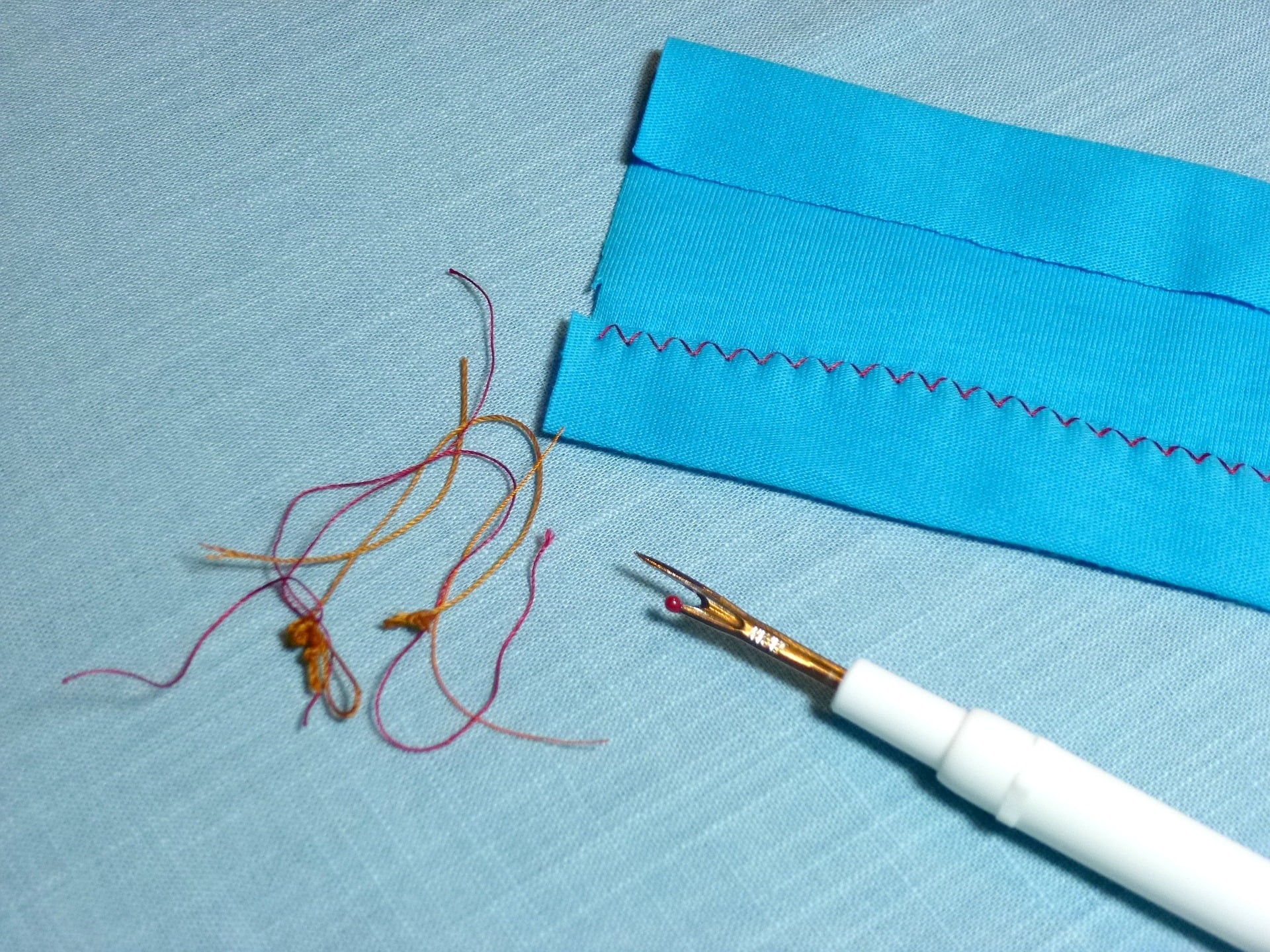 The designs that we embroidered do not always come out how we want it. There are times when we place stitches in the wrong place.
Sometimes we can even stitch the wrong design. These things can happen in embroidery. Even professionals make mistakes while beginners experience that most of the time. But there is no need to worry.
There are always solutions to problems like this. In embroidery, there are a lot of ways to correct the wrong stitch. The most common way to remove embroidery is to use a seam ripper.
But if you do not have a seam ripper, you can use a scissor. You can cut the stitches and remove them one-by-one.
Professionals recommend using a seam ripper when removing embroidery. It is because you can remove the stitches with ease by using it.
It does not take up a lot of your time compared to using scissors. You will only take around 10 minutes removing the stitches with a seam ripper.
What does a seam ripper look like?
A seam ripper is a small tool used for removing stitches. It looks like a small tweezer with a handle, head, and a shaft. Its head separates from the handle with a cutting surface located at the base of the fork. Some seam rippers have a sharp point on its one side of the fork.
It allows easier insertion to remove the stitches.
In using a seam ripper, you need to insert its sharp part into the seam below the thread. To rip the thread, lift the seam ripper upwards and allow the blade to cut through. Once you cut the thread, you can remove loose ends and clean the stitches.
What can I use if I don't have a seam ripper?
There are a lot of ways to remove stitches. You do not always need a seam ripper to unstitch your embroidery. You can still use other alternatives. Small scissors are a perfect alternative for seam rippers.
These two tools may look different, but their functions are the same. You can also slip through the scissors underneath the thread and cut it. After that, you can remove the loose threads. The only difference between the two is their size.
Using a seam ripper is more comfortable than scissors. It is because there are times when scissors can stretch the thread too much. The surrounding threads can get loose, and you might cut it as well. But scissor is a good alternative even so. Make sure to use small scissors. Using bigger scissors will make it difficult for you to slip underneath the thread to cut it.
How do you make a seam ripper?
If you are working on a project and do not have a seam ripper, you do not have to worry. You can create it on your own. There is no need to go to the craft store and buy it. Here is the step-by-step process on how you can make your seam ripper.
Prepare the following materials: Plastic or wood for the handle, metal for the head, super stick glue, and red ball pin.
You can decide which material to use for the handle. If you are more comfortable with wood, then use it. But if you prefer plastic, you can also use it. Create a hole in your handle large enough to insert your head.
Once done, creating a hole in the handle, it is time to insert your head. You can use a metal with a U shaped head or a sturdy U shaped wire. Make sure it is sharp enough to cut a thread. You also have to make sure that it is stable and does not move up and down. Put super glue on the bottom part of the head. Insert it in the hole of the handle. Wait for 3-5 minutes until the glue dries.
Reminder: The U shaped head must have a longer and shorter side. Its shape must look like an unfinished letter U.
After that, prepare to make the shaft. Get your small red pinball and insert it on the smaller side of the U shaped head.
Check if it is sturdy enough to cut a thread.
That's the simplest way to create your seam ripper. It does not need to be perfect. The most important thing is it can cut through the embroidery.
How do you remove a seam?
Removing a seam is vital for learning basic embroidery. It is useful for making alterations and fixing some mishaps in the stitches. If you are a beginner in embroidery, here is a simple three-step process in removing a seam.
Slip the sharp part of the seam ripper in a stitch in the seam you want to remove. Make sure your seam ripper only slides through the stitch and not the fabric.
Slide the seam ripper forward. Bring the stitch near the blade of the fork. Push the seam ripper forward and cut the thread. Do not apply too much force. Let the edge do the cutting because the seam ripper may slip. It can destroy the fabric if that happens.
After cutting the thread, look for any damage in the fabric. If there is none, trim any loose thread and clean the surface near the seam.
It is a simple process. You do not have to worry a lot about removing a seam. Everything will go smoothly as long as you slide the seam ripper underneath the thread with care.
How do you rip seam fast?
Ripping a seam looks simple, but you need to be slow and accurate. But what if you are in a hurry and catch up on a deadline? Is there a faster way of removing a seam?
Yes, there is. Since you will need enough time when using a seam ripper, you can try using scissors instead. It is faster to remove a seam by cutting its edge.
With that, you do not have to slip through each thread and cut it. All you have to do is to cut the edge and pull each thread with care. It can save you a lot of time.
How do you sharpen a seam ripper?
To avoid damage to your fabric, your seam ripper must always be sharp. There are two ways on how you can sharpen it. Here's how you can do that.
You can use a ball of steel wool to sharpen your seam ripper. Rub it to the fork of your seam ripper until it sharpens. You can buy steel wool in hardware or supermarkets. You can find it in the home appliances area. You can also find this in the kitchen or dishwashing alleys
in the department store.
Another way to sharpen a seam ripper is by using a tool called beam reamer. Professionals use this to make their seam rippers sharp. It looks like a rounded file that you can buy from craft stores that carry beads.
Those are two of the ways on how to sharpen your seam ripper. You can always choose which is more efficient for you. Make sure you are comfortable using either of the tools you choose.
What is the little red ball on a seam ripper used for?
A lot of those who are into embroidery get curious about the little red ball on a seam ripper. Most think it is for aesthetic purposes. But that is not the case.
It is an integral part of the seam ripper to help you remove stitches easier. Its function is simple. It lets you glide the seam ripper underneath the stitches with ease.
The red ball allows you to rip the stitches in one swipe. That way, you do not have to go back and forth, removing the stitches one-by-one.
How do you rip jeans with a seam ripper?
You want to make use of your old jeans but do not know how? There are a lot of ways to do so. Instead of throwing it out, convert it into something useful.
You can either make a rug or bag out of it. But before doing that, you need to rip the jeans first. To do that, follow these simple steps:
Mark the areas where you want to rip your jeans. You can mark it with a chalk or marker.
Use your scissor to cut a small hole near your mark and rip it open. Do so just enough to slide your seam ripper underneath the stitches.
Get your seam ripper and pull the threads one-by-one. You can start ripping the threads near the hole you created. After that, continue ripping the other parts. Be careful not to tear the whole jeans.
You can pull out the threads in an alternate method. Rip the horizontal threads first, then the vertical ones (only for variety). It is up to you which one you want to remove first.
After ripping the threads one-by-one, check for loose threads. Cut all loose threads to complete ripping your jeans.
Ripping embroidery is more comfortable with a seam ripper. Aside from being efficient, it also makes the work easier and faster. You can also make sure that the surface where you ripped the stitches is clean.
Is it possible to remove embroidery?
Embroidery is a fabric craft that allows you to be creative and flexible. It does not restrict you from making changes. You can remove embroidery if you want to make adjustments or correct a mistake.
The most common scenario why people remove embroidery is because of an incorrect stitch. Since it is easy to see these kinds of mistakes, people correct them right away. They fix it by removing the embroidery and stitching it again. Anything is possible in embroidery. As long as there are available tools to use, you can always correct your mistakes.
What is the easiest way to remove embroidery?
You use different kinds of tools when doing embroidery. One of those is a tool to remove and correct embroidery. There are two tools that you can use to remove stitches. You can use a seam ripper or scissors. These tools can both help you remove embroidery, but they differ in the way you use them.
Seam ripper needs careful handling when removing embroidery. It is because it can rip the fabric if you do not slide it under the thread with care. On the other hand, scissors can easily cut embroidery. But it can also cut the whole fabric if not handled with care.
These two are the best tools you can use to remove embroidery. You just need to be careful when using them to avoid further damage with your fabric.
Also check: 
How do you unstitch?
The process of removing a stitch is the same as how you remove embroidery. The first thing you need to do is to prepare the materials. Make sure you have the seam ripper or scissor with you.
When the materials are ready, mark the area you want to unstitch. Start by sliding the seam ripper underneath the stitch and pull it forward. Let the blade cut the stitches.
Do not exert too much force as it may rip the fabric. If you are using a scissor, cut the threads one-by-one. You can start in the middle or wherever you want to. Make sure to cut with care to avoid cutting the fabric as well.
As mentioned earlier, embroidery is a flexible craft. It does not limit your creativity when doing a design, which is why tools for removing embroidery are needed when stitching.
These tools will help you redesign and correct mistakes. It allows you to discover other ways to improve your design. Learning how to remove embroidery is necessary for beginners to learn.
Remember that you can always correct mistakes. Now that you already know how to remove embroidery, be more confident. Do not be afraid to make mistakes.
Trust your seam ripper and scissors to correct your errors. As you progress in embroidery, ripping stitches will become a norm. You will get used to it as time passes by.