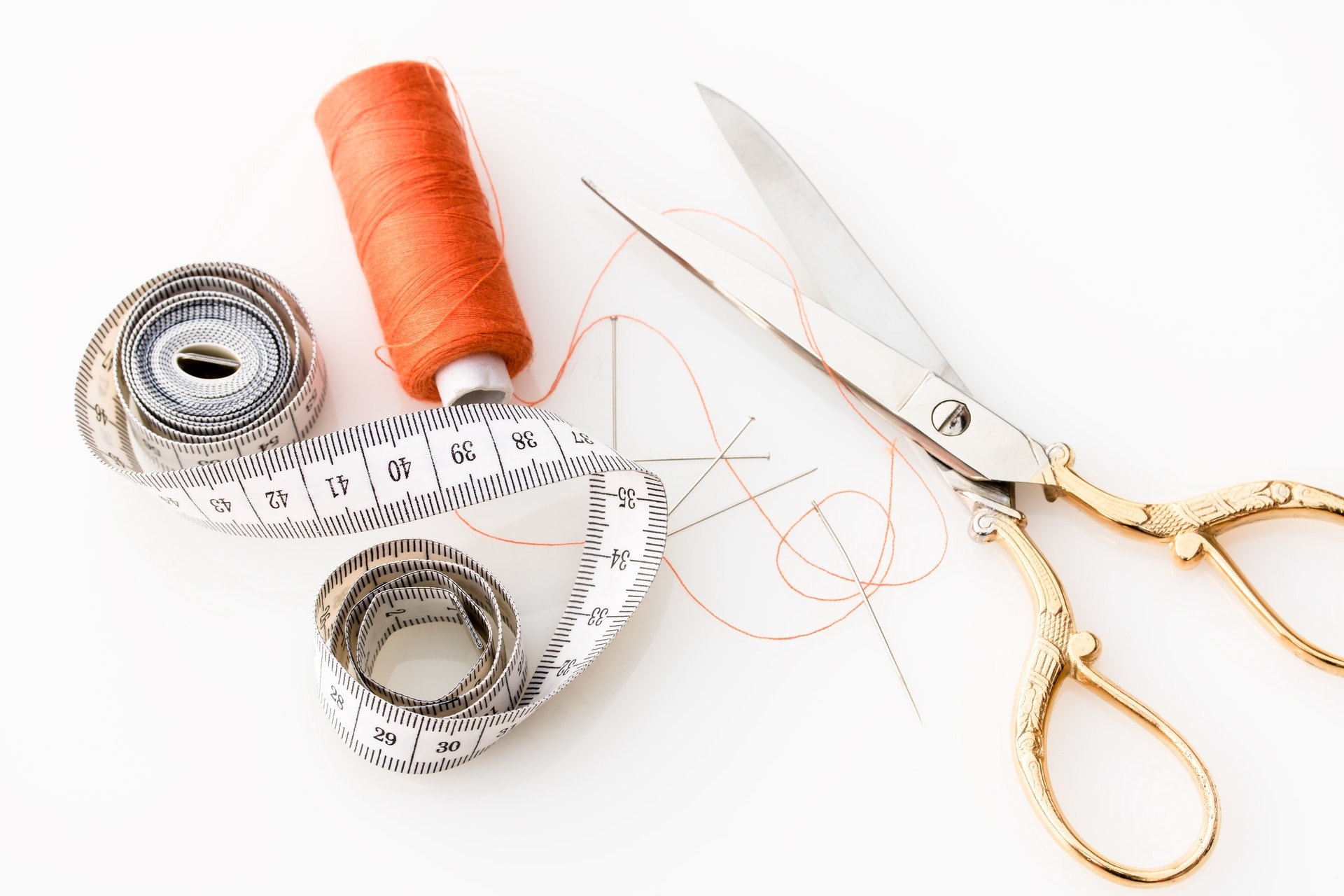 What can be more annoying than to realize that the last few inches of your project do not have a thread? This scenario happens whether you are a beginner or a pro in sewing. What keeps this scenario worse is the beeping noise from the sensor of your sewing machine.
There can be two reasons why this happens. Either you ran out of the thread in the bobbin, or the threads broke up for unknown reasons.
The following are some possible reasons why your sewing machine thread is breaking:
Your first troubleshooting effort is to clear or clean the thread pathways. Dirty pathways are the main culprit in thread breakage in your sewing machine. Remove thread fibers, fiber knots or blockage, if there is any.
When you have a horizontal spool pin, make sure to use the smallest spool cap. You may also consider using an industrial thread lift. Do not wind your threads too tight on a big spool cap. This will make your thread break.
Using a thread lift can prevent such issues. Also, consider loosening up your thread wound a little before you run it on your machine. Always watch the pooling you set your thread particularly in a vertical position.
When you notice excess threads winding out your spool before the lift guide lifts it, use a spool net. Take out the thread because it can either be old or broken.
Another possible cause of thread breakage is the old or damaged threads. Check on your thread. Is the color fading? Does it break in your hand? Or is it falling out of the spool? If one of these happens to your thread, then it is old. You need to change it.
This is why you must always buy quality thread brands. Also, avoid buying threads from garage sales. You might buy worn-out threads due to sun or moisture exposure.
Upper Tension Is Too Tight
When the top thread is at its peak stress level as it passes through the tension assembly, it tends to break. To prevent this, loosen the top tension knob to the extent that the tension disks don't touch each other.
Take out all the top thread pressure to lessen the tension and then start again. When you feel that the machine sews with no tension on the thread, start to turn the tension knob tighter. Do this clockwise turning as you test the stitches.
Continue adjusting until the stitches look normal again. As you do this, you may also have to loosen the bobbin tension. This is to ensure that the bobbin thread does not pull the top thread to the back of the fabric.
Bobbin Tension Is Too Tight
When the top thread breaks. You would not think that the bobbin tension is the possible culprit of the breakage. Well, it is not always the case. The content of the bobbin thread as well as the tension setting can break your top thread.
For instance, many pre-wound bobbins are polyester threads. If you use cotton in your top thread and polyester pre-wound bobbin, there is a tagging strength. The strength of the polyester can cause the cotton top thread to snap. To solve this issue, loosen the bobbin tension. Then test your stitches until you get balanced stitches without thread breakage.
Are you using metallic threads on your embroidery? Or Are you heavy-footed? If you are guilty of either of these two, then you need to slow down.
If you are embroidering or using metallic threads, you must run the machine at a much slower speed. Metallic threads, for instance, are not as flexible or stretchy as the normal threads. Also, some fabrics and materials can cut your thread. Burlap and vinyl are a few of these threads. If you are working with these fabrics, slow down.
Observe if your thread will not break. If it continues to break, check your needle and the kind of thread you are using.
As mentioned earlier, the kind of thread you use for your project may cause breakage. Take the case of burlap and vinyl. You cannot use cotton threads because these fabrics can cut your cotton thread.
A good polyester thread works better on these materials. Whether you are a beginner or a pro, always invest in good quality threads.
Needles are important details in your sewing. They have channels in them that deliver thread into the fabric and down to the bobbin area. A leather needle, for instance, looks like a knife on its end.
This design is necessary to make a tiny slit so the thread can pass through the leather. If you use a needle that is too small or with a rounded tip, you are putting extra stress on your threads.
Get your presser foot off and check at the throat plate. Do you see where the needle needs to pass through? If that area looks jagged, then you need to clean and smooth it out. The throat plate must be smooth, otherwise, it can damage or break your thread.
Improper Threading Of The Machine
Even if you are a pro or have been sewing for years, consider improper threading as the culprit of breakage. To make sure, this is not the cause, unthread the machine. Then, check the bobbin area for lint and clean it. Put it back again. Thread with your presser foot up and see to it that you get in the bobbin tension as you re-thread. Proper threading affects your sewing, your stitches, and your thread tension.
At the onset of thread breakage, make sure to do any of these troubleshooting tips. Fixing the problem early on saves your time and effort. Plus, it makes sewing more enjoyable.
How Do You Fix Bobbin Tension?
It is frustrating to work with a dysfunctional sewing machine. Seasoned and beginners both experience some sewing mishaps. These include bobbin tension, bunching, and tangling threads.
Although some troubles can be easy to fix, others need repair from the professionals. If you experience some sewing glitches, it is best if you can fix them yourself.
One common problem that you must learn to fix is the tight bobbin tension. Here are some ways to check and fix bobbin tension.
If your bobbin thread keeps looping, it can cause a tight tension. And this is not good for sewing. The following are some handy tips to resolve some bobbin tension glitches.
You must adjust the bobbin tension in little by little. Test it on a piece of fabric then, adjust if necessary. Continue this until you get the right tension. Make sure that you get a tension that will give you good and balanced stitches without looping.
Keep in mind that if your bobbin case is plastic, it does get occasional wear and tear. What you can do is check the indentations. You can do this by running your finger on the case. If you find any, then replace it with a metallic case.
Make sure that you thread your bobbin according to the instructions of the manual. You may also get pre-wound bobbins because their winding is consistent.
Another possible reason for bobbin tension is the dirt. Check if your bobbin case does not have thread fibers or lint. You can clean it with a small paintbrush or dental floss.
Check the threading. Your bobbin might only need a simple re-threading to loosen up a little.
You may also consider a simultaneous adjustment of both the upper and bobbin threads. Then, check if they are even.
Another thing you can look at is the spool. It might need a change at this very moment.
Knowing how to troubleshoot sewing troubles is practical. It allows you to work on your projects without any interruptions.
What Causes Bobbin Thread To Bunch Up?
Your bobbin thread is likely to bunch up regardless if you are a beginner or not. Bunching happens. But you can resolve this. You have to make sure that you do not pull the fabric right away.
Take time to cut through the excess thread instead of pulling it loose. Pulling can cause damage to your machine and your project. Here are some ways to solve this issue.
First things first. Check if the bobbin has proper threading. If not, you need to remove it from the case and re-thread it. Follow the manual of your machine on how to thread it.
Always check the needle and thread you use for your fabric. Each fabric needs specific threads and needle styles and sizes.
Make sure that you use the same thread in both the top and bobbin threads. If you use different threads, there will be opposing tensions. Your machine will tend to pull on them at different rates. This will cause bunching.
Another reason for bunching is the loose bobbin case. This could be due to a loosened screw. You must adjust the screw and pull the bobbin thread bit by bit. You will feel some resistance, but as you continue the thread will move with less and less tightness.
Before you start sewing, make it a habit to check if the bobbin and the bobbin case are in the proper position. Improper placement can cause thread bunching.
Always clean the bobbin area, the case, its compartment, and thread. You can use a small brush to remove thread fibers and lint.
Check if the bobbin thread is not too loose, or it did not come out of the compartment. If it did, you need to re-thread the bobbin. Follow the manual for proper guidance on re-threading.
Also check: 
Why Does My Sewing Machine Keep Jamming?
Have you experienced sewing and your machine made by Handi Quilter keeps jamming? Your frustrations almost lost your sanity, isn't it? But before throwing your machine out of the window. Here are some reasons you need to understand why jamming happens.
Don't always blame the bobbin! A lot of times, bobbin gets the blame for thread troubles in sewing. Contrary to your common belief. The jamming of your machine can be a result of not enough tension on your upper thread.
This means that the sewing machine does not have enough strength to pull the thread up and into the fabric.
If this situation happens, you must re-thread the needle. Follow the instructions of the machine manual. Remember to lift the presser foot while you do the re-threading.
When you use your machine, you tend to leave behind lint and thread fibers from your projects. Add to that is the dust that your sewing machine accumulates. All these can cause clogging in any part of your machine.
You can resolve this by cleaning and oiling your machine. Always consult the machine's manual for a proper cleaning process. If you can do regular cleaning to your sewing machine, then you can prevent clogging.
When you work on a project, see to it that you are using the right needle and thread for the fabric. Your sewing machine has a guideline about needles and fabrics. Using inappropriate needle size can cause it to bend or break. This can cause jamming or further trouble in your machine.
Keep in mind that no needle fits for all fabrics. So, use the right needle size and style according to the textile you are working on.
When the feed dogs do not move or it hardly pulls the fabric, then jamming is likely to happen. One reason could be the dust and lint accumulated between nudges. Another reason is your presser foot is too low.
Check on these two issues and find out which causes the feed dog malfunction. If it's the presser foot, then lift it according to its proper setting.
When you use poor quality threads, they tend to wear off fast and develop knots as you use them. Thread breakage and knots are recipes for disaster. They will cause your machine to jam and possible troubles may follow.
To avoid this, always use good quality threads on your projects. You must also consider the type of threads to use for every project or fabric.
Sewing is a straightforward hobby, though using a machine can be a handful of work for beginners. But do not fret. These possible glitches in your Pfaff or Janome sewing machine are not major. You only need to understand how each function affects the other.
Once you understand your machine and how to troubleshoot errors, sewing can be a breeze. Besides, all these troubles are preventable. Only if you keep your machine in perfect condition.
Make it a habit to do a thorough check on your machine before and after using it. This way, you will not lose your composure when any of these glitches happen.