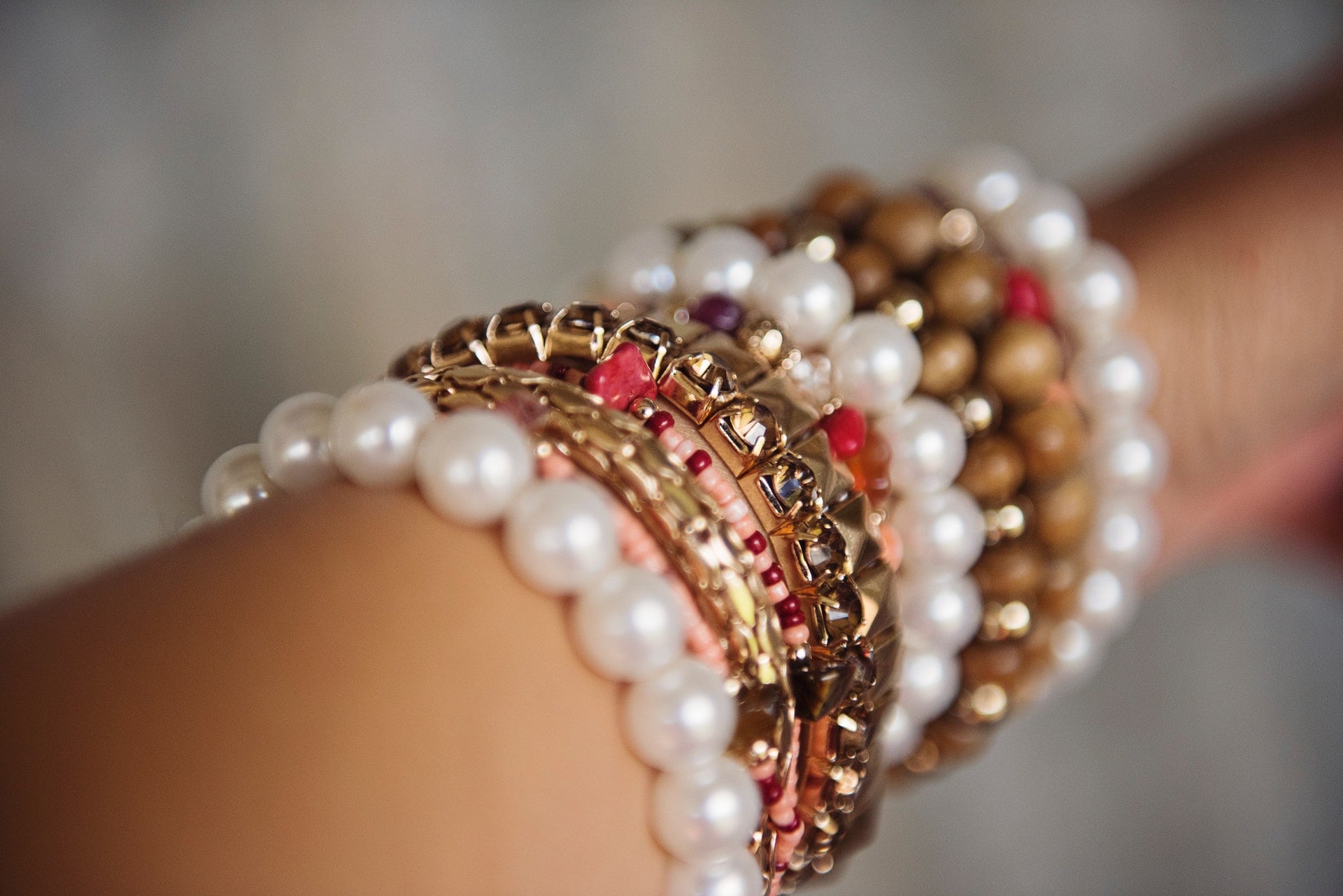 Pandora jewelry belongs to the mid-range. They take excellent quality components and put them together in outstanding designs. But many believe that Pandora is a mid-quality line. The gold plating on some of their items look elegant, but it can quickly wear off, unlike high-end jewelry pieces.
Some consumers even believe that Pandora items can be a little bit overpriced. You pay for the brand since they have excellent branding and impressive user experience to back it up.
What are the best jewelry brands?
Tiffany & Co.

Colloquially known as new Tiffany's, Tiffany & Co. remains the leading American luxury jewelry and specialty retailer. They are famous for their silver craftsmanship. The brand continues to showcase rare and extravagant jewelry pieces since 1845. Their branding is all about being an arbiter of taste and style.Tiffany & Co. sells jewelry, crystals, fragrances, personal accessories, and leather items. Their jewelry items sell for $15,000 to $15 million. Audrey Hepburn and Elizabeth Taylor are two famous and prestigious persons who wear pieces from them.

Harry Winston

Harry Winston, Inc. is another American luxury jeweler known as one of the world's most prestigious jewelry manufacturers. Harry Winston, also known as "King of Diamonds," founded the company in 1932.The brand continuously creates spectacular delicate diamond jewelry designs. Harry Winston's innovative designs helped revolutionize fine jewelry pieces. It is why they remain at the foundation of a timeless aesthetic that inspires all its creations.Up to date, Harry Winston, Inc. continues its tradition of creativity and quality without compromise in its retail stores around the world. Many believe that Harry Winston's jewelry pieces have always been synonymous with the best that there is.

Madonna, Julie Andrews, Jennifer Lopez, and Natalie Portman are a few famous people who wear Harry Winston jewelry. The items sell from $4,000 to $20 million.

Cartier

Founded by Louis Francois Cartier in 1847, the brand is a French luxury goods conglomerate. They specialize in jewelry and watch designs, manufacture, distribution, and sales. Until now, Cartier is famous as one of the most prestigious jewelry manufacturers in the world.They have a long history of sales to royalty, including King Edward VII of Great Britain. The brand also has distinctive jewelry collections. They are popular with celebrities, such as Tom Cruise, Kate Middleton, Angelina Jolie, and Andy Warhol. Their items range from $1,000 to $2.76 million.

Chopard

Chopard is a Swiss manufacturer and retailer of luxury jewelry, watches, and accessories. They are most famous for their signature free-floating diamonds behind the watch glass.The brand prides itself for their use of ethically sourced and sustainable gold across all jewelry pieces that they produce. Their items' prices can range from $2,000 to $17 million.

Van Cleef & Arpels

Like Cartier, Van Cleef & Arpels is another French luxury jewelry, watch, and fragrances company. Their jewelry pieces usually feature flowers, animals, and fairies.The brand is renowned for its patented, innovative creation known as the Mystery Set. It is an intricate piece with a clip that takes an astounding 300 hours or more for a skilled jeweler to finish.Van Cleef & Arpels jewelry can sell from $1,500 to $500,000. Queen Marie Jose of Italy, Mariah Carey, and the Duchess of Windsor Wallis Simpson are few celebrities who wear items from this brand.

Graff

Founded by Laurence Graff, this brand is a British multinational jeweler. They are famous for designs with large diamonds and are also widely known for buying and resetting prominent diamonds.Some of their most famous pieces include the Graff Pink. It is a pink emerald-cut diamond, and the Delaire Sunrise, the largest emerald-cut Fancy Vivid Yellow diamond globally.Melania Trump, Princess Charlene of Monaco, and the late Princess Diana are few famous persons who wore jewelry pieces from Graff. Their items sell from $1,500 to $46.5 million.

David Yurman

David Yurman Enterprices LLC is an American designer jewelry company founded by David and Sybil Yurman in 1980. The brand creates pieces in sterling silver and gold and is famous for its mixed metal designs.Yurman is also known for sculpted pieces reminiscent of the American Craft Movement. They use bright colors and playful, structured designs. They are perfect for everyday wear, especially for stacking bracelets.Kate Hudson, Brad Pitt, Shakira, and Jessica Simpson are some celebrities who wear jewelry pieces from David Yurman. Their items sell for $300 to $50,000.

Buccellati

Buccellati Holding Italia is an Italian jewelry and watches company. They are famous for their pieces that reflect Old Hollywood designs. Ian Somerhalder, Dwayne Wade, Sheikha Mozah, and Celine Dion are a few celebrities who wear these items, which sell for $2,000 to $50,000.

Bvlgari

Bulgari is an Italian luxury brand known for its jewelry, fragrances, watches, accessories, and leather goods. Their jewelry pieces are famous for their colored gemstones and diamonds, and their cabochon cut.Bulgari jewelry pieces are famous among clients who seek bright-colored with chromatic effects. Elizabeth Taylor, Keira Knightley, and Monica Vitti are famous persons who wear these pieces, which sell from $1,000 to $12 million.

Boucheron

Boucheron is another French luxury jewelry and watches company known to be the first to merge bronze, ivory, and gold. Egyptian and Asian art influenced the designs of founder Frederic Boucheron.
What is the most popular piece of jewelry?
Princess Diana's Engagement Ring
This iconic jewelry is from the Garrard collection. It is an 18-carat Ceylon Sapphire ring surrounded by seventeen brilliant round diamonds. At the time, it costs $60,000, but today it is worth up to $500,000.
Weighing in at 45.52 carats, the Fancy Deep Grayish Blue diamond with a VS1 clarity is the largest and the most famous globally. It is also one of the earliest and most famous fancy-colored diamonds ever discovered.
Wallis Simpson's Panther Bracelet
This unusual yet sensational piece of jewelry is famous for its pure genius and artistry. The bracelet depicts the shape and image and features dazzling colorless diamonds, onyx, and green emeralds.
The 128-carat Fancy Intense Yellow cushion-cut diamond known as the Tiffany Yellow is one of the world's largest yellow diamonds. With a rough weight of 287.42 carats, the elusive diamond was only worn twice by Audrey Hepburn and Mrs. Sheldon Whitehouse.
Heart of the Ocean Diamond
The "Heart of the Ocean Diamond" necklace in the blockbuster Titanic inspired this 15-carat blue diamond. With an estimated price of $20 million, it is one of the most expensive jewels globally, and the priciest one worn to the Academy Awards.
How to buy quality jewelry?
Avoid big brands if you are on a budget.
Big brands that mostly sell luxury items spend a lot of time, money, and effort to build their reputation for quality. But ask yourself if you can afford the label's price.
You may be buying overpriced items if you cannot find any specific details in the craftsmanship, besides the name stamp. Knowing when and where to buy your jewelry pieces can save you hundreds of dollars.
Silver pieces are timeless and are lower maintenance.
Many still believe that gold jewelry is better than any other piece. But exquisite silver jewelry is timeless. It is always trendy, sturdy, and low maintenance. It is best if you look for items marked as sterling silver, which is 92.5 silver.
Consider pearls and gemstones.
If your budget is on the lower range, you can opt for pearls or gemstones to compliment all beauty styles. They are classic and somewhat affordable options that can give you a wide variety of designs.
For pearls, you need to look for pieces with a shiny surface that appears to have depth. Avoid buying the ones that appear dull or cloudy as they are usually the sign of low-quality items.
You can look for semi-precious stones if you do not want to go over your budget. They are excellent because of their uncommon and unique presence in jewelry designs.
How can you tell if the jewelry is good quality?
If you want good-quality jewelry, you need to scrutinize them. Your pieces need to be perfect from inside out.
The first thing you need to consider is the type of metal on the jewelry. Another sign of low quality is the use of fillers. Some jewelers mix genuine metals with cheaper metals to shave off some valuable weight. It saves them from high production costs, but it increases the risk of infection.
Sure signs of high-quality jewelry are time and a mirror finish. Cheaper materials that have any roughness or imperfections can irritate your skin and will most likely wear off in a short amount of time. Make sure that your pieces shine bright.
What should I look for when buying jewelry?
Look for a maker's mark. It is a stamp of authenticity which proves that a particular manufacturer made it.
Look for the quality stamp. It indicates the type and fineness of the metal used to create the jewelry. You can usually find the maker's mark and the quality stamp in inconspicuous places, like the inside of a ring's shank.
Look for chips and abraded facets. When you examine your jewelry, you can ask to view them through a jeweler's loupe to check any damage to the stones. You can also try to identify if there are any scratches on the metal finish.
More pages: 
Quilt or comforter, which is better?
What type of jewelry holds its value?
Jewelry pieces from the top jewelers, such as Tiffany & Co. and Harry Winston, definitely hold their value. These brands built and earned their reputation for quality materials and superior craftsmanship. There is a guarantee that they manufacture the most exquisite pieces.