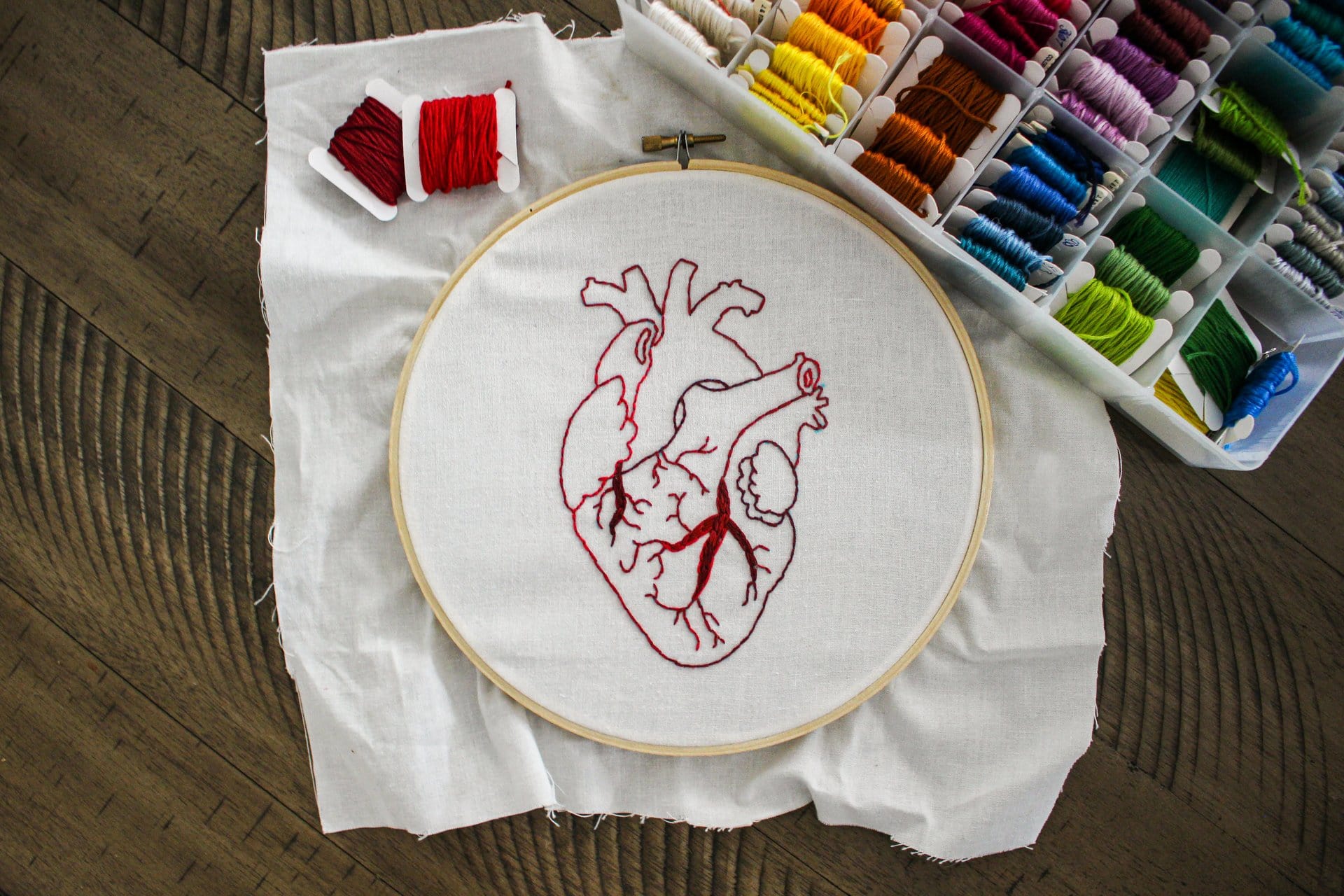 Searching for new embroidery design inspirations? There are tons of available free designs online. You can download them, print, and trace. If you are going to use an embroidery machine, you may have to need software to digitize the design.
Do not fret because there are free embroidery resources available on the Internet. These tools allow you to download a digitized file of your chosen design. They even allow you to create your desired embroidery design.
To help you create your new embroidery designs, check the following resources.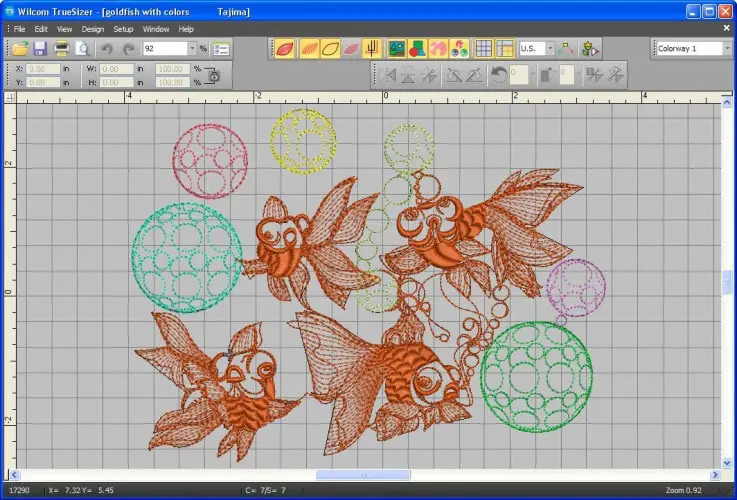 1. Wilcom TrueSizer
This is free embroidery software that you can find on the Internet. Although, it also has a paid version that lets you access more functions. The free version is enough to help you make beautiful designs.
There are two versions of this app. The TrueSizer Web which is for Apple and Android phone users. This version allows you to access your designs through your smartphone. This is perfect for people who are always on the go.
The second version is the TrueSizer Desktop. This is for desktop computer users. If you are starting a home embroidery business, this one is perfect for you.
This software can read and convert popular file formats. It can also resize, rotate, open, and save embroidery files. This means that TrueSizer can convert regular pictures into a digitized embroidery design.
For beginners, this software is a good choice. Although professional and seasoned embroiderers may find the free version limiting. There are tools that you can only access on paid versions. Features like opening several designs and matching threads to colorways are inaccessible.
Again, novice embroiderers will enjoy this free software. Its available templates and tools are good enough to give you new embroidery designs.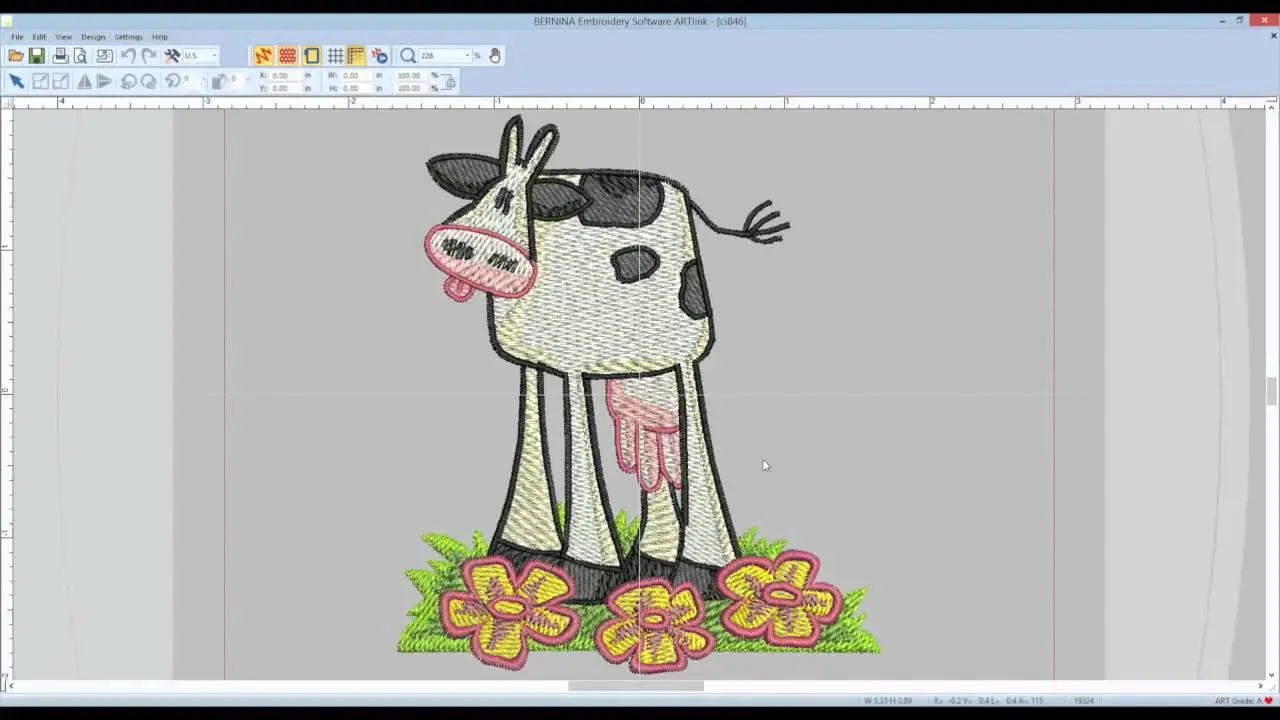 2. Bernina Artlink7
Like TrueSizer, this is also a free program. This is suitable for beginners who do not want to spend extra on embroidery software. This program works on most embroidery machines and offers an easy to use interface.
The Bernina Artlink7 allows you to recolor and resize your designs. You can also download and reformat your design template. So even if you want to use the design for machine or hand embroidery, it will look great.
This program lets you edit, view color combinations, and print your design. It also allows you to preview the design in its original size. This will help you determine the effect of your color combinations.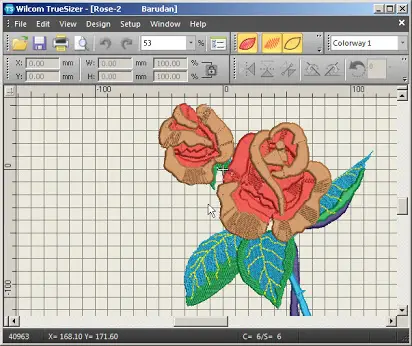 3. Wilcom TrueSizer e3.0
This program is free. Although you will have to answer a short questionnaire before you can download it. The developer and some users of this program recommend the desktop version.
This program works on almost all embroidery machines. It is more of a file converter. It allows you to open and save files that will match your embroidery machine. You may also download some design templates and print them for hand embroidery designs.
Here are some of its features.
Horizontal and vertical mirroring of the design
Rotation of the design 45 degrees clockwise and counterclockwise
Free design transformation
Resizing and positioning of the design
The following are the settings that you can use.
This program displays the different stitches on the screen. You can see the kind of stitches used in the design. This is helpful for beginners.
It displays the outlines of the design. You can even edit this outline.
The program also displays the points of puncture stitches. Although, this feature will not work if you enable the TrueView function.
It also shows the machine functions on the screen in the form of black geometric figures.
This program allows you to see and edit the background bitmap on the screen. This applies to an editable format only.
You can transform your design into vector images.
This software lets you place your applique design accurately. Instead of the usual blank space, it shows the actual shape of your applique.
In case you want to add sequins, this allows you to see the exact spots of your sequins.
Since it is a free version, there are limited features. It works best as a file converter and as a source of beginner design templates for beginners.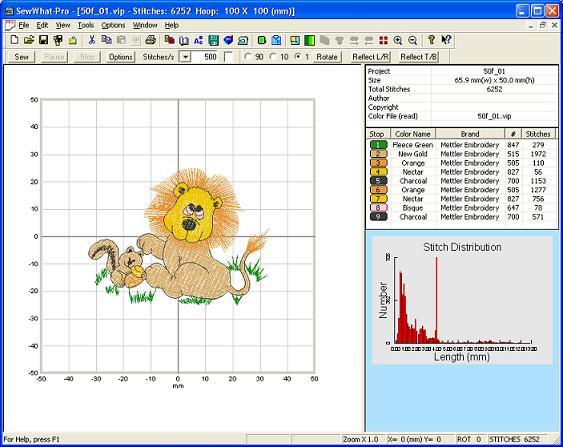 4. SewWhat-Pro
This program comes in free and paid versions. The free version is good for 30 days but it allows you to download up to 60 designs. The SewWhat-Pro is not a converter per se. It is an actual embroidery design editor.
Once you download it, you can already select your design template and see its data. You can see the dimension, number of stitches, colors, and more. The interface is easy to use. You can edit the design and select your desired colors with just a few clicks on your computer.
The following are some of its features.
This feature allows you to remove and combine 2 or more colors. It is easy to do once you open the program.
This software allows you to delete a color from a pre-designed template.
It allows you to divide the design into several parts.
This lets you delete everything inside the area of your design.
This menu lets you delete everything on the background/outside the area of your design.
This feature allows you to separate the design parts from each other.
This cuts out parts of the design inside the selected area so you can create a new file from it.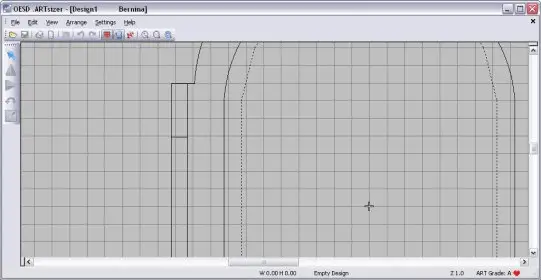 5. ARTsizer
ARTsizer is a new and useful design converter. Wilcom is also the creator of this program. It has the same interface as the TrueSizer 3 program. This one has fewer features.
You can save, open, and convert embroidery designs in different formats. The following are its features.
This program shows the design puncture points on the screen.
This gives you a realistic image of your design.
Allows you to zoom in your design up to 2 times.
This program lets you redraw everything on the screen
This feature lets you control the visibility of the hoop on the screen.
This puts your design in the center on the hoop.
You can set this feature if you want to place your design on your desired position.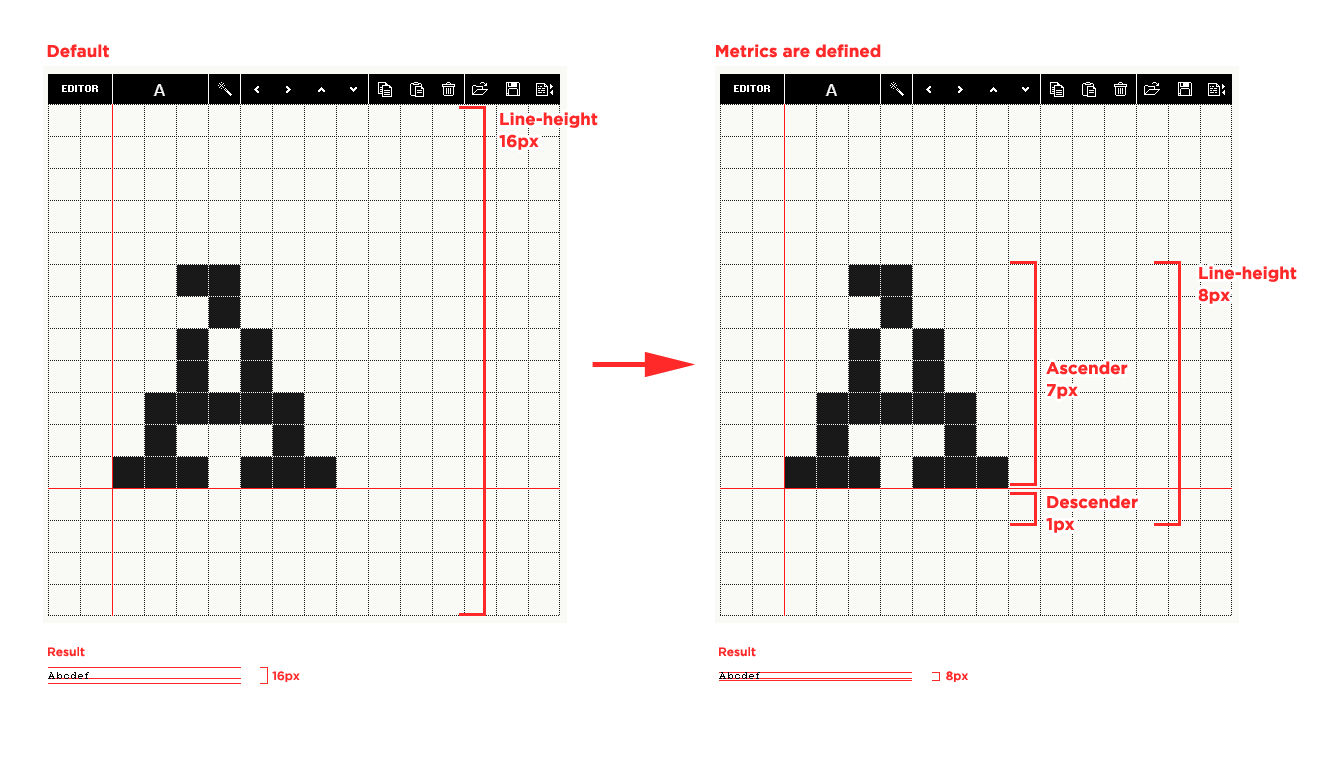 6. BitFontMaker2
This is not an actual embroidery tool, but it is useful in creating your patterns. This tool is best for making cross-stitch embroidery designs. This is an online tool that allows you to create fonts in bitmaps.
This is suitable for making cross-stitch patterns for phrases and letters. The great thing about this tool is it is 100% free. The fonts are in the public domain, so you can use and access them anytime.
This site is convenient and user-friendly. It explains how to make your customized design. All you need is to follow the prompts, and you are set.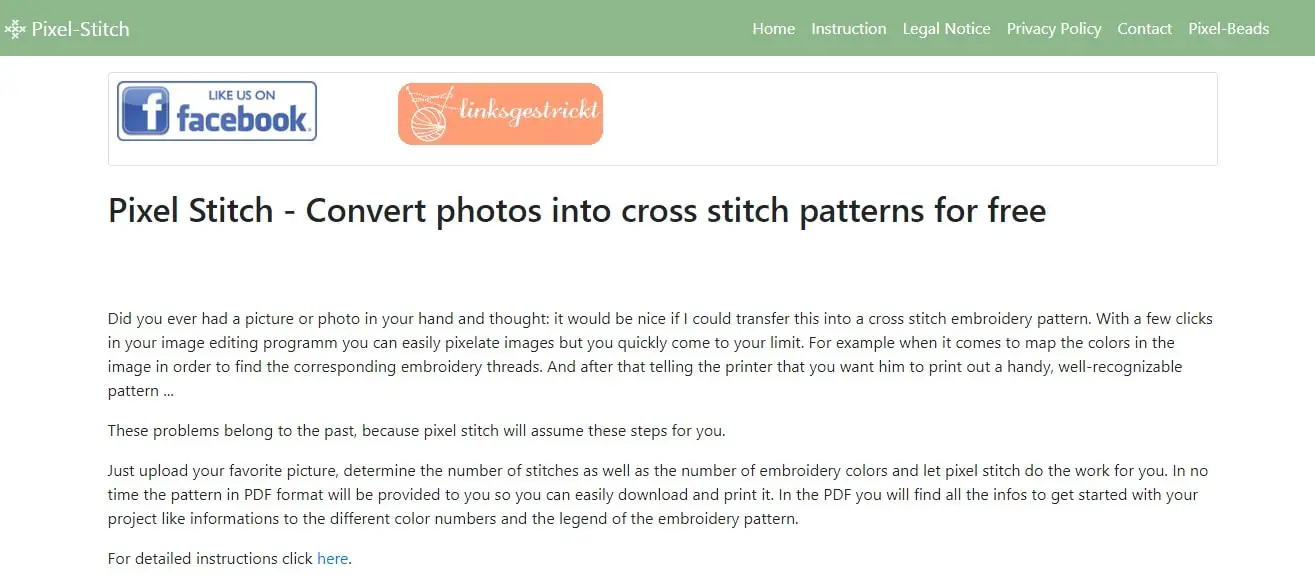 7. Pixel-Stitch
This online platform allows you to upload any image you want. Then, convert this image into a cross-stitch embroidery pattern. It also has many advanced features. It allows you to choose how many colors you want to use and see their exact numbers.
It also has a menu to let you choose the size of your fabric and the number of stitches. Once you have selected your options, you will see your pattern in centimeters. This will help you calculate how much fabric you will need for the design.
This online tool helps you decide how simple or complicated you want your project to be.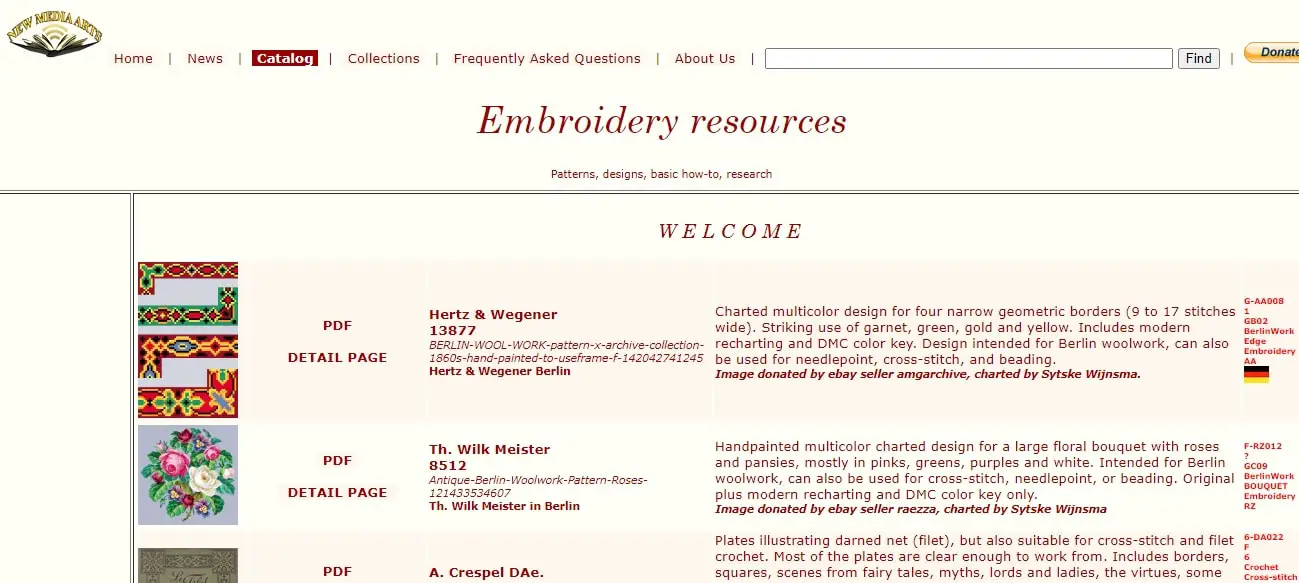 8. APL – Embroidery Resources
This online tool offers lots of vintage patterns that you create and edit. When you explore the site, you can see an entire folder of old patterns. Some patterns are from the 18th century.
It also offers patterns for working with different materials and techniques. It also has patterns for beadworks, knots, macrame, and other crafts. There are tons of patterns to choose from, so you will not run out of inspiration for your next projects.
If you have selected a template or pattern, you can download it right away. To download, you only need to click the tab that says PDF. Some patterns include previews and information about their original publication.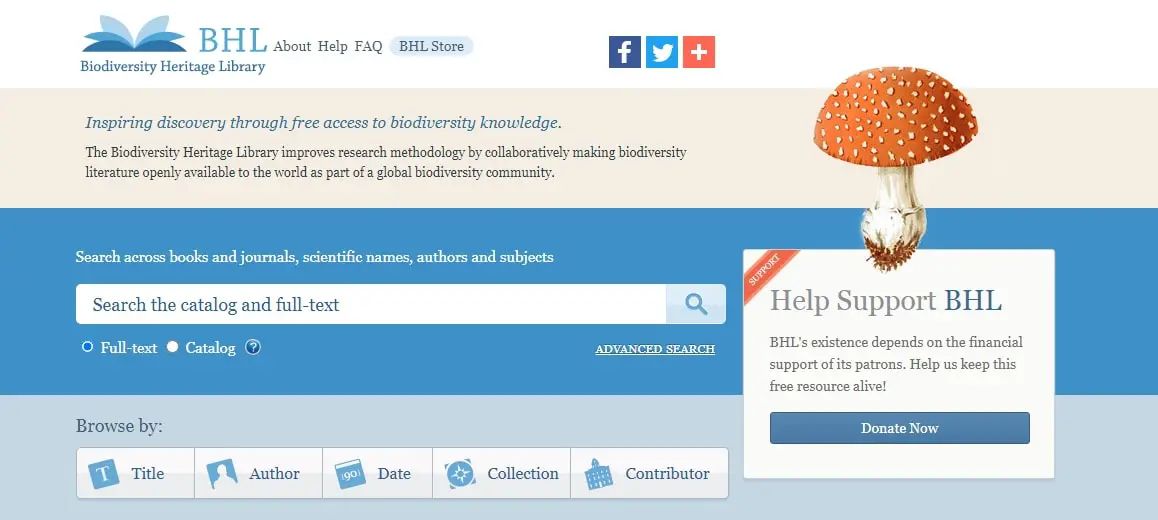 9. Biodiversity Heritage Library
This online tool provides more than two million images. These include beautiful botanical, nature, and animal illustrations. These images are perfect for embroidery. This site is perfect if you love nature themes for your designs.
Its archive includes botanical illustrations from Germany, France, UK, and South Africa. Some images are way back from the 19th century and some are more modern. It features a lot of classic styles of flowers, plants, birds, and butterfly designs.
Seasoned embroiderers will find this site useful. It has a wide compilation of beautiful designs. If you want to focus on nature and vintage patterns, you should not miss this website. It is free to use, so you can access the images any time you want.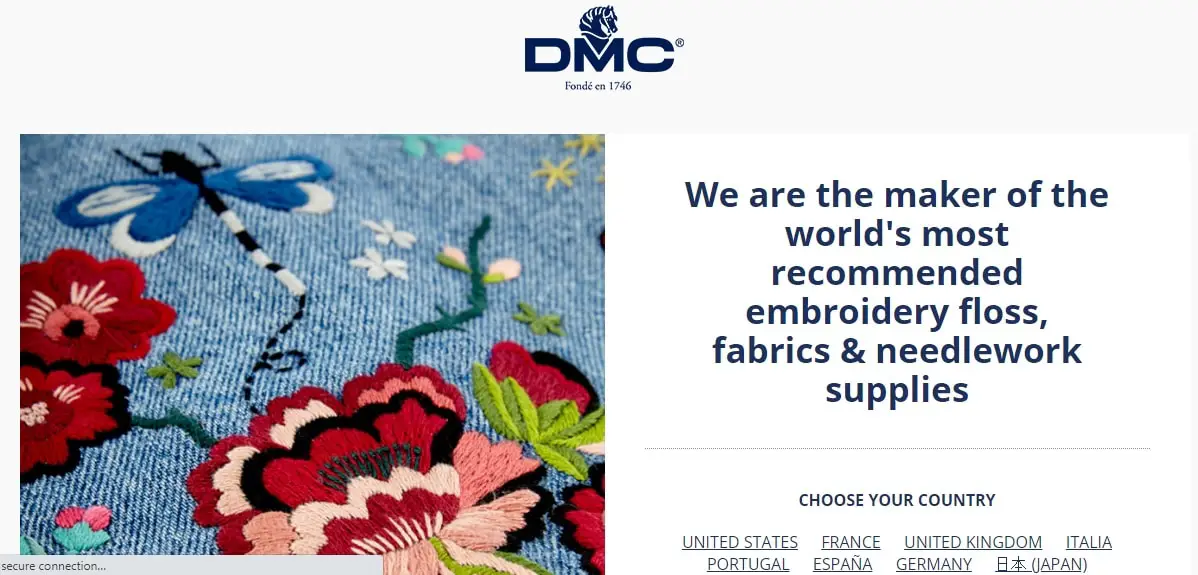 10. DMC
DMC is a popular maker of embroidery threads and they offer a lot of free patterns. From their website, you can see categories like animals, letters, hearts, and more. You can zoom in the images and see the details of the stitches.
On their site, you can see real examples of patterns embroidered on different fabrics. You can also see embroideries on different accessories and decorative pieces. Novice and seasoned embroiderers can choose the patterns according to their skill level.
Each project has a label according to the level of difficulty. Each design also indicates how long it will take to finish it. You may also consult for the best color combinations you need to replicate the design.
If you want to access the free downloads, you need to sign up and create your account.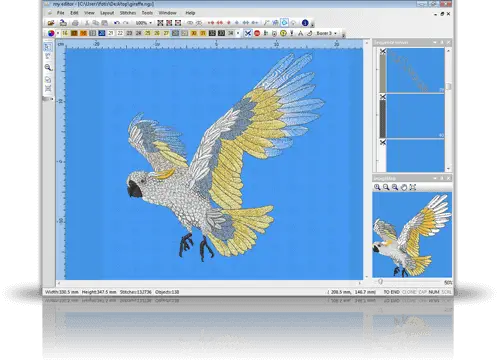 11. My Editor
This is a free viewing and editing software. It is easy to use, so it is suitable for beginners.
This program enables embroiderers to view and modify embroidery files. You can also save the design files in different embroidery file formats.
You can open and edit NGS files and save it in different file formats to suit your machine. It also allows you to perform basic functions like deleting and replacing stitches. You can also customize the colors for your pattern.
This program features design previews on different fabrics. You can rotate, resize, and preview your design in 3D version. It also features an automatic stitch adjustment when you resize your design.
The following are some of its special functions.
It can highlight the design in just a click of a button. It can be all or in parts. This tool can remove any part of the project that you think unnecessary.
This tool can select stitches one by one or by a group. It also allows you to invert the selection, delete stitches, and add new ones.
This tool lets you change the sequence of embroidery elements in your design.
This program works well in various operating systems. It works well on Windows 2000, Windows XP, or Vista.
If you want to explore different and new designs for your nest projects, these tools are helpful. All these programs have free versions. If you want to use more advanced features, there are paid versions as well. The free versions are great enough, especially for beginners.
The features are helpful enough to create your desired embroidery patterns. In case you have an embroidery business, investing in these tools will be a smart decision. These tools will let you use your creativity to make your desired pattern that you will be proud of.
These tools have their respective pros and cons. But, there is no doubt that they are all useful. And to make things even better, they are free.
Feeling overwhelmed with these choices? Go ahead, check each program, and see which one works best for you.
More pages: