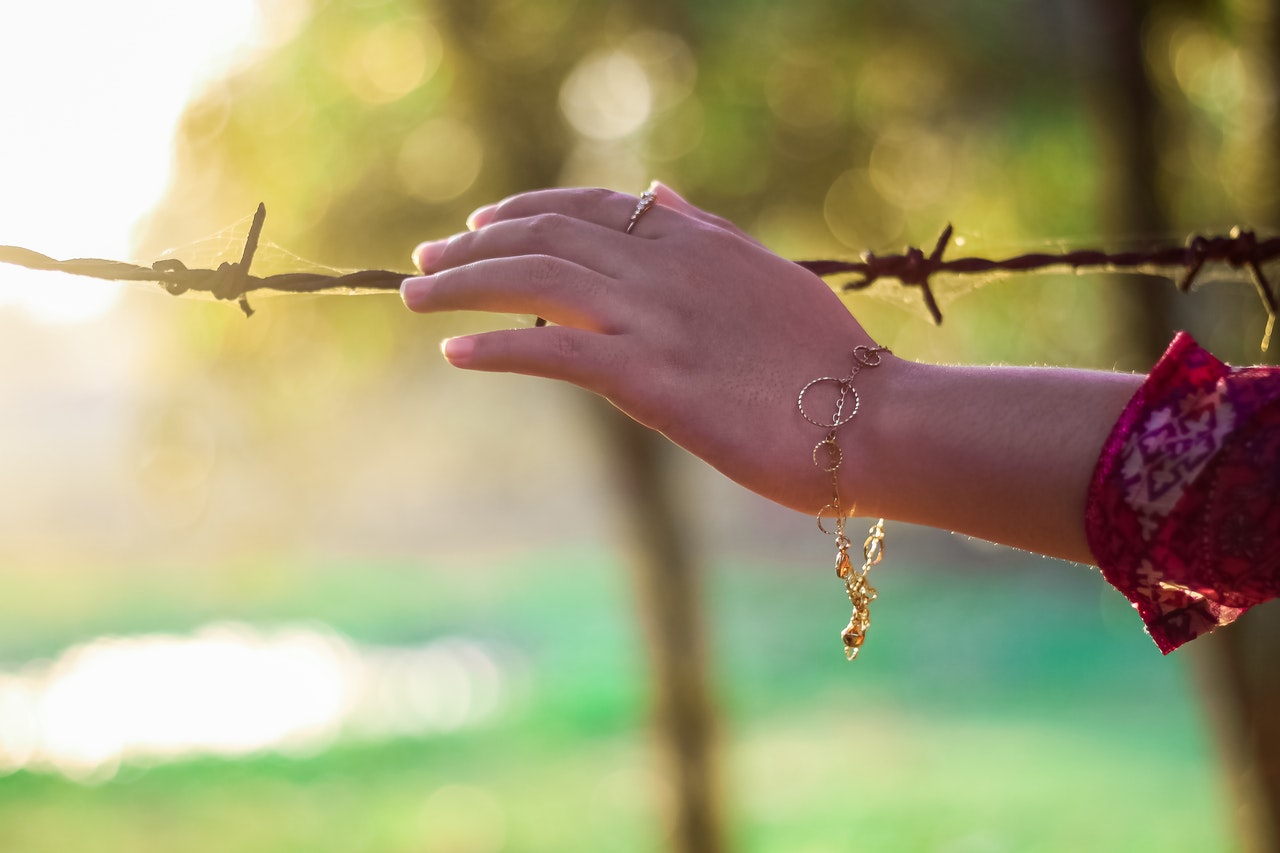 Some DIY jewelry styles, such as wonderfully coiled wire designs, look highly complicated, but you might be surprised to realize how doable they are with a bit of patience! You can easily make wire necklace pendants, folded wire rings, name and woven wire bracelets, and wire-wrapped jewelry.
Making your jewelry is satisfying, beautiful, and sometimes even profitable. Jewelry-making doesn't have to be very expensive. One of the best things about wire jewelry making is the variety of styles you can incorporate, even with only wires and a few jewelry findings. Here are five of the best wire jewelry making ideas to help you get started:
Folded Wire Ring

Folded wire rings are easy to make, inexpensive, and enjoyable to make! Also, they are lightweight and easily adjustable to fit a wide range of finger sizes.

You will begin this project by folding your wire, forming a two-strand ring band. After you make this shank, you can now shape your wire ends into various designs for the top of the ring with your pliers and ingenuity!

Swirled Wire Ring

A swirled wire ring provides a variation on the previous style but with a little more flair. But if you want it to look classier and more elegant, you can add a few tiny beads or precious stones where the folded spiral technique bends.

Wire Letter Bracelet

It is not difficult to twist tiny jewelry wire into the shape of letters, but it does require a great deal of patience. Also, you can get the appropriate loops and swoops in your letters by using jewelry pliers or tiny needle-nose pliers. So, it is essential to consider your materials and tools before you start this project.

Woven Wire Bracelet

If you want to add a hint of edginess to your wire jewelry, wire weaving may be more suitable for you. You can use thicker jewelry wire and pliers to weave it over and under, creating a beautiful yet edgy design. But, note that this may take longer than other projects, so it is best to be patient as you complete your piece.

Wire Pendants
Do you have problems determining what type of design to create? Instead of starting with an overwhelming and confusing wire jewelry design, you can start with various small pendants! They are easier to make and will take a shorter time to finish.
Helpful resources: Ultimate pool safe jewelry guide
How to Make Wire Pendants?
Making wire jewelry is a lot of fun, but it is easier to get started if you are familiar with the basics, like choosing your materials. Then, after deciding on which materials suit your piece the most, you will select which technique to use for your wire jewelry. Here is a simple guide to help you make wire pendants:
Step 1: Choose Your Materials
Tools
First, get yourself the necessary tools like wire cutters, round-nosed pliers, and chain-nosed pliers. Also, it may be best to get other essential tools like bent-nosed pliers for precise detail work and flat-edged pliers for creating acute angles in your wire.
Wire
You can use wire for various jewelry crafts, depending on the material, kind, and size. But, before selecting wire for jewelry, you should know its two crucial qualities: gauge and hardness. So, if you are not sure what jewelry wire to buy for your next project, keep reading to learn how to choose wire for jewelry.
Wire Gauge
First, you will choose your jewelry wire's gauge. Depending on your jewelry design, you may require a thicker or thinner wire or a combination of the two.
Gauge numbers work in the other direction of what you would think. The smaller the diameter of the wire, the higher the gauge because manufacturers base it on the number of times a length of wire passes through a draw plate before the sizing process finishes. So, the thinner the wire, the more times it passed through the plate.
Wire Metals
You have many metal options for your jewelry-making cable, including precious metal, base metal, and many more. These materials usually determine the color of the cord. So, it is best to keep your jewelry piece's design and the wire's purpose when choosing the metal. Here are some of the wires you can choose from:
Solid Precious Metal Wires

Many people prefer solid precious metal wires for fine jewelry and crafts because of their durability. Also, many wires from this category are tarnish-resistant, so they require minor polishing compared to other materials.

Buy it here: PandaHall Silver Aluminum Craft Wire, BENECREAT Gold Wire.

Silver and Gold-Filled Wires

These filled wires also called overlays, have a thick coating of precious metal attached to a base of less expensive metal using heat and pressure. They are ideal for creating high-end designs but need something more affordable than precious metal wires.

Buy it here: CraftWire Sterling Silver Filled Wire, uGems Gold Filled Round Wire.

Solid Base Metal Wires

You can use solid base metal wires for crafting completed artisan jewelry as a practicing medium and a method for creating prototypes for precious metal designs. Copper wire is extremely popular for all three applications, so it should not be hard to find in craft stores.

Other materials to consider are stainless steel, nickel-silver or German silver, brass, and bronze wire. The base metal you choose will primarily determine the color of your design, but understanding the qualities of various metals will also help you decide.

Buy it here: BEADNOVA Copper Wire, Artistic Wire Brass Craft Wire.

Silver and Gold-Plated Wires

Colors that match precious metal components are available with silver plate and gold plate wire at no extra cost. But, the downside of plated wires is that the plating can crack and chip when you overwork it, exposing the primary metal beneath. As a result, plated wire best suits designs that do not require much bending and wrapping.

Buy it here: Wire Fancy Silver-Plated Wire, Beadsmith Gold-Plated Wire.

Enamel-Coated Wires

Enameled craft wire consists primarily of permanently dyed and coated copper wire. This colorful wire may give a lot of character and uniqueness to your jewelry.

When you use beautiful enameled craft wire, your jewelry will take on a whole new personality! Also, you can use this type of wire the same as you use conventional metal wires. Meaning, you can make all of your regular items, but with a little more flair.

Buy it here: BENECREAT Enamel-Coated Gold Wire, Mandala Crafts Anodized Aluminum Wire.

Anodized Wires

Anodized wire has vibrant colors produced from a chemical bath. Also, unlike other wires, their colors are more durable since they are not just plating. However, it is best to practice extreme caution when working with this wire to avoid scratching through the anodized coating.

Buy it here: Mandala Crafts Anodized Aluminum Wire.

Memory Wires
Memory wire comes in various wire coil diameters that preserve their round or oval shape (like the classic springy Slinky toy). It's ideal for beaded wine charms, rings, multistrand bracelets, and chokers. Flat memory wire works well as a base for fastening beads too.
Buy it here: Oubaka Memory Wire Cuff
Wire Hardness
Most jewelry wire comes in three different levels of hardness: dead soft, half-hard, and full hard. For example, more delicate wires are more accessible to bend than more rigid wires. But, they will not hold their shape as well as stiffer wires. So, if you want your wire to maintain its shape over time, it is best to choose a more rigid wire.
Dead soft wire naturally begins to stiffen as you work with it. So, it is best for delicate work that requires a lot of flexibility, such as wire weaving or wire crochet. Also, it can help make findings or other elements from very thick wire that would otherwise be difficult to shape.
Full hard wire is the best at retaining its shape. But, it is more challenging to bend and can easily snap if you stress it too much.
The half-hard wire is pretty easy to shape and also retains its shape well. So, this kind of wire is good for creating sturdy links and load-bearing elements.
Step 2: Choose a Wire Jewelry Technique
Wire-Wrapping
Wire wrapping is the process of wrapping wire around itself, beads, and other components to produce the jewelry. Also, you can use it to create a loop for connecting several parts, like when making a wrapped wire loop or wrapping a necklace.
You can also use wire wrapping to fasten beads to a form or attach non-bead things to a bangle, such as wire wrapping a rhinestone cup chain onto a bangle. But, when you coil, curl, bend, fold, or manipulate it, the wire itself can become the main structure and basis of your jewelry piece.
Wire-Weaving
People traditionally use wire wrapping to capture stones, form findings, and create simpler jewelry designs focusing on loops, twists, and curves. Also, there are few tools required, and no soldering is required. Just like when using nylon cord for jewelry-making, most wire artists prefer working with wires that stiffen or harden as you work with them, so it is best to consider your design and materials.
The emphasis in wire weaving is on the pattern, with stones and beads that you can use to complement and enhance the finished jewelry. In addition, weaving the thicker gauged wires together gives a platform for further embellishment by placing a more shaped wire on top of your woven strip, expanding the possibilities of what you can achieve with wire without soldering.
While the base wires give support, the weaving wire provides the strength required to keep the wires in place. But, because of the intense shaping, it is best to work with the softest wire possible to get the best results.
Looping and Swirling
Looping and swirling are two of the most common techniques used in wire jewelry making. Wrapped loops are a wireworker's go-to because you can use them to complete earrings, form chain links, or dangle a pendant from a necklace.
All you need to do is make a few loops and a swirl form at the end. But, to make the pendant more appealing, you can add beads or stones with the swirly section. Also, if you desire, you can use a jump ring instead of the first loop.