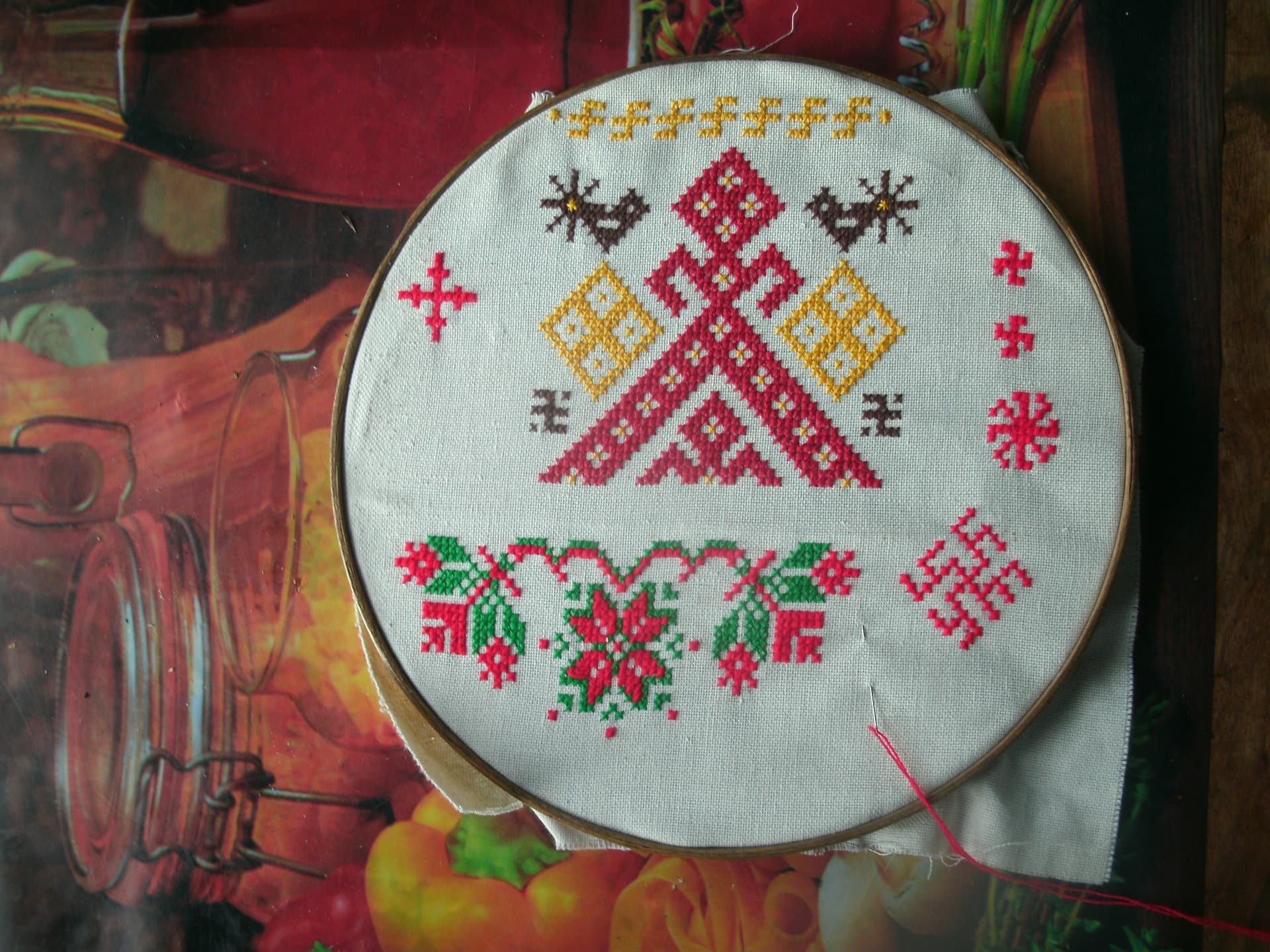 Finding an embroidery hoop is a challenging task, even for seasoned embroiderers. Getting the right hoop can result in damaged fabric and a successful project.
Because of this, you must know some alternatives you can use. But what can you use instead of an embroidery hoop?
You can create a homemade embroidery hoop with recycled materials, and there are a lot of DIY hoops that you can try. You can create your embroidery hoop from a throw-away plastic container, too.
The main concern when looking for an embroidery hoop is the size. It is tricky if you get the wrong hoop size for your fabric, and you will adjust it from time to time.
It can cause damage to your fabric and stitches as well.
What is an embroidery hoop called?
Embroidery hoops are also called tambour frames. In the late 1700s, people used tambour hoops to create tambour lace.
The frame consists of a pair of coaxial circular or elliptical rings. It holds the fabric taut to allow comfort while stitching the lace in the material.
Over time, tambour frames were re-designed and renamed as embroidery hoops.
The original hoops were created out of metal, bone, or ivory.
Today modern-day hoops are either plastic or wood.
What do you do with embroidery hoops?
One of the essential materials in embroidery is your hoop.
It is where you place your fabric to keep it stable while you stitch. Its primary purpose is to keep the fabric tight to avoid damaging it as you move along with your stitch.
Nowadays, embroidery hoops are used not only for stitching but also as decoration. Here are some of the alternative ideas for using embroidery hoops:
Rope string hoop
Embroidery hoop craft supply pockets
Embroidery hoop hanging planted
Embroidery hoop dream catcher
Hanging succulent wreath
Weaving loom
Terrarium
DIY Foliage Wreath
Pom Pom Baby Mobile
Sun Catcher
Drum Pendant Cover
Chandelier
Fabric Trash Can Fishbowl Cover
Bird Feeder
Can you do embroidery without a hoop?
Embroidering without a hoop is possible, and you can still achieve high-quality embroidery. So, what can you use instead of an embroidery hoop? Instead of an embroidery hoop, you can use scroll frames, slate frames, or stretcher bars.
Many of those who do embroidery use hoops to prevent distorting their fabric. But there are times when they need help to use their hoops or have one.
Nothing to worry about because you can always embroider even without a hoop. Just maintain the proper tension on your fabric when you stitch to avoid it from getting distorted.
That is nothing to worry about, as you can still embroider without hoops.
Check these embroidery hoop alternatives that you can try:
1. Use your hands only to embroider
Some embroiderers choose to embroider using only the hands to sustain the tension on the fabric while sewing. You can do this by stretching the material using your thumb and forefinger.
To get the optimum results when embroidering by hand, you must first mark the spot on your fabric where you intend to stitch your design. Then stretch the fabric and begin stitching.
Embroidering by hand is best done on small sewing projects, not on gigantic embroidery works. It would be best if you practiced feeling more comfortable doing your embroidery without a hoop. Expect that the tension on the fabric is lower using this method than the other techniques.
2. Use different frames
You can find different kinds of frames available in the market these days that can pass as embroidery hoops. Frames are also usually made of wood, where you can pin or stretch the fabric to create tension. It is common to find frames propped up or held on a stand while stitching.
Embroidery Hoop Alternative #1: Scroll Frame
A scroll frame is an easy-to-setup frame you can use for embroidery or any needlecraft. You can find them in different sizes and match them to the dimensions of your embroidery projects.
The scroll frame has three essential parts: scroll rods, tightening knobs, and extender bars. The tightening knobs will apply the tension to make your fabric taut, while the extender bars determine the size of material you can work on at a time.
The advantage of using a scroll frame over the other frames is that it is easy to assemble and comes in many different sizes. The drawbacks of the scroll frames are that they cannot keep good tension at the sides and are not adjustable from bottom to top.
Embroidery Hoop Alternative #2: Slate Frame
Slate frames work similarly to scroll frames. Slate frames consist of two bar types; slats and roller bars. The slats are the bars on the sides. They fit into the roller bars at the top and bottom of the frame.
You can adjust the tension both vertically and horizontally in a slate frame. Adjust the tension horizontally by tightening the lacings that hold the fabric to the slats, and you can tighten or loosen the tension vertically using the holes in the bars.
The advantages of using slate frames are as follows:
Slate frames can accommodate various sizes of fabrics.
They can leave both hands free from holding the frame, allowing you to use both hands for stitching.
Slate frames can provide great tension on your fabric which you can easily adjust as needed.
The slate frame may be ideal, but embroiderers also need help with their bulkiness and need help to obtain them.
Embroidery Hoop Alternative #3: Stretcher Bars
Stretcher bars are pieces of wood with a flat back and a slanted front with a higher edge along the outside of each bar length. They are used to build a frame of your chosen size. Artists use frames constructed in this manner to mount their canvasses.
Using thumbtacks, you can use stretch bars for embroidery by building a frame and attaching your fabric. You can maintain the tension on your fabric by adding as many thumbtacks as needed. The more thumbtacks you use, the more significant pressure you will achieve.
One unique advantage of a stretcher bar is that you can mount your fabric on either the frame's top or bottom. Attaching the top of your fabric inside the frame could help maintain a cleaner surface.
Other benefits from stretch bars are affordability, constant tension throughout the embroidery process, and ease of accommodating on several tables and floor stands.
The biggest drawback with the stretcher bars is that once you have attached the fabric using thumbtacks, you can only adjust the tension after removing the tacks before stretching the fabric.
3. Apply interfacing to reinforce the fabric
Interfacing is a type of cloth you can use to make your fabric more rigid. It can be helpful for many sewing projects like embroidery, especially if you are not using a hoop.
Applying interfacing on the wrong side of your embroidery fabric provides additional weight and thickness to hold your embroidery stitches without distortion.
You can choose from two types of interfacings, which are sew-in and fusible and knit, woven, and non-woven.
Knit interfacing has a bit of stretch as it is made from knitting fibers together. This stretch quality of the knit interfacing makes it an ideal option when embroidering knit fabrics and jerseys.
On the other hand, woven interfacing has a length and crosswise grain. It is vital to cut the interfacing along the grain to match the fabric grain where you need to attach it.
The need for the grains to align makes woven interfacing a less economical and unpopular option.
Non-woven interfacing is more complex than woven one. The fabric has no grain to follow, so that you can cut it in any direction. It is an excellent choice of interfacing for most materials because it unravels less.
Also check: Is there a market for embroidery?
How do you do an embroidery hoop?
Sometimes, you will find it challenging to look for an embroidery hoop that fits your project. You can always try the 'do-it-yourself' or makeshift embroidery hoop when that happens.
It is easy and does not need a lot of effort to create. Here is the step-by-step process for your Embroidery Hoop DIY:
Step 1: Prepare the following materials:
Plastic container with lid
Knife
Step 2: Make the larger outer hoop first
Measure the plastic container by the size you need.
Make sure it has the correct measurement for your project.
Draw a circle around the container with a marker or tracing tools.
Step 3: Make the smaller inner hoop next
Measure the lid ⅕ inch from the raised edge. You can change the measurement depending on your needs. Draw a circle on the lid with a marker or any tracing tool.
Step 4: Cut out both hoops you traced in the plastic container
Use the utility knife for cutting. Take precautionary measures when using the knife.
Step: 5 Use the nail file to file down the edges of the hoops you cut.
It can also remove sharp edges from the cut container. Smoothing the sides ensures that the hoop will not damage your fabric.
Step 6: Smoothing the edges try placing your fabric in the hoops
Place the smaller inner hoop over the bottom and press it together. Pull the two circles apart, and make sure you do not damage the fabric. After stitching, remove the material from the hoops.
Note that this DIY embroidery hoop is only suitable for thin fabrics. The inner and outer rings need to snap together correctly with thick materials.
Aside from a throw-away plastic container, you can also use a picture frame. Remove the backing and the glass, and you can use them as an embroidery hoop.
How tight should an embroidery hoop be?
Your embroidery hoop should be tight enough. Its purpose is to keep the fabric taut while you are stitching.
If you keep it too tight, the fabric may rip as you move it together with the hoop. Make sure to put it lightly and just enough to keep the fabric stable.
If the embroidery hoop is too tight, it will leave marks on the fabric, another thing you should watch out for. You can remove the marks, but it will be additional work.
There are times when removing the marks takes time to be done. When that happens, you must wash the fabric over until the marks are gone.
How do you remove embroidery hoop marks?
Leaving your embroidery hoop too tight will leave marks on your fabric. It will not look good on your finished output, so you need to clean it.
There are different ways how you can remove embroidery hoop marks.
Here are some tips that you can try and the materials that you will need:
Spray bottle filled with water
An extra piece of fabric
A damp or hot cloth
Using the materials above, you can do the following to remove embroidery hoop marks:
Spray the marked area using the ironing spray. Rub it with your fingers until the marks are gone.
Roll the lint roller in the fabric until the mark fades.
After removing the fabric from the hoop, spray it with water immediately. Leave it for 5-10 minutes until it dries. Press it with steam once dry to remove the marks.
For light-colored fabrics, spray them with starch-mixed water, then dab them with a soft cloth. You can also dub it with your hands until you can remove the marks.
Rub the hoop marks with another section of the fabric. You can also rub it with a similar fabric until the hoop mark is gone.
For dark-colored fabrics, use an ordinary fabric softener to remove the marks.
Spray vinegar and water cleaning solution over the damaged area in the fabric. You should dub it with another piece of the same fabric until the marks are gone.
Wash the fabric right after completing the stitching. Iron it after to remove the embroidery marks.
These are the simple steps to remove embroidery marks in your fabric. You can choose which process is more efficient for you.
The important thing is that you can remove the embroidery marks from your structure.
Do you need a stabilizer for embroidery?
An embroidery stabilizer plays a vital role in your embroidery project. If you put it into a real-life context, the stabilizer is your project manager.
It guides you throughout the process and holds everything together. With this, your work will be easier.
Here are more reasons why it is challenging to embroider without a stabilizer:
Stabilizers are for protecting the fabric from getting ripped. Not using a stabilizer will affect the lines and spacing of your stitches. It will look like a mess, and the stitches will be all over the place.
Stabilizers come in different kinds as well.
Each one plays a vital role in your embroidery project. The backing embroidery stabilizer reinforces your work.
It gives support and durability to your fabric while you stitch. Another kind of stabilizer is the topping. It prevents the stitches from sinking too deep into the fabric. In that way, you can avoid getting the fabric crumpled.
The quality of your work might be different from how you want it to be. It is because you worked without a stabilizer. Without a stabilizer, it isn't easy to maintain clean work in embroidery. You can get the fabric ripped or get the stitches wrong. You might also start from scratch if your fabric gets too damaged.
Save yourself from the hassle and use a stabilizer for your embroidery project. If you need help finding one, you can always create your own. Make your project worthwhile with the help of a stabilizer.
How do you attach the fabric to an embroidery hoop?
Attaching the fabric to an embroidery hoop is a tricky part. It is because you need to ensure to keep it tight enough and loose.
It would be best if you were accurate when doing this to avoid damage to your fabric.
Follow these steps and use them as your guide on how to attach a piece of fabric to an embroidery hoop properly:
Step 1: Prepare your hoop
Make sure you get the hoop that fits the size you need for your project.
Step 2: Unscrew the metal screw from the outer ring to loosen the hoop
The outer ring does have a metallic screw opening that you can tighten or loosen. Take note that the screw is made up of plastic for other hoops. After you unscrew the screw, remove the hoops.
Step 3: Place the fabric in the inner ring of the embroidery hoop
Make sure that it is properly spread.
Step 4: Press the outer ring down into the inner ring of the embroidery hoop
The fabric should overlap all sides of the hoop. Slowly adjust the fabric's position as you tighten the screw. Close the ring and ensure the material is taut and well-placed across the embroidery surface.
Step 5: Tighten the screw of the embroidery hoop to secure the fabric in place
You must check if the hoop is too tight or too loose this time. Adjust it accordingly. Remember that it should be tight enough to prevent getting hoop marks. It should not be too open to prevent the fabric from getting crumpled.
Step 6: Adjust the tightness so you can start stitching and enjoy your embroidery session.
Those are the steps to set up a piece of fabric for an embroidery hoop. Use it as a guide for your next embroidery project.
The importance of embroidery hoops in stitching is incomparable. If you are new to embroidery, it is one of the must-have tools when doing your project.
It will let you create art without stressing about your fabric. Remember that your fabric is your canvas that you need to protect and avoid getting damaged.
Fabric art is a fun craft that you should enjoy without any worries.
That is the reason why you need an embroidery hoop.
It gives you security about your project and eases your mind from any possible mistakes.
That is fine if you already have enough experience to do embroidery without a hoop. But if you are new to the craft, free yourself from pressure. Enjoy the beauty of embroidery while you master the basics.