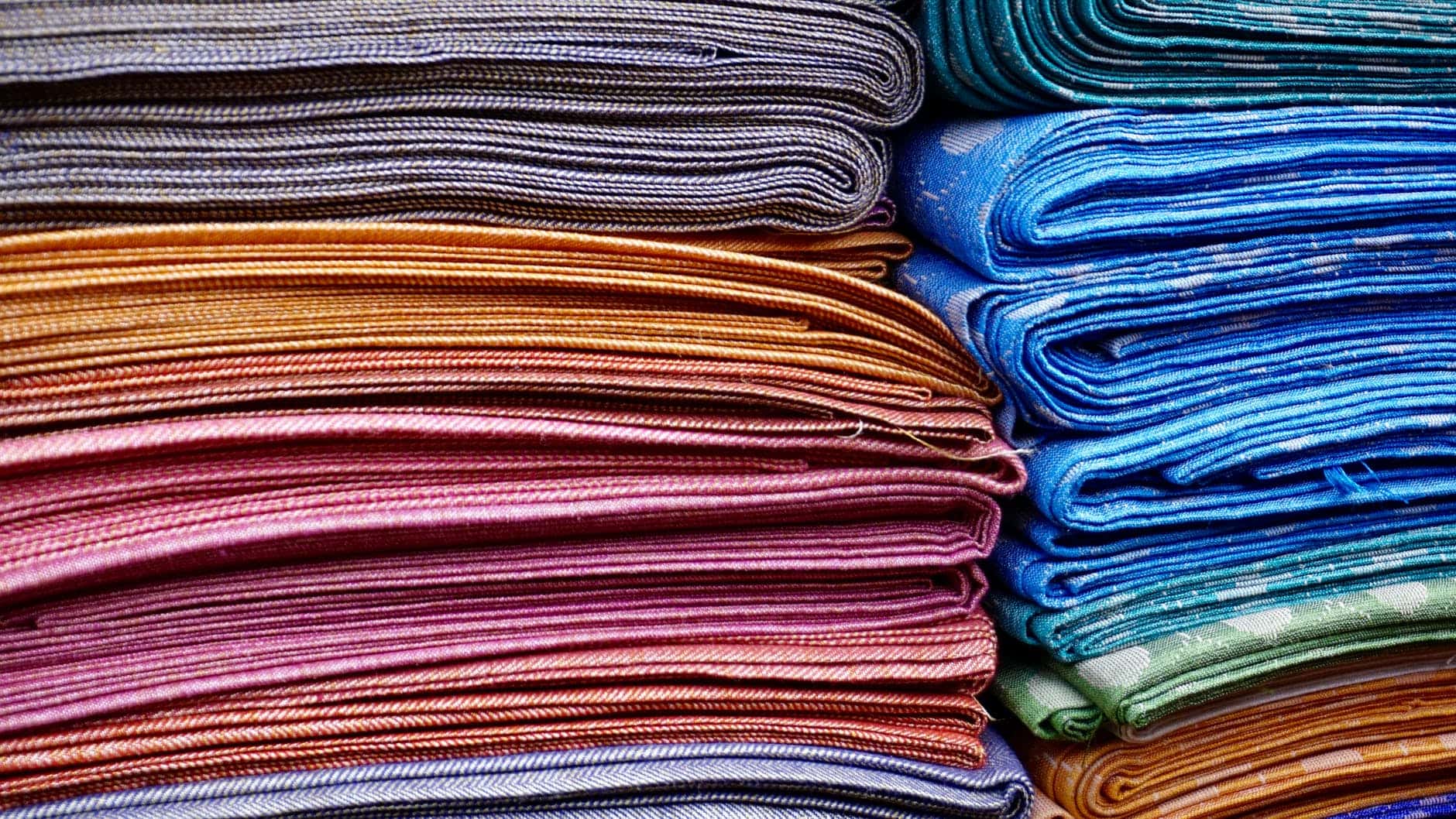 Quilting can be quite tricky, sometimes especially when dealing with different components, meaning different fabric types to create a patchwork masterpiece.
Every true-blue quilter can say that the standard of quilting fabrics is 100% cotton. It has the best quality of fabric that provides the necessary warmth and thickness of a perfect quilted garment or bed covering.
But there are no hard rules that say quilts can only be made of cotton and so you can always try different kinds of fabric that pique your interest. Combining different fabrics makes your quilt creations look more interesting because of the different textures of materials you use.
Another fabric type that also looks ideal as quilt material is Flannel. Its softness and warmth make it a favorite for sleeping garments, so it must also be a perfect material for quilted blankets.
Many quilters have tried and tested combining Flannel and cotton together in a quilt and confirmed that it is a workable pair. But these two fabrics each have their own properties that make them unique.
Below are some tips and tricks that quilters have compiled so that you will not fall into some traps (where others did) using Flannel and cotton in a quilt.
Flannel fabrics come in different quality. More often than not, the pricey types are double-sided, wear well, and do not fray and shrink much. But if you choose to buy the lower-priced ones, expect the quality will drop accordingly. Expect the lower quality flannel to shrink and fray more, meaning you have to buy even up to a quarter of a yard more to be sure.
Flannel has more loosely-woven fibers as compared to cotton and may come apart easily at the edges. Instead of the usual ¼" seam allowance, you may want to add another quarter of an inch to account for possible fraying. Adding as little as ¼" to the seam allowance will help the seams hold up much better. And it means that buying that extra quarter of a yard is indeed justifiable.
Cotton fabrics shrink, but Flannel shrinks more. Quilters recommend pre-washing and drying your Flannel before you cut and sew them to see the maximum shrinkage it can get. It will be easier to sew Flannel and cotton together in a quilt, knowing that no fabric will shrink further after further washings. (More on pre-washing your Flannel below)
When your Flannel has been pre-washed and dried, it may get a bit wrinkled. Flannel is a stretchy fabric and ironing may stretch out the fabric too much, making it hard to sew. Pressing the flannel fabric with the iron or starching it can do the trick.
Can you mix Flannel and cotton in a rag quilt?
We know now that quilters have been making traditional quilts of flannel and cotton material. But are these two fabrics also ideal in creating a rag quilt?
Rag quilts are made in quite the same procedure as traditional quilts; only they have exposed seams that fray when washed. A rag quilt makes a very cozy and comfortable quilt, which is very easy to make but really impressive.
Cotton prints can be used for the top, and Flannel can be used as back layers since it is warm and soft, perfect for making cozy blankets.
Should Flannel be washed before making a quilt?
Quilting with Flannel can get difficult, especially when you have no idea what its quirks and unique properties are. Flannel is known to many crafters to have excellent shrinkage capability. As a newbie quilter or someone who wants to try out other fabrics to quilt than cotton, this is one reality you should face early in the process.
Some fabrics that you buy need not be washed before using or sewing. But in Flannel's case, you will want to wash it first before you use it for your craft projects. Flannel that is sold for sewing is not washed enough to prevent shrinking. Washing your flannel fabric before cutting or sewing makes it shrink to its ideal form.
Here is a quick guide to washing your Flannel to sew using a machine:
Set your washer to Hot wash and Hot rinse.
Wash twice. 1st Wash: Do not add detergent.
2nd Wash: Add detergent. You can add a fabric softener at this stage if you prefer.
Add your Flannel and run your wash cycle until it is complete.
Set your dryer to high heat to make your Flannel dry quickly and completely. Remove from the dryer as soon as possible. Hang to dry or lay down flat to remove wrinkles.
Flannel is a fabric with great shrinkage, so quilters highly recommend that it should be pre-washed in hot water and then dried to make sure it is in the size you want it to be as you quilt. You must also note that as a finished product, it will undergo many laundry times in its lifetime, so it must be in its maximum shrunk size before making it into a quilt.
Does Flannel bleed when washed?
Some quilters confirm that Flannel bleeds when washed. Flannel combined with other fabrics may bleed towards some parts of your quilt which do not bleed. It is possible that a flannel backing can bleed toward the top part of your quilt and would make it look not very good.
So, before any of this destroys the quilt you have poured many hours on sewing, you can put in a procedure or two before you start cutting and sewing. Pre-washing your Flannel to sew prevents it from bleeding after you have finished your quilt. You should note that when your quilt is finished, it will undergo a lot more washing.
If you are not a pre-wash quilter, then maybe you should start thinking otherwise, especially when using Flannel for your quilts. Or to be sure, you can test your flannel fabric by soaking a small piece in warm, soapy water and wait for 30 minutes. If the water is still clear after the allotted time, you will have no bleeding problem. If the water becomes colored, you can pre-wash the fabric then, use a color fixative like Retayne, which helps retain the color on the fabric.
Is there a right and wrong side to Flannel?
The right and wrong side of a fabric is easy to see in most fabrics. The right side is usually the one with a brighter color, and the wrong side looks flat and rough. But for Flannel, it is a little less evident because both sides may look and feel the same. Both sides of a flannel fabric can technically be brushed, but the typical Flannel available in the market are brushed on one side only.
It is a quilter's prerogative to choose which side of the Flannel to use. There is no right or wrong side to a flannel depending on the purpose you intend to use it for. You can use the side with the brighter print as the right side to make your quilt look attractive, or you can use the brushed side if you want to make your quilt comfier.
Can you use Flannel to back a quilt?
Flannel is soft, snuggly, and thicker than most fabrics, so it is a perfect material for blankets and quilts. Flannels can also come in different prints like plaids, polka-dots, flowers, animals, etc. which are great for a quilt top and the back. You would always want your quilts to look nice, front, and back. Since Flannel is a soft and fluffy material, using either side of it can be the best backing to a quilt. Flannel's warm and snuggly quality makes it a perfect backing in creating a cozy and soft quilted blanket. Flannel backs also have an advantage over others because they do not fall off the bed easily.
Do you use batting in a flannel quilt?
Flannel is a relatively thick fabric and would make great blankets and quilts, especially for winter. If you want your quilt thick, you may use batting for your flannel quilt. You may look for lightweight batting in your local quilt shops to combine with your flannel fabric. If lightweight batting is not available, you can either forego batting for your flannel quilts or make your flannel quilts with the usual batting thickness so you can have better snuggle time in the winter.
Also check: 
What kind of batting do you use for a flannel quilt?
Batting is the filling on quilts and mostly the reason why a quilt is warm and heavy. For a thicker fabric like Flannel, a lightweight batting such as polyester or wool would be best. But if you want the warmest and coziest quilts, you can use cotton batting for your flannel quilt.
Flannel also has this cozy and fluffy feel, so there is no need for a thick and heavy batting to provide a quilt's warmth. Also, if you are using Flannel for the front and back, it might be better to use a lightweight batting or none at all.