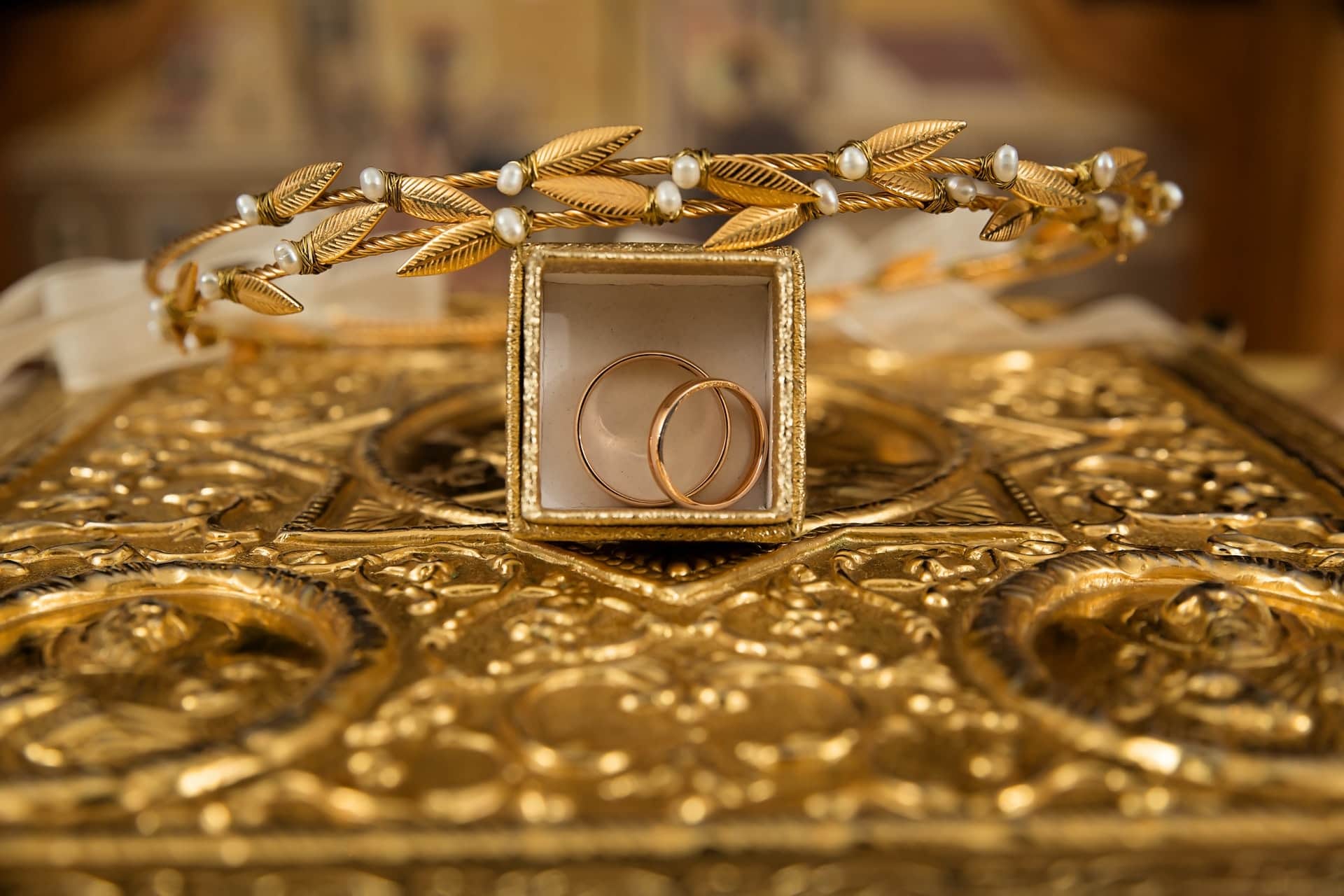 Authentic gold jewelry pieces have stamps and marks etched on them. They may indicate the gold's purity in the item, a marker's mark, and othe information about your jewelry. Follow this simple guide to know the meaning of the symbols on your gold pieces.
What does a stamp on jewelry mean?
The most common stamps on your jewelry are purity markings. You may notice a rectangular shape with shaved off corners and a number inside it. The figure indicates that your jewelry item is gold.
The three-digit number inside it tells you how pure the gold is. Also known as millesimal stamp numbers, these stamps indicate the precious metal content in your jewelry.
These purity stamps may also come in different formats. You may notice the three-digit numbers in the figure. It may be a combination of numbers and small letters, or a combination of numbers and capital letters. Keep in mind that different countries may also have various hallmarking standards.
These stamps on your jewelry can also be your jeweler's marks. Also known as the maker's mark or trademark, these custom symbols can sometimes be initials or ornate icons representing the brand. A maker's mark provides proof that the designer made your item.
Your jewelry pieces may also have engraved Assay Office Marks, which indicates that the Assay Office tested your item for its purity. Each Assay Office mark varies for each country. Knowing these engravings will help you know which country created your piece.
Date letter stamps are also common engravings that you can see on your jewelry. It will tell you the year of the purity test. These stamps may also be in the form of a letter. It does not look like your typical date format to prevent fraud.
What does a mean on jewelry?
The letter a on your jewelry may indicate the initials of the jeweler or its date letter. A capital letter A inside a circle indicates the maker's mark of Ana Bekoach. If you want to confirm, you can ask the brand where you bought your item.
What does 316L mean on body jewelry?
316L indicates stainless steel. It is the most basic metal manufacturers use for body jewelry. Although it is not a precious metal, it is more durable than silver or platinum. It is because of its chromium coating that chemically bonds to the steel.
This coating protects the steel from tarnishing and rusting. The chromium coating also protects your item from scratches by taking the initial impact. It is the spontaneous formation of a hard non-reactive surface film that prevents corrosion.
Many believe that stainless steel jewelry is better than silver, gold, and titanium, although it is cheaper. But the only reason it is cheaper is that it is more abundant than other precious metals.
Stainless steel is an excellent jewelry material because it is durable and affordable. It will not corrode, rust, stain, tarnish, fade, or turn your skin green. But you need to make sure that the jewelry you buy uses high-quality 316L surgical grade stainless steel.
Care tips for your stainless steel jewelry:
Wash it with bacterial soap and warm water before use.
Do not use alcohol or harsh chemicals to clean it if your steel jewelry has acrylic or gems.
→ Shop 316L Jewelry on Amazon here
What does 375 mean on gold bracelet?
The number 375 on your gold bracelet means it is 37.5% pure – your gold is 9 karat. The remaining 62.5% of the product is a combination of two or more metals, such as nickel, copper, or silver. The 375 hallmark on your gold bracelet is a convenient way to prove its purity to potential buyers and sellers.
375 gold jewelry is an excellent option because it does not tarnish like silver, and you can easily clean it with a felt cloth. It usually lasts longer because it is more durable than silver and gold-plated jewelry and maintains its value.
→ Shop 375 Gold Jewelry on Amazon here
What does 585 mean on jewelry?
The 585 on your jewelry means it is 14 karat or 58.3% gold. Manufacturers produce their 14-karat gold to be slightly purer than the 14 out of 24 parts standard.
It is customary in the millennial marking system for items made of precious metals to round up down as appropriate to the nearest 0 or 5. It is why instead of a 583 hallmark, you see the 585 engravings on your gold jewelry.
You will notice that there are three options when buying a 14-karat gold jewelry piece. You can choose white gold, rose gold, or yellow gold. The type of metal alloys and the percentage of each metal the manufacturer uses will indicate the gold color.
The color of gold for your jewelry pieces depends solely on your preference. It is because the only significant difference among the three options is their colors.
White gold is a mixture of pure gold and white metals, such as nickel, silver, and palladium. It looks perfectly stylish on people with fair or rosy skin.
It is a cheaper alternative for platinum pieces. White gold is durable and scratch-resistant. And it also complements white diamonds better than yellow gold.
But you need to dip it every few years to keep its color and luster. It may also cause allergic reactions for some wearers if the white gold uses nickel.
Yellow gold is a combination of gold and alloy metals, such as copper and zinc. It is the most hypoallergenic of the three 14-karat gold types and the easiest to maintain over time. This type of gold also works well with vintage styles and complements olive and darker skin tones.
But it is more vulnerable to dents and scratches because it is the most malleable. You also need to polish it regularly to maintain its beauty.
When manufacturers use gold with copper, they produce red, rose, and pink shades of it. The more copper they use, the redder the gold appears.
It is usually more affordable than other metals and is very durable because of the copper. Rose is famous for its romantic style, and it complements all skin tones. But it can cause allergic reactions for some wearers, and it is not as widely available as white or yellow gold.
→ Shop 585 Gold Jewelry on Amazon here
What does 750 mean on jewelry?
750 means that your piece is 18-karat gold or 75% purity. It has a relatively high purity and is much more durable than greater karat varieties. It looks elegant and does not easily dent. 18-karat gold is also perfect for wearers who have allergic reactions to lower purity gold jewelry pieces.
You can usually find 18-karat gold in simple designs such as wedding rings. They are less likely to be prone to damages than other intricate designs. But although it is durable, it does not have the same shine that the greater karat varieties have.
Like the 585 gold, the 750 gold also comes in different colors: yellow, white, and rose.
It is the most popular because it is the shade that appears more like gold. It is a combination of gold, and other noble metals, such as silver and zinc. It is tarnish-resistant and is highly hypoallergenic.
White gold is a combination of gold and other metals, such as silver and platinum, and palladium. Some manufacturers also add a little amount of nickel and zinc.
This variation of an 18-karat gold gets its reddish tint from its copper component. It is a more affordable option because of its cheaper element, copper.
→ Shop 750 Gold Jewelry on Amazon here
What does 835 mean on jewelry?
835 is a purity mark on silver jewelry pieces. It indicates that the item is 83.5% silver, while the remaining is a combination of other metals, such as copper. This stamp also serves as a code for silver items from Belgium, Austria, the Netherlands, Germany, and Portugal.
→ Shop 835 Silver Jewelry on Amazon here
What does 925 ag mean on jewelry?
The 925 Ag hallmark indicates that your jewelry is sterling silver. It means that your piece is 92.5% silver, while the remaining is a combination of other metals, such as copper.
Pure silver is naturally soft and would easily bend or break if not blended with other metals. Unlike it, sterling silver is a combination of metal types, which add strength to the otherwise delicate material. It is why sterling silver is perfect for making more intricate and elaborate jewelry designs.
Caring tips for your sterling silver jewelry:
Avoid getting your sterling silver wet. Unpurified water has chemicals that can cause a reaction with the silver and change its color.
Store your sterling silver pieces in an airtight container that has anti-tarnish properties.
You also need to polish it without scratching it by using either a microfiber or special jewelry cloth.
→ Shop 925 Silver Jewelry on Amazon here
What does 925 au mean on jewelry?
925 Au stands for 92.5% gold. Your silver might also contain some goldwork in addition to the silver. It usually means that your sterling silver is gold-plated.
→ Shop 925 Gold Jewelry on Amazon here
What does au mean on jewelry?
Au is the chemical symbol for gold. When you see it on your jewelry, it means that gold is the primary metal used to create it. But this type of hallmark on jewelry pieces is rare. Manufacturers usually use a rectangular shape to signify that it is gold, with numbers inside, indicating the metal's purity.
What does bbb mean on gold chain?
Some say that bbb stands for Better Business Bureau, but it is a hallmark for Bailey Banks & Biddle. People usually associate the Better Business Bureau with goods, such as gold jewelry. It is because they help consumers identify trustworthy businesses.
They regulate commerce and set standards, and promote smarter buying decisions. They are the ones who tell consumers to do their research before buying surplus gold.
Bailey Banks & Biddle is a jewelry retailer. The company made its silver pieces in their early years and started reselling silver from various manufacturers later on.
What does ct mean on jewelry?
CT is an abbreviated way to write carat and refers to the weight of a single diamond or gemstone the designer used in the item.
Since each gemstone has a different density, a 1-carat diamond will look different in size than a 1-carat sapphire. Even diamonds with similar density and carat weight may look different in size because of variations in shape and cut. Factors like shallow cuts can make stones with the same weight into smaller pieces.
You can opt for a shallow diamond that weighs slightly less than 1-carat if you do not want to sacrifice your diamonds' size while saving money. Choose stones that are somewhat more shallow than others, but be careful not to buy too shallow stones.
Larger diamonds are in more demand but rarer than smaller diamonds of the same quality. Diamonds that weigh under the next full carat are usually less expensive than diamonds passing the full-carat hurdle.
Carat weight is only one of the many characteristics of diamonds that you need to consider before buying. Take some time to understand them to know which is the best option for you.
What does ct tw mean on jewelry?
CT TW means carat total weight, which manufacturers use to indicate the diamonds' total weight in a jewelry item. It is only applicable for the diamonds in a jewelry item. So, if your jewelry has other gemstones on it, its weight does not reflect on the ct tw.
It does not tell much about an item's price. Two rings can have identical ct tw while having different prices. It depends on how much the carat total weight comes from the center stone and its accent stones. Remember that the diamonds' price is not linear, but exponential.
What does cz mean on jewelry?
Cubic zirconia, or cz, is a cheaper diamond alternative with many similar qualities as a diamond. It is beautiful, although it is only an imitation of a real diamond.
Cubic zirconia is a synthetic mineral composed of zirconium dioxide, a white crystalline oxide of zirconium. It is much harder than stainless steel and is much more scratch-resistant. It is why many manufacturers use zirconium dioxide in jewelry making and some watches.
Although diamonds and cubic zirconia look similar, they still differ in several ways:
Diamonds will give off the entire rainbow of color reflections, while cz usually only have orange and blue flashes.
Diamonds are better at thermal transfer, and cubic zirconia is more insulating. So, diamonds will warm up faster in your hand than cz
Diamonds have a yellowish-brown tint, although some call them white. Cubic zirconia is more likely to be completely colorless, which is a significant sign that it is not a real diamond.
When you look at a diamond under a microscope, you will see that it has natural inclusions throughout the stone, unlike your cubic zirconia.
Since diamonds contain carbon, they are much harder and more brilliant than cubic zirconia.
Although the tw stones may be similar in size, cubic zirconia may weigh more since it is denser than diamonds.
Since cubic zirconium is only an imitation of a real diamond, it will almost always cost less. Shop with a reputable dealer or expert to avoid any pitfalls when buying your jewelry.
→ Shop Cubic Zirconia Jewelry on Amazon here
What does d mean on jewelry?
The d on your jewelry means solitaire diamond, meaning there is only one diamond set in the entire piece of jewelry. Solitaire jewelry items include earrings, rings, necklaces, bracelets, and wedding bands. A solitaire setting is famous for its simple style, which draws attention to the spectacular pendant or stones.
The most popular solitaire diamond jewelry comes in the form of engagement rings. It is a classic symbol of lasting love and fidelity. It also signifies that the bride and groom's love is pure and endless. It represents the indestructible and eternal union between two lovers.
Most people start their selection process by choosing the diamond's shape. It is primarily because the diamond is the centerpiece of the ring. Its style significantly depends on the diamond's shape, so you need to consider this factor carefully.
Round solitaire engagement ring
The round shape is the most popular among all the diamond shapes used in solitaire engagement rings. It is because of its captivating brilliance. It is also a timeless choice that never goes out of style or overpowers any outfit. This design feature often in single diamond rings and has 57 facets.
→ Shop Round Solitaire Engagement Ring on Amazon here
Princess cut solitaire engagement ring
The square princess cut is the second most popular diamond cut, which has 70 facets. It has a sophisticated cut, which offers the same brilliance as a round diamond but in a sleek square shape.
The angles and clean lines of a princess cut solitaire diamond are perfect if you seek an elegant and modern choice. It sparkles magnificently while maintaining a chic shape. It also brings modern allure to antique and contemporary styles.
→ Shop Princess Cut Solitaire Engagement Ring on Amazon here
Emerald cut solitaire engagement ring
Step cut, emerald-shaped engagement rings provide a different type of beauty from the classic round cut diamonds. It exhibits exceptional clarity and offers a distinctive look when set in fine jewelry. Its parallel facets create an elegant, radiant look and produce a prismatic reflection, which evokes a house of mirrors.
Solitaires draw attention to the emerald cut's clean lines, but it does not conceal imperfections well. So you need to be extremely cautious in searching for your emerald cut engagement ring.
→ Shop Emerald Cut Solitaire Engagement Ring on Amazon here
Oval solitaire engagement ring
Oval solitaire engagement rings are becoming famous now more than ever. Not only are these diamond rings beautiful, but they also offer excellent value. Its elongated shape maximizes its surface area, making it appear larger than other diamond shapes of equal carat weight.
Oval solitaire engagement rings also make for a slender and stylish appearance. And they have the same brilliance as a round-cut ring. They are perfect if you are looking for an option that maximizes its brilliance and value.
→ Shop Oval Solitaire Engagement Ring on Amazon here
Marquise solitaire engagement ring
A marquise solitaire engagement ring has a curving, elongated shape with two pointed ends and a circular center. It is flattering and distinctive, and it offers a variety of striking styles and designs.
Marquise solitaire engagement rings often appear larger than other diamonds of the same carat weight. It is because of their long narrow shape. But shoppers need to pay close attention to the length to width ratio of the marquise cut to find the perfect one for them.
→ Shop Marquise Solitaire Engagement Ring on Amazon here
Cushion solitaire engagement ring
This engagement ring is a square pillow-shaped diamond that gained popularity and appeal over the last few years. Its soft, rounded edges give off a soft and romantic feel to it. Cushion solitaire engagement rings are the most popular choice for fancy-shaped diamonds.
The timeless gemstone shape features large facets, which maximizes its brilliance. Many celebrities go for this diamond shape because of its sparkle and sophisticated shape.
→ Shop Cushion Solitaire Engagement Ring on Amazon here
Asscher cut solitare engagement rin
This type of cut is like the emerald cut but in a square shape. The Asscher solitaire engagement ring has larger facets, a smaller table, and a higher crown. It gives the diamond more weight. The cropped corners of the diamond also give it a unique look to it.
But keep in mind that Asscher cut solitaire engagement rings are more likely to expose imperfections. They can also reveal undesired colors because of their open facets. You would also want to go for an open-prong setting that will not mask the cut's complexities and allow more light to enter.
After selecting the diamond's shape, buyers consider the best setting style for the stone. You need to consider something that will hold the stone securely in its place while giving off an aesthetic look. There are a few setting styles you can choose from. The following are the most popular solitaire settings:
→ Shop Asscher Cut Solitaire Engagement Ring on Amazon here
This setting allows the diamond on your ring to be visible, with slopes on either side to protect it. It got its name from its aesthetic similarities to an old cathedral. It is because of its sweeping nature as a reminiscent of the vaulted ceilings and good arches.
A bezel setting is a sleek and modern choice for your solitaire diamond engagement ring. The metal of the band surrounds the diamond, following exactly its shape.
The tension setting allows your ring to act as a spring, holding the solitaire diamond in its place. It is famous for its unique appearance, which makes the diamond appear as if it is floating. And since there is no metal under the diamond, you can easily clean it.
What does Depose mean on jewelry?
You can find the dep, or depose hallmark on jewelry pieces made and patented in France. The mark means 'handmade.' You can also find it on bisque dolls, porcelain, glass, and metal products.
If you are not sure your item's manufacturer or country of origin, it is safe to say that it is most likely from France or Germany when you see the hallmark dep.
What does DG mean on gold jewelry?
DG can be a hallmark for a few famous jewelers globally, including David Garner, Dolce&Gabanna, and Donald S. Gilmore.
Julia and David Gardner opened David Gardner's Jewelers in 1983, with the idea of becoming the community's jewelry store. They create jewelry pieces that emphasize beauty, value, and wearability.
Their designs reached distinguished people, including Barbara Bush, Joan Lunden, and Amy Robach. David Gardner's Jewelers received the honor of being a part of the National Jeweler's 2019 Retailer Hall of Fame.
Donald S. Gilmore was an American philanthropist and businessman who learned how to make silver pieces as a hobby. Although he did not intend to sell these items, they circulated since he gave some to his friends and family.
This Italian luxury fashion house specializes in high-end designs inspired by timeless trends. Some of their specialties include bejeweled rosaries, high-quality charm bracelets, necklaces, and men's jewelry.
Dolce&Gabbana made the "DG" hallmark an iconic and instantly recognizable logo. Up to date, they are the most associated name to this maker's mark. But if you want to make sure what the DG on your item means, you can seek help from experts.
What does DK mean on jewelry?
Like the "DG," the DK you can find on your jewelry is also a maker's mark. It may be the hallmark for Dennis Kalisteo or Daphne Krinos.
Dennis Kalisteo was a Navajo silversmith who primarily worked with silver pieces. The Navajo are Native American people from the Southwestern United States. They specialize in handmade jewelry, such as bracelets, earrings, and necklaces.
Daphne Krinos is a jeweler famous for her bold and architectural designs. She specializes in handmade pieces made of gold, black oxidized silver, and precious gemstones.
What does dl mean on jewelry?
Jewelry pieces stamped with dl means they have diamond-like components. It means that, like diamonds, they have a sparkly appearance.
If you are looking for alternative gemstones for diamonds, you can seek for these sparkling jewels instead. Other beautiful gemstones will add a sparkle to your collection while allowing you to save money.
This stone is a form of silicon carbide and is usually synthetically produced. When it comes to durability, it is perhaps the closest diamond imitation material. It is an excellent choice if you seek a solitaire engagement ring, necklace, or stud earrings.
Moissanite is more brilliant than a diamond and sparkles in more colors. It has more dispersion than diamonds, which means it splits light into rainbow colors twice as much as diamonds.
White sapphire is also an excellent diamond-like stone because of its appearance and durability. It is a pure, colorless form of corundum mineral, the second hardest known natural substance.
White sapphire looks like a perfect accent to colored sapphires in jewelry pieces. You can also find this brilliant stone in solitaire necklaces, stud earrings, and some wedding rings.
Most jewelry items with white topaz are sterling silver pieces. Most of these items feature gemstones mixed with other stones, including amethyst, garnet, and citrine. It makes for a beautiful look because of its brilliance, although it is less common than its colored variants.
It also creates a sleek, sophisticated look on bracelets, pendants, and rings mixed with sterling silver or white gold. But this material is relatively soft compared to other stones. So you need to be careful when wearing it since it scratches easily.
Cubic zirconia is one of the most popular diamond-like choices. It is because of its optical properties and its affordability. It is a diamond simulant, meaning its manufacturers intentionally create it to resemble diamonds.
Although diamonds and cubic zirconia may be similar in size, cz may weigh more since it is denser. And since it is only an imitation, it will almost always cost less. Shop with a reputable dealer or expert to avoid any pitfalls when buying your jewelry.
It is also a popular choice for engagement rings because it is both beautiful and reasonably priced. But like white topaz, it is much softer than a diamond. It is why cubic zirconia quickly accumulates scratches over time.
There are some colorless, synthetic garnet stones that some jewelers use to imitate diamonds. Colorless garnet stones are more popularly known as leuco and are a type of grossular garnet. But they are much softer and quick to scratch.
Spinel is a naturally occurring stone with a white variety, which some manufacturers use as an alternative for diamonds. Like cubic zirconia, it is much softer than real diamonds, so it quickly accumulates inclusions.
Rutile is another naturally occurring stone that has a synthetically made white variant. But it is much softer than spinel and real diamonds, which is why only very few jewelers use this stone to imitate diamonds.
Swarovski crystal is a form of glass made at high temperatures by melting silicon oxide powders and mixing it with lead to form crystals. But it only has approximately 32% lead content to increase its refraction index, resembling a real diamond.
Manufacturers coat it with Aurora Borealis to give the surface a rainbow-like appearance. It allows the crystal to stimulate a real diamond's dispersion. But it is also much softer, making it more susceptible to scratches and chipping from wear and tear.
Many jewelers worldwide use Swarovski crystals to create sparkly necklaces, earrings, and bracelets. They offer quality humanmade crystals and are excellent at imitating real diamonds while coming at a lower price.
Goshenite (Colorless Beryl)
Goshenite is the colorless, alkali-bearing pure beryl. Many jewelers add goshenite to their pieces because it makes an excellent diamond alternative.
It is a durable and affordable option for couples who go for diamond-like gemstones. But a goshenite's brilliance does not appear exactly like a real diamond's. And wearers must regularly clean it to keep dirt and grime from building up.
Zircon is known to be the oldest mineral in the world. Unlike a real diamond, it has a high dispersion. It also has a refraction index and luster that allows it to interact with light beautifully.
It is much heavier than diamonds but is softer than real diamonds. It acquires scratches quickly and is prone to cracking and chipping, which does not make it ideal for daily wear.
White quartz is a transparent gemstone that can be easily mistaken for a real diamond. Faceting the stone maximizes its refraction index. It allows the stone to appear brilliant, although it is not highly sparkly like a real diamond.
But you can quickly tell apart large white quartz from real diamonds because they tend to appear glass-like. They are also much softer, making them susceptible to damages.
What does DM mean on jewelry?
The hallmark DM on your jewelry most likely denotes your item's manufacturer. It could either be DM Jewelry Designs or DM Merchandising, among others.
Debora Ann Malouf creates jewelry pieces that manifest her radiant jewelry visions. Her works embody her clients' individuality and exemplify beauty, strength, passion, and intelligence.
DM Merchandising, Inc. is a wholesale distributor based in Illinois. The company provides a wide variety of merchandise products. Some of their products include jewelry, precious stones, watches, custom jewelry, and silverware.
What does EC mean on jewelry?
The hallmark EC stands for 'European Community,' meaning that your jewelry originated from a European country. You can usually find this mark on jewelry pieces stamped with 925 on it, representing sterling silver items.
In 1973, the European Community (EC) recognized 925 as the official sterling silver standard mark. Since then, almost all sterling silver pieces made in a European Community member country have standard 925 stamps.
Any jewelry piece with both the hallmarks 925 and EC means that it is sterling silver and meets the European Community market requirements.
The European Community was an economic association among European member countries. They dealt with policies and governing, in a communal manner, across all its members.
The primary aim of the European Community was to foster a standard trade policy. They wish to eliminate trade barriers, which will help improve the economic conditions for the entire region.
What does EDC mean on jewelry?
EDC is another maker's mark seen on many jewelry pieces. One of the most famous jewelers that may stamp EDC on their items is Elizabeth Diamond Company.
Elizabeth Diamond Company is a fine jewelry store based in Dayton, Ohio. They specialize in engagement rings, wedding bands, custom design jewelry, and jewelry repair.
Many of the designers featured in their store are exclusive to Elizabeth Diamond Company. They have an outstanding collection of delicate jewelry designs with excellent quality and value.
What does EG mean on jewelry?
Like most stamps you can find on jewelry pieces, EG is another maker's mark that may mean EternaGold. It is a premium brand of 14-karat gold jewelry sold online by QVC. The brand specializes in necklaces, earrings, and bracelets.
EternaGold craft their items using a unique composition that is scratch- and dent-resistant. This feature makes them perfect for everyday wear. They are also hypoallergenic and include a manufacturer's limited lifetime warranty.
What does EMA mean on jewelry?
EMA is another maker's mark that you can find on many jewelry pieces, which may stand for EMA Jewelry, Inc. Their business began in 1977 and grew over the years into a famous manufacturer of gemstone and diamond jewelry.
They have factories and stores in Mexico and Asia, allowing them to control their quality of jewelry. EMA Jewelry Inc. is successful in building its reputation by supplying international chains and independent jewelers.
What does ESPO mean on jewelry?
The ESPO hallmark on jewelry pieces stands for Esposito Jewelry, Inc., a jewelry company based in Providence, Rhode Island.
What does ET mean on jewelry?
ET stands for étranger, which means that your jewelry item is lower-karat than the typical 18-karat used in France. It also means that your piece is French-made.
What does FAS mean on jewelry?
FAS stands for fused alloy silver, meaning that your sterling silver jewelry piece has an alloy mixed with it. Silver jewelry always has stamps that state its purity and authenticity. FAS is another hallmark used to show its purity.
You can usually find the hallmark FAS with the 925 stamps. It means that your item is 92.5% sterling silver and the rest is a fused silver alloy.
The hallmark FAS may also stand for a jewelry company, Fantastic Antique Silver. Several pieces of the company's jewelry are still selling in certain places, although ut no longer exists.
If your jewelry item is not antique, FAS most likely stands for fused alloy silver.
What does FC mean on jewelry?
Many believe that the hallmark FC stands for fiber coating. It involves applying flock fibers to an uncured adhesive-coated surface. Manufacturers usually use electrostatic driving force on charged flock fibers.
Jewelers usually coat their items to stop it from irritating or discoloring the wearer's skin. It is perfect for jewelry enthusiasts with sensitive skin.
The coating also makes the jewelry pieces more durable and keeps them looking better for a longer time. It protects your items against premature wear and tear, tarnishes, and oxidation.
Oxidation is a process that gives a discolored look to your jewelry. Although it is the natural course of some pieces, it does not look appealing and would not make a beautiful accent to any style.
There are several advantages in a coated jewelry piece:
The coating protects the wearer's skin from allergic reactions to jewelry. It is because of the transparent barrier between the item and the wearer's sensitive skin.
It makes your jewelry piece more durable. Coating maintains your item's beauty by protecting it from scratches that can happen as you wear it over time.
Manufacturers can safely use the coating on gold, silver, bronze, stainless steel, and other materials.
Aside from coating, there are other ways to keep your jewelry pieces from tarnishing:
Keep your jewelry items dry.
The fastest way to tarnish your jewelry is by contact with liquids and moisture. It includes wearing your jewelry while washing your hands, spritzing your perfume. Sweating or putting on lotion and hand creams can also cause tarnishing.
Even the natural oil on your skin can cause tarnishing over time. Make sure that you immediately wipe and dry your jewelry pieces when you accidentally get them wet.
Store your jewelry properly.
Even the air has moisture, which can wear down the metals and plating of your jewelry pieces. It is why you need to store them properly in air-tight containers or pouches. Almost all jewelry pieces come with velvet bags. You can also use these as storage.
Another way to protect your jewelry items from moisture, you can buy anti-tarnish strips. It is perfect if you want to ensure that the air will not oxidize your jewelry items.
Try jewelry protectant sprays.
Protectant sprays give your jewelry a layer that fights the elements that contribute to tarnishing. Aside from protecting your items, it can also save you from allergic reactions, including irritation, rashes, and hives.
Give your jewelry pieces a break.
Not all items are ideal for everyday wear. And even those pieces need a break too. Fashion jewelry is always prone to tarnishing, no matter how good the quality is.
You can choose plated or coated jewelry if you prefer items that tend to have an extended life. Choose the right pieces and take care of them properly to extend their life.
What does FZN mean on jewelry?
If you see FZN on your jewelry pieces, it most probably stands for Fuzion Creations. It is a fine jewelry manufacturer and importer of popular price point jewelry. They are successful in incorporating domestic, overseas sourcing and retailing their jewelry.
The partners of Fuzion Creations consist of jewelry stores, and department stores, among many others. They specialize in jewelry and its imitation, including bracelets and rings, among many others.
What does GL mean on jewelry?
The hallmark GL stands for gold-layered. Just as it implies, it means that your jewelry piece has a gold layer and is not solid gold.
Gold-layered jewelry items are almost like gold-filled pieces. They have a thick layer of gold that protects it from premature wear and tear and tarnishes over time. It is usually cheaper because they are not as thick as gold-plated jewelry.
What does GP mean on jewelry?
GP on jewelry means gold-plated. It is like gold-layered jewelry, except that there is no federal standard for gold-layered jewelry.
Gold plating is a common practice that involves applying a thin layer of gold onto the surface of a jewelry piece, through electroplating. It gives the item a very gold-like appearance, making it more desirable for consumers.
There are a few specifications for gold-plated items:
The gold must be at least 0.5 microns of an inch thick. The thicker the gold plating is, the longer it maintains its finish.
Jewelers need to use gold that is at least 10-karat quality.
Here are some tips to tell apart gold-layered or gold-plated jewelry from real gold:
Hold your gold jewelry close to a magnet to see if there will be an attraction. A magnetic field will not attract solid gold. You will know that your item is an alloy, such as gold-layered steel if the magnet attracts it.
Observe for any discoloration on the item or your skin.
Precious metals like pure gold do not quickly tarnish like the others. So it is least likely to be pure gold if you see any discoloration on the metal after a short time after you bought it.
Another clue is when you see any discoloration on your skin when wearing the jewelry item. Pure gold will not cause any allergic reaction when worn against the skin. Your piece is most likely bronze mixed with copper when discoloration appears.
Jewelry items that are pure gold are dense and will sink in a glass filled with water. If your piece sinks, mos likely it is solid gold. But if it floats, there is a high possibility that it is only gold-layered or plated.
Use a jewelry cleaning cloth.
You can also rub a jewelry cleaning cloth over a specific section of your jewelry. The fabric will usually rub away the gold off of your gold-layered and gold-plated jewelry.
Use a cleansing solution.
Dip your gold jewelry into a jewelry cleansing solution for sterling silver. Leave it for twenty-four hours after soaking the jewelry piece. Your jewelry will tarnish and oxidize if it is not solid gold.
Ask your jeweler to do the acid scratch test.
Any jeweler can perform this test, which only takes one to two minutes to complete. Although it will not verify that your gold jewelry is real, it will tell you how pure it is.
How to care for gold-plated jewelry?
Do not spray on perfume or other liquids while wearing your jewelry.
Wait until your lotion or cream is dry before you wear your gold-plated jewelry.
Substances like nail polish, chlorine, perfume, sweat, and oil may react with plated jewelry and cause it to tarnish. You need to make sure that you always remove your jewelry piece before you exercise, swim, or go to the spa.
Clean your gold-plated jewelry after every use. You can use a cotton or soft cloth to rub your jewelry and remove any dust or dirt gently. Be careful not to use a polishing cloth or scratch too hard, or else the plating might come off.
If you think your jewelry needs more cleaning, you can try cleaning it with warm, soapy water. Soak it for a few minutes and clean it with a soft cloth. Avoid using jewelry cleaners and antibacterial soaps, which may cause more tarnishing.
Wrap your gold-plated jewelry in a soft cloth after cleaning to avoid scratches. Small zip-lock containers also work well in keeping your jewelry safe.
You need to keep your like plated items together. Do not store different colors of plated jewelry together because doing so can cause tarnishing. They might also fade or turn into different colors.
Keep your jewelry organized by storing different colors in different jewelry containers.
What does gold filled mean on jewelry?
Gold-filled jewelry is jewelry with a solid layer of gold. It is not an alloy since manufacturers do not mix the gold layer with other metals. They mechanically bond it to a base of either sterling silver or other base metal using heat and pressure.
Single clad gold-filled has all its gold content in a single layer on only one side. In comparison, a double-clad material splits its gold content into surface layers into both sides of the material.
Manufacturers follow a standard in using supplies to make gold-filled jewelry. Unlike gold-layered and gold-plated jewelry, they have strict standards. They need to be at least 5% or 1/20 gold by weight, which the karatage describes. Most materials are either 12 or 14 karats.
Gold-filled jewelry tarnish, but only in rare circumstances. Their materials usually last a lifetime and the gold bonded to the base metal is quite thick.
But it can turn into the black color in rare instances of extreme sulfide exposure, which can occur during the following:
Jewelry items may tarnish when they go through foreign transit in extremely polluted shipping docks.
Tarnishing is also inevitable in nail salons with high levels of chemical sulfide fumes.
When there is fire, and the jewelry comes in contact with the smoke, tarnishing can also happen.
Wearers who have allergic reactions to gold alloys might also have skin irritations. It is because of the gold alloy layer on the gold-filled jewelry's surface. The skin of some may blacken or develop rashes when they wear certain metals and eventually making the item darken as well.
You cannot cast gold-filled jewelry pieces. It is one of the significant limitations in the types of products that manufacturers can create in the metal. They make these items using sheets, tubes, or wires that keep the separate layers of gold and brass.
Many experts do not recommend soldering gold-filled jewelry supplies. You cannot create beautiful pieces without specific equipment and specialized training. Manufacturers usually do it with laser welders that make precision joins.
Never attempt to solder it with a torch and regular gold solder, or you can alloy the surface layer of gold with the other metal beneath it. Overheated joins will leave a dark solder stain that is markedly different than the neighboring gold. Any exposed brass can quickly tarnish your jewelry.
The only way to repair your jewelry when it happens is to plate the entire item in gold to cover the join and match color all over it. You also need to sand or file gold-filled since you might remove the item's gold part and decrease the surface layer integrity.
How to care for gold-filled jewelry?
Avoid excessive touching, which can lead to surface friction. It can cause reactions between the alloy and your skin, and your gold-filled jewelry could end up discolored.
You should only use warm water and mild soap-based detergent to clean your gold-filled jewelry. You can soak your pieces for no more than a minute in the water and use a soft cloth or baby toothbrush to scrub the dirt and grime off your item gently.
Never use any paper-based material to clean your gold-jewelry to dry it. Always air dry or gently pat your jewelry before you put it away. Ensure that the piece is completely dry before storing it because excess moisture can corrode and tarnish your jewelry.
Use a soft jewelry cloth to bring back the sparkle on your gold-filled jewelry pieces that the water may have washed off.
Do not give your jewelry a matte coating to try and preserve its sparkle. It can sometimes eat through the gold layering and turn your jewelry unsightly.
Constant rubbing against other jewelry items can make it lose its sheen. So, you need to wrap each of your gold-filled jewelry in a soft cloth and put them in a box for storage.
Never wear your jewelry when you are sweating or when your body is in contact with water.
What does h mean on jewelry?
The H stamp signifies that the manufacturer of your jewelry piece did not use heat in making it. A hallmark of h(a) is mid-grade with some mild heating of a ruby piece, which means it is less valuable than other items. Another hallmark is h(b), which indicates a selection of very low-quality jewelry.
What does hallmark mean on jewelry?
Jewelry hallmarks are official designations. Jewelers usually add them to the pieces after an Assay Office determines its purity. It is significantly different from a manufacturer's marking of fineness. Gold hallmarking was Europe's earliest form of consumer protection. The prescribed marks they used were prerequisites for gold items offered to public sale.
Gold hallmarks originated to show the purity of a jewelry piece, including the assaying office's mark that certified its purity. It also includes the fineness or caratage of the gold. The most common hallmarks show which goldsmith manufactured the item.
Most jewelry pieces have the hallmark symbols considered as compulsory marks:
The maker's marks are the manufacturing firm's initials or name or other representative symbol stamped into a gold, silver, or platinum item. They are also known as trademarks. Maker's marks provide proof that the manufacturer or jeweler indeed creates the specific jewelry piece.Sometimes, a maker's mark can change over time, which is why it can be the most confusing jewelry hallmark to figure out. If there is a symbol on your jewelry item that you are not familiar with, it is most likely the trademark.
Standard marks are the guaranteed standard of purity or fineness. Purity markings tell you the purity of the precious metal in your jewelry.A rectangle with shaved off corners indicates gold jewelry. Oval stamps state silver pieces. And a house-shaped mark indicates platinum items.The numbers inside the shape are millesimal stamp numbers, which tell the actual precious metal content or purity. Different countries may have different hallmarking standards, so the symbols you see on your pieces may differ.
Assay Office marks indicate which country tested and marked the purity of your jewelry piece.
Date stamps and date letters are also typical jewelry hallmarks found on many jewelry items. It stands for the date the Assay Office tested and marked it, not the date the manufacturer created it. Some dates come in the form of a letter, which the London government used to prevent fraud.
What does HGE mean on jewelry?
HGE stands for "high-grade electroplate." It means that the manufacturer electroplated your jewelry piece. Electroplating is a process wherein a metal coating onto a jewelry piece's surface. A solution containing the metal passes an electrical current through the item and solution.
Electroplating is a comparatively quick process to carry out. It does not need a massive investment in costly equipment.
Some reasons why manufacturers use electroplating on their jewelry:
Electroplating carat gold jewelry with pure 24-carat gold can impart a richer gold color.
Electroplating a jewelry piece gives a more uniform color, hiding variations of the other components and solder lines.
A wide range of colors is achievable by co-depositing gold with other metals.
Electroplating hides surface defects and improves some properties.
What does hk mean on jewelry?
HK is another maker's mark you can find on your jewelry, which may stand for Harriet Kelsall. Harriet Kelsall started designing beautiful jewelry for people all over the world in 1998. They won over 20 awards in the UK and globally for design, business, ethics, and innovation.
Harriet Kelsall specializes in bespoke jewelry design, which represents especially a specific client. There are many benefits to choosing bespoke jewelry pieces:
The bespoke jewelry is unique, and no one else owned or wore it before.
It is a personalized piece and has your unique input and creative thought put into it.
Bespoke pieces usually cost less, spending on your design.
You have unlimited options to create your jewelry.
What does HS mean on jewelry?
HS is another maker's mark that you can find on your jewelry pieces, which may stand for H. Samuel Jewellers. They earned a wealth of knowledge, experience, and success after operating for over 150 years. Harriet Samuel founded H. Samuel and defied the conventions of her time, pursuing her dream.
What does JA mean on jewelry?
JA is a maker's mark that stands for James Avery Artisan Jewelry. It is a family-owned company that offers fine-crafted jewelry designs in sterling silver, gemstones, 14-karat, and 18-karat yellow and white gold.
They design, manufacture, market, and sell their timeless jewelry designs. They specialize in jewelry items perfect for special occasions and everyday wear.
What does JB mean on jewelry?
JB is another maker's mark which may stand for either James K. Bowden or Jacoby-Bender. The only difference is that Jacoby-Bender's trademark "JB" is always inside a triangle.
James K. Bowden is famous for his sterling silver pieces. His most common jewelry design is a necklace with a solitaire pendant. Jacoby-Bender, founded in 1936, manufactured watch bracelets in steel, gold, and gold-filled.
What does JC mean on jewelry?
The hallmark JC is a maker's mark that may stand for JC Jewelers. They take pride in being their community's choice for Teton jewelry, elk ivory, wedding rings, and heirloom diamonds.
Jan and Jeter Case founded and grew their business over the last thirty years. Jan is a certified gemologist appraiser, and hand selects gemstones and high-quality diamonds. Jeter creates the artistic designs and crafts precious metals.
What does JCM mean on jewelry?
JCM is a maker's mark that may stand for Jacmel Jewelry, Inc. JCM manufactured jewelry for companies such as Disney, Nickelodeon, Hallmark, DC Comics, MLB, NFL, and Sanrio.
The company manufactures, designs, and distributes jewelry worldwide. They specialize in chains, rings, earrings, diamonds, and bracelets.
What does JH mean on jewelry?
JH is a maker's mark that stands for John Hardy, a sustainable luxury jewelry brand. It is because the company donates a part of its profit to environmental causes that help preserve Bali.
Bali and its time-honored jewelry-making traditions inspired John Hardy in creating handcrafted jewelry. They take pride in their craftspeople who create jewelry through many meditative processes.
The company also offers an apprenticeship program, Jobs for Life. It provides vocational training and financial support to Bali citizens. They are also committed to codes of practice that ensure that they ethically produce their stones, diamonds, and metals.
What does JL mean on jewelry?
JL is another maker's mark that may stand for Jean Lassale or Jeffrey Levin. Jean Lassale was a Swiss watch company founded in 1976 by Jean Bouchet-Lassale. The brand primarily worked in steel, gold, and platinum.
Jeffrey Levin is a famous jeweler inspired by his mother's cultured, eclectic aesthetic. His inspiration flows from many sources, including art, philosophy, architecture, and diverse cultures.
What does JM mean on jewelry?
The maker's mark JM stands for the Native American Navajo silversmith, James Mason.
What does JTV mean on jewelry?
JTV is a maker's mark that stands for Jewelry Television. It is one of the largest jewelry retailers in the United States of America. The company leverages an omni-digital strategy designed to elevate the customer experience.
JTV employs many accredited jewelry professionals as part of its commitment to its customers. They elevate their customer experience through holistic, digitally-driven touchpoints.
What does JWBR mean on a ring?
JWBR is the maker's mark for an Indian jewelry company.
What does JX mean on a ring?
JX is the maker's mark for the Le Vian jewelry company. It is a family-owned company with a long history, dating from the 15th century. They are famous for reinventing several fine jewelry categories. They did it through unique combinations of colors of diamonds, gems, and gold.
They popularized the under-appreciated brown diamonds and deep-colored stones as Chocolate Diamonds. Le Vian also guarantees that their gems and diamonds are natural stones.
What does karat mean in jewelry?
A karat is a measurement that shows you the gold portion in an alloy out of 24 parts. It is a unit of purity. The higher the karat number is, the more gold there is and less of the other metals.
Knowing the number of karats is critical in calculating the gold content on your own. If your jewelry piece is 14-karat gold, you need to divide the 14 by the number 24. You will get .583, which means your gold is 58.3% pure gold.
But keep in mind that pure gold does not necessarily mean better jewelry. It means more pure, worth more money, and more expensive. The more alloy metals your jewelry contains, the stronger it is.
Some wearers prefer lower-karat gold jewelry items since 24-karat gold can be soft and very malleable, and not as durable. Ut lower karat gold items are not tarnish-resistant and do not cost as much as higher karat jewelry.
The most common gold purity levels are 10-karat, 14-karat, 18-karat, and 24-karat. Each level offers its range of advantages and disadvantages. They vary in hardness, durability, and risk of contributing to skin irritation.
Among the four most common gold purity levels, 10-karat is the most durable but has the lowest gold content. 18-karat is the purest form that manufacturers usually use for engagement rings and other jewelry items.
10-karat gold is affordable and more durable than other types of gold. But they come in pale yellow color and are more likely to trigger allergic reactions. It is 41.7% gold and 58.3% alloy.
Jewelers use this widely in earrings and other affordable jewelry items. But it is not a popular metal for fine jewelry and engagement rings.
14-karat gold is an excellent combination of purity, durability, and value for money. It consists of 58.3% gold and 41.7% alloy and is popular in gold rings and other wearable jewelry items.
It has a rich color with a classic gold appearance that most customers look for in rings and other jewelry. Its color looks slightly less saturated and intense than 18-karat gold. It is why 14-karat gold is excellent for customers looking for gold jewelry that is not overly yellow.
18-karat gold is as pure as possible while still being practical. But it is expensive and vulnerable to scratches. It consists of 75% pure gold and 25% alloy. This type of gold is usually the purest form of gold for rings, watches, and other wearable jewelry.
It has a rich, yellow appearance that makes it an attractive metal for engagement rings and other jewelry pieces. It is perfect for customers looking for gold jewelry that is as pure as possible.
Unlike what many believe, jewelers do not use pure gold or 24-karat gold because of many reasons:
Pure gold is incredibly soft and malleable. It bends and warps quickly, making it a poor-quality metal for jewelry. Jewelers prefer mixing it with other metals to make it more durable.
It is also vulnerable to scratches, meaning it does not take long for pure gold jewelry to become unattractive and scuffed.
Pure gold is also very bright. It gives off more of an orange color than the yellow color that people usually associate with gold. For this reason, it is generally unattractive to use as a metal for rings, watches, and other gold items.
24-karat gold is also costly. It costs much more to produce jewelry using this metal.
Which karat gold is best?
There is not a single best type of gold for everyone. You must keep factors like skin sensitivity, activity level, and aesthetic taste in mind. You also need to keep your budget in mind.
For most customers, 14-karat gold offers the most significant advantages. It provides the best combination of beautiful color, good durability, and reasonable affordability. It is also the most common type of gold in the United States, so it offers more options.
But 18-karat gold would be best if you prefer something more luxurious. It is also perfect if you do not mind trading some durability for a richer gold color. You just need to be more careful when wearing jewelry pf this type of gold as it could easily scratch.
What does MK mean on gold jewelry?
MK is a maker's mark which may stand for either MK Diamonds & Jewelry or Michael Kors.
After over four decades, M.K. or Moshe Kraiem became synonymous with beauty, quality, and incredible value. They offer innovative, elegant jewelry designs that feature excellent craftsmanship and expertise.
Michael Kors, on the other hand, is a world-renowned, award-winning designer of luxury items. Aside from jewelry, the company specializes in fashionable clothes, shoes, watches, handbags, and other accessories.
Similar pages:
What does monet mean on jewelry?
Monet jewelry refers to a line of vintage costume accessories, such as necklaces, earrings, and brooches. These pieces give an outfit a classic, formal look made primarily from precious metals like silver and gold.
Monocraft Products Company created authentic Monet Jewelry. They started making costume jewelry, necklaces, brooches, earrings, and necklaces in 1929. They represented technological innovations in jewelry making.
At the time, Monet was the only brand that made earring clips for both pierced and non-pierced ears. They also made barrel clasps for pierced earrings. These creations, and their gold and silver plating, set them apart from other jewelers of their time.
What does s925 mean on jewelry?
The hallmark s925 is similar to the 925 stamp, which means that your jewelry item is 92.5% sterling silver and 7.5% alloy.