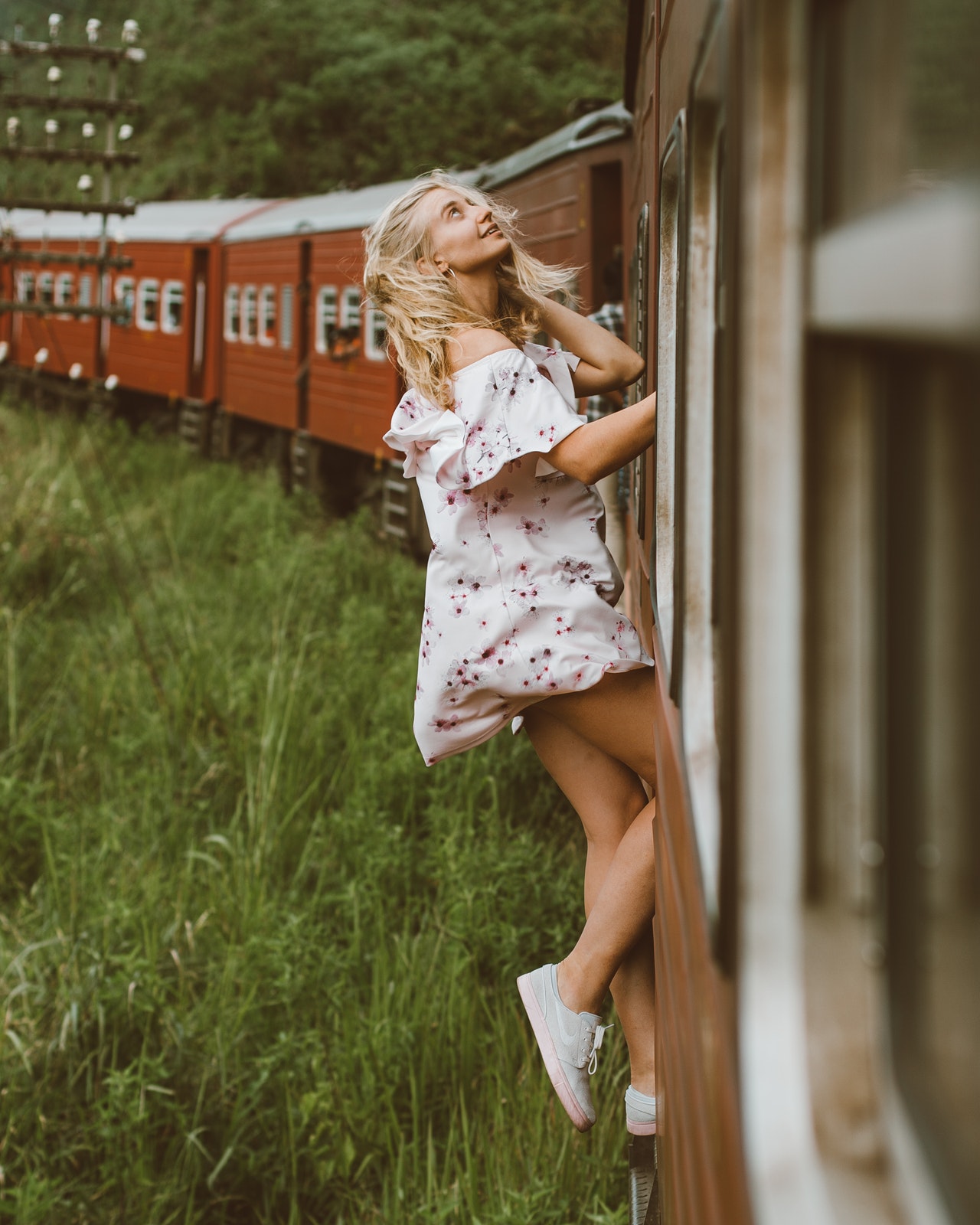 It is fun to wear skirts because, in them, you are so free to move about. The total opposite can sometimes happen, and you may get the most uncomfortable feeling because of it.
You may be one of the many women who choose to wear skirts or dresses because of their versatility and comfort. You may also belong to the other group who feels another way because of your skirt's awkward experience riding up. How do you fix it? Let me count the ways.
Why are skirts so short?
Let me start by describing first what a skirt is. A skirt is the lower part of a dress, or it can also be a separate garment on its own that can cover a person from the waist down.
You can choose from among different types of skirts. Skirts are usually made of light to average weight fabrics like denim, worsted, jersey, or poplin. They can also be made of thin or clingy material. You can also pick from floor-length to micro-mini skirts.
Wearing skirts, especially short ones, give you more freedom to move. Mini-skirts are comfortable outfits to wear during the hot months since they are lightweight and easy to wear. The problem starts when the skirt becomes too short for comfort.
Skirts appear and feel so short when it keeps riding up as you move or walk. If you are not aware of the reasons why this happens, read them down below.
The skirt material is thin.
You might have noticed that short skirts made of light fabrics are usually the ones that ride up. You would not want to spend the whole day tending to your skirt to keep it down. So, make sure that the next time you wear one, it must be made of a thicker or heavier fabric. Denim is an ideal material for short skirts.
The skirt is of the wrong size.
You may be wondering why your skirt, which looked nice on you when you fitted it at the mall, is riding up as you walk. Your movements at the fitting cubicle were too limited to determine if that short skirt is the right size for you.
It would help if maybe you try on your exact size and a size bigger. Get to know which size looks better on you. If the bigger size is not such a good fit but does not ride up, you still have enough material to adjust your skirt to make a proper fit.
The skirt is the wrong style for your body shape.
Each one of us has a unique body shape and build. So, it is quite possible to find a skirt that may not be the right style for your body shape, which may cause it to ride up your thigh.
There are so many skirt styles to choose from. There will always be a lot more that would look good on you to wear comfortably and confidently.
The skirt is just too short.
Some skirts are just made too short. It may look like it is riding up, but there is definitely no way to go but up because there isn't enough fabric to cover most parts of your thighs. Short skirts like these are the ones to be avoided because there is no way to fix them. Or you can layer them when wearing tights during the winter.
How do I make my skirt more comfortable?
Skirts were made and worn by women of all age groups because they are versatile, comfortable, and chic. Mini-skirts are the go-to skirt because you can use them in almost any place at any given time. Short skirts can look casual to formal, depending on how you carry this piece of an outfit.
But wearing a skirt will only work if you can wear it comfortably without pulling on it throughout the day to avoid feeling overexposed. Wearing a short skirt can be done without so much tending to the hem, and here are a few ways to do it.
Choose a flared or A-line skirt.
Start by choosing a skirt that will not ride up your legs. A flared or A-line skirt is still short and flattering but does not ride up. Compared to a tight mini-skirt, short, flared skirts are more comfortable to wear and do not show too much skin.
Some skirt styles which are not too tight-fitting are pleated, skater-style, or button-down denim skirt. But note that flared skirts can be blown up when it is windy. Choose wool, denim, or corduroy skirts if you know it will be breezy outside.
Go for a little extra length.
If you like wearing a fitted skirt in a stretchy material, find one that is slightly longer. Since it is fitted, it will still feel short, but the extra length prevents the skirt from riding up. Look for fitted skirts that only skim the outline of your legs, not those that hug them tightly. A fitted knitted skirt is a perfect example of stretchy skirt material.
Try wearing a " skort."
The best way to avoid skirt riding up your legs or exposing yourself due to the wind is to wear a skirt with built-in shorts underneath. A "skort" is a clothing piece with skirt flaps in front and shorts showing at the back. Another garment of this type is called a 'scooter' where skirt panels cover the shorts entirely. If you want something that will not accidentally expose your skin, wear a longer skort that fully covers the shorts underneath.
Find a skirt that sits at the natural waist.
When the waistband of your skirt sits at your natural waist, the narrowest part of your torso, you are making use of the normal length of your short skirt. When your skirt sits at the natural waist, you would feel a little less exposed.
Short skirts are great outfits for any time of the day because they are nifty, easy to wear, and look great on anyone. But not all short skirts will look flattering, and some may make you feel exposed by riding up your leg. Go for the styles that will make you move comfortably and confidently.
How do you keep skirts from riding up when you walk?
It cannot be very pleasant when you are moving about, and your skirt keeps riding up. Skirts, especially short ones, are supposed to make you move freely and comfortably. Yet, they sometimes do the opposite. Here are a few tips and tricks to prevent your skirt from riding up when you walk.
Sewing a slip to use with a skirt.
The traditional way to keep the skirt from riding up your leg is by sewing a slip that you can use for your skirt. The material typically used to sew a slip is a more slippery material than the skirt material. Slippery fabric makes it less clingy to avoid riding up your thigh. One of the popular fabrics used to make a slip is China silk.
You can sew a slip for any skirt length, even the mini-skirt. Just make sure that the length does not go beyond the hem of the skirt.
Sew a few extra inches of similar fabric to the bottom of the skirt.
If you have extra inches of your skirt fabric, you can sew a few inches on the bottom of your skirt enough not to make it ride up. You can also choose even a similar color of fabric and sew it on the ends of your skirt. It will have a double purpose of making your skirt longer to prevent it from riding up and become an added design to your skirt.
Sew a chain on the hem of the skirt.
If your problem is too much skin exposure because of strong winds, a creative technique is sewing a chain on the skirt's hem. The chain adds weight to your skirt, preventing it from riding up or getting blown by the wind.
You can choose to sew the chain on the right side of your skirt. You can treat it as an added accessory to your outfit while serving its purpose of keeping your skirt in place. You may want to use a chain similar to the jewelry chain you are wearing to accentuate your outfit.
You can also choose to sew the chain inside the hem of your skirt to hide them. You can sew in those tiny metal beads that are linked together. They add weight to your skirt, but they remain hidden.
Wear leggings, jeans, or pants under the skirt.
Another way to keep your skirt from riding up as you walk or move about is to wear cycling shorts or leggings underneath. Wearing cycling shorts underneath your skirt will make you move more comfortably without worries if your skirt will ride up or be blown by the wind. But please wear the colored ones and not the nude shades as you are not improving your situation if you do so.
[lasso ref="eco-daily-cycling-shorts-womens-3d-padded-bicycle-bike-biking-underwear-shorts" id="2776″ link_id="564″]
Layering your outfit prevents it from riding up your legs and keeps you warm at the same time. Wearing pants or jeans under your skirt may be a great idea during the colder months of the year.
Use hairspray.
Another effective way to keep your short skirt in place is to put a thin layer of hairspray over your legs and on top of your thighs. This technique has been proven effective by gymnasts to keep their leotards in shape.
[lasso ref="add-a-link-title" id="2774″ link_id="563″]
Probably, the best way to keep your skirt from riding up is to take note of the fabric used to make it. Skirts made from thin materials have a greater tendency to ride up. Those made from heavier materials such as denim do not ride up as much. When choosing a skirt, find one that will agree with your curves and look good on you. If it is riding up, it could mean you need a bigger size or a different cut that will fit your body shape. All factors considered; you must enjoy the freedom that wearing a skirt, a short one at that, could give.
Why Is My Skirt Shorter At the Back?
Most times, there are different reasons why your skirt might be shorter at the back. The tricky part is that you may not notice early enough unless someone tells you. Some of the reasons for this include the following. The type of material used in sewing your skirt could be the culprit. At other times, skirt size and fitness on your body type might be the cause of the skirt becoming shorter on the back. If you have a big booty, that is the most likely cause of a shorter skirt on the back. Your best option is to use get something that will fit your size both in the front and back. Moreover, you should consider design factors as pencil skirts are popularly known to be shorter.
What Is The Best Fabric For Sewing Skirts?
As noted earlier, the type of material or fabric you choose will influence whether your skirt becomes shorter in the back or not. Moreover, the nature of the fabric will affect how often your skirt is riding up or rising. Irrespective of your body size or the type of skirt you want to sew, below are the best options.
Polyester
Denim
Wool
Velvet
Flannel
Silk
Cotton
Rayon
Nylon
To get the best outfit, consider seeking the opinion of a professional tailor. Besides, your experience with different types of sewing materials should guide you on what's most suitable for the type of skirt you want. Simply by making a different choice, you can stop your skirt from riding up or rising.