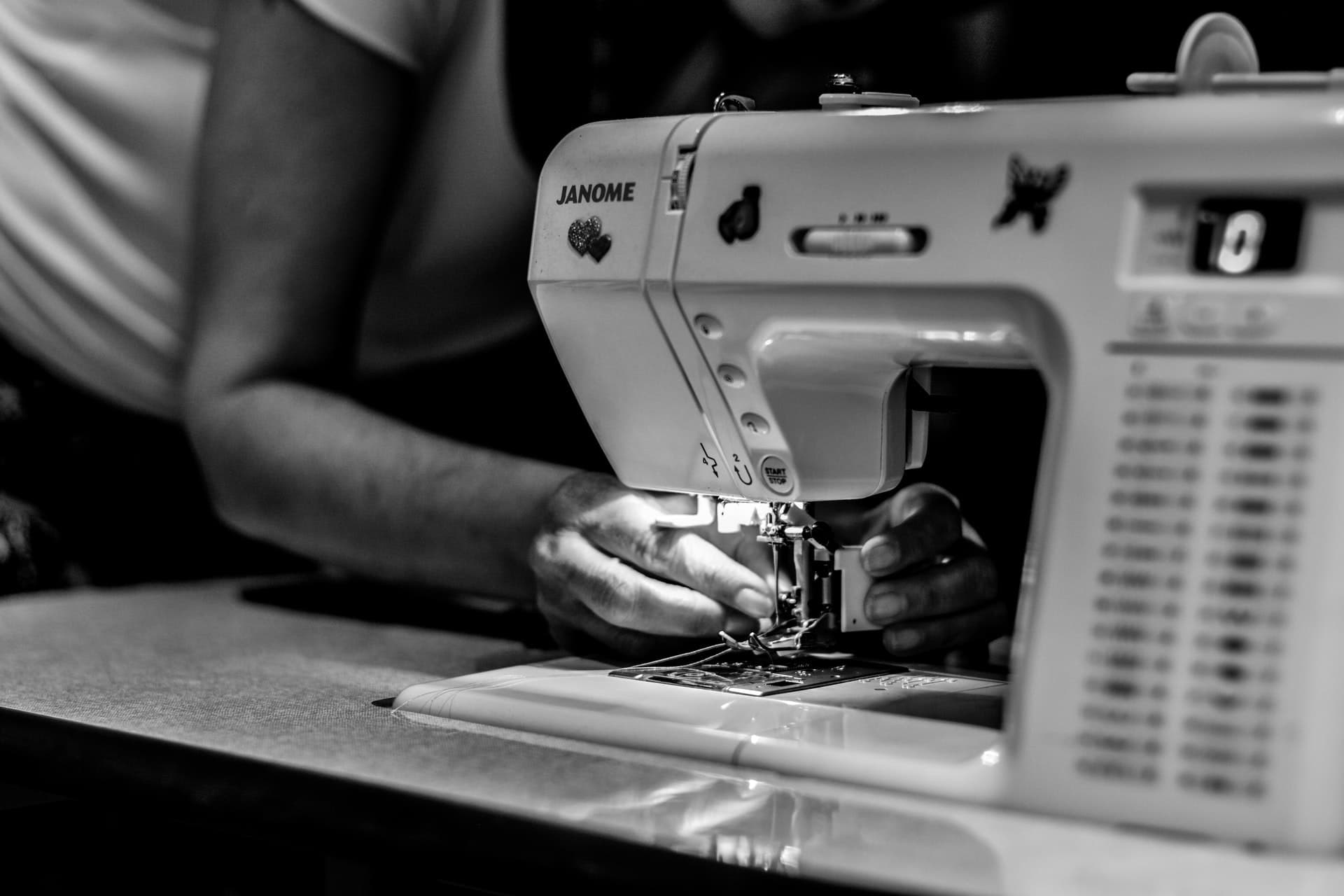 The best time to buy sewing machines is during events! There are so many great deals on demonstrator machines, and you can even ask for better prices.
What is the best beginner sewing machine?
1. SINGER Confidence 7363 sewing machine
This sewing machine model is perfect for beginner sewers who wish to work on more advanced projects eventually. The Singer Confidence 7363 has thirty stitches you can choose from, so you can sew items for fashion, home decor, and more.
The Confidence 7363 sewing machine also features a drop-in bobbin and built-in needle threader to make it easy to set up. These characteristics, plus the adjustable stitch length and width, make it the ideal beginner's sewing machine.
Beginner sewers also appreciate the adjustable speed, which helps avoid mistakes. This model also has a start/stop button that allows the sewer to stop if there is an error suddenly.
Sewers can also remove the storage compartment. Doing so will give you quick access to the free arm, making it easier to sew around hems and cuffs, children's clothes, and other smaller sewing projects.
Key features:
Thirty built-in stitches
Two one-step buttonhole
Built-in needle threader
Top drop-in bobbin
Darning plate
Touch button stitch selection
Adjustable stitch length and width
Self-adjusting tension system
Free arm
Snap-on presser feet
Extra-high pressure foot lifter
Thirteen variable needle positions
2. HAITRAL CS141WPU Portable Mini Sewing Machine
CS141WPU portable mini sewing machine is a simple, streamlined model that is ideal for beginners. It performs and displays high-quality stitches. It also allows sewers to have an enjoyable sewing experience.
It weighs under three pounds for easy carrying and is perfect for small, simple sewing projects. Haitral's CS141WPU has many unique features that make it one of the best beginner sewing machines in the market.
This mini sewing machine is ideal for small, simple sewing projects. It also has some added features like a side thread cutter, a built-in lamp, and a removable extension table.
3. BROTHER 1034D 3 or 4 Thread Serger with Easy Lay
Brother's 1034D serger has many stitching options for the following:
plain and decorative designs
overlock stitches
three or four thread cut-and-sew
It is a durable serger with a high-quality metal frame and interior components. Brother's 1034D thread serger is also a reliable sewing machine that can manage many layers of denim and other heavy materials.
This sewing machine also allows you to get more serging done in less time by sewing up to over a thousand stitches per minute. It has a beginner-friendly, color-coded upper thread guide. It also has a lower looper threading system that makes sewing easier for beginner sewers.
4. JANOME 4120QDC-B Computerized Sewing and Quilting Machine
Janome designed this model of sewing and quilting machine with sturdy construction and stable feeding. It has features ideal for sewing and quilting projects with one hundred and twenty built-in stitches.
The Janome 4120QDC-B features three convenient buttons that offer extra ease to its users:
start/stop button, which allows greater precision when working on a detailed project
easy reverse button backstitches to keep your seams secured
locking stitch button that ties off the end of your working thread, so you do not need to backstitch on your decorative stitches.
Key features:
120 built-in stitches
Seven one-step buttonholes
Manual thread tension control
Built-in one-hand needle threader
Snap-on presser feet
Seven-piece feed dog
Drop feed
Built-in thread cutter
Locking stitch button
Speed control slider
Twin needle guard
Easy reverse button
start/stop button
Stitch pattern memory capability
Auto-declutch bobbin winder
Extra-high presser foot lift
LCD screen with an enhanced informational display
Food pressure adjustment
A horizontal full rotary hook bobbin system
5. BROTHER Innov-is NS80E Sewing Machine
This sewing machine has features such as an adjustable speed switch and an automatic needle threader. It also has an easy-read LCD screen and a drop-in bobbin. It also has outstanding features that come in handy as sewers advance to more complex techniques.
Brother's Innov-is NS80E sewing machine uses features from more advanced sewing machines. It makes an excellent option for beginners, especially those who love traveling and going on sewing retreats.
Key features:
80 built-in sewing stitches
Eight one-step auto-size buttonhole styles
Long feed dogs and J foot for powerful feeding and stitch consistency
An advanced needle threading system
2.56-inch monochrome LCD
Built-in super bright LED light
Aluminum chassis that reduces vibration and noise while sewing
Computerized operation
Ample 4.1" x 6.4" work area
Variable speed control
Needle plate detection sensor for safe cleaning
Reinforced carrying handle that ensures safe and easy transport
6. BROTHER SE625
Brother's SE625 is one of the most affordable and computerized sewing and embroidery machine. With its 4" x 4" embroidery field, you can see all your designs in full color on the machine's LCD. You can quickly make adjustments, like changing the thread color.
This computerized sewing and embroidery machine comes with 103 stitches and 80 embroidery designs. The SE625 also has a USB port to upload your designs or others from the Brother website.
Key features:
4" x 4" embroidery field
4" x 4" embroidery hoop, arm, and foot
3.7" Sew Smart colored LCD touch-screen display allows you to view your designs in full color
Two hundred and eighty embroidery designs, including decorative items
Built-in USB port for virtually unlimited embroidery design options
On hundred and three built-in sewing stitches, including decorative stitches
Ten styles of one-step, auto-sized buttonholes
Expanded 6.4" width x 4.1" height needle-to-arm workspace, which provides more room for quilts and bulkier sewing projects
Seven versatile sewing feet:
Buttonhole
Overcasting
Monogramming
Zipper
Spring action zigzag
Blind stitch
Button-sewing
What should I look for when buying a sewing machine?
There are several things to consider when buying your sewing machine. It may sometimes feel like a daunting task because of the wide variety of options. Here are some things to consider when buying your sewing machine:
The basics:
a. Full rotary hook, which will help you avoid jams
b. Open arm – so you can sew sleeves or pant legs that need to slide onto your machine's arm.
c. A universal pressure feature lets your machine adjust for materials of varying thickness.
d. Easy-thread feature. You would also want a sewing machine that you could quickly clean, or else the lint will accumulate. It will help you prevent clogging that can completely ruin your device. Remember to avoid machines with too much plastic that can easily break.
Stitch options:
a. Straight stitches
b. Zig-zag stitches
c. Stretch stitches
d. Tri-motion
e. Blind hem
f. Buttonhole stitches
Electronic or mechanical? Consider which of the two you prefer to use for your sewing projects. Electronic machines will automatically make adjustments for you. You can also simply get the stitch that you want with a push of a button.You will have to turn dials to get the stitches you want if you decide to buy a mechanical sewing machine.
Consider your machine's weight and size. A portable sewing machine may be more suitable for you if you have to put it away when not in use. It is also perfect if you plan to take it to craft fairs and retreats.But a heavier sewing machine is best for you if you only plan to use it at home. It may have more advanced features, made with more metal components instead of plastics.
Always weigh the machine's pros and cons according to your budget. A high-quality mechanical metal machine can cost around $300. But if that is way over budget, you can consider a second-hand machine.
Is buying a sewing machine worth it?
Yes, buying a sewing machine is worth it! You can use it for your hobby, your business, or for home use. It is ideal to own a sewing machine such as a Brother machine for free-motion quilting, especially if you want to save your money and do your garment repairs.