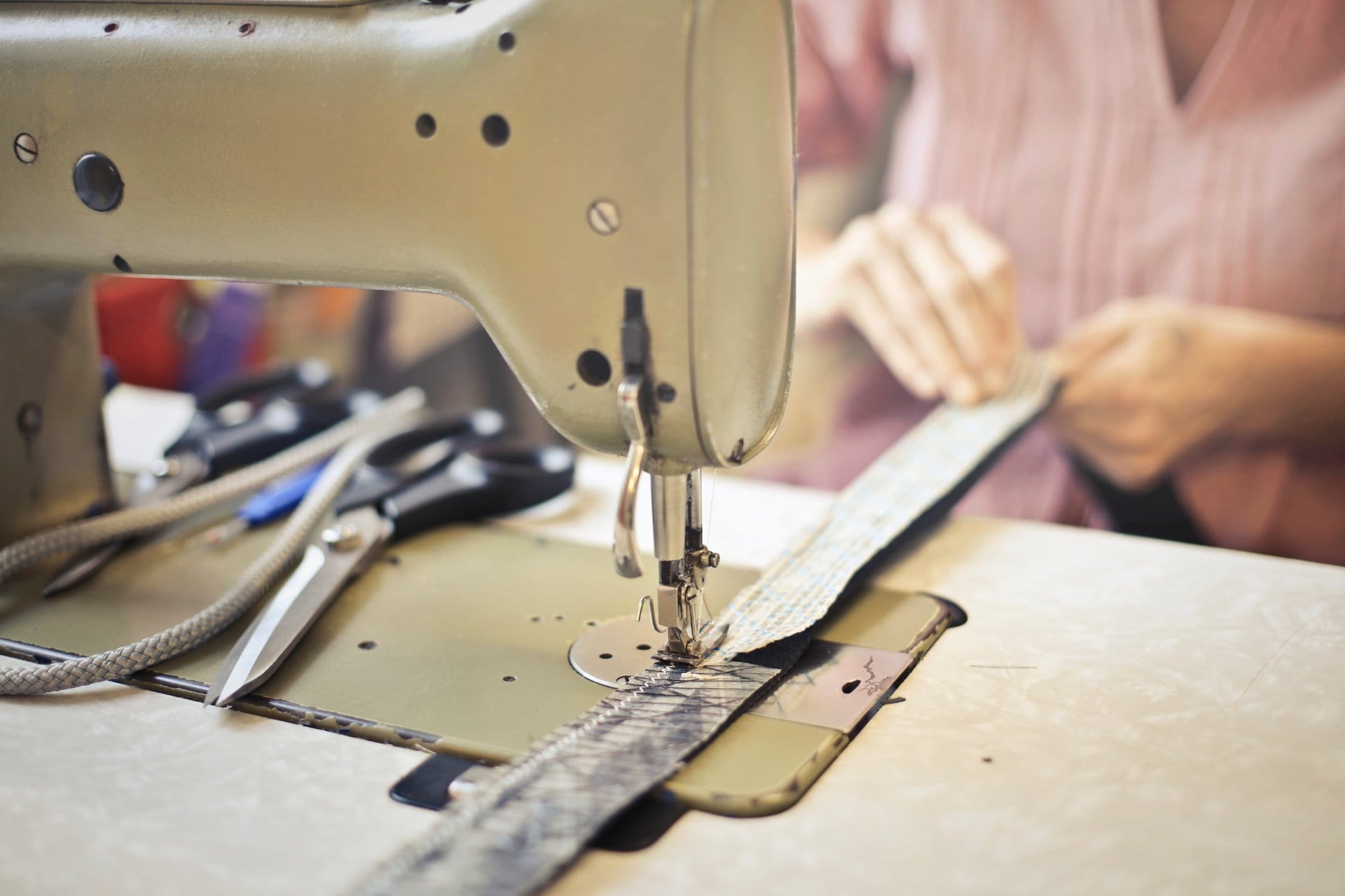 A well-maintained and calibrated sewing machine should function well. It should provide you a smooth and hassle-free sewing experience. But when you notice something unusual in your machine, there is something wrong.
One of the common glitches that you may encounter is when your needle hits the needle plate. Another one is bending or breakage of your needle.
There are three possible reasons why this happens.
Your presser foot and the stitch that you want to sew are not compatible.
To resolve this, attach the appropriate presser foot according to the type of stitch you want to make. You may also try adjusting the stitch width.
To check if you have resolved it, turn the handwheel counterclockwise. Then, check if the needle does not touch the needle plate or the presser foot.
You might be using a bent needle.
If it is your first time to experience this instance, check your needle. Before you continue working, check on your needle. If your needle is bent or broken, replace it at once.
Your needle plate may not be well installed.
Before you start sewing, always check if the parts are properly attached. Any loose attachment can lead to faulty functions of your machine.
If you are using a twin needle, make sure that you installed it well. When you put the twin needle, ensure that it touches the needle stopper. Make sure that you tighten the needle clamp screw.
Always use the right needle for your fabric, stitch type, and stitch length and width.
Before you work on your project, make it a habit to perform a thorough check on your machine. This is to ensure that you will not encounter a glitch throughout the process. You can begin your check by making a simple a few stitch tests on a piece of fabric.
This will give you a feel if there is something unusual with your needle, presser foot, or the needle plate.
What Is A Needle Plate Used For?
The needle plate or the throat plate covers the bobbin area. This is the removable metal shield inset on the work surface of your machine. This plate has a smooth surface so your fabric slides across well. It also serves as a guide to help as you sew.
There are 2 common needle plates: the zigzag plate and the straight stitch plate.
You use this plate for making straight stitches. This plate has only one hole for the needle.
This comes with small round needles holes on the plate. This prevents pulling of the fabric from the needle plate when sewing. This is perfect on chiffon and voile materials.
The straight stitch needle plate offers a more stable base and support around the needle. You can get straight and even stitches if you use this plate along with the straight stitch foot.
This type of plate is for decorative stitching. This plate has a wide slit so it can accommodate different needle positions.
This needle plate comes with an elongated hole to accommodate the side to side swing of the needle. This is suitable for making width stitches ranging from 5mm., 7mm., or 9mm.
How Do You Remove A Needle Plate Cover?
If you want to remove the needle plate cover to access the bobbin area, follow these simple steps.
Press the needle position button once or twice. This will raise the needle to avoid getting in the way and ensure safety.
Turn off your sewing machine. Make sure you unplug the power cord from the power supply.
Now, raise the presser foot to remove the needle, presser foot, and its holder.
Then, remove the flat bed attachment. In case you also have the embroidery unit attached, remove it as well.
At this point, you need to slide the bobbin cover latch to the right. Then, remove the bobbin cover.
Place your right index finger near the bottom of the needle plate cover latch. Insert the tip of your left index finger into the notch at the back of the needle plate cover. Then, place your left thumb at the front of the needle plate cover.
Remove the cover by sliding it towards you.
What Are The Measurements On A Sewing Plate?
Have you looked closely at your sewing machine needle plate? Do you see the measurement markings etched on it? These markings are important and helpful.
You will notice the following measurement labels.
3/8 inch (0.95 cm.)
4/8 inch (or ½") (1.27 cm.)
5/8 inch (industry standard) (1.6 cm.)
6/8 inch (or ¾") (1.9 cm.)
A ¼ inch (0.64 cm.) seam is not labeled because it's right in line with the edge of your throat or needle plate. It is closest to the needle.
These markings show the distance from your needle to your desired seam allowance. Say you want a 5/8 inch seam, you need to align your fabric edge on the 5/8 inch marking.
These markings serve as your guide to make uniform seam allowance measurements.
How Do You Get A Broken Needle Out Of A Sewing Machine?
When was the last time you changed your sewing machine needle? If you cannot remember, then you might not be doing it often.
Regular changes of needles are crucial, especially if you use your machine every day. A sharp and new needle will ensure top-notch stitches and efficient sewing. If you have not changed your needle, maybe it is time to do it now.
You may check the manual of your Handi Quilter sewing equipment for proper needle replacement. In case you do not have it, here are the basics that you can follow.
Press the needle position button once or twice to raise the needle.
Then, loosen the needle screw that holds it.
Pull the needle in downward to take it out of the needle bar.
Now, get the new needle and insert it upward until the bottom of the needle hits the stop. Make sure that the needle scarf is facing the correct position.
Once the needle is in place, tighten the needle set screw.
You need to keep in mind that needles for home sewing machines have a flat side on the shank. This means that there is only one way the needle will fit in the machine. This will prevent you from inserting the needle the wrong way.
More pages: 
How Long Does A Sewing Machine Needle Last?
Most manuals do not tell you how often you should change the needle of your machine. Replacing your needles is necessary, especially if you use the machine often. This will ensure quality stitches and smooth function of your machine.
Working on dull needles makes it difficult for your machine. It forces your machine to double its force to make the stitches. This can lead to fabric damage, uneven stitches, and bad tension.
If this persists over time, your machine is prone to wear out fast. To make sure that your needle is not damaging your machine, consider the following replacement frequency.
Replace the needle once you have finished 3 full bobbins.
Another option is to replace it after you have used 2 pre-wound bobbins.
If you are using your machine every day, it is best to replace your needle after you completed a project. This is advisable, especially if you are using thick fabrics like fleece, leather, or denim.
If you are making quilts, it is ideal to replace your needle after 8 hours of continuous sewing.
Changing your needles often is more economical than damaging your fabrics or machine. Regular needle replacement will keep your machine in great shape for years. This is more practical than having your machine repaired.
What Causes A Needle To Break On A Sewing Machine?
Nobody wants to experience needle breakage while they sew. Not only that it is frustrating, but also because it is dangerous and scary. If you have experienced this before, you know how unpleasant it was.
The following are some of the reasons why your needle breaks.
Inappropriate needle type or size
Always use the right needle type and size. You may read the manual on what kind of needle to use for your machine. You also have to make sure that you use the appropriate needle for your fabric.
Say you are making quilts, use a light ball point needle. Meanwhile, if you work on leather, use the wedge or cutting point needle.
Inappropriate needle plate
The needle plate is important in sewing. If you are going to use straight stitches, use a straight plate. If you are going to make decorative stitches, use a zigzag plate. Using the wrong needle plate can cause your needle to hit the plate and break.
When you sew, make sure you remove the pins. Your needle will break or bend if it hits any hard surface like pins. For a safer option, baste your project instead of securing it with pins.
Improper insertion of the needle
When you replace your needle, make sure you follow the instructions given in the manual. Understand the parts of your needle and know where the scarf should face. Most home sewing machines have a flat side on the shank.
This will be your guide not to commit a mistake inserting your needle. The key point here is to be mindful and careful in replacing the needle.
Misaligned needle plate and presser foot
Your needle can break if the needle plate and presser foot are not in proper alignment. Misalignment of these parts will give your needle the tendency to hit any of these two parts. Even if you have the right needle plate and presser foot, improper alignment can break the needle.
The easiest way to resolve this is to adjust the width or length of your stitch settings. Change it until your needle does not hit the plate and the presser foot.
Even if your needle is new, it does not exempt it from bending. If you happen to insert a bent needle, you are likely to bend or break it as you sew.
When you sew, let the feed dog move your fabric. Avoid pulling it as it will also pull the needle. This tugging can cause misalignment on your needle, needle plate, and presser foot.
This misalignment can cause needle breakage.
Lint and dust accumulation in the bobbin case or the needle plate can cause needle breakage. Make sure to clean and oil your machine regularly.
Tight thread tension either on your bobbin or the spool can cause needle and thread breakage. Before you start working on your project, ensure that you have the right thread tensions.
Needle is out of position
You know that your needle is out of position if it hits your presser foot or needle plate. Say you are using the appropriate needle plate, but the needle still hits something. This means that the needle is not in the proper position.
To resolve this, bring your needle down using the handwheel. Then, just the position of your needle by fixing the stitch settings of your machine. You may have to change the stitch width or length to fix the needle alignment.
Perform a test stitch on scrap fabric and see if the needle does not hit the plate or the presser foot.
Whenever you change the needle, always use the handwheel to lower the needle first. This will help you check the proper alignment of your needle, presser foot, and needle plate.
If you want to have smooth sewing experience, be mindful of your machine. Check its parts and maintain it well. You should check your machine before and after use.
Make sure that your needle, needle plates, and other major parts are in tip-top shape. If you want to enjoy using your machine for years, maintain it. Negligence can cause bigger problems and expense on your end.
You have to keep in mind that your needle, needle plate, and presser foot are interrelated. When one malfunction, the rest follows. This area of your machine is crucial, so pay attention to these parts before you hit the gear.