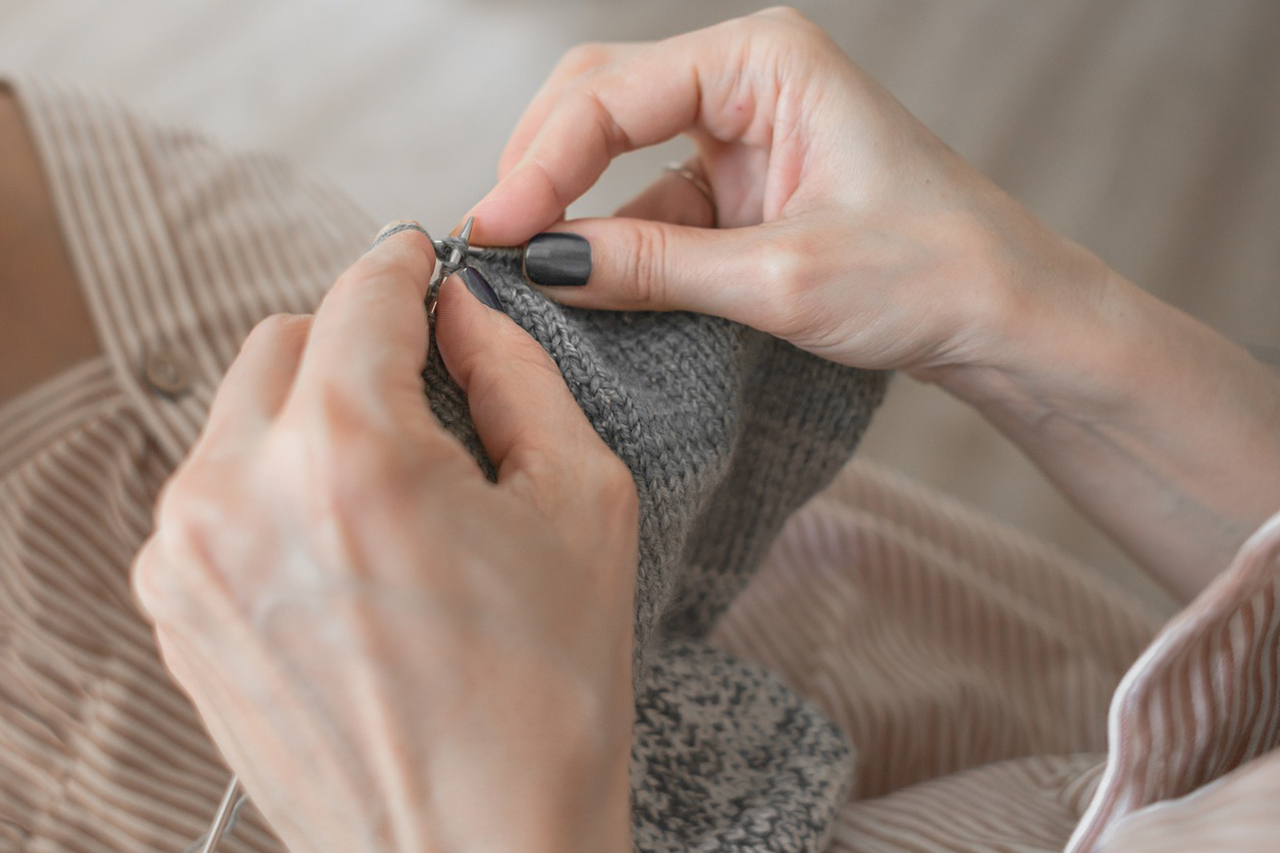 Can knitting cause a ganglion cyst? What is a ganglion cyst?
A ganglion cyst is usually a round or oval fluid-filled lump along the tendons or joints of the wrists and hands. It is generally painless but can also cause pain, a tingling sensation, numbness, or muscle weakness when the cyst presses on a nerve. You can also find ganglion cysts on the ankles and feet.
The exact cause of ganglion cysts is undetermined, so no one can say that knitting is one of them. Some knitters admit to experiencing ganglion cysts but cannot say what could have caused them. Therefore, we cannot conclude that knitting causes a ganglion cyst.
Can knitting cause a ganglion cyst? Although uncommon, repetitive motions of your hands can result in ganglion cysts for some people. But it is not scientifically proven that knitting will  cause you a ganglion cyst.
You are probably a knitting enthusiast if you have gone this far. Allow your knowledge about this exciting hobby to grow and understand what makes this fiber craft tick for your fellow yarn fans. You will get many more truths and myths about knitting as you read.
Truths and Facts About Knitting
1. Older than crochet yet younger than weaving
Nobody knows how long knitting has been around—but considered to be older than crochet yet younger than weaving.
Archeologists found it nearly impossible to tell how old this fiber craft is because knitting yarn decays with time. Also, the sharpened sticks that look like knitting needles dug out of archeological sites could be tools for other purposes. They may be skewers, spindles, hair picks, or other sharpened sticks with different uses.
Ancient fabric fragments believed to be knitting were, in fact, nalebinding, an ancient form of needlecraft by Danish people, which translates to binding with a needle.
The fabric created is similar to the knitted fabric. This ancient form of fiber art is also called "single-needle knitting."
One of the first knitting samples was a pair of cotton socks in Egypt from the first millennium AD. The ancient Egyptians knitted using two sticks by pulling loops through loops. The craft may have originated from the Middle East- believed to be brought to the west during the Crusades.
2. Knitting was a male-only occupation (at first)
Male knitters established the first knitting union in Paris in 1527, and no women were allowed to join. Women knitting alongside men began in the late 1500s with the invention of the knitting machine and after the Industrial Revolution.
Women knitted winter garments for the men at war. Knitting eventually became a leisurely activity dominated by women knitters. The women left behind during the war were assigned to pick up where the men left off, such as farming, making aircraft, weapons, etc.
Knitting was considered a national duty in the time of war. Many women knitters sent knitted garments to any soldier who needed warmth. The women made socks, hats, and scarves for the soldiers fighting the war in cold places.
3. Wool was not very popular for knitting in the past
Wool was not the popular option for knitting for the first 400 years. The fabric was not as accessible then as it is now. Cotton and silk were the most commonly used yarns for knitting during the first 400 to 500 years.
Wool became a famous option when wool farmers began breeding sheep to sustain the demand for strong, sustainable, and soft wool. There is a massive comeback for plant-based fibers like cotton, linen, and bamboo in the 21st century.
In the last two centuries, knitting was in and out of fashion, yet, there has been renewed interest in knitting with the entry of new yarn fibers.
4. Knitting needles were firm and pointed
Early knitting needles were firm and pointed for easier knitting. In the past, people used unusual materials like tortoiseshell, bone, and ivory to make knitting needles. Modern knitting needles come from bamboo, plastic, colored wood, and aluminum.
The three essential knitting needles are the standard "pin" style, double-pointed "dp," and circular needles.
5. Knitting improves mental and physical health
Can knitting cause a ganglion cyst? Since it is not proven that the craft causes a ganglion cyst and is detrimental to your health, there are endless benefits you can get from knitting.
Knitting has countless benefits for mental and physical health. Knitting shoots a relaxation response from the body, which can help prevent illness. Knitting is known to reduce blood pressure and lower heart rate.
Knitting is also an effective natural anti-depressant that helps ease anxiety, depression, and chronic pain.
6. Mega knitting is popular among modern knitters
Modern knitters came up with a new term for using gigantic knitting needles with a diameter more than or equal to half an inch – mega knitting.
The giant knitting needles have carved tips similar to hooks to prevent stitches from slipping off the needles. Fabrics created with mega knitting are chunkier or bulkier or have an open lacy weave.
7. Edward Hannaford did the longest French knitting
The longest French knitting is 16.36 miles long by Edward Hannaford in Sittingbourne, UK. He started knitting it in 1989 and is still working on it.
8. Celebrities also knit
Celebrities who knit include Meryl Streep, Julia Roberts, Krysten Ritter, Demi Lovato, Vanna White, Russel Crowe, Sarah Jessica Parker, and many more.
It is excellent and fun to know that some celebrities consider knitting a stress reliever, a distraction during downtime, and relaxation for practically the same reason as ours.
Myths About Knitting
Knitting is a mild, relaxing, enjoyable craft not spared from assumptions and misconceptions. So, for you knitters and non-knitters alike, read on for some constantly perpetuated myths, but take them with a grain of salt.
Knitting is not a cheap hobby. To knit a sweater for yourself, you will need a thousand yards of yarn to make one. You can buy cheap yarn like acrylic if you want to save on thread.
But if you're going to knit and wear it, too, you may find a ready-to-wear sweater that you can buy cheaper than a knit one.
2. Only girls knit
The growing population of male knitters would beg to disagree. You should note that knitting was once a male-only occupation. After the industrial revolution and the invention of the knitting machine, more women got involved with knitting.
Women started knitting socks, scarves, and other warm garments for the men fighting in the war.
Eventually, knitting became a leisurely hobby for women and fell out of favor with men. But the trend these days is saying otherwise as more men are discovering knitting, which is quite a good move to consider knitting as not gender-specific.
3. Natural fiber is better than synthetic fiber
Only some knitters will agree with this statement. Each type of yarn fiber has its benefits and drawbacks. Cotton yarn is breathable, but it cannot keep you warm as wool yarn.
Wool yarn is soft and cozy but can be itchy on the skin. Acrylic yarn is inexpensive, smooth, and easy to find but is less comfortable on the skin than wool.
4. Knitting is more complicated than crochet
Knitting is more challenging to do than crochet. Many people believe this prevalent myth. Experienced crafters think that if you start knitting, you will find it easier than crochet. But it is only subjective as some people find crocheting easier than knitting.
Some people find both fiber crafts easy, while others find them both cumbersome. You will feel more comfortable with the fiber craft you began with, whether knitting or crocheting.
Knitting might look more challenging because it involves two or more needles, but by understanding how the process works, you will see that the other needle barely moves and is just holding stitches.
5. You can sell your knitted stuff and get rich
Knitting or any needlecraft project usually needs a long time to finish. It would help if you also had yarns and needles to knit. Most crafters expect to earn little from a hobby such as knitting, although it is also possible to make some money from something you love to do for relaxation.
You may make enough money from your hobby but do not expect an extravagant lifestyle by making socks, scarves, and beanies.
6. Knitting is for old ladies
This myth has been around forever. Many people often associate knitting with grandmas, but things have changed; lately, knitting has become acceptable for all ages and genders. These days yarns and knitting needles are not like what they were before.
You can find knitting needles of different shapes, sizes, and materials. You can also purchase yarns in a wide range of fiber types, colors, and textures which is attractive to people of all ages.
7. Never knit your boyfriend a sweater, or else
Expect this myth to be mentioned all the time. It is called the sweater curse, and many female knitters can attest that this is true. The best tip is to wait until marriage to knit your special someone a sweater.
Why is it called knitting?
The word knitting was derived from the knot, which was a word that came from the Dutch verb "knutten," which has the same meaning as the Old English word "cnyttan,"; meaning "to knot."
Knitting is joining together interconnecting loops of yarn or thread using two or more needles to create a fabric or a garment. You can knit either by hand or using a machine.
More pages: 
What is the oldest knitting pattern?
The oldest knitting pattern dated back to 1655, found in a British medical book called Natura Extenterata. It was a sock pattern or, as they call it, "order" in the ancient past.
The first pattern-maker wrote a sock pattern in a very long sentence with no abbreviations. The pattern ran for three pages as it used only all full words.
Aside from being called order, people in the past also called knitting patterns recipes, receipts, or just patterns. These knitting patterns have gone from being shared locally and orally to being available online around the globe.
Knitting historians found that early knitters base their designs on cross-stitch patterns. You cannot find published patterns for knitting because pattern books were mainly about cross-stitch, lace, weaving, embroidery, and other craftwork which influenced knitting.
Early knitting enthusiasts published the first knitting pattern in 1837, and many more followed suit. The first abbreviations of knitting terms appeared during the 1840s, using letters and figures to explain the patterns clearly. Some abbreviations used were in the form of pictograms.
Knitting patterns started to mention needle sizes and yarn information in the 1950s. And it was also that time when you could find yarn charts in pattern books and periodicals.