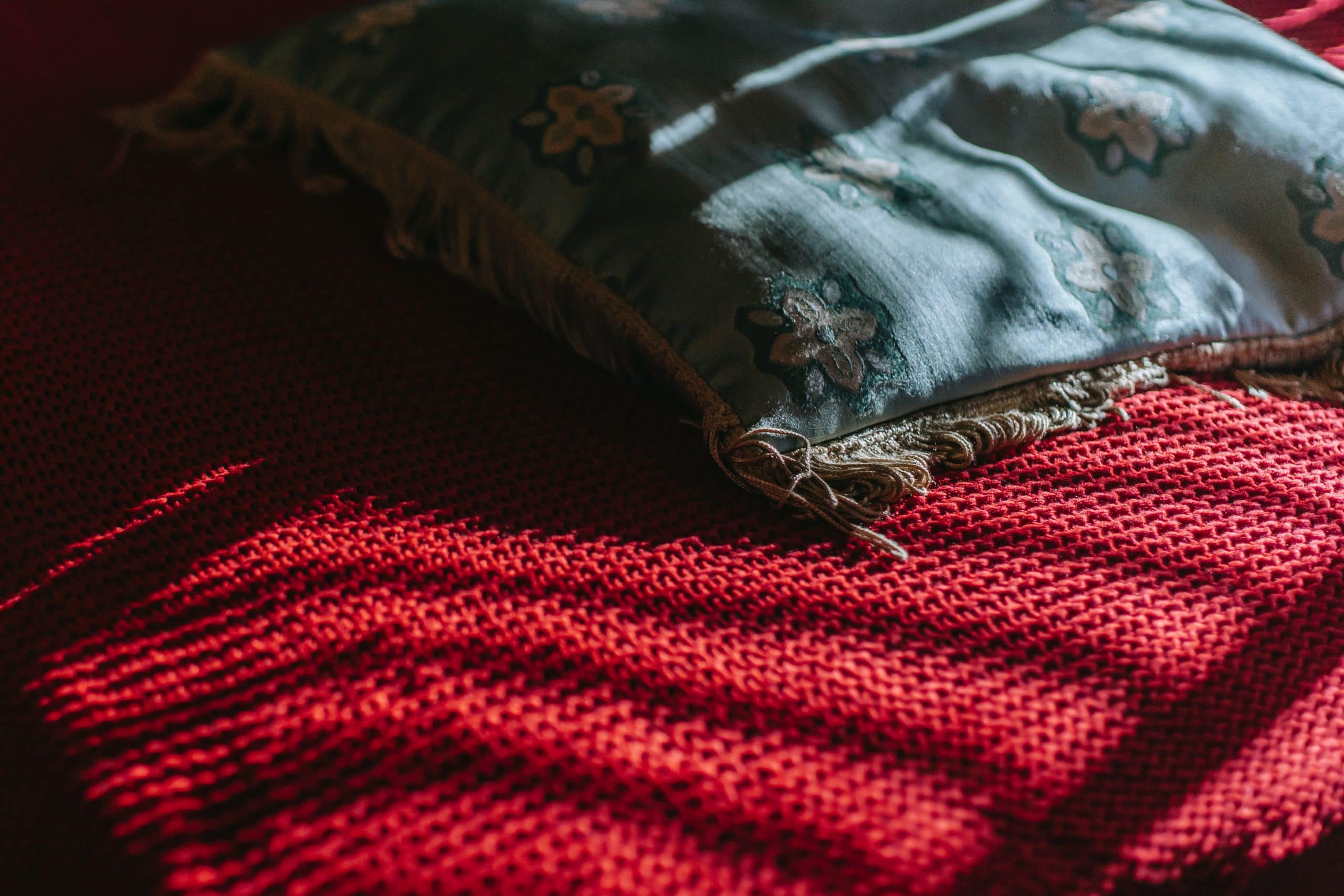 Acrylic is one of the most commonly used yarns for knitting because it is inexpensive yet very versatile and does not bleed. Most knitted blankets use this material mainly because of these reasons.
It would be best if you washed your acrylic yarn blanket after knitting because of the dirt and dust that may have gathered on it while stitching and so it is clean before you use it. Knitters also have another crafty reason to wash the knitted acrylic blanket; to make it softer and less stiff.
A knitted blanket made of acrylic yarn is very easy to wash because it is not so delicate that you can pop it into the washing machine without getting deformed. You can wash the acrylic yarn blanket in a regular washer and dryer. You can also choose to hand wash your acrylic blanket if you want tiresome and heavy work. Use a mild shampoo and conditioner to remove dirt and soften your knitted blanket. You can use warm or cold water to wash but make sure to rinse all of the shampoo and conditioner.
Can you wash an acrylic blanket?
Of all the yarns you can use for knitting, acrylic is the most affordable type yet can also make different kinds of knitted projects such as sweaters and blankets. Acrylic is a synthetic fiber made from polymer acrylonitrile. It is an excellent substitute for wool and benefits those who are allergic to wool.
Acrylic yarn is known to be a little stiff and scratchy. Washing your knitted acrylic blanket can make your work softer, far from the thread's original texture. You might be worried that your hours of work on your creation will go to waste by washing it, with acrylic knit, it will not. Here are a few tips you can do so you can tumble and dry your knitted blanket in the washing machine.
Fill the washing machine with laundry items of similar color but do not overload. Leave enough space for your knitted acrylic blanket to move freely in the machine. Note that acrylic yarn does not bleed color, but you should still be mindful of the colors you mix in the laundry.
Use a mild detergent to wash your acrylic blanket. You can either choose warm or cold water to rinse.
Set your dryer on low heat and remove once the cycle is done.
Can you machine wash acrylic yarn?
Acrylic is a human-made fiber that is petroleum-based, meaning it is almost like plastic. Acrylic and other synthetic yarns can be washed and dried using the washing machine as they do not shrink. Being synthetic has its advantages over yarns made from natural fibers. Acrylic is less expensive and very easy to wash as compared to its natural fiber counterparts. Some natural yarns shrink and bleed color despite being costly. But pure acrylic yarn sure has its downsides also. It is less warm and a bit stiff and rough.
Knitting experts advise washing your acrylic yarn before knitting. Other knitters recommend washing after finishing the project. But doing both will not harm your acrylic blanket; instead will make it softer and smoother, and more delightful to work on.
Machine washing your acrylic yarn is not as scary a thought as washing your finished knitted acrylic blanket or any knitted acrylic piece. Basically, your purpose in washing your yarn is to make it softer before working on it. You can follow these tips to easily machine-wash your acrylic yarns.
Take off the yarn labels. First off, you must read them before throwing them away or using them for other purposes. You might need some of the information written on it, like how to wash and dry your yarn, yarn color and weight, manufacturer, etc. for whatever purpose it might serve you. Just make sure to remove the labels before loading your yarn to the machine if you don't want to ruin them (or the machine).
Since your yarn is still in a bundle or skein form and has no structured form yet, you need to put it inside a lingerie bag so you can wash it with your other laundry. If you have no lingerie bag around, you can use a pillowcase to put your yarn skeins in. Get your yarn loose but do not take it apart; just loose enough for water to seep through.
Set your washing machine to a gentle cycle, and use a mild detergent. Use a fabric softener if you want your yarn softer and smell good. Rinse with warm or cold water but make sure to wash off all the detergent and softener and then place it in the dryer with a dryer sheet. Set your dryer to low heat and promptly remove it when finished. You will be amazed how your acrylic yarn thread turned soft and all prepared for knitting your acrylic blanket.
Is acrylic yarn good for blankets?
Acrylic yarn is the best yarn to use for blankets. First, it is available in many different colors and quite inexpensive. It washes well and does not shrink or bleed. And it is a soft material, which can even be made softer when washed. It may not give the same warmth as wool or any natural fabrics but by being cheaper than most yarns, you can buy more yarn skeins enough to knit yourself a blanket.
Acrylic is an excellent alternative to wool, as it is lightweight, warm, and hypoallergenic. Some people can be allergic to natural fibers like wool, and acrylic can be a perfect substitute material. Acrylic blankets can duplicate the feeling of what these blankets made from natural fiber give but do not require too much attention. You can stuff these acrylic blankets in the machine with your regular clothing for easy cleaning at home, and never worry about their colors to or shrink after washing for multiple times.
If at first, you are not convinced that acrylic is not suitable for blankets, you can soften the acrylic yarn before you knit or even after you have finished knitting your blanket. You will then realize that it can lose its stiffness and become softer after washing a few times. As the yarn becomes softer, it becomes less scratchy and smoother, making it drapier and perfect for a knitted blanket. Acrylic yarn can surely do the job.
Does acrylic yarn stretch when washed?
Knitted items made of wool and cotton are known to shrink when washed at a warm temperature. Knitted items made with acrylic yarn do not react similarly to washing and drying at warm or cold temperatures with these natural fibers. This is one of the best reasons why acrylic is a favorite material for knitting sweaters, baby blankets, and afghans. Acrylic yarn even stretches when washed with warm water. You do not have to deal with your knitted pieces shrinking, especially when you need to wash them regularly. The material is not too delicate to require handwashing and can be easily cleaned using the washer and dryer.
More pages: 
Can you put acrylic in the dryer?
Acrylic and polyester, produced from synthetic materials, are made to maintain their shape even after washing many times. It is also due to these synthetic properties that they can be put in the dryer. However, these materials do not perform well at high temperatures. So, when you load your knitted acrylic items in the dryer, make sure to use a low-temperature cycle as too high a temperature can cause permanent wrinkles or, worse, shrink or melt these fabrics. And you would not want that to happen to your knitted acrylic blanket that you poured weeks or months on.