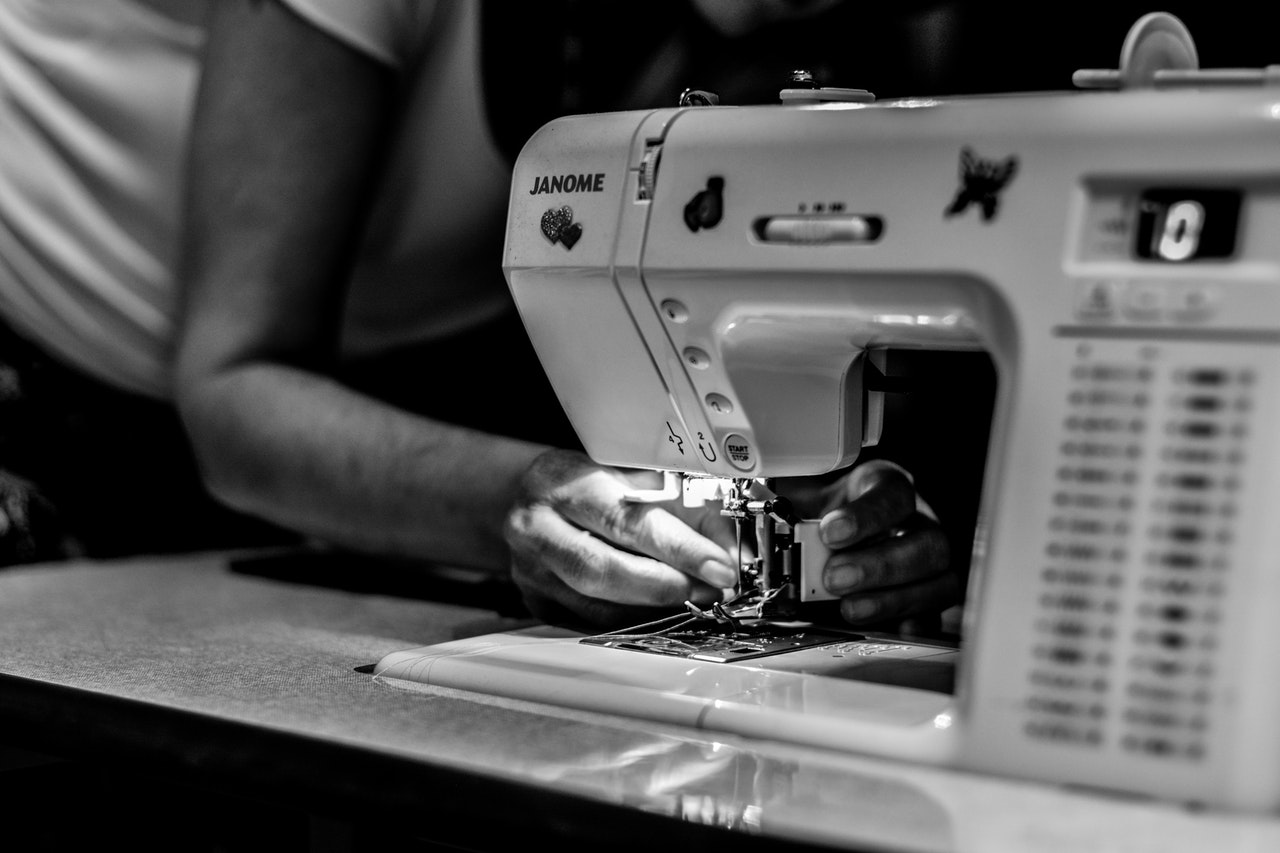 Kydex can be sewn, but it is not easy and involves complex equipment and processes, unlike common materials like fabric.
As a crafter, you may be looking for unique materials to use for your homemade arts and crafts. Kydex is one of the new and modern, and contemporary materials out in the market that you can try.
Instead of sewing Kydex to create new products, you can use other simpler procedures more suitable to create various applications.
Read on to know more about this new product and how you can use it for your next craft projects.
What is Kydex made from?
Kydex is made from thermoplastic acrylic-polyvinyl chloride materials. It is a kind of plastic that, when heated, becomes pliable and malleable. Kydex is also known as thermoform plastic.
Kydex is one of the thermoplastic brands available in the market today. It is manufactured by a company called Sekisui SPI who also owns the Allen Thermoplastics brand. Kydex has a wide variety of uses and is used in a wide range of industries. Its most common applications are firearm holsters and knife sheaths.
Thermoplastic combines the properties of acrylic and polyvinyl chloride. Acrylic provides rigidity and formability, while the polyvinyl component offers toughness, resistance to chemicals, and a good interior finish.
The temperature needed to heat the thermoplastic into a pliable form depends on the thickness. Kydex usually comes in thicknesses ranging from 0.06 to 0.125 inches. It usually starts from 330 F and should not go beyond 400 F. When a Kydex sheet is heated to these temperatures, it can be formed around a mold or any hard object you want to encase. When it cools down, it will take the shape of the mold or the object.
Is Kydex bendable?
Kydex is bendable and easily moldable at the right temperature. It is a lightweight material ideal for applications such as airplane and train interiors, medical equipment, and building interior fixtures.
Another common use for Kydex is for making gun holsters and knife sheaths. Kydex is also used as protection from electrical shock. You can also use it to make housing for different equipment and tools such as electric welders, which need durability and high impact strength.
Kydex is a material that needs enough amount of heat to bend and form into whatever item you want to make. You need to heat the Kydex sheet until it becomes soft and the material becomes formable.
For Kydex users, toaster ovens and heat guns have proven to be the most useful tools in heating the Kydex sheets to form and bend them into different applications.
Note that a microwave oven will not work for heating Kydex. The microwave creates heat through resonating water molecule frequency. Since there is no moisture in Kydex, the microwave method is not suitable.
The temperature to heat Kydex must not exceed 400 F, and it forms best from 330F to 350F for thicknesses 0.06 inches and below. Thicker Kydex sheets up to 0.125 inches form better at temperatures between 350 F to 385 F.
The problem usually encountered by customers is heating the Kydex sheet very quickly. Heat should be applied to the sheet slowly.
You should also note that some sheets may heat up slower or faster than others. Make sure that that the sheets are not overlapping as they may stick together.
In its pliable form, Kydex can be placed over or around the item that needs to be contained and then pressed until cool. Customers typically use plywood to press on the object between the Kydex sheets.
To ensure that your Kydex has fully hardened, allow at least 10 hours of cooling time.
Its moldable, bendable, and lightweight properties make it ideal to use in industries where aerodynamics is essential such as making car and airplane parts. Examples of Kydex material applications are overhead storage bins, car consoles, and dashboards.
More common and household applications for Kydex are gun holsters, knife sheaths, and cellphone holsters.
How flexible is Kydex?
Kydex is a very flexible material but gives a crisp detail after it is heated and formed.
The flexibility of a Kydex sheet depends on its thickness. The common thickness of the Kydex sheet you will find in the market is 0.06, 0.08, 0.093, and 0.125 inches. It also comes in a wide assortment of colors to choose from to fit your specific project.
Kydex Thickness and Properties
This item is the thinnest of the Kydex brand. The thickness is ideal for inside the waistband holsters and magazine carriers. It is the least bulky and also less durable than the thicker ones. The slimness of the 0.06 inches Kydex allows it to be shaped very easily just by using a heat gun.
You can start using the thinnest Kydex sheet for your projects. For the cheapest and thinnest Kydex sheets, look for them on this Amazon link.
Most holster makers use the 0.08 inches Kydex sheet for outside the waistband holsters. It offers aggressive retention and great definition. Since it is thicker than the thinnest Kydex sheet, a hoster made from 0.08 inches thick Kydex can be a bit bulkier and harder to draw from the inside of pants.
Its thickness is ideal for double magazines or outside the waistband holsters, which are less concerned about bulkiness. It is easily heated and molded with a heat gun as well.
The 0.08 inches Kydex sheet is great for all-around uses. You can purchase the 0.08 inches Kydex sheet on this link.
The 0.093 inches Kydex sheet has similar uses as the 0.08 inches sheet. It is a bit thicker, so it costs higher than the thinner ones and is also a more durable and tough material. It also gives less definition after being formed because of its thickness.
The thickness and durability it offers make it an excellent choice for out of waistband holsters and magazine holders. If you want a thicker Kydex sheet, check out the 0.093 inches Kydex on Amazon.
The thickest among the bunch, the 0.125 inches Kydex sheet, is commonly used for the belt loop. The thickness does not suit a holster because it gives only a minimal definition when formed, and the retention would be so aggressive. For the thickest Kydex sheets, Amazon has 0.125 inches Kydex.
Does Kydex crack?
Kydex is a strong material, but it will crack or break over time. As with any material that is used, Kydex is a material that will wear and break at some point and more quickly if it is repeatedly flexed.
Any product you will use, regardless of the material it is made from, will wear out sooner or later. Even an item as sturdy as a Kydex gun holster will eventually break, especially if worn every day for work.
Based on customers' experiences, holsters made from 0.08 inches Kydex sheets are more durable than those made from 0.06 inches sheets. If the holster is used every day, the daily wear and tear will eventually make it weak, no matter how strong the material is.
To make the most out of your Kydex sheath, use the right sheet thickness. Users recommend 0.08 inches or 0.093 inches over the 0.06 inches thick; otherwise, you will need to replace your Kydex holster after a year or two if you use it on a daily basis.
Kydex holsters made from 0.06 inches thick sheets may last a long time, even a lifetime, if the user does not have a very active lifestyle. If you carry your gun holster around every day, it will weaken from the different elements you put it through.
Also check: 
How do you make a Kydex knife sheath?
Kydex is one of the most common materials used to make a knife sheath. Outdoorsy people would need a knife sheath to carry their knife in the woods, and without a sheath, you cannot carry your knife around.
Making a knife sheath from Kydex is really easy that you can even make it at home. You can make an inexpensive sheath for your knife with your handy tools at home and an affordable Kydex sheet that you can buy online. Kydex sheets come in different colors and designs. For your Kydex sheet needs, check them out on Amazon.
To make a Kydex knife sheath, you will need the following items:
Kydex sheet (thickness and design of your choice)
Oven toaster
Drill
Rivet punch and some rivets
Hobby saw, or band saw
Homemade foam press
Belt fastener
Knife
Gather your materials to make the knife sheath.
Determine your sheath size. Measure your knife against your Kydex sheet to define the size that you need. It would be best to cut a piece bigger than what you need because you can trim it down later. If you are folding the Kydex sheet like a burrito, make sure that the size you cut is wide and long enough to cover your blade when you fold it over. Make sure you also cut it about one inch up the handle.
Mark the Kydex with a pencil and make a groove with a knife. Then, you can break off the measured piece easily.
Make the foam press. You can make your foam press without spending too much. You can use old mattress foam or any old foam you can find. Your foam should be at least 1.5 inches thick. Use two scrap pieces of ½ inch pressboard. You can use a clamp to provide pressure.
Heat your Kydex sheet in the oven. Place your piece of Kydex sheet on the baking pan inside the oven. Please set it to a temperature not greater than 400F. The temperature should be based on the thickness of your Kydex sheet. The thicker the sheet, the higher the temperature needed to make it pliable.Check if the temperature is still consistent. It usually takes around 10 minutes for the heat to make the sheet soft and pliable.
Use gloves to get your Kydex sheet from the oven. Press the Kydex sheet on your knife. Then, fold it over your knife blade. You have to work quickly to ensure that the Kydex sheet is still pliable because it hardens as it cools.
Wrap your Kydex between the foam and boards and clamp it down to apply pressure. Let it sit for 10 minutes.
Draw the final shape of your knife sheath. Make a rough sketch of the shape of your sheath using a pencil. Mark the positions of the rivets on the Kydex sheet. Cut out the knife sheath shape using a hobby saw or a band saw. Drill holes on your Kydex for your rivets.
Attach your belt fastener and punch your rivets with the rivet puncher. Finish your rivets.
Sand the edges to create smoother sides on your knife sheath. You can either use sandpaper or a grinder if you have one at home to do the job faster.