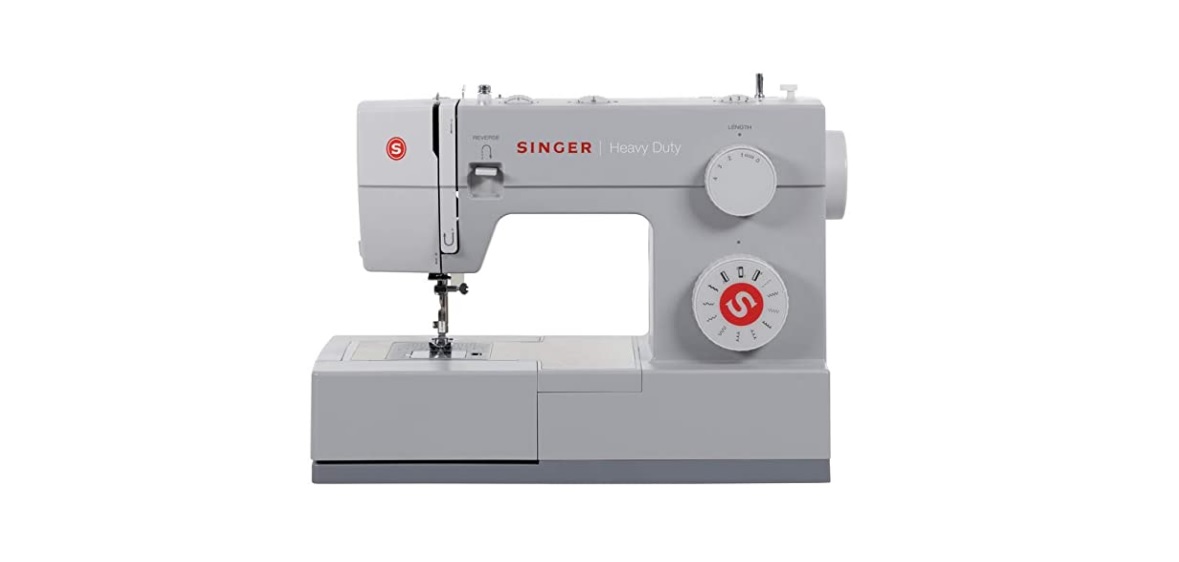 As an avid backpacker, you always need your outdoor gear in perfect form. But the road can be rugged and the environment severe, causing wear and tear on your more often than not, expensive outdoor gear.
Outdoor gear is made to last and stand up to the harsh elements but can still be torn and ripped accidentally. No worries, you can still extend the use of your outdoor gear by sewing the damaged part. You can easily repair your precious outdoor stuff with a trusty sewing machine.
Hiking clothing or camping equipment usually comes in dense fabrics. But you do not need a complex sewing machine to repair outdoor fabric. The best sewing machine for outdoor gear has a metal frame that can easily handle thick and unusual fabrics. It is a must-have for all sewing enthusiasts. 
The best sewing machine to repair your outdoor clothing and gear does not need to have all the bells and whistles. Any ordinary sewing machine can do the job. A basic sewing machine with a straight stitch, zigzag stitch, and adjustable tension is enough.
Repairing your outdoor gear is way more economical than buying brand-new outdoor clothing and equipment. A regular sewing machine you have at home may be enough to repair the rips and tears you encounter along the way.
Here is a list of the sewing machines which can assist in repairing and sewing your outdoor gear.
Singer 4411

The Singer 4411 HD sewing machine is a heavy-duty sewing machine with a solid interior metal frame, a stainless-steel bedplate, extra-high sewing speed and a powerful motor. It can sew a wide range of fabric types.

It has an adjustable foot pressure to sew both lightweight and dense fabrics. The Singer 4411 heavy-duty sewing machine can sew quickly and efficiently at 1100 stitches per minute.

It has 11 built-in stitches, including six basic stitches, four decorative stitches, and one built-in buttonhole stitch, perfect for various sewing projects.

Buy it here: Singer 4411

Juki TL-2010Q

The Juki TL-2010Q is a portable yet high-performance sewing and quilting machine. It is made from aluminum die-casting making it work with an industrial-machine quality.

The Juki TL-2010Q executes sewing professionally as a domestic sewing machine. Expect the machine to produce consistent and straight stitches.

Buy it here: Juki TL-2010Q

Brother ST371HD

The Brother ST371HD is a heavy-duty sewing machine with 37 built-in stitches. It is a strong and durable sewing machine that can handle denim or thick outdoor fabrics.

The machine has a metal needle plate and uses heavy-weight needles, making it easier to feed any fabric into the machine. It operates at a speed of 800 stitches per minute. You can efficiently finish your sewing projects in a flash without compromising quality.

Buy it here: Brother ST371HD

Singer 4452

When sewing or repairing rips on outdoor gear, a basic sewing machine is more than enough to complete the task easier and faster than doing it by hand. But you would be luckier if you had a heavy-duty sewing machine such as the Singer 4452, designed mostly for dense fabrics and heavy-duty sewing projects in mind.

The Singer 4452 has a stainless-steel bedplate that allows your fabrics to go through the machine easily. It has an extra-high sewing speed and a powerful motor to save time and finish your projects faster. It also has an adjustable foot pressure for situations when you need to sew lightweight materials.

The Singer 4452 has 32 built-in stitches, more than enough options for practical and decorative stitches for your various sewing projects.

Buy it here: Singer 4452

Singer 1304

The Singer 1304 Start sewing machine has enough features for newbie sewists and hobbyists to initiate their creativity and carry their work to a new level. It has six built-in stitches such as a straight, zigzag, satin, blind hem, scallop, and buttonhole stitches which you can use for practical and decorative purposes. You can set your preferred stitch before sewing with an accessible stitch dial.

The internal frame of the sewing machine is made of heavy-duty metal, which makes it durable and holds the mechanisms in perfect alignment to prevent skipping while sewing. It has a removable free arm that allows easy access to cuffs, pant legs, and other hard-to-reach areas when sewing clothing.

The Singer 1304 also has an extra-high presser foot lifter allowing more clearance when sewing thick or multiple layers of fabrics.

Buy it here: Singer 1304

Singer 7363

The Singer 7363 Confidence sewing machine offers loads of features, such as an automatic needle threader, automatic tension, a top drop-in bobbin and 30 built-in stitches, including two fully automatic one-step buttonholes.

This excellent machine also includes a push-button stitch selection and a lock stitch for securing decorative stitching to choose stitches efficiently. The heavy-duty metal frame of the Singer 7363 helps with overall durability and skip-free sewing.

Buy it here: Singer 7363

Brother XR3774

The Brother XR3774 is a simple sewing and quilting machine with 37 built-in stitches, a perfect choice for making different types of clothing. It includes a wide table to place your large project and has a free arm for hemming hard-to-reach areas like cuffs and arms.

This Brother sewing machine for beginners is light, so you can easily carry it and store it. It is a versatile machine which you can get at a very affordable price.

Buy it here: Brother XR3774

Singer M3500

The Singer M3500 is a simple mechanical sewing machine that offers basic, stretch, and decorative stitches to create various sewing projects. Using this basic metal-frame sewing machine, you can switch from lightweight to stretch then dense fabric.

The machine is easy to maintain and use. It has an easy stitch selection dial to switch settings and choose the stitch suitable for your project. It is a simple and affordable way to customize your clothing and other outdoor items.

Buy it here: Singer M3500

Singer 4423
The Singer Heavy Duty Sewing Machine 4423 has 23 built-in stitches includes straight, zigzag, stretch, decorative, and buttonhole stitches. You can find all the basic stitches you need to sew or repair outdoor gear in this machine, basically the straight stitch and zigzag stitch only. But you will need the other stitches if you want your outdoor gear to look more creative.
The heavy-duty sewing machine runs at a speed of 1100 stitches per minute to finish your projects quickly. It is also has a 60% stronger motor that allows superior piercing power for thick fabrics.
The heavy-duty metal frame can help you sew through a wide range of fabrics, whether thick or thin. The metal frame also helps to make the machine last longer and more durable.
Buy it here: Singer 4423
What kind of fabric is used for outdoor gear?
Polyester, nylon, and fabric blends are commonly used for outdoor gear. They are strong and durable materials, have abrasion and water resistance, and handle different weather conditions.
Polyester
Polyester is a sturdy and versatile fabric that is ideal for making your outdoor gear because it is stretch, abrasion, mold, rot, and water-resistant. It is flexible and lightweight; that is why it is an excellent material for making your outdoor gear.
Some polyester fabrics are backed with vinyl which makes them sturdier. Solution-dyed polyester has excellent resistance to UV rays and will not easily wear and tear.
Fleece is one type of fabric that is made from polyester. It is usually made from 100% polyester. There is a variety of fleece types available in the market. A good quality fleece should be water- and piling-resistant.
Fleece that is meant to be used for clothing that is near the skin is called wicking fleece. A good property of the wicking fleece is that it moves moisture but is not too hot. Mid-weight fleece is used as an insulating layer.
Sewing fleece is easy because it does not fray. So, an ordinary sewing machine can easily do the job. You can create better seams with a serger because it produces a stretchier seam.
Nylon
Another type of fabric that is also an exceptional fabric for outdoor gear is nylon. Nylon has similar characteristics to polyester, so it is also considered an essential material in MYOG. Nylon has higher abrasion resistance than polyester.
Like polyester, nylon is very versatile, easy-to-wash, water-resistant, and dries quickly. It also claims to be UV-resistant to some extent. Nylon and its blends are used for a wide variety of outdoor items like backpacks, hiking gear, tents, pet gear, and many other types of outdoor clothing.
Fleece can also be made from nylon. The newest fleece materials use a tightly woven nylon face, making it wind, water, and abrasion-resistant.
Ripstop
Ripstop is not a fabric but is a weave made from synthetic fabrics such as polyester, nylon, and blends. The name is derived from the technique used for weaving to make the fabric stop the rip from spreading. You can identify ripstop from other synthetic fabrics because of its square and cross-stitch pattern.
Ripstop is usually used to make camping equipment like sleeping bags and tents. It is also used to make outdoor apparel like jackets that withstand rain. It is also commonly used to make flags, kites, and parachutes.
Related: 
How do you sew nylon gear?
Nylon gear can be sewn by hand or a sewing machine. But you must consider that fabrics made for outdoor use like nylon are heavy-duty materials and can be challenging to sew.
With the right tools and even a vintage zigzag sewing machine, you can sew outdoor fabrics without a hitch.
Read on to know how you can sew nylon gear:
Look for a suitable sewing machine

An industrial sewing machine is the fittest to sew heavy-duty fabrics. But an old but fully- functioning domestic sewing machine can also do the job. Singer, Pfaff, Bernina, and Kenmore have vintage sewing machines with sturdier metal frames than most modern household sewing machines with many plastic parts included.

Determine the right thread to use

The proper thread to use on heavy-duty fabric like nylon should also be a sturdy type of thread. You can start with 100% nylon upholstery thread common in fabric and craft stores. If the type of nylon fabric used is as tough as Cordura fabric, a #69 bonded nylon thread is the best fit.

Match your chosen thread with the right needle size

You can use a #18 needle for a domestic sewing machine on your outdoor gear fabric. Since you will be using a heavy-duty and thick thread, you must also choose a large needle to go with it. Make sure to attach the needle properly to avoid hitting the metal base plate and presser foot to avoid breaking the needle or damaging your machine.

Adjust your machine tension

Before you start sewing, you should determine first if you have the right thread tension. Using some scraps of the outdoor gear fabric, sew using your machine. Make sure that the top thread and bobbin tensions are balanced, creating smooth and even stitches.

Sew slowly first
Some outdoor gear fabrics are unique, so using a domestic sewing machine may not be up to sewing your fabric, especially on the corners where the layers of your thick fabrics merge.
It would be better to sew slowly first to feel how your domestic sewing machine goes about its stitches.
Considering all these factors will be easy for you to sew your outdoor gear whatever material it is made of. Your basic sewing skills and tools will allow you to use your outdoor paraphernalia for as long as it is sturdy enough to serve you.