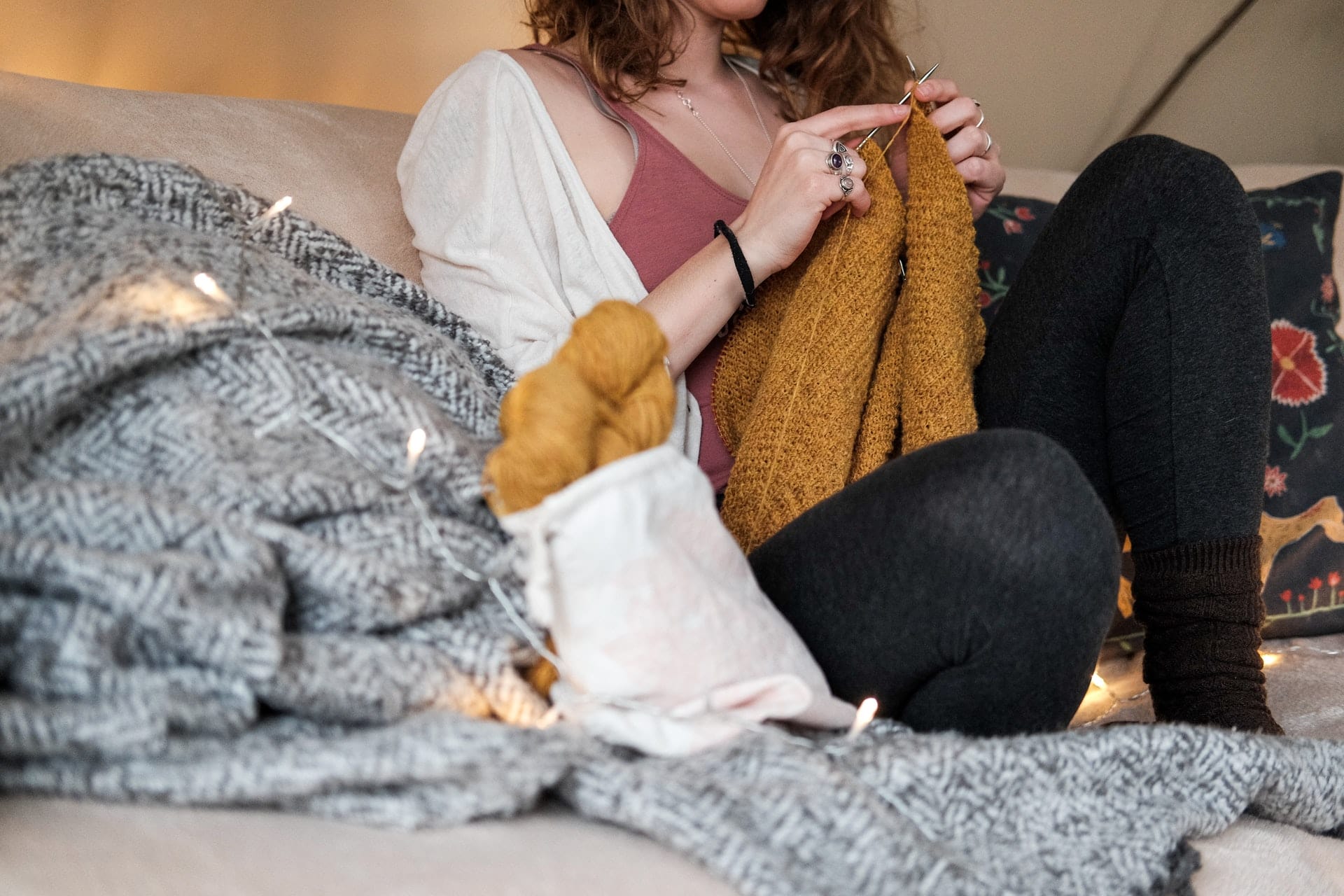 Learning how to knit is exciting as you can start making simple yet useful projects. Take a scarf for instance. It is one of the basic knitting projects you can start on, but it is also among the useful garments every person has.
Because most scarves, novice knitters opt to make scarves as their practice projects. Knitting a scarf should not take you long. Although, there are factors that affect your time to finish a scarf.
Among these factors are the following:
dimension of the scarf (length and width)
complexity of your pattern
knitting skills
time you allot for the project
yarn weight and thickness
needles size
All these factors are self-explanatory. The bigger yarn and needles you use, the faster you finish the scarf. If you are still starting to learn knitting, then you might take some time to complete it.
The amount of time you spend on the actual knitting is also a big factor. If you choose to spend 5 hours a day to knit, it will take you a week to finish a basic scarf. But again, it depends on your skill level.
Some seasoned knitters can finish a scarf in only a few days. Every knitter has her own pace, so work on your speed. What is important is you improve your skills.
Here are some tips to help you knit a scarf faster.
As a beginner, your focus is to learn the stitches and how to follow knitting patterns. It is wise to choose a simple pattern with one or two yarn colors. This way, you will be able to finish your project a little faster.
Use bigger yarns and needles
If you want to complete your scarf project sooner, choose bigger yarns and needles. Worsted and chunky weight yarns are best for novice knitters. It means your stitches are bigger, so you can complete your scarf at a much faster rate.
Choose the basic stitches
Since you are still starting, it is a practical move to use Knit and Purl stitches for your first projects. This will allow you to master these stitches and finish your projects faster.
Being able to master these two stitches will allow you to make more complex stitches. You have to keep in mind that most knitting stitch variations are mere combinations of these two.
Make narrow and short scarves
As a beginner, you must not be too hard on yourself. If you want to stay engaged in this hobby, then do not overwhelm yourself. Choosing a narrow and short scarf will allow you to finish it sooner.
A good starter scarf is 6 inches (15 cm.) wide and 50 to 55 inches (127 to 140 cm.) long. This dimension should give you a decent small scarf. Seeing your completed projects give you a boost in your confidence. This will drive you to make more projects in the future.
These tips are easy to follow and practical. Make sure to follow them to help you jump-start your first knitting project.
How Long Should A Scarf Be Knitted?
There are no strict rules when it comes to the length of your scarf. It all depends on your personal choice. You may have it at 40 inches (102 cm.) long which refers to a short scarf. You may even go as long as 120 inches (305 cm.) if you want an extra-long one.
Below are the common scarf sizes that knitters follow. You may adjust the length and the width depending on your preference.
Small Scarf: 6 to 8 inches (15 to 20 cm.) wide X 40 inches (102 cm.) long
Regular Scarf: 6 to 8 inches (15 to 20 cm.) wide X 60 inches (152.4cm.) long
Long Scarf: 6 to 8 inches (15 to 20 cm.) wide X 70 inches (178 cm.) long
Extra Long Scarf: 6 to 8 inches (15 to 20 cm.) wide X 120 inches (305 cm.) long or longer if you desire.
If you do not want the hassle of getting the actual length using a tape measure, you simply stretch both of your arms. The distance between the tips of your middle fingers on both hands is the length appropriate for you.
Another way to determine the length of your scarf is to get your height. It means that your scarf should have the length the same as your height.
How Many Stitches Do I Need To Cast On For A Scarf?
The number of your cast-on stitches depends on your desired width for your scarf. If you are going to use big needles that are within the range of 8 to 10, you are likely to cast on 30 to 40 stitches. This range will give you a decent size scarf.
If you want to be more accurate, you may do a little computation. You need to determine your desired width, then multiply it with the stitches per inch. For instance, you will knit a scarf that is 6 inches (15 cm.) wide, and you will knit 6 stitches in every inch.
To get the number of your cast-on, multiply 6 inches (15 cm.) by 6 stitches (6 X 6 = 36). This will give you 36 stitches for your cast on.
Say you want a scarf that is 6 inches (15 cm.) wide, and you will knit 5 stitches per inch. The needed cast-on is 30 stitches. You multiply 6 by 5.
How Many Balls Of Wool Do You Need To Knit A Scarf?
The number of balls of yarn for your knitted scarf depends on several factors. These factors include the weight of the yarn, the dimension of your scarf, and the stitch pattern.
Not all yarns have the same yardage or length. Some worsted and chunky yarns have shorter yardage than sport weight and DK.
Depending on the length and width of your yarn, it is common to use between 1 to 3 balls of Worsted or Chunky yarn for a scarf. Below are the number of yards you need per needle size.
To knit a scarf with 8 inches width and 64 inches length, you will need the following.
If you will use a 5mm (US 8) needle size, you will use about 450 yards (411 m.) of yarn.
If you will use a 4.5mm (US 5) needle size, you will use about 500 yards (457 m.) of yarn.
If you will use a 4mm (US 6) needle size, you will use about 450 to 550 yards
(411 to 503 m.) of yarn.
If you will use a 3.5mm (US 4) needle size, you will use about 500 to 600 yards
(457 to 549 m.) of yarn.
Related: 
What Is The Best Knit Stitch For A Scarf?
If you consider yourself a beginner, it is best to knit a scarf using the Garter stitch. This type of knitting stitch is one of the first stitches you will learn, and it is the easiest to do even when you are knitting without wool. It is interesting because this stitch has a unique feature.
The Garter stitch is a variation of your knit and purl stitches. When you knit your scarf, the front part has all knit stitches, but the reverse side has purl stitches. This type of stitch may sound intimidating, but it is not.
The Garter stitch is a simple process. Below are the basic steps for casting on the Garter stitch.
You need to cast-on 3 stitches.
Then, knit 6 rows to create three ridges. These ridges will be your garter ridges.
Move your work clockwise and pick up one stitch per ridge that you created earlier.
Then, insert your active needle through the edge of your Garter ridge and knit into the stitch.
Turn your work again clockwise. Get 3 stitches on the edge. After you have picked up these 3 stitches, notice that you now have 9 stitches.
Now, you have your Garter cast on. You may add more cast on stitches if you want to make a wider scarf. You only need to add 2 extra rows of knit stitches in each cast on the stitches you make in the first step.
You might still have a few questions about knitting a scarf. The following are the answers to some common questions about scarf knitting.
Howwide should I knit a scarf?
The common width for a scarf is between 6 to 8 inches (15 to 20 cm.). Some may extend it up to 10 inches. It all depends on your liking.One way to determine the width that is suitable for you is to get your hand-span. This is the length between the tip of your thumb and the tip of your smallest finger.
Which yarn is best for scarves?
Many knitters recommend the Worsted or Chunky wool yarn for knitting scarves. This is because Worsted and Chunky wool yarns create warm and thick scarves.You may also consider Cashmere or blends of non-fluffy Alpaca wool and silk. These two may be a little costly, but if you are in for splurge, they make great scarves.
What is a good width for a scarf?
The most accepted width for a scarf is between 6 to 8 inches (15 to 20 cm.). Some extend it to 10 inches, and that is still fine.
How Do You Hand Knit A Scarf For Beginners?
There is an ongoing trend about hand and arm knitting. It is a great knitting technique that does not need to use needles. As the name implies, you will use your hands and arms to make the stitches.
Here is a beautiful pattern for a hand-knit scarf. You may want to do this on some occasions to break the monotony of the usual needle knitting.
You will need two skeins of Chunky or Bulky yarn that is about 100 yards (91 m.) each.
Get the two strands of the yarn and pull out about 4 feet (122 cm.) of yarn. This will serve as the tail.
Make a slip knot to form a circle with the yarn.
Get the strand nearest to the skein of your working yarn. Pull it up into the bottom of the circle to form your loop.
Then, slip your right arm into the loop, but do not make it too tight. It must be able to slide well on your arm.
With the slip knot on your right arm, place your left index finger and thumb in the middle of your working yarn.
Get all the strands with your left hand and twist them up.
Using your right hand, get the yarn in the front of your thumb then pull it up.
Reach into the loop and get the yarn in front of your left index finger.
Tug the yarn off your index finger up into the loop. Then, slip your right hand through and tighten it as the slip knot.
Continue this until you have 10 loops on your arm.
Place the tail on the side and get the working yarn using your right hand. Notice that your right hand has the loops on it. Wrap the yarn around your thumb from the bottom up. Then, fold your hand around it as you form a fist.
Pull the first stitch on your right wrist over your fist using your left hand.
Drop the stitch that you pulled with your left hand, then slip your left hand into the working yarn. Pull it but not too tight. At this point, you have created the first stitch of your second row.
Continue the process until all yarns are in your left arm. Now, the second row is complete.All of the stitches must alternate from your right arm to your left arm.
Continue doing this until you reach around 60 inches. Make sure that by this time the stitches are on the left arm.You must see to it that you still have at least 4 yards of yarn remaining to cast off.
Now, all your stitches are on the left arm. Make two stitches on your right arm.
Then, drop your working yarn. Using your left hand, get the stitch nearest to your right elbow and pull it onto the other stitch.
Again, get the working yarn and knit another stitch on your right arm You now have two stitches.
Drop your working yarn then pull the stitch nearest to your elbow onto the other stitch. Repeat the process until you only have one remaining stitch on your left arm.
Take out the last loop from your right arm then pull it to make a bigger loop.
Measure about 4 feet on the working yarn and trim it. Tug the working yarn up into the large loop and pull tight to make a knot.
Lay the scarf flat on a surface. Make sure that the pretty side is facing up. Using the working yarn that you cut on the top, match up the ends.
Then, pull the working yarn under the first line of stitches on the right where you see the "V" figure. Pull the yarn all the way through.
Continue doing this to the end. Make sure you don't pull the yarns too tight.
By now, you should have 4 strands of yarn, two from the original tail and two the working yarn.
Then, flip the scarf over and weave the 4 strands into the binding. Trim the extra yarns.
Knitting a scarf is not rocket science. What you need is to understand how to determine the length and width. You do not need to have intermediate skills to do it. You can even make a lot of knitting projects including scarves with your basic stitches.
Mastering the knit and purl stitches are enough to get you started. So, do not hesitate to make your first knitted scarf. You may also make one using the hand-knit technique.
Once you get the hang of all these essential details, knitting is as easy as 1,2,3.