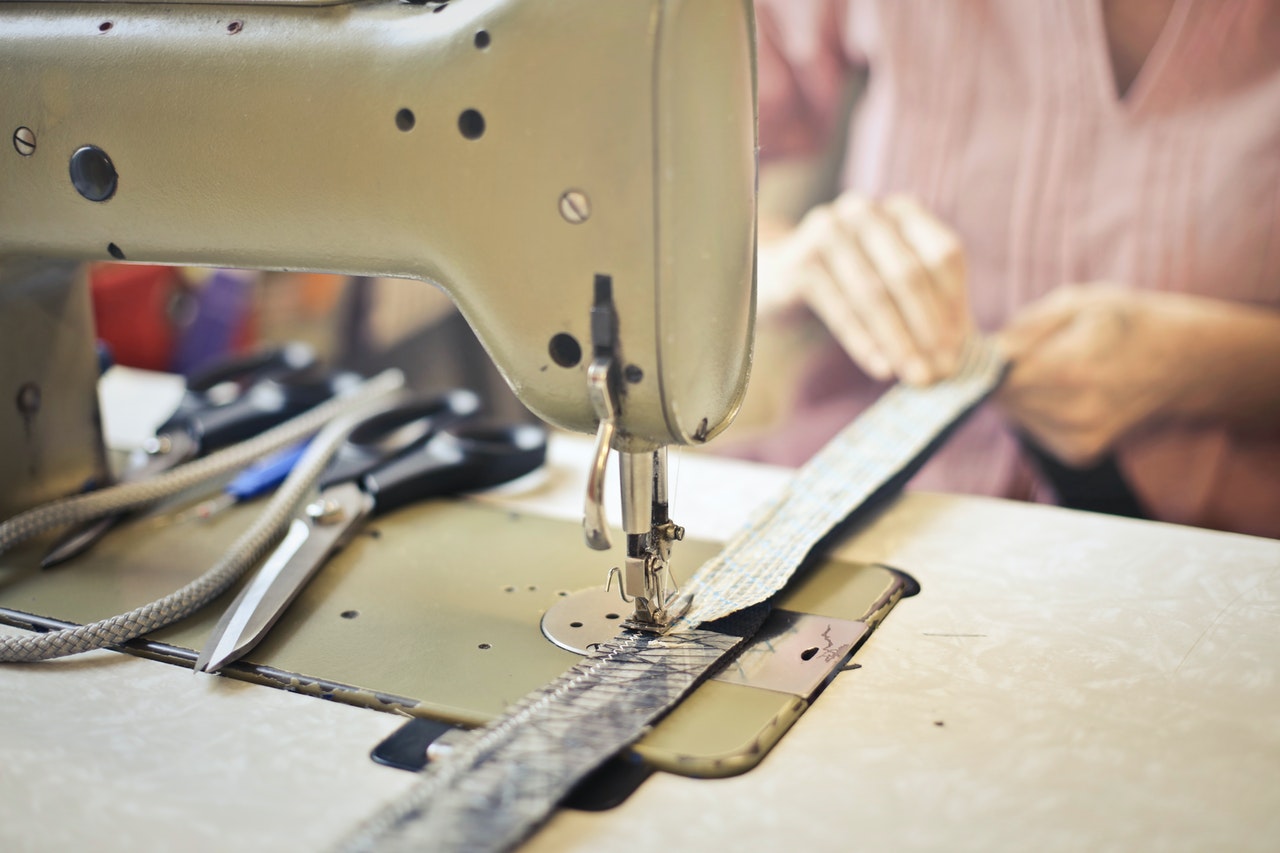 A walking foot, or dual feed, helps keep your fabric flat and prevents it from puckering. Also, when quilting, you can use your twin needle with a walking foot. It will help reduce the amount of stress on your needle. So, you can say that it is a helpful combination.
The walking foot feeds your fabric evenly through your machine, so it is much easier to handle. Also, it will help you get a better quality stitching and a more professional-looking result.
If you want to use a twin needle with your walking foot, it is best to make sure that the sole is big enough. Also, it is key to have a foot opening and needle plate that can accommodate the needle. So, please continue reading to know more about twin needles and the walking foot.
What is a Walking Foot?
A walking foot is a sewing machine attachment with an extra set of teeth. It will guide your fabric evenly through the machine as you work on it. Also, the walking foot's extra teeth help grip materials and produce a smoother, more professional result.
This foot is primarily useful when you are working with bulky, slippery, or stretchy fabrics. Also, it is easy to attach and can help you sew different fabrics so much better.
Best Uses for a Walking Foot:
Lightweight and heavy fabrics like silk and denim
Bulky joins or seams
Quilting
Stripes or matching plaids
Leather and vinyl
Slippery materials like knits and Lycra
Thick straps
How to Use a Walking Foot?
A sewing machine walking foot can walk you through various techniques. Also, it is a versatile tool that helps you sew bulky fabrics. Follow this guide to learn how to use a walking foot:
Attaching the Walking Foot
First, you will remove the current presser foot holder and presser foot. But, keep the screw from the holder on one side or try not to remove it altogether. Then, place the presser foot in a safe place.
It is best to make sure that your needle is out of the way before slipping the walking foot into place. Also, make sure that you screw it in firmly because it tends to be a bit fiddly.
Then, use the utility screwdriver from your machine to ensure the screw is secure.
Another essential part of attaching the walking foot is the claw-like extension. You can find it at the foot's side. So, if you see this tool, you will set it over the needle bar.
But, note that it is the resting position. The lever will move in unison with the needle once the needle bar drives the needle. Also, remember that it is all about synchronization. So the top feed and bottom feed need to work over and under the fabric.
The quilting bar is another part of the attachment, which is ideal if you want to quilt. You will slide it through the holes on the walking foot and set it at your desired width. Also, note that it is not a vital tool for sewing projects, but it may be helpful to keep an equal distance when quilting.
Stitching with the Walking Foot
Using a walking foot for sewing is relatively the same as straight stitching with a regular foot. But, it is best to work a little slower to let the mechanism have enough time to operate smoothly.
Remember that a walking foot does not go backward, so it is best to start near the edge. Then, go forward as you work.
If you find that your material is starting to unravel, you can pull the threads to the back. Then, knot the ends.
What Stitches Can I Use With a Walking Foot?
Although it is an excellent attachment to your sewing machine, a walking foot is not very versatile. As I mentioned, this foot only goes forward. So, you can primarily use it to do straight and narrow stitches. Also, it will not do a reverse stitch or decorative stitches.
A walking foot will not move backward as efficiently as it goes forward. But, there are many stitch options if you do a proper setup and experimentation.
One of the most common stitches you can do with a walking foot is a small-width zigzag stitch. Your walking foot should be fine when doing this stitch as long as you go forward.
Tips for Doing Forward Decorative Stitches with a Walking Foot
It is always best to use quality thread and needles when using a walking foot. Doing so will help you make more beautiful stitches. So, make sure that your thread is durable and your needle is sharp like a quilting needle.
Although it may take more time to sew, it is best to set your machine to a slow, even speed.
Use batting that is firm and thin, like flannel. But, be sure to wash and dry it first to make sure you pre-shrink it. Also, unless your project is tiny, it is best to baste before stitching.
Select stitches that do not go beyond the 7mm width of the throat plate. It will be more challenging to stay straight and produce beautiful results if your stitches are too wide.
Take extra caution when crossing seams. It is best to stop when you reach the seam, lift the presser foot and smooth out the fabric. Then, start again, making sure the foot stays flat on the fabric layers.
What is a Twin Needle Used For?
Store-bought shirts usually have parallel lines that a coverstitch machine created. But, you can also make this stitching using a twin needle. A twin needle, or double needle, makes two rows of parallel and decorative stitches on fabrics.
A twin needle can also help prevent broken stitches because of the zigzag stitches on the fabric's wrong side. It is primarily essential with stretchy fabrics, like knots and jersey fabrics.
Types of Twin Needles
Twin needles are available in many kinds, which you can use according to their use and your preferences. But, you usually only get one twin needle in a packet, so it is best to choose wisely.
You can classify twin needles by their use, shank thickness, and distance between the needles. These three factors contribute to a lot of combinations. But, it is best to ensure that the needle distance fits in your presser foot.
Use
Different types of twin needles have varying purposes. It depends on the fabric they work best with, including the jersey, universal, ballpoint, and embroidery types.
Shank Thickness
The typical thickness of twin needles includes 75/11, 80/12, and 100/6. It is best to remember the general rule: the smaller the number is, the thinner the needle and lighter the fabric should be.
Needle Distance
It is the distance between the points of the two needles in millimeters. You can choose whatever width you prefer, but it should fit your presser foot.
More posts: 
Using Singer needle in a Janome machine
How to Thread a Sewing Machine with a Twin Needle?
Some manuals give instructions on how to do this step. But if yours does not, you can follow this step-by-step guide on how to thread a sewing machine with a twin needle:
1. Insert your twin needle.
Place the twin needle's shank into your machine as you do with a regular single needle. Make sure that it pushes up into a hole as a screw holds it in place. Also, check if it faces the correct direction with the shank's flat part facing towards the back.
2. Replace your presser foot.
Do not forget to place the proper presser foot on your machine. It is why it is vital to choose the correct width if you are using a walking foot. But, it is best to do a double-check to ensure that your twin needle fits in the slot.
3. Thread the bobbin.
Thread the machine's bobbin as per usual. But, if you have not tried threading a bobbin before, here is a quick guide you can follow:
a. Place your thread on the machine's thread pin and hold it in place using a spool cap.
b. Next, begin passing thread into the bobbin winder. To do this step, you will put a spool on the top thread pin. Then, pull the thread to the left of your machine and wind it counterclockwise around the disc attached to the thread guide.
c. Work your thread end through the two small holes in your empty bobbin. Then, wind the thread a few times around the bobbin's center pillar to secure it.
d. Insert the bobbin onto the bobbin winder shaft and make sure to lock it. Next, pull any excess thread through the slit in the bobbin's base. Then, trim off the end while leaving a short tail that can run through the needle's eye.
e. Turn your machine on and press the foot pedal to begin winding the bobbin. Continue winding until the bobbin is full, then confirm if you wound it tightly.
f. Load the wound bobbin into its case. Next, pull the end of the bobbin thread through the machine's tension spring. Then, finally, put the bobbin cover back.
4. Thread the first reel.
Take the first reel of thread and thread your sewing machine as per usual. Then, pass the thread through the needle on the left.
5. Thread the second reel.
Finally, thread the second reel of thread through the machine as you usually do. Then, pass it into the twin needle's right side.
Most sewing machines have a designated area where you place the second reel of thread. But, you can improvise if your machine does not have one. For example, you could use the bobbin winder or a spool holder.