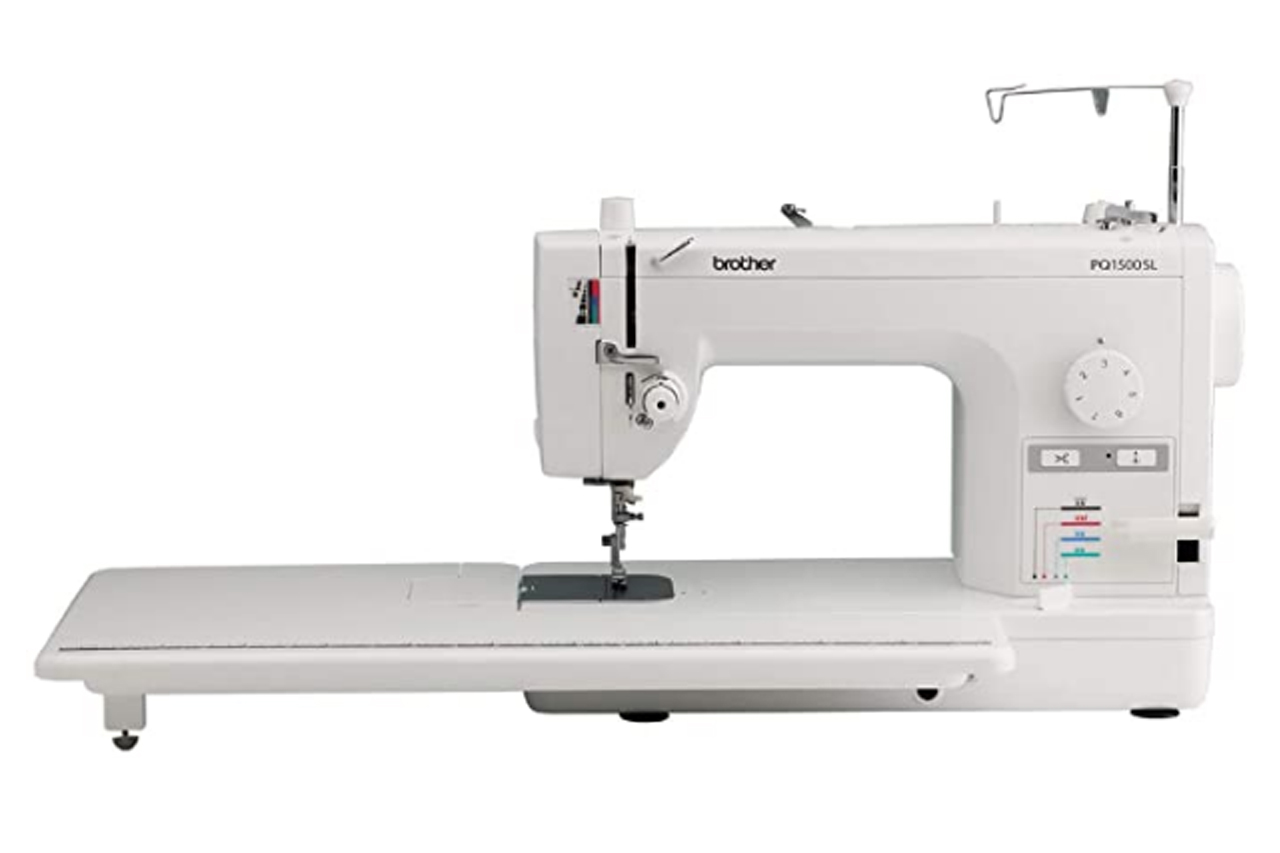 Whether you are just starting out as a quilter or have years of experience quilting under your belt, I'm sure you would be excited to know different brands and models of sewing machines that can do free-motion quilting.
But this time, the focus will be only on the Brother sewing machine brand. Brother has been one of the most reputable sewing machine brands for the longest time and offers the Best Brother Sewing Machine for Free-motion Quilting. It is also known to offer the most affordable prices for any sewing machine, mechanical or computerized.
The Brother brand has also made technological improvements alongside other reliable sewing machine brands and has developed a wide variety of models that would suit the skills, experiences, and sewing project choices of any sewist.
Free-motion quilting is one of the many sewing styles many sewists prefer these days. And if you are looking for a sewing machine that can allow you to free-motion quilt, here are the best ones from the Brother brand that can help you with this task.
1. Brother PQ1500SL
One of the top choices for free-motion quilting sewing machines is Brother PQ1500SL. It has many features on quilting.
First on the list is its advanced needle threading system which makes threading the needle easier and quilting a lot more exciting. It has a drop-in top bobbin, a very convenient feature that reduces the jamming of the machine as you work.
The machine has a removable knee-lifter feature that allows you to lift your presser foot with your knee, making both hands free to do other vital sewing tasks or to use both hands to hold your quilt.
The Brother PQ1500SL has a precision pin feeding system that enables you to sew various thicknesses of fabrics. This particular feature is useful when sewing multiple layers of materials when quilting.
It is a true-blue quilting machine with four feed dog adjustments making it easy for many fabric thicknesses to pass through, and a large table to hold layers of fabric as you quilt.
Buy it here: Brother PQ1500SL
2. Brother XR9550
A newbie-friendly Brother model is the XR9550, which can handle sewing and quilting. Purchasing this machine gives value for your money with its multiple features that can easily handle sewing garments and quilting for beginners.
Its drop-feed feature makes it an efficient free-motion quilting machine, which has many features valuable for sewing and quilting.
It has a wide table to help you maneuver any size of quilt you intend to do. The start, stop, and reverse buttons are also helpful for adjusting your speed while working on your quilt.
Accessories included in the package are eight sewing and quilting feet. You can also change your stitch settings with a push of a button and view the changes through the LCD screen.
With 110 built-in utility, decorative, and heirloom stitches, eight styles of auto-size buttonholes, and 55 alphanumeric sewing stitches, you will not want any other computerized sewing and quilting machine.
It also comes with a hardcover to protect your machine from dust, dirt, and other elements when not in use.
Buy it here: Brother XR9550
3. Brother HC1850
The Brother HC1850 is a fantastic machine as it can handle both light sewing projects and heavier quilting tasks. With multiple features essential for beginner or expert sewists alike, you will have great value for your money.
The machine has a detachable wide table suitable for various sizes of quilting projects. Quilters will benefit most from the unique feed system that allows multiple sewing thicknesses of fabrics. Brother HC1850 has an adjustable sewing speed to make sure you get smooth and straight stitches on your various sewing projects.
Have fun switching from 185 built-in stitches and be creative with the 170 stitch functions that you can use for making clothing, quilting, heirloom sewing, and many other applications. You can also take advantage of the single built-in monogramming sewing font.
Like most convenient sewing machines, the Brother HC1850 has an automatic needle threader and a top drop-in bobbin system which helps to reduce the risk of jamming the machine. The bright LED lights built into the sewing device can help you work efficiently and smoothly.
The Brother HC1850 is lightweight and portable with its built-in handle, making it easy to store when not in use.
Buy it here: Brother HC1850
4. Brother CS7000X
If you are into quilting but on a tight budget, maybe the Brother CS7000X is the computerized sewing and quilting machine that can answer your problem.
The Brother CS7000X is an excellent and functional quilting machine under 1000, especially if you are starting with this craft. However, your quilt size might be limited because of the throat space, only about 5.5 inches. The machine can finish smaller projects like baby quilts.
It is a good starter machine for free-motion quilting because it can handle small quilts. It is also an investment that will not go to waste if you will not pursue quilting because of its excellent features as an ordinary sewing machine.
For a beginner in sewing, 70 built-in stitches are enough to try on your sewing or quilting projects. The CS7000X is considered a multi-tasking sewing machine that can do both sewing and free-motion quilting.
Buy it here: Brother CS7000X
5. Brother CS6000i
If you are looking for solid sewing and quilting equipment, Brother has another excellent choice: the Brother CS6000i. The computerized machine has 60 built-in stitches, seven styles of auto-size buttonholes, and nine sewing feet to work best on your sewing or quilting project.
Quilters find this machine convenient with its wide removable table to accommodate small or large quilts. It also has a free arm for convenience in sewing cuffs, sleeves, or pants.
The Brother CS6000i is a versatile sewing machine suitable for beginners, intermediate, or experts in sewing.
Newbies will appreciate the automatic threading features and adjustable sewing speed control system that can make sewing a breeze.
It also does not lack features and accessories that experienced sewists would want on a sewing and quilting machine, such as its broad presser feet for overcasting, buttonhole, monogramming, zipper, zigzag, blindstitch, button fitting, walking, and spring-action quilting.
A hard case thrown into the package helps protect your machine from dust and allows portability when you need to bring a sewing machine to your lessons or sewing club.
Buy it here: Brother CS6000i
6. Brother XR3774
For a full-size, fast, and compact sewing machine that you can also use for quilting, check out the Brother XR3774. It is easy to use, albeit its multi-features.
Choose from among 37 built-in stitches, including decorative, blind hem, and quilting stitches, to make your work more exciting and creative. It has 74 stitching options and can produce 800 stitches per minute. You will benefit from its easy stitch selection system.
It also has the automatic needle threader system and top drop-in bobbin that most sewing machines have.
The XR3774 has a wide table and a throat space of 5.75 inches, perfect for either small or big quilting projects. It is a compact full-size machine with an appealing design that you would want to carry around for lessons and get-togethers.
Buy it here: Brother XR3774
Can you use any sewing machine for free-motion quilting?
Sewing machines where you can attach a darning foot can be used for free-motion quilting. Some sewing machines include a darning foot in the accessories so you can use it for free-motion quilting right away. Other machine brands sell their darning foot separately for those interested in adding free-motion quilting to their sewing projects.
Most sewing machines may allow you to do free-motion quilting, but many quilting experts disagree with this recommendation. Regular sewing machines with a darning foot may be able to do free-motion quilting, but they may not be able to handle large quilting projects.
If you want to do your quilting from start to finish, your sewing machine must have a large extension table and a long arm so that you can move your quilt around. A regular sewing machine is not usually enough to finish a large quilt. You might need to pay a professional quilter to complete your quilt project, costing you more.
If you are serious about making quilts your craft, it may be best to invest in a legitimate long-arm quilting machine to accomplish the quilt projects you intend to do. You will get better quality quilted products if you use a suitable machine for quilting.
Related:
How close should your quilting stitches have to be?
Best Brother Sewing Machine for Free-motion Quilting: What do you need for a free-motion quilt?
To free-motion quilt, you need to consider essential things on your sewing machines, such as the darning foot, the ability to lower the feed dogs, and ample throat space.
Darning Foot
If you want to do free-motion quilting, the first thing you should look for is a darning foot for your sewing machine. The darning foot will glide smoothly over your fabric and keep it down as you stitch in various directions.
You can find different styles of darning feet. They can be either made of plastic or metal or closed or open-toed. The darning foot you choose depends on your personal choice or based on what your quilt project needs.
Some sewing machines include a darning foot in the package, while others are sold separately. You can find generic darning feet in craft shops or online quilting stores if working on a budget.
Lower the Feed Dogs
One of the most vital things that your sewing machine should be able to do if you want free-motion quilting is its ability to lower the feed dogs.
You can use a lever or switch at the back to lower or disengage your feed dogs on most machines. It would be best to check your sewing machine manual to know if this feature is available on your device.
The feed dogs are the little metal teeth that help feed your fabric to your machine. But when free-motion quilting, you need to lower them so they will not get in the way as you move your quilt in all directions, not just forward or backward.
Large Throat Space
Quilting, in general, needs ample space for you to move about your quilt. Many regular sewing machines these days are already built with quilting in mind.
When looking for a sewing machine that can both sew and quilt, make sure that you choose one with a considerable throat space so that you are not limited to making only small size quilts.
The proper throat space for a sewing machine that can make larger quilts should be more than five inches. A big throat space will allow you to move your quilt around freely while you quilt.