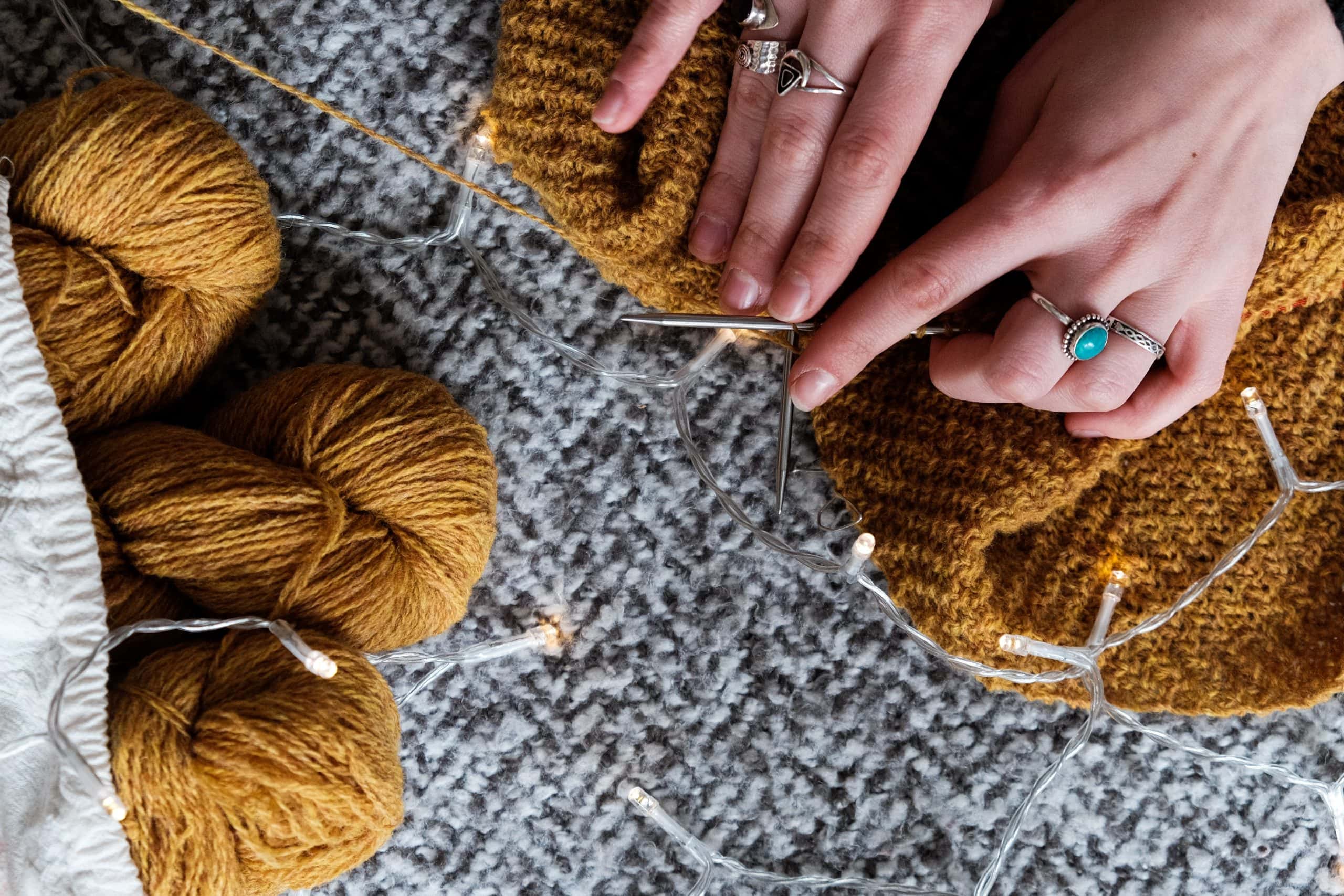 As a beginner knitter, you might probably get excited and overwhelmed about the array of colors of the yarns and the variety of needles you see in craft shops. Don't be too dazed to buy everything you fancy. You need to buy only a few things so that you can get started with knitting. Yarn, needles, scissors, a yarn needle, and a crochet hook are the absolute must-haves of a beginner knitter.
What does a beginner knitter need?
When starting with this hobby, buying only the essential supplies is the key. You do not need to buy the expensive tools of the trade, just the necessary ones, so that you can start with your first knitting project. You may even find your first knitting supplies in a discount store. But if you prefer high-quality materials, you can always visit the craft shops.
Beginner's knitting supplies that a knitter novice should have are:
Large, straight knitting needles
A newbie knitter would feel more comfortable knitting with big knitting needles. Knitting experts confirm that large needles are easier to work with, especially if you are just starting to find a good grip on your new hobby tools. Good old knitting needles were only made of steel, but these days you can find them in different shapes, sizes, and an assortment of materials. Other knitters have varying answers on what size of knitting needles are best for beginner knitters to use.
US 7 to 9, large, straight bamboo needles are the best to use when learning to knit, and advice from knitting experts. Bamboo has better surface control with yarn than metal or plastic needles; meaning, your stitches will not slip off your knitting needles as much. Being in this situation determines whether you continue with your hobby or not.
These are just suggestions from experienced knitters, but you still get to decide what criteria you are basing your decisions on, whether on its price, functionality, and comfort. Find that perfect pair of needles that make your work look best.
Shopping for your yarn for your first project is crucial. Knitters advise against choosing cheap yarns for your first project because they can be uncomfortable and scratchy to work with. Choosing the yarn to use must be based on the first project you plan to do. And similar to choosing your needles, look for the yarn that would work best for your first knitting project and one that will not make it your last knitting project.
Most novice knitters start with worsted weight yarn. It is the most common yarn weight and has the most kinds available in the market compared to the other yarn weights. Experienced knitters recommend pairing up the worsted yarn with size eight knitting needles. If unsure which needle matches your yarn, read the yarn label.
It is not advisable for beginner knitters to knit with yarn size smaller than number 4 and also not a good idea for a beginner knitter to use bulky yarn to start knitting. The worsted yarn has the perfect size and weight for knitters who are learning to knit.
Again, these are just suggestions, and the decision on what yarn to buy is still based on the factors you deem necessary- yarn cost, yarn material, and its feel on your hand as you stitch. You need not break the bank on your first project for a yarn as there will be more to
come if you decide to pursue your new hobby.
You do not need to buy anything fancy as a cutting tool for your yarn. Whether you buy a crafting scissor or use your plain school scissors, either is acceptable as long as it is sharp enough to cut the yarn after you have finished your work.
A yarn needle is a knitting accessory that should be handy when you are almost finished with your first knitting project. A yarn needle is a must-have for a beginner knitter because it can be used for weaving in the ends of your knitting project and for sewing together pieces of knitted fabric for finishing a sweater or a large blanket.
A yarn needle, also called a tapestry needle or darning needle can be made of steel or plastic. Both types serve their purpose equally well. However, it would be best to choose one with large eyes so you can quickly put the yarn through.
You would probably ask what a crochet hook is doing among the beginner knitters' wish list. The benefit of having a crochet hook in your knitter's stash is to fix dropped stitches and also to weave in the yarn ends instead of using the yarn needle. You only need one for these purposes, so you must only choose which you will need most often. A 3-4 mm crochet hook is the one most commonly useful to knitters.
What is a good first knitting project?
While you were gathering your beginning knitting supplies, you probably already have an idea of what you want to knit. As a beginner knitter, you may feel excited about knitting your first project. But you must start with a project that fits your level. Choose a first knitting project that is small and simple, something you will not care about the imperfections since you are just starting with your hobby.
When you are a beginner, it is natural to take you a long time to finish a knitting project. A small and simple project like a square coaster can teach you the basics of knitting: casting on, knitting, binding off, and weaving the ends. Knit a few squares so you can get comfortable knitting a small project and repeating the basic stitches without spending too much time and supplies.
Another excellent choice for a beginner knitter project is a dishcloth or washcloth. It is not too big and not too small. The size is great to practice new stitch patterns. Learning how to knit a square dishcloth will be easy for a beginner because there is no need for shaping and sewing fabric pieces together.
A scarf is another typical project for a knitter novice. With your essential knitting tools, you can create a lovely scarf. A scarf is a simple first knitting project that you can do with a simple garter stitch. Knitting a scarf does not require a pattern. You can read the yarn label to decide how many stitches you should make for the width, and you can keep knitting garter stitches until you get the length you want.