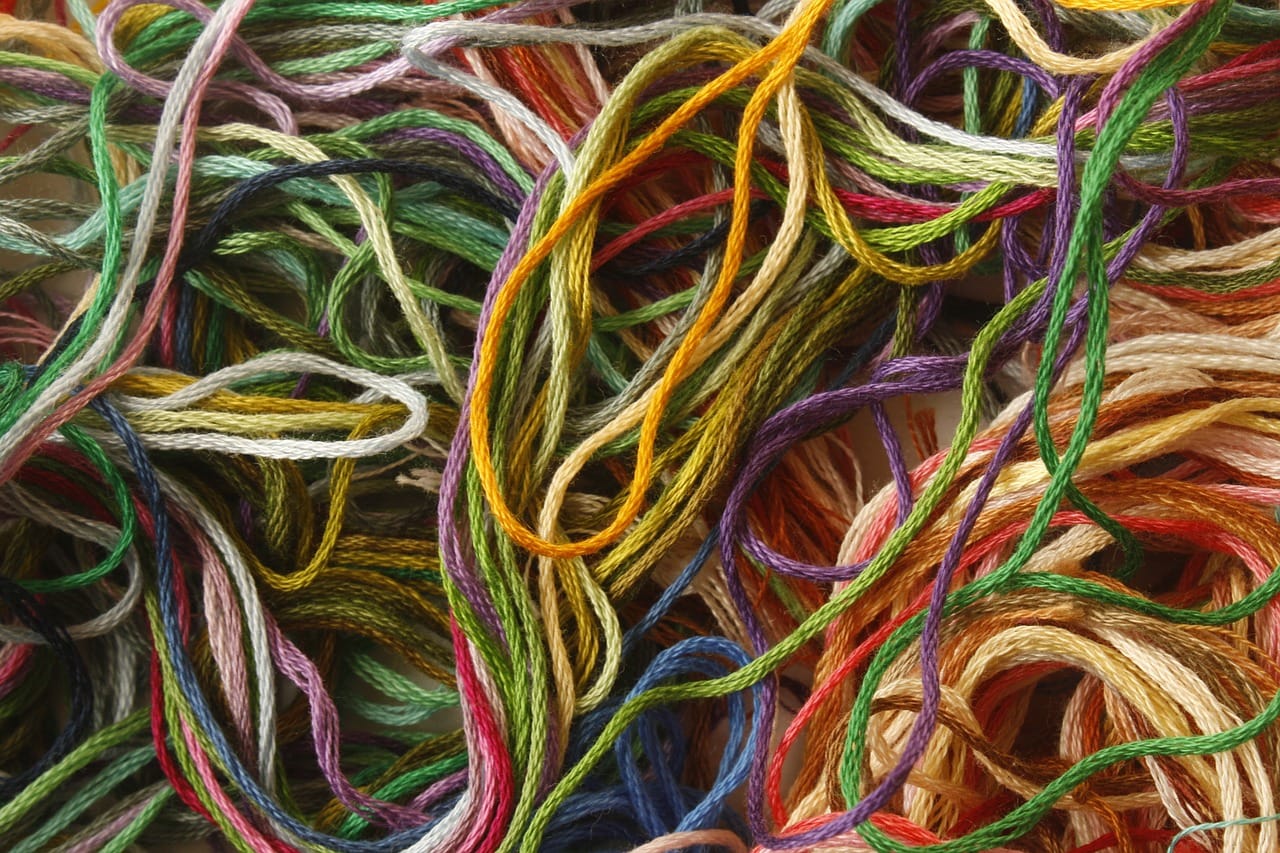 The variety of thread colors you can find in the DMC brand is so vast that it can get quite overwhelming for a crafter. Did you know that the DMC Cotton Embroidery Floss alone has 506 colors? This popular, highly recommended, and most widely distributed thread brand worldwide has a wide assortment of threads that you can choose from, whether you have a complicated or straightforward embroidery or cross-stitch project.
What is DMC embroidery thread?
DMC floss is the most popular thread in the world. It is considered the most recommended and widely distributed embroidery thread in the world. DMC has been providing stitchers, embroiderers, and crafters for almost three centuries, with the finest embroidery floss, originated from France.
DMC (Dollfus-Mieg and Company) is a French company that started in 1746, producing embroidery floss and yarn for knitting and crochet. Being a company that has been very long in the business and a reputation of the finest quality of materials, the DMC brand is the most used thread globally to this day.
The colors and variety of threads that DMC produced have grown through the years based on crafters and embroiderers' demands.
Cotton Embroidery Floss
Cotton embroidery floss is the type of embroidery thread most commonly used in embroidery patterns. No wonder that it is because, among the DMC thread variants, it has the most number of shades to choose from. It has 506 colors, from lights to darks, which can create a spectrum of colors.
The DMC Cotton Embroidery Floss, the most recommended floss for cross-stitch and other sewing crafts, is made from long, staple cotton, double mercerized to create a brilliant sheen. It comes in a skein of six, size 25 strands, which can be easily separated so you can use them individually or in multiples depending on the thickness of thread required in the pattern.
Pearl Cotton
When your cross-stitch project entails volume and dimension, the DMC Pearl Cotton thread is the most appropriate one to use. This 15m soft and silky, luminous cotton thread is highly mercerized and non-divisible and comes in a twisted skein. With the finest qualities, perfect for cross-stitching embroidery and other needlepoint, DMC Pearl Cotton is also branded as the most beautiful thread globally. Pearl Cotton is available in many sizes and each size has numerous colors to choose from.
Mouline Etoile
Mouline Etoile is a premium embroidery thread with a brilliant and sparkly effect. The Mouline Etoile has a more subtle sparkle than the DMC metallic floss. The sparkle is very subtle that you can use it for a large area of your project without looking too bright. It is made of 73% cotton and 27% lurex polyamide, making it a fluffy and robust fiber. One skein of Mouline Etoile cotton floss is 8 meters in length has six separable strands. You can choose from 35 unique Mouline Etoile shades to create a delicate shimmer and sparkle on your next embroidery or cross-stitch project.
Diamant
Diamant metallic thread is a soft, tangle-free floss. This smooth, single-strand, non-divisible thread adds shine to your cross-stitch or embroidery projects. One strand of the metallic thread is equivalent to two strands of the stranded cotton floss, and it comes in 38.28 yards in a single spool. Because of its tangle-free qualities, it can glide effortlessly through cotton, linen, satin, silk, and nearly any kind of fabric. You can choose from 14 different colors of Diamant metallic threads.
Coloris
Coloris is a six-strand floss of a multi-colored thread made from 100% cotton, which features four DMC colors in a single thread. Every skein has a color-combination carefully designed to be complementary. This type of floss is great for filling cross-stitch work. It is recommended that you complete each cross stitch as you embroider your work as this floss has abrupt changes of colors. It is available in 24 multi-colored shades that will make unique and beautiful embroidery and cross-stitch projects.
Color Variations
Color Variations is a stunning multi-colored thread made from 100% cotton, fade-resistant, and consistent colors from skein to skein. It can help you create an amazingly colorful piece without having to change the thread. Color Variations has six strands of size 25 vividly-colored embroidery floss, which you can customize depending on the thickness of thread needed for your cross-stitch project or needlework. It has also been mercerized to achieve a gorgeous sheen on your creations. Choose from 60 Color Variations available.
Satin Floss
The shiniest DMC thread available, the Satin Floss, is made from 100% rayon fibers, making it glide effortlessly through the fabric. Like the other embroidery floss, there are six and size 25 quickly separated strands of the Satin Floss. The Satin Floss gives a lustrous sheen and is perfect for embroidery, cross-stitch, and counted thread work. There are 60 different colors of Satin Floss.
Soft Cotton
DMC Soft Cotton, also called Retors Mat, is a matte tapestry thread. A skein contains five inseparable cotton strands made of 100% long fiber cotton, which was combed and singed by flame to remove fluff. DMC Soft Cotton comes in a 10m/10.9yd skein. This type of thread is a perfect material for needlepoint, crewel, hardanger, weaving and braiding. It has 100 shades available.
Light Effects
DMC Light Effects can give your embroidery or cross-stitch work a gorgeous sparkle. It is made from 100% polyester, and a skein has six, size 25 separable strands. The thread can be used on its own, or you can combine it with a strand of cotton floss. This floss was observed to tangle easily, and you can use beeswax to make sewing smoother. Light Effects metallic thread has 36 shades.
Color Infusions® Memory Thread
Memory Thread is a soft fiber wrapped copper wire that can be easily shaped, creating an extra dimension. You can use this thread for your embroidery, and cross-stitch works add vibrant color and texture to your craft projects. With this type of thread, you can create 3D designs on your needlecraft. It can also serve as lovely decorations on cards, scrapbooks, and many other craft projects. It comes in a transparent, recyclable shuttle with 3 yards of Memory Thread. Memory Thread has 27 color variants.
Metallic Pearl Cotton
The DMC Metallic Pearl Cotton thread adds a shimmer to your embroidery or cross-stitch pieces. You can use this thread as a sparkly accent or be the centerpiece of your work. It comes in size 5 with 27 yards on a skein. The metallic pearl cotton is a single-strand, polyester metallic, and viscose blended thread on a twisted skein. It is 25m per skein and available only in two colors; metallic silver and gold.
Golden Skein
The most special among all DMC threads is the Golden Skein. It is a collector's item with only 17,460 (individually numbered and has a certificate of authenticity) skeins worldwide. The Golden Skein is a limited edition that can be preserved and used on most priced embroidery work. The Golden Skein collector's edition features a 24-carat gold wash and is made by hand in the DMC thread factory in Mulhouse, France.
Also visit: 
How are DMC threads numbered?
DMC threads are generally arranged in numerical order at the point of sale to make it easier to find the specific colors you are looking for. The numbers on the thread labels have no link to a chromatic order.
DMC has created a color chart where you can check the DMC numbers on the label of the thread and the color it corresponds to.
You can also check: