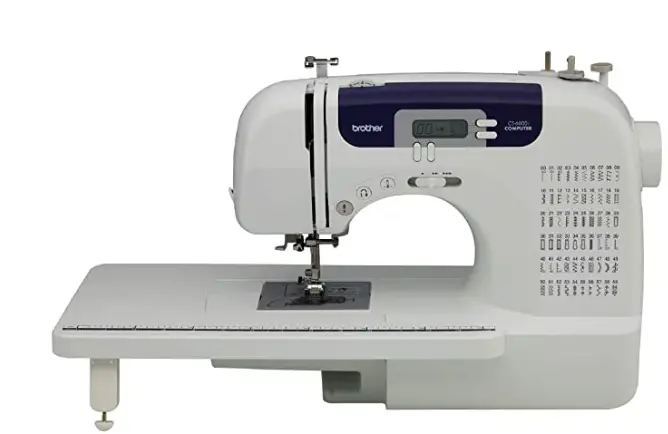 The Brother CS6000i and the Singer Heavy Duty 4423 are two very different types of sewing machines. The Brother CS6000i is a computerized sewing machine, while the Singer 4423 is a heavy-duty mechanical sewing machine. The two machines are of different machine types, and you can clearly see that they are from totally different categories.
One thing they share, though, is that they are both built by the two most popular and leading brands of sewing machines. These two machines have built quite a reputation already, so what would be more important to a newbie or sewing expert contemplating these two models are their unique features and capabilities.
At a glance, the Brother CS6000i looks stylish and has more to offer, stitches and all. It is also good to know that the computerized Brother CS6000i is more affordable than the mechanical Singer 4423. If you want more than just a basic machine on a still low budget, the Brother model is the better option.
Brother CS6000i Main Features
The Brother CS6000i is a beginner-friendly sewing machine despite the big number of stitches you can do with it. It is a portable, computerized sewing machine with a wide range of sewing and quilting features that you can get at a reasonable price.
60 Built-in Stitches
If you are a sewing expert looking into a sewing machine that can provide a wide variety of stitches that you can use for your projects, the Brother CS6000i is a good option for you. It has 60 unique built-in stitches – 20 decorative stitches, 20 garment construction stitches, seven quilting stitches, six heirloom stitches, and seven one-step buttonholes included.
LCD screen
The Brother CS6000i is built with an LCD screen to easily select stitches with a button's touch. You can also view the stitch choices on the screen with a backlit LCD. You can also see the recommended presser foot adjustments for your sewing projects on the LCD screen.
Extra-wide table
The Brother CS 6000i is equipped with an extra-wide table perfect for quilting projects and huge sewing projects. You can have a wider variety of projects because the working space does not limit you.
LED Lighting
The LED lighting on the Brother CS6000i gives the right illumination on the area around the needle for easy sewing, even in dimly lit areas or when working on dark-colored fabrics.
Adjustable Speed Control
The Brother CS6000i is equipped with adjustable speed control which allows you to limit your maximum speed. The speed control settings may be especially useful to newbies in sewing craft as it might be difficult to start sewing at a fast speed.
Accessories
The nine presser feet that come with the Brother CS6000i sewing machine, namely the buttonhole, overcasting, monogramming, zipper, zigzag, blind stitch, button fitting, walking, and spring action quilting foot, makes your purchase a great deal. These added perks make your sewing machine inexpensive yet versatile.
The Brother CS6000i comes with a hard machine case which makes it a perfect traveling sewing machine.
Start/Stop One-touch operation.
Being a computerized sewing machine, the Brother CS6000i is furnished with a handy start and stop button. The one-touch start/stop button adds ease to sewing compared to a mechanical sewing machine's foot pedal.
Singer Heavy Duty 4423 Main Features
Heavy-Duty and Powerful Motor
The Singer Heavy Duty 4423 is popular for its powerful motor. True to its name, it functions as a heavy-duty sewing machine with a motor that can deliver 1100 stitches per minute. The impressive motor speed allows the Singer 4423 sewing machine to go through thick and multiple fabric layers easily. The machine can sew fast, making it easy to finish your sewing projects quickly.
Lightweight and portable
Despite having a heavy-duty metal frame, the Singer 4423 is lightweight and can easily be carried around because it only weighs 15lbs.
Three-needle position
With the Singer Heavy Duty 4423, you can change your needles' position into three varying needle positions to achieve stitch techniques like edge stitching, topstitching, zipper application, and piping application, to name a few.
Extra-high presser Foot Lift
The Singer Heavy Duty 4423 is armed with a presser foot lifter. The extra-high presser foot lifter can be adjusted to accommodate any fabric thickness. The adjustable presser foot feature makes it possible to sew lightweight and heavyweight fabrics.
Similarities and Differences
Similar Features
Automatic Needle Threader
Having an automatic needle threader is a great advantage for both machines. Newbies and sewing experts still appreciate this feature, which is usually seen in most sewing machines.
Top Drop-In Bobbin System
With a top drop-in bobbin system, loading a bobbin is as easy as 1,2,3 for both the sewing machine types. Having a clear cover is also an added help making it easier to see if you are running out of thread.
Both sewing machines have a free arm with a removable cover. When the cover is removed, the free arm makes it easier to work on hems, cuffs, sleeves, and pants.
Adjustable Stitch Length and Width
The Brother CS6000i and Singer 4423 both have settings to manually adjust the stitch length and width required on your sewing work.
Both machines have sewing settings for reverse stitch. The reverse stitch control helps to manually back-tack stitches and secure the thread. The Brother CS6000i uses a reverse button, while the Singer Heavy Duty 4423 employs a reverse lever.
Both sewing machines have a 25-year limited warranty.
Different Features
CS6000i is a computerized sewing machine with 60 built-in stitches, while Singer 4423 is a heavy-duty mechanical machine with only 23 built-in stitches for your various sewing projects. Brother is not ideal to use on heavier and thicker fabrics like upholstery, jeans or leather, unlike the Singer 4423, which can handle both lightweight and heavyweight fabrics.
The Singer is leading in terms of the motor speed at 1100 stitches per minute 850 stitches per minute of Brother CS6000i. But CS6000i has controls that can adjust speed to produce the needed results compared to the Singer 4423, which has a fixed motor speed. The Singer is more powerful and stronger because it can sew through any fabric, whatever its thickness is.
Conclusion
The BrotherCS60001 and Singer Heavy Duty 4423 are two very different sewing machines belonging to different categories in the sewing arena. Both are great choices that are manufactured by the top two brands but still friendly on the pocket.
But if you are looking for the complete package, whether you are a beginner or an expert, the Brother CS6000i is the best choice for you. You have the ease-of-use, the stitches, and the accessories that you can enjoy for leisure sewing or work all in one machine.
If you are looking for a basic sewing machine that can sew through layers of thick fabric, the Singer Heavy Duty 4423 is the one for you.
The decision on which sewing machine is best to buy depends on what sewing projects you are planning to make. If your projects lean on everyday sewing, the CS60001 is the ideal one for you. If you are going to work on thick fabrics like denim or upholstery, the Singer Heavy Duty 4423 is your better option.
Price and Availability
Singer 4423 has a selling price of $180, while Brother CS6000i can be purchased at a more affordable price of $129. Both are available in sewing shops online as well as on Amazon.
The Brother CS6000i and Singer Heavy Duty 4423 are both tried and tested sewing machine types and brands that will not break the bank.
Customer Reviews and Recommendations
As mentioned earlier, the Brother CS6000i and Singer Heavy Duty 4423 are not comparable in terms of what fabrics to sew. Also, one is computerized while the other is mechanical, but both are beginner-friendly sewing machines. Here are some pros and cons of the sewing machines that actual customers experienced.
Brother CS6000i
– I sincerely heart this machine. In all scenarios, it has proven to be an excellent workhorse. The machine is lightweight, very user-friendly and comes with a generous number of feet/accessories. It is easy to be a little suspicious of the quality because of the lower price-point, but I would recommend this machine to both beginners and more advanced sewers that are in need of a reliable home machine.
– Overall, I am happy with the product, but it is not perfect. Essentially, you get what you pay for. If you sew on a weekly basis or do a lot of heavy-duty sewing, this may not be the right machine for you. If you sew occasionally as a hobby or just to mend items, then this machine will work just fine.
– This is a great starter machine. Great value for money. I've successfully created many pieces with it. This machine will last you for many, many projects, beginner and intermediate. The only problem I've had with this machine is the fabric getting jammed under the needle. It gets knotted in the bobbin thread occasionally.
– At first, I loved it, so quiet, easy to use, very user friendly. But then I got a persistent E6 error. I looked at Brother's website and did everything they recommended to try and fix it but the error persisted. It turns out one of the bearings in the machine WAS RUSTED and prevented the machine from properly working. It is a risk to buy this machine. I have emailed Brother and will see what they say.
Singer Heavy Duty 4423
– I bought one for my nieces for Christmas as they are just learning to sew. I was extremely impressed with it. Mostly because of the ease of use, low noise level, speed and not having to adjust the tension when changing fabric weights, and finally the price – can't beat it for what it does. After playing with the machine for a couple days I was so impressed that I bought one for myself.
– I had sewn on this machine the first month I had it and it worked beautifully. I have had it just 5 months and I sewed on it last week, which is only my second time using it, and the machine sounded like metal was hitting in the top and all the threads on the bottom were bunching up and the needle was breaking from hitting the foot. I called Singer and was told the warranty is only for 90 days, and I'll have to get it serviced. The woman I talked to at Singer told me this is a self-lubricating machine, and you have to use it to keep everything oiled properly. I don't know how often that is, but this is not the sewing machine for me.
More pages: 
BrotherST371HD against Singer 4452
People Also Ask
Q: Is the Brother CS6000i suggested for a beginner?
A: The Brother CS6000i is not classified as a beginner sewing machine, but it is quite user-friendly. Any machine will be easy to operate as long as one should read the manual thoroughly first. This Brother model is a good option for a beginner who is not ready to spend much on a first sewing machine.
Q: Can you embroider using the Brother CS6000i?
A: You can learn to do beautiful embroidery work on the Brother CS6000i by learning free motion embroidery. The open toe darning foot which comes with this machine is used for this type of embroidery. You can look for online videos on how free motion embroidery is done using regular sewing machines.
Q: Can the needle on the Brother CS6000i be programmed to stop in the up position?
A: Yes, the machine comes preset to end stitching in the needle down position but that can be easily reprogrammed to end in the needle up position. Look for the instructions at page 10 of the user manual.
Q: Does the Brother CS6000i sew leather?
A: You would need a more industrial machine to handle sewing through leather. This machine is tough but there is risk that thick fabrics such as leather can ruin it.
Q: Can a beginner use the Singer Heavy Duty 4423?
A: Yes, it is a good machine for a beginner. This sewing machine is one of the easiest sewing machines to use. You will get the hang of controlling the speed using the foot pedal.
Q: Does the Singer Heavy Duty 4423 has a foot pedal?
A: The Singer 4423 is a heavy-duty mechanical machine, so it has a foot pedal only to start and stop the sewing action.
Q: Can the Singer Heavy Duty 4423 sew through heavy-duty canvas or leather?
A: The Singer Heavy Duty 4423 was designed with heavy-duty fabrics such as denim, canvas, or leather in mind. With its powerful motor and enhanced speed, it can handle thick and multiple layers of fabrics.
Q: Can I use metal bobbins in Singer Heavy Duty 4423, or do I need the plastic ones?
A: All top loading bobbins use plastic bobbins except the older early Singer machines with the metal bobbin case.