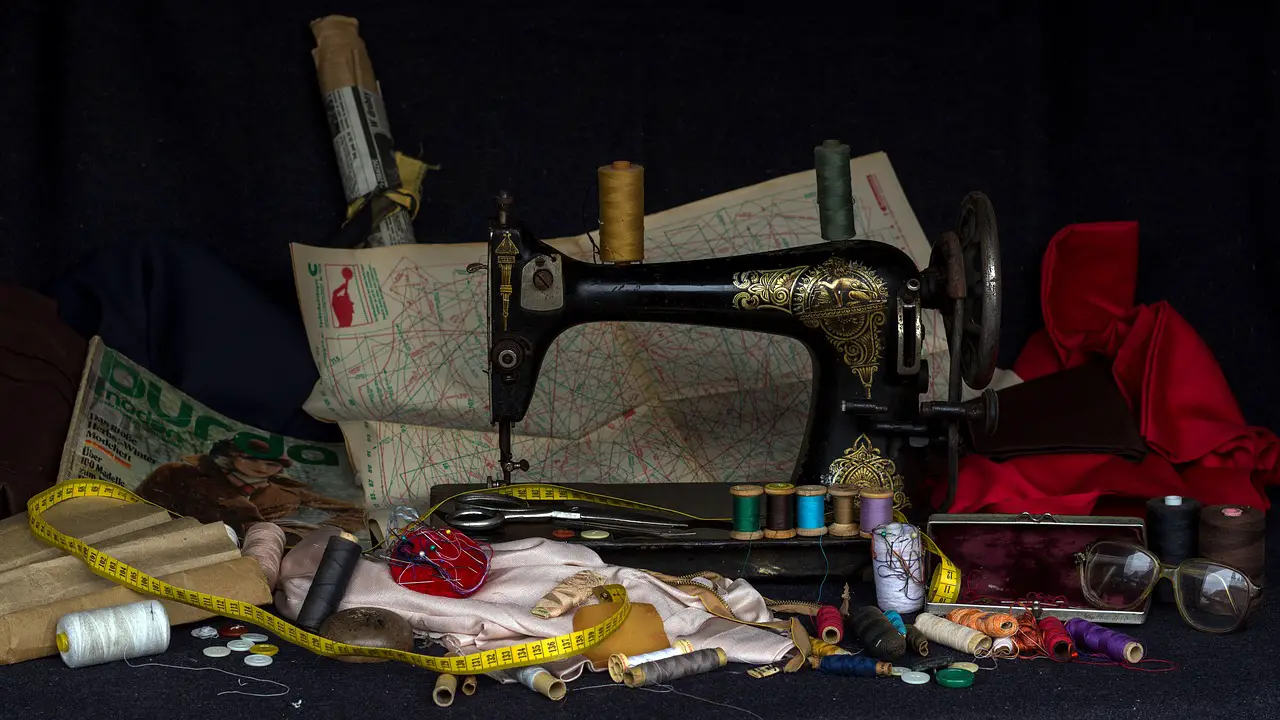 When your sewing machine is causing trouble and won't sew elastic, expect that you will have delays finishing your sewing project. Your machine may have difficulty sewing elastic, and it would show on your stitches. Whatever issues you are experiencing on your machine because of sewing elastic, you must know that the solutions are easy.
Why would a sewing machine not sew elastic?
If you are a newbie in sewing and have tried your hand at sewing elastic, you might have experienced a bit of a challenge using this material. Elastic can be a bit difficult to handle than woven fabrics. You may face different sewing issues when sewing elastic using your sewing machine.
When your machine refuses to sew elastic, it may be due to some things you are doing wrong or maybe not aware of. Sewing experts identified some mistakes people often commit in sewing elastic. These are using the wrong needle, unadjusted bobbin tension, the seam is not made elastic, or foot pressure is not reduced. 
Troubles sewing elastic are showed by birdnesting, jammed bobbin thread, and needle or stitch problems. It would be best to recognize first which of these problems are causing your machine not to sew elastic. Then, you will be able to pinpoint what to replace or fix on the sewing machine.
If you want to sew elastic without facing these problems all the time, you must learn how to troubleshoot these issues.
How do I get my sewing machine to sew through elastic?
Sewing elastic is a bit tricky. You will observe that the fabric is different from woven fabrics because it is stretchy. It does not go through the foot of your sewing machine that easily.
If you want to make sure that you are doing the right thing before you start sewing with this stretchy material, take note of these things to consider. By doing so, you will not make the same mistakes, and you will be able to sew elastic successfully.
1. Use the right needle.
Some fabric types require a different needle to use in the sewing machine. Elastic, a material that can stretch also needs a specific needle to go through its fabric.
A regular needle will not be able to puncture the elastic as much as a stretch sewing needle would. The rounded point of a stretch needle can penetrate between fabric threads instead of piercing them. The stretch needle has a slightly less rounded point than a ballpoint needle. This needle type makes it ideal for sewing elastic and other stretch fabrics.
Using a stretch needle helps you avoid the problem of birdnesting. The thread forms non-flat knots at the bottom of the elastic that look like a bird's nest, thus the name. A stretch needle can go through the elastic fibers and pull the thread in and out easily. Using a stretch sewing needle prevents knots and entangled threads from forming.
2. Make your seam elastic.
When sewing elastic materials, you also need to make the seams elastic. It would be best to try some stitches which can help you make an elastic seam. You can use these stretchy stitches instead of the straight stitch to help you sew the elastic to your seam allowance. You can try one of these samples of stretchy stitches and see which works best on your sewing project.
Zigzag Stitch
The zigzag stitch is usually used to make a finished edge on seams. It is the most common stitch used to sew stretch fabrics. The zigzag stitch is the basic stretch stitch that most standard domestic sewing machines can offer. It is also the most common stitch used to attach elastic to the garment.
Overcasting Stitch
The overcasting stitch is a great stitch to use on stretchy fabrics because it creates wider stitches that create a clean finished edge. It permits a lot of stretch on the fabric and is ideal for stitching very stretchy fabrics like spandex.
Triple Zigzag Stitch
The triple zigzag stitch looks like a zigzag stitch. It is made out of a straight stitch but is both stronger and stretchier. It is a great stitch to use for stitching parts of the fabric that need to stretch. It is the best stitch to use on elastic and to sew underwear, but not a good stitch to use on seams.
Triple Stitch
The triple stitch looks like the common straight stitch; the difference is that each stitch is sewn three times, giving the seam more stretch. It has a lot of strength and produces a clean seam that you can press open, which you cannot do on a zigzag or overcast stitch.
It is always a common mistake sewing elastic without making the seam elastic. If you sew the seam, as usual, your elastic might snap out of the straight stitches. So, it is important to make your stitches also stretchy.
Other than using stretchy stitches, you can also make your seam elastic by using twin needles. Twin needles create two lines of straight stitches at the right side of the fabric. And you will find a zigzag stitch at the center of the two straight lines at the back of the fabric. Check if your machine has the twin needle feature, as it can be a great option in creating clean hems for stretchy fabrics.
3. Adjust your bobbin tension for sewing elastic.
When you use zigzag stitches or other stretchy stitches, the sewing machine automatically adjusts the top thread. But it does not consider the fabric you are going to use and that you want the stitches on your fabric to be elastic.
At this point, you may also need to reduce the tension of your bobbin thread to make your seam elastic and prevent your bobbin thread from breaking.
At other times, you may need to lower the upper thread tension a little for the same reason. The situation varies depending on the sewing machine used or the type of elastic used.
To get the correct tension for both the upper and lower thread, try sewing on a scrap of elastic to see if you are still creating entangled threads. Then, lower or increase your tension until you get a clean and smooth stitch on your elastic.
4. Reduce the foot pressure.
When working with fabric with stretch, you may find that your material may find it difficult to go under the foot of your machine. If your sewing machine has foot pressure control, it would be best to reduce the foot pressure. Reducing the foot pressure avoids warping and stretching your elastic fabric through the sewing foot.
If you still get skipped or irregular stitches, you may also consider changing the foot of your sewing machine. Although you can sew most elastics with a regular all-purpose foot, sometimes your machine can still get jammed. You can try switching to a Teflon sewing foot which can glide through the elastic and creates smooth stitches.
5. Use a walking foot.
If your Janome sewing machine for free-motion quilting does not have the foot pressure control feature, you can attach something to your machine that can perform a similar job. You can use a walking foot to help you move your elastic fabric without bunching in front of the foot.
The walking foot is useful in moving the top and bottom layers of your fabric evenly through the machine. The sewing machine's feed dogs push the bottom fabric while the walking foot pushes the top layer. The walking foot is a great tool to prevent deforming on your elastic fabric.
Not all walking feet can work on all sewing machines, so you need to check your manual or look online for the walking foot that would work with your machine.
Just like anything that you want to achieve perfection, you need to practice sewing elastic more. It is a great way to get to know your sewing machine better and apply which methods would work best to sew elastic.
Do you stretch elastic when sewing?
Yes, you need to stretch elastic when sewing. It would help to have your math handy to sew your elastic to the fabric. Sewists advise stretching your elastic at 3 to 8% of the fabric length. You can use 8% in areas where you want the fabric to hug the body. For an average stretch, please measure the length of your fabric and reduce it by 5%. That will be the length of the elastic that you will use.
Another technique that can help you sew elastic on fabric is to put tape marks on your sewing machine. You can use them as guides to how long you need to stretch your elastic while sewing.
When sewing, make sure to stretch out the elastic to the same length as your fabric to ensure that the whole seam is covered.
More sources: 
How do you sew elastic onto a waistband?
Sewing elastic to an edge is useful for sewing garments. Elastic is usually sewn on the neck, waistband, or legs. You can choose from two methods on how to sew elastic on a waistband.
Sewing elastic directly on an edge.
Sewing elastic in a casing.
For the first one, since you will be sewing directly on elastic, you will need to use stretch sewing needles instead of the regular needles. A good quality thread to use with your stretch needle which will not break easily is a polyester thread. To help avoid skipping stitches even with a stretch needle, you can replace your all-purpose foot with a Teflon sewing foot.
When you are sewing elastic to an edge, use knitted or woven elastic. It is the type of elastic that does not narrow when stretched. You can also sew it easily on your fabric without stretching out of shape.
To sew elastic directly on an edge or waistband, follow these few simple steps:
Measure the elastic that you need to use. Form a loop. Stitch the ends together with an overlap of half an inch. Note: Consider the half-inch in measuring the elastic that you need.
Divide your elastic into quarters. Mark the division of your elastic.
Similarly, divide and mark the waistband into quarters.
Pin the elastic on the edge of the wrong side of the waistband. Match the quarter marks. Notice that the elastic is smaller than your waistband.
Stretch out the elastic along each mark and make zigzag stitches along the edge.
Fold the elastic down by its width; the right side of the fabric covering the elastic. Then, pin it in place.
Zigzag stitch on the edge of the elastic waistband, stretching it as you go. You can also use the twin needle method to create a clean finish on your elastic waistband.
For the second method, you will be sewing elastic in a casing. This technique is best to use when sewing elastic on woven fabrics. You can also use this technique on waistbands, necks, sleeves, and ankles.
Since you will not be sewing directly on elastic, you can use your regular needle and thread and your all-purpose foot. The best elastic to use for this method is braided elastic because it is soft and is designed for this application.
For sewing elastic in a casing for your waistband, you can do these few easy steps:
Measure the length of elastic that you need. Add half an inch to the length for joining the ends.
Fold the edge of your waistband towards the wrong side using the width of the elastic (1/2 inch) plus ¼ inch.
Stitch around the bottom of the edge but leave a 1-inch gap. Backstitch either side of the gap to secure the stitches.
Stick a safety pin to the edge of your elastic and thread it through the gap through the casing to the other end of the gap.
Stitch the ends of the elastic with an overlap of a half-inch.
Push the elastic into the casing, then stitch on the gap to close it.
Now you can use either of the two methods to sew elastic on your garments depending on the fabric and design of your choice.