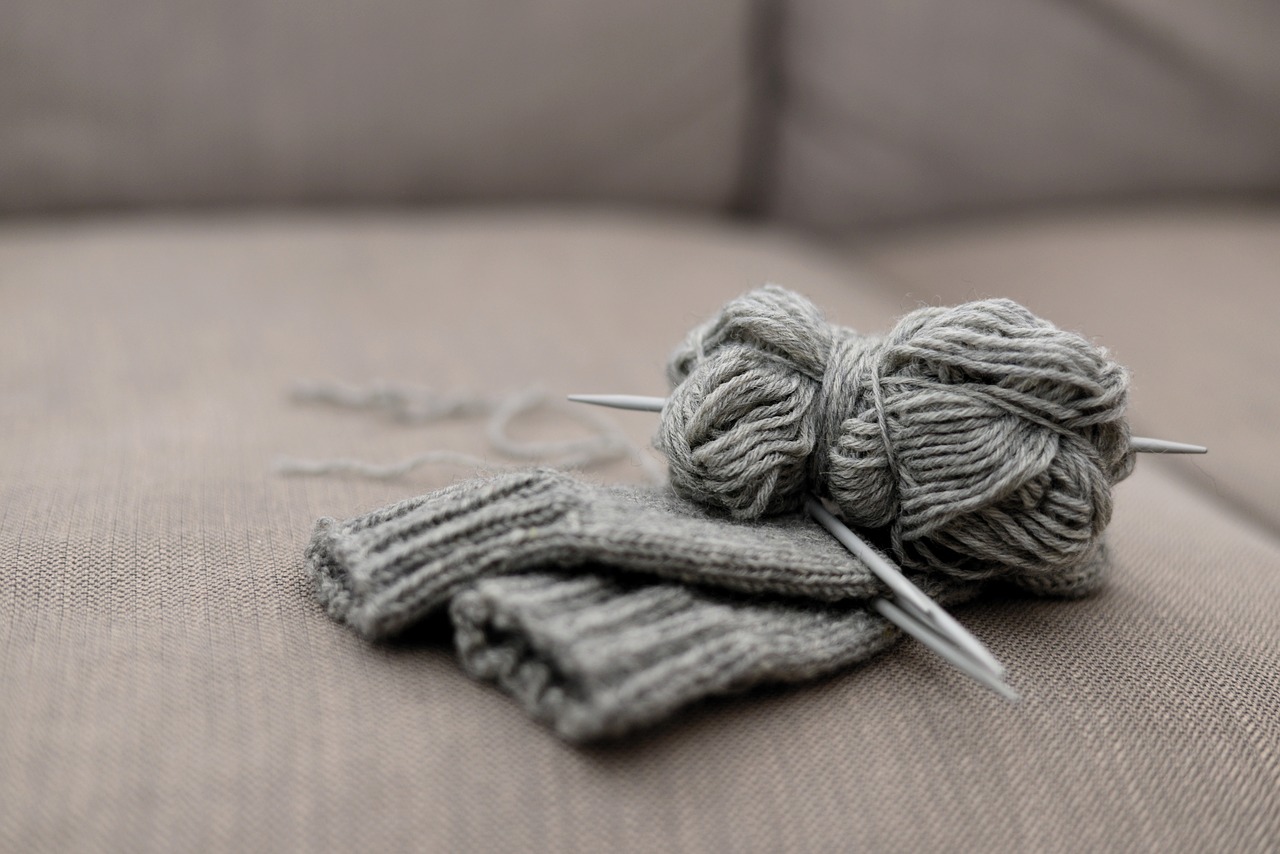 If you are new to knitting, you may be one of those who have no idea which would suit your knitting project. Is it circular or straight knitting needles? Read on below to know which you must include in your needle stash.
What is the difference between circular and straight knitting needles?
Circular knitting needles are two short, straight needles connected with a nylon or plastic cord. They are used to knit in the round, like socks, sweater sleeves, or hats. You can also use them to knit flat pieces. Straight or single point needles, however, are knitting needles that have a point on one end. They are usually used for flat knitting pieces like blankets, afghans, or scarves.
Another type of straight knitting needle is the double point knitting needle. Double point needle sets are usually composed of 5 straight knitting needles that have points at both ends. They are used for knitting projects like mittens, socks, and hats, to name a few. Unlike the single-point straight needles, double point needles are only used to knit in the round. You cannot knit flat pieces with double point knitting needles, unlike circular needles.
Now that you know the difference between knitting needles, it would be easier to choose which one would work best for your future knitting projects.
Are circular knitting needles better?
Circular knitting needles outweigh the other types of knitting needles because they are so versatile. They can be used for flat knitting pieces and knit in the round as well.
Both circular needles and straight needles have their uses. But many knitters confirm that circular knitting needles have the edge. Read on to know why you can get more from circular knitting needles.
Benefits of Circular Knitting Needles
Versatility

Circular needles are considered to be the most versatile knitting needles. Although they are more often used to knit in the round, they are also great for flat knitting pieces.

Less risk of dropping needles

One thing a knitter would definitely like about circular needles is never worrying about dropping a needle. Needles are attached to the cord and will not be easily misplaced or dropped.

Wider variety of knit pieces to make

Circular needles can be permanently fixed to the cord or can have interchangeable tips. Even though circular needles are more expensive than straight needles, some knitters can attest that you will benefit from them more over time. You will have a wider variety of knit pieces that you can do with interchangeable needle tips.

Some circular needles are composed of sets of interchangeable needles that come with several sizes and lengths of cords. You can create lace knitting to bulky knitting using interchangeable needles and their matching cords.

Holds more of the weight of your knit fabric

One more thing that knitters like about circular needles, especially when knitting the flat pieces, is the more evenly distributed weight of the knitted fabric. The cable and the fabric can rest on the knitter's lap, making it less tiring on the knitter's wrists and arms.

It can be a very good advantage, especially if you are working on a knitting project with a high number of stitches like blankets, shawls, or sweaters. It is also the best option for knitters with arthritic hands.

More convenient to store and transport
You can easily store circular needles. You just need to coil it and place it in a regular-sized bag or pouch. They surely take up a lot less space than long, straight needles. It is also easier to pack and bring during travels.
Benefits of Straight Knitting Needles
Budget-friendly

Straight knitting needles are cheaper than circular needles, so it is recommended for new knitters who are just trying out this needlecraft. They are the more practical choice to learn how to knit.

Easier to learn

Learning to knit using circular knitting needles can be a bit confusing when it is time to switch between the two sides of the knitting needle. Two separate straight needles avoid this confusion.

Stitches will not slip.
Another advantage of using straight knitting needles is that your stitches will not slip because of the closed ends. It is also the reason why most flat pieces like scarves or blankets are knitted with straight needles.
Is it easier to knit a hat with straight or circular needles?
If you knit a hat or anything tubular, it would be easier to use circular needles than straight needles. Circular needles are commonly used for knitting in the round, producing knitting projects like hats, socks, mittens, or sweaters.
An easy hat pattern for newbies to knit in the round will only use the basic knitting techniques of knitting, purling, and decreasing the stitches.
To make a basic hat in the round, you will need a skein of a super bulky yarn that will be quick enough to finish. A set of 10mm or US 15, 16" circular needles is the proper tool for the bulky hat. You will also need a tape measure, a pair of scissors, and stitch markers.
As a rule of thumb, choose a shorter needle length than the circumference of your hat or any of your projects that you have to knit in the round.
Begin knitting your hat by casting on 38 stitches using the long-tail cast-on method.
After making sure that all your stitches have been cast on, you need to join your knitting in the round. To create a seamless join, you can start to knit with the first cast-on stitch.
Place a stitch marker on the first stitch on the right-hand needle after making the join. The stitch marker marks the end of the row to know what part of the pattern you are at already.
Then you can start knitting the ribbing. The ribbing is common to knitted hats to make it easy to fit the head. The first row will create the edge of the hat. It should be made of all knit stitches.
The second round will start the ribbing pattern. Repeat the pattern of a knit stitch then a purl stitch until you reach the end of the row. Repeat the pattern of stitches you made for round two until you reach the height of ribbing you want. Six rows of ribbing stitches is a good number.
When the ribbing part is done, knitting the rest of the hat is even easier. You only make the knit stitches for every row from here on. If you have reached the desired length of your hat, you can stop making the knit stitches. Remember that the length of the hat will define how slouchy it will look when worn.
To finish knitting the hat, you need to make a decrease by using the decrease method K2tog. It only means that you need to knit two knit stitches together. You make one knit stitch, then K2tog for the next two stitches. Follow this pattern until you reach the end of the row. For the next row, make all knit stitches. For the last row of your hat, K2tog then 1 knit stitch pattern until the end of the row.
You do not need to cast off to finish your hat. Get a long tail of yarn. Using a yarn needle, thread it through the remaining stitches, pulling them out of the knitting needle simultaneously. Pull together until the top of your hat is closed off.
You can put accents on your hat like a pompom at the top or embellish it with lovely beads if you do not like it plain.
More pages:
Do I need circular needles to knit a blanket?
The recommended needles to knit a blanket are circular needles. Even though blankets are knit flat and not in the round, you can still use circular needles. The process is still the same as knitting with straight needles, but you have to flip your work at the end of each row.
The advantage of using circular needles to knit a blanket over straight needles is that they are long enough to hold an entire blanket. You have to find straight needles which are long enough to accommodate the whole width of a blanket. Blankets can get heavy, and knitting one using straight needles can add strain to your wrists, arms, and shoulders.
It does not matter what yarn material you use to knit your blanket; it will always be less tiring to knit with circular needles because you can always lay your knit blanket on your lap as you work.
If you have been knitting your flat pieces with straight needles, try knitting your blanket using circular needles this time. Here are a few basic steps to guide you.
To start knitting a blanket using circular needles, cast on stitches as you would if you are using straight needles.
When you have cast the desired number of stitches for your blanket, you can start knitting the same way you do with straight needles. Knitting with circular needles is just like using straight needles; only your needles are connected by a cord.
When you reach the end of the row of your knitting, turn your knitting around the same way you would when knitting with straight needles.
Repeat the method of knitting until the end of the row then, turn your work to create a flat knit piece. Make as many rows of knitting as the pattern requires or how long a blanket you want to knit.
It is now easier to decide whether to pick up the straight needles or the circular ones to knit a blanket.