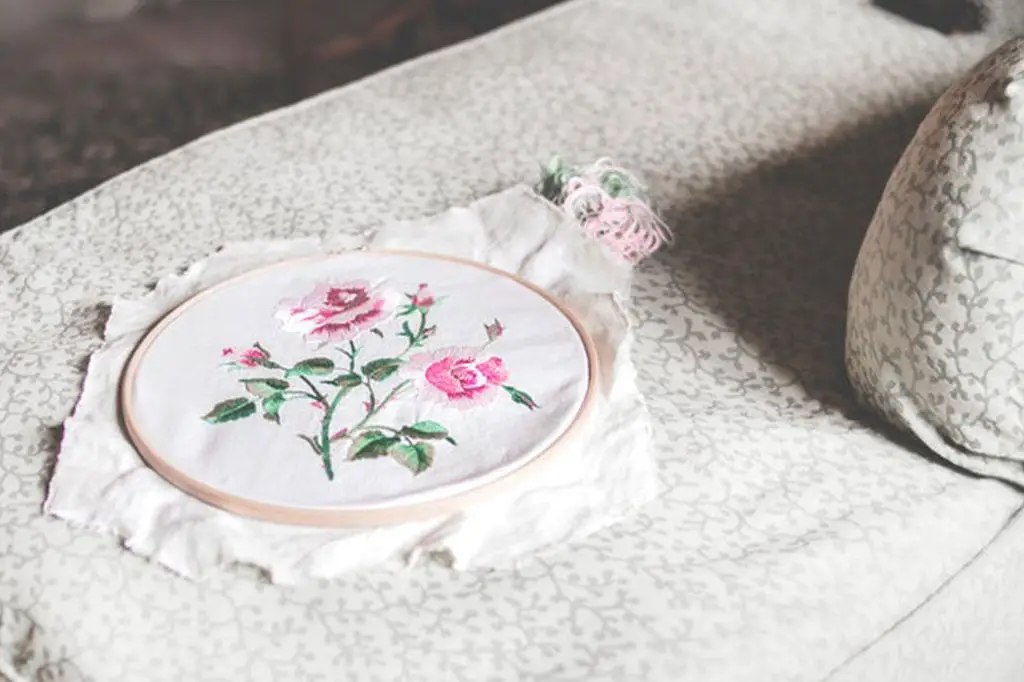 The embroidery business makes money. Craftworks, novelty items and customized products are booming trends these days. Many arts and crafts enthusiasts are transforming these hobbies into money-making businesses.
Embroidery businesses make money for creative and entrepreneurial people. They incorporate talents, ambitions, and technology to profit from this century-old craft. Embroidery business is a new way to maximize and monetize your hobby.
Many individuals and embroidery businesses have earned their fortune from this hobby. You too can take advantage of this business. You can profit from this hobby with the proper mindset and embroidery technology. You can sell your embroidery projects online or offer customization services to companies.
Yes, you've read that right. Companies use embroidery. They use this technique to customize logos on uniforms and marketing items. Hotels also use embroidery to imprint their names and logos on towels and linens. Clothing companies use embroidery on their designs and labels.
All these and more prove that embroidery businesses make money. You can take part in this blossoming industry. Apply your skills, creativity, and new embroidery innovations. Who knows, you might be up for a great fortune ahead!
Is An Embroidery Business Profitable?
The embroidery business is profitable whether you do it by hand or by a machine. For starters, hand embroidery is profitable. You can make a good amount of income making projects for friends, coworkers, and families. You can also sell them on different online platforms. The options are endless as long as you know how to market your crafts.
You can start an embroidery business any time you want. You just have to decide the scale of your business. Will you be selling your random works online? Are you going to accept made to order projects? Or Do you want to level up and use an embroidery machine?
Regardless of your choice, the embroidery business is profitable. You may start small and move up into a bigger scale by utilizing embroidery machines. These machines are useful for transforming your creativity into a real money-making enterprise.
In 2015, the commercial embroidery has generated a whopping revenue of $732 million. Now, that's not just numbers. The embroidery business is profitable because embroidery has infinite uses.
Look at those fancy designs on luxury linens, curtains, gowns, and furniture upholstery. Those are all products of embroidery.
How Much Money Can You Make With An Embroidery Business?
The embroidery business can be a lucrative venture. It's an industry where you can profit from your creativity coupled with technology. You can take your embroidery hobby into a full-blown business. You can use the latest embroidery machines to take your income to a higher notch. Do you know that commercial embroidery has recorded more than $700 million in revenue in 2015? And that's just a year's revenue.
Here's a clear example of how much money you can make with the embroidery business. Say, you sell a shirt with an embroidery logo for $40. The cost of the shirt is around $10, and $2 for the logo, and $20 for your hourly rate. If a company orders 100 shirts, and you finish them in 8 hours. You will have a net profit of $2640 a day – easy-peasy!
Of course, it's possible if you have a high-speed embroidery machine. You can accept more projects and finish them faster.
The embroidery business indeed is a potential source of huge income. With the right business plan, good machine, and marketing skills, you'll soar.
How Do I Start My Own Embroidery Business?
Check the following tips to help you start your embroidery business.
1. Identify all the materials you need
Embroidery machines
Computer
Embroidery blanks like caps, t-shirts, visors, etc.
Work area
Power supply for your embroider machines and computer
Quality embroidery threads, needles, backing, scissors, etc.
Clean storage area
Paper bags for your finished products
Embroidery designs or design software
2. Determine your market
This is very important in your business plan. Identify who you want to offer your services. Do you want to offer customization services for companies? Understanding your target market will help you scale your business. Keep in mind that bigger companies may need huge orders. Starting with small local businesses in your area is a good start.
3. Build your network
Once you have your initial sets of customers, build rapport. Then, ask for recommendations. They may recommend you to their other business partners or affiliates.
4. Offer more services to your current customers
If your current customers order embroidered logos for their uniforms, offer them more. You may customize their giveaways and marketing materials.
5. Continue creating your customer list
Do not stop growing your list. Always look for potential customers for your embroidery business. Your list is crucial to the growth of your business and income.
6. Establish your brand
It's important to distinguish your company and services from the rest. Establish your brand by making you the expert on your craft in your area.
7. Be visible. Be social
If you want your business to thrive then build your online presence. Have a website and show your works. Use social media to connect to your customers and would-be customers.
8. Give special offer
This is a good strategy for new customers. Giving them a special price or premium service helps you gain their confidence.
9. Explore partnerships
You can approach local laundry shops and offer them a partnership. Give special discounts to their customers who may need your services. You can build partnerships with any business if you want to. Make sure to give them a nice offer.
10. Establish excellent customer service
Always value your customers. It's not enough that you sell them your embroidery products and services. Listen to their feedback and address them as soon as possible. Customers are the lifeblood of your business.
How Do Embroidery Machines Make Money?
Owning embroidery machines is like having a cash cow. Through these machines, you can make good amounts of money. Embroidery machines help you design, embellish, create and customize any kind of fabric.
All these functions plus efficiency can generate good profits. Imagine the number of ways to capitalize on your embroidery machines. You can embroider bags, jeans, jackets, leather bags, quilts, and more. A lot of people love the idea of customized designs on their things, and that means income for you.
You can also offer monogram embroidery services. You can put customized monograms on wedding favors, baby items, and company giveaways. The possibility of earning from your embroidery machines is limitless. All you need is a machine with advanced technology, and you're ready for some serious business.
What Is The Best Embroidery Machine To Start A Business?
The first step to start your embroidery business is to get the best embroidery machine. There are many brands of machines in the market. Each has its pros and cons, so you have to be careful in choosing yours.
Your embroidery machine is one of the biggest investments for your embroidery business. You need to make sure that everything you need is in a particular machine. The following are some tips on how to buy your embroidery machine.
Know the largest size design the machine can embroider
This is important because you don't stitch the designs on the edge of the hoop. It means you must look at the internal size of the machine. Check the distance between the body of the machine and its needle. This determines the largest width it can embroider. Simply put, the longer the machine, the wider the embroidery design.
Determine the number of hoops come with the machine
Scout for an embroidery machine that has many hoop sizes. Make a checklist of your top embroidery machine choices. Write the number of hoops each machine has. Choose the one with the most number of hoops. Remember, you will be working on projects with varying hoop sizes.
Choose a machine with easy color touch screen
These kinds of embroidery machines have more options. Check the touch screens of your preferred machines. Navigate each to check which is easier to use.
Buy a machine that can combine two or more designs on screen
Not all embroidery machines can combine 2 or more designs on the screen. In case your choice doesn't have this, you can buy the software. It's great if you can buy a machine with this feature.
Choose a machine that works with the technology you use
Transferring designs from your USB to the embroidery machine is easy. You can create your design elsewhere and save it on your USB. Some prefer machines that can connect to WIFI. Whatever the technology you use, always go for a machine that works well with it.
It's smart to buy a machine that offers more than one function. Even if you have a separate sewing machine, a 2-in-1 embroidery machine is great. It has both embroidery and sewing features. This type of machine offers more features and functionalities.
Buy an embroidery machine with more font styles
This will give you more options in designing logos or monograms. If your machine choice does not have many alphabet styles, you may have to buy software for it.
You must buy a machine with a long-term warranty on parts and software. This comes handy if you encounter technical issues on it in the future.
Getting a new embroidery machine can be overwhelming. You might get intimidated by its functions. In this situation, having accessible technical support is helpful.
How Do You Price Embroidery?
Some embroidery professionals charge per 1,000 stitches for a basic design. Extra charges may apply for digitizing and customization of designs. Here are the factors that you need to consider in pricing your embroidery
Details in a logo or image
The more intricate the design is, the higher the cost.
Number of thread colors needed
Some designs use several colors so make sure to include it in your pricing.
Type of item you will work on (jeans, cotton fabric, leather bag, etc.)
Each fabric or material requires different embroidery techniques and threads. You may charge higher for leather than jeans.
Cost of the merchandise if the customer will not provide
Direct embroidery or custom patches
Does the customer want the embroidery design stitched on the material? Or Does he want an embroidered patch and stitched it over the material?
Number of items you will embroider
You may give a discount for large volume orders
How Do I Market My Embroidery Business?
There are many ways to market your embroidery business. Here are great marketing means you can use:
Word of mouth
Satisfied customers will always recommend you to their friends and relatives.
Join fairs and expos
This is great to showcase your products. You can join seasonal fairs and expos on Valentine's, Mother's Day, and Christmas.
Printed materials
You may still do this if you have local papers in your area. You can print leaflets, discount coupons, or brochures. Then, ask the publishing house if they can insert them in the papers.
Use the Internet
This is the fastest way to get your works out in the world. Create social media accounts and advertise your works to your customers.
Network
You can connect with local businesses in your area and ask if they need embroidery services. Schools and companies use embroideries for their uniforms.
When you understand your customers, it's easy to market your business. Know who your customers are, and you can market your business in many ways.
What Can I Make With An Embroidery Machine?
There are tons of things you can embroider with a machine. Here are the top 10 uses of your embroidery machine.
Customize or personalize gifts
Beautiful appliques and wall decors
Embellish linens, curtains, and home decors
Quilts, towel, and handkerchiefs
Customize designs on bags, caps, visors, and shirts
Uniform and company logos
Uniform patches
Design patches for jeans, jackets, and bags
Monograms on baby clothes and wedding favors
Sneakers
How Do You Embroider Oven Mitts?
Get the mitten pattern. Divide it into two sections.
Cut the two sections and label them at the back as "Right" and "Left".
Then, prepare the quilted fabric.
Trace the embroidery design on the spot where you want to put the design.
Trim the excess fabric for easier embroidery. Use masking tape to keep the fabric in place.
Attach the hoop to the machine.
Load the design, then align the needle directly over the center of the design.
Do the embroidery process.
When you finish your embroidery design, take off the hoop, and trim the excess stabilizer.
Get the padding and back materials of the mittens.
Sew the mittens on the wrong (opposite) sides of the fabric.
Make a zigzag stitch on the edges.
Finally, sew bias tapes on the edges of each mitten.
Bottom Line:
Embroidery is easy for people who enjoy fabric decorating. Whether by hand or by a machine embroidery is easier than you think. This craft has been popular for centuries, and many remain avid fans of it.
The embroidery techniques are easy to follow. Through constant practice, you can improve your skills in no time. The same goes with embroidery using a machine.
Embroidery using a machine can be intimidating at first, but it's fun, easy, and fast. What it takes is to get familiar with the machine and the software.
Whether you do embroidery by hand or by machine, this hobby is rewarding.