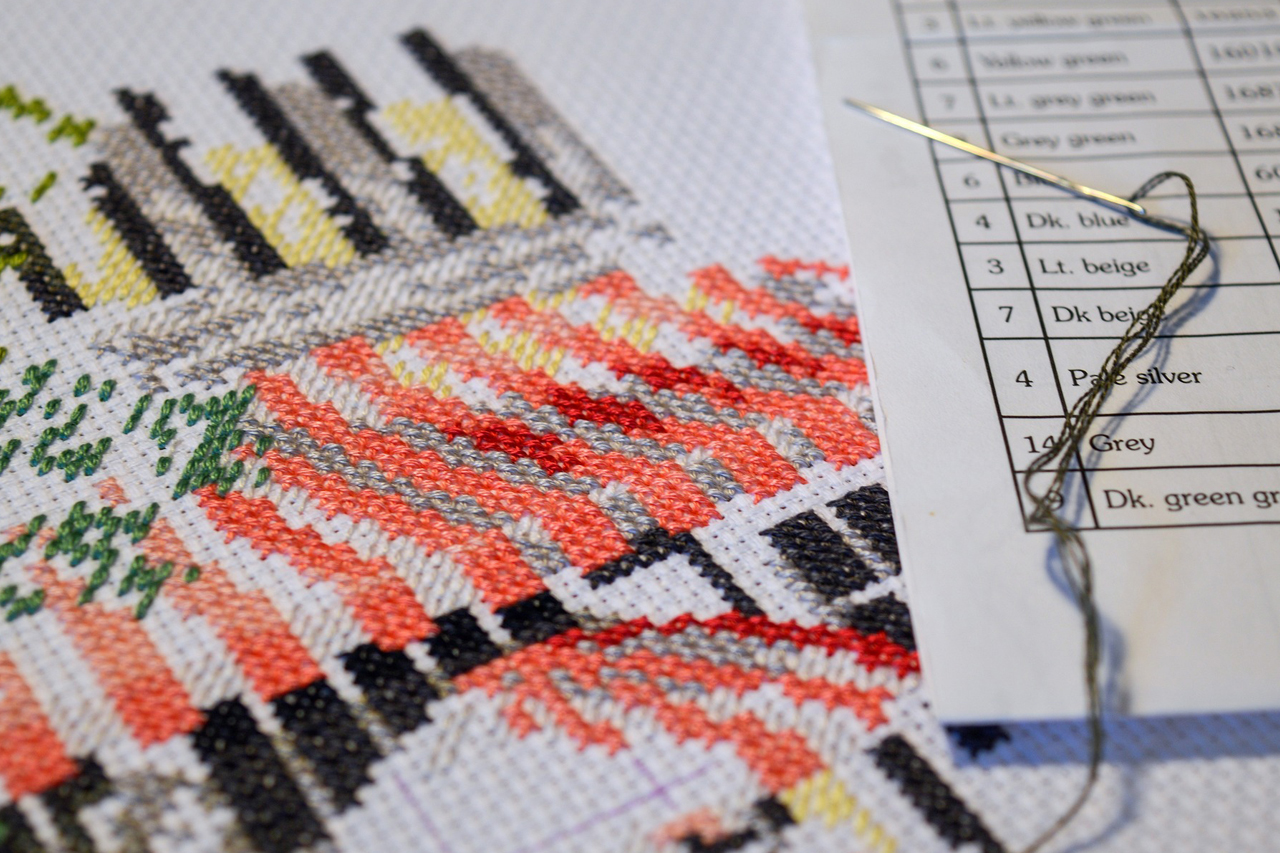 There is a dispute about whether cross-stitch is considered fiber art or not. Whether cross-stitch is an art or craft is still a question within the stitching community.
Cross-stitch is a type of sewing more popularly known as counted thread embroidery, using X-shaped stitches to form a picture or design on an even weave fabric.
What is Considered Fiber Art?
First, we must define what fiber art is. Fiber art is doing works that use a combination of matter made out of natural or synthetic material.
Fiber art deals more with the materials and the manual labor used as part of its importance. You can also define fiber art as creating art forms using materials like fabric, yarn, and natural and synthetic fibers.
Fiber artworks communicate some meaning, emotion, or message to its viewer that goes beyond the literal meaning of the materials used. When something is made from fiber and is functional, it is not usually considered fiber art.
What are Some Examples of Fiber Art?
Some forms of fiber art include quilting, needlepoint, sewing, macrame, weaving, crocheting, embroidery, rug-making, basket weaving, and more.
Knitting – is the technique of making a piece of fabric by interlacing yarn loops with loops of the same or different yarns. Knitting is a more appropriate method for making different types of garments.
Quilting – is a type of fiber art using layers of fabric sewn together.
Weaving – is a technique to produce fabrics by twisting together two sets of yarns at right angles to form a material.
Crochet – the process of creating patterned fabrics with a crochet hook by interlocking loops of yarn, thread, or strands of other materials.
Applique – is an ornamental needlework wherein pieces of fabric are sewn or stuck onto a more significant component to form a picture or a pattern.
Rug Hooking – used to make rugs by pulling loops of yarn or fabric on a stiff woven base such as linen, burlap, rug warp, or monks cloth. A latch hook mounted on wood pulls loops through the backing.
Macrame – a crafting technique that uses knots to create different kinds of textiles
Lace Making – the process of making a delicate decorative fabric with silk, cotton, and other fibers by weaving them in an open web of symmetrical patterns and figures
Flocking – the technique used to deposit many small fiber particles called flocks onto a surface.
Tatting – a method used to handcraft a predominantly sturdy lace made by a series of knots and loops
Tapestry – this piece of thick fabric with designs is created by weaving colored weft threads or embroidering on canvas. You can utilize it as a wall hanging or furniture covering.
Basketry – is the craft of producing interwoven objects from flexible organic fibers such as twigs, grasses, bamboo, etc.
Patchwork – a type of needlecraft involving sewing together pieces of fabric into a larger design. The patchwork design uses repeating patterns of various geometric fabric shapes that you can easily piece together.
Braiding – method of interlacing three or more yarns or bias-cut cloth strips in a way where they cross one another and where you lay them down in a diagonal formation. This technique produces a narrow strip of flat or tubular fabric.
Felting – the technique of creating fabric by combining and compressing loose fibers, wool, or hair.
Embroidery – the craft of decorating textiles or other materials with a needle to apply thread or yarn
Surface-thread Embroidery – designs are sewn without regard to the weave of the underlying fabric.
Counted-thread Embroidery – is a type of embroidery where you make the stitches over a pre-determined number of threads on the foundation fabric. Cross stitch is one example of counted-thread embroidery.
Needlepoint – the technique used in needlepoint is similar to the counted thread, where threads are stitched through a fabric mesh to produce a dense pattern that thoroughly covers the foundation fabric.
Embroidery is a type of fiber art, and cross-stitch is considered a part of it. But up to the present, it is still an ongoing debate whether cross-stitch embroidery is an art or craft.
What Type of Art is Cross-stitch?
Cross stitch is an embroidery type that calls for stitching one cross after another onto a fabric grid to create different designs.
You can perform a cross-stitch partially, for example, in a quarter, half, or three-quarter stitch. Usually, a cross-stitch piece uses single straight stitches to create the outline of a design, to add detail or definition to your work.
Many types of stitches are related to cross-stitch because they look structurally similar. Some are the Italian cross-stitch, long-armed cross-stitch, and Montenegrin Stitch.
These stitches look slightly different from ordinary cross stitches because they are reversible. The design looks the same on both sides of the fabric.
These stitches are more complicated and not used in typical cross-stitch patterns or embroidery. The more creative and adventurous stitchers are, the more they like using and re-constructing antique embroidery.
Another form of cross-stitch is the Leviathan or Smyrna cross-stitch which combines a cross-stitch with an upright cross-stitch.
Other types of stitches that are similar in structure to cross-stitch are Berlin wool work and petit point, which have designs that are usually heavily shaded.
There are cross-stitch designs that do not use cross-stitch on a project alone. You can often see it in combination with different types of embroidery like blackwork or Hardanger embroidery.
Other times, you can also combine it with different types of needlework, like drawn thread work. Use embellishments like buttons, beadwork, or charms on your cross-stitch work.
Is Cross Stitch a Textile Art?
Cross stitch is a textile or fiber art because it is embroidery. Embroidery is a textile art because it has the elements that textile art entails. Cross stitch as a form of embroidery got what it takes as textile art.
Textile art is the process of making something using natural fibers, which is why it is interchangeably called fiber art. The focus of textile art is more commonly on shapes and patterns. The primary sources of textile art are animal, plant, mineral, and synthetic fibers.
Examples of animal fibers are wool and silk, while plant fibers come from cotton, bamboo, jute, or flax. Samples of synthetic fibers are acrylic, nylon, polyester, and rayon, while mineral fibers are fiberglass or asbestos.
Textile art uses varying materials and fibers to produce decorative and artistic objects. Textile art is one of the oldest forms of art in history.
But textile art still needs to be classed as an art form even up to the present.
Therefore, even if the description of a cross stitch piece is something you can use to adorn or beautify an area that uses fibers, it is still not considered an artwork by many because you can work on it from a printed chart.
What is usually considered art are those that evoke meaning and are not functional but serve as ornaments only.
Textile art is, more often than not, treated as a lower form of art than others. World-leading artists prohibited fiber art from the Royal Academy of Art in the 18th Century. The Institution did not display needlework and stitching because textile art was not considered a proper art form during that period.
During that time, art from Western civilizations was considered proper art. Europeans discovered African textiles then, but the colonialist approach did not believe them to be fine art.
There is still scorn for textile or fabric art up to this day. Aside from viewing it as less sophisticated because other cultures created it, textile art was also perceived as manual work by women.
The art world puts prejudice over fiber art as women's manual work, which is not valued or celebrated.
When the work created is rooted in textiles, it is considered fiber or textile art. The question still hangs whether your work is a craft or an art.
These days, the line between textile art as a craft and art is becoming narrower. Textile art, whatever form or style it is, has become more popular with people of varied ages.
Since crafts like needlework, sewing, and cross stitch have become popular and readily available these days, more people are interested in crafting.
Some people are even more creative with textiles nowadays, especially contemporary artists who look for unique or sustainable materials for their works of art. It is getting more challenging to define which is an art and which is a craft.
Artists can make art using textiles or fabrics without any purpose than for entertainment and viewing only. You can also find many types of textile art on day-to-day objects like rugs, blankets, carpets, etc.
These days, the gender of the crafter does not matter. Textile art, in any form, be it embroidery, knitting, crochet, quilting, and many others, is an excellent medium for artistic expression.
Textile art is becoming mainstream modern artists use a wide range of fabrics and techniques that bring forth other forms of art. Fiber art is getting more accepted by the art world, and more people are interested in exploring various materials to express creativity.
In the case of cross-stitch, most pieces are made for ornamental purposes only to enhance the beauty of a space or an item. So, for a cross stitch work to become an art piece, it must convey a message.
The only well-known cross stitch artist is Severija, who uses the craft with historical objects and helps relay a message to the viewers.