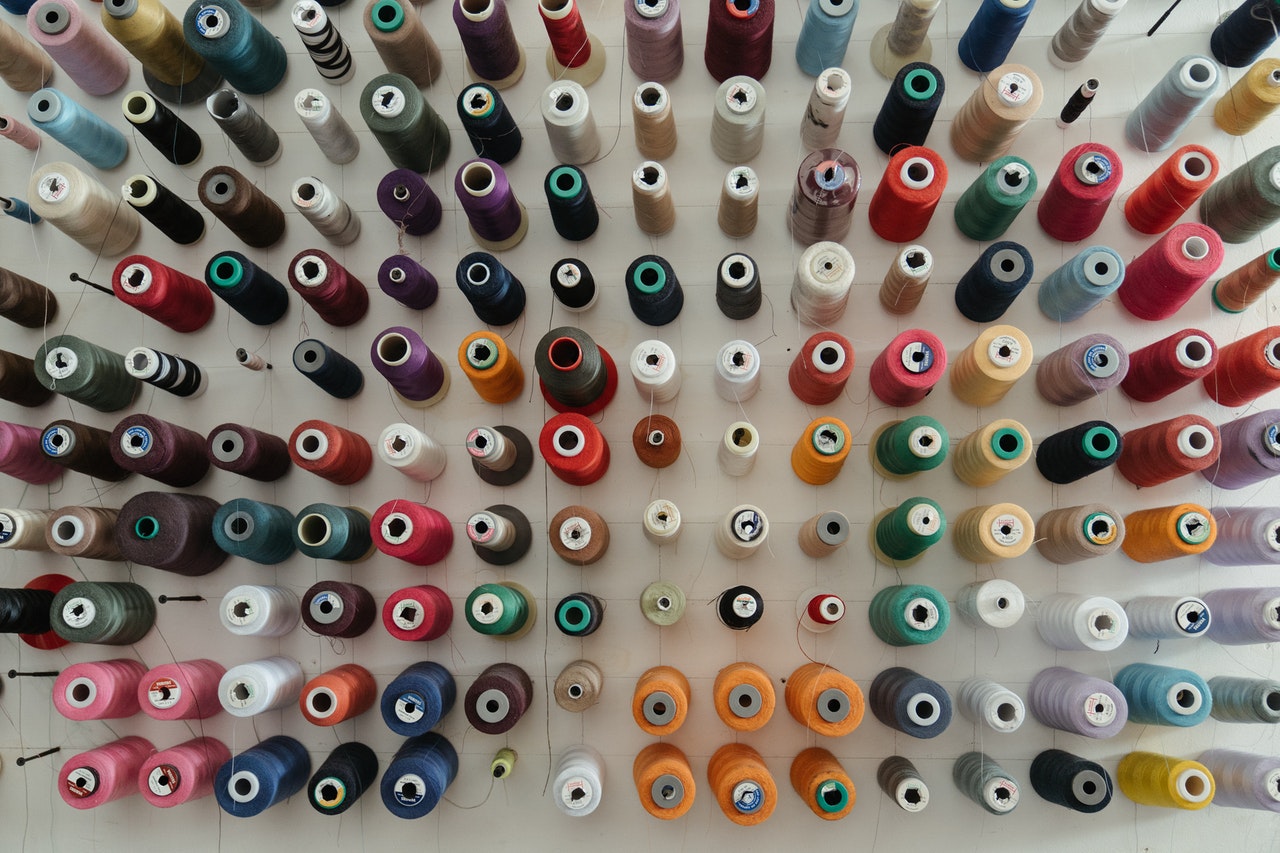 Did you ever wonder what other options you can use when you run out of embroidery thread? Did you ever wonder if you can embroider with sewing thread? If yes, then I have fantastic news for you. Yes, you can embroider with sewing threads!
Do not be afraid to try other thread types that look interesting to you just because they are not specifically for embroidery. It is okay to experiment on your own! Various weights and textures will add a new dimension to your embroidery.
The process and result of using sewing threads to embroider are much like working with embroidery threads. You will get various types of unique finishing looks as with other thread types. Please continue reading to find out more about these fantastic hacks!
How to use sewing thread for embroidery?
Sewing threads come in various weights, which are often according to their intended use. These different weights also create many looks in the stitching because of their thickness or thinness.
Smaller numbers represent thinner threads, and larger numbers represent thicker threads. Follow this simple guide on how to use sewing threads for embroidery:
Some embroiderers recommend using 28wt sewing thread as an alternative for machine embroidery. Some people think it is somehow like a single strand of embroidery floss. But it is thicker, and using finer sewing thread may be a good option too.
First, cut off three strands of your 28wt thread, then hold them all together to thread your embroidery needle. And that is pretty much it! As I mentioned, the process of using sewing threads is much like working with embroidery threads.
But, of course, it will not be entirely the same. Threads come in various textures and look. So your finished embroidery will depend on how your sewing thread's appearance. Its appearance includes its shine, its texture, and its thickness or thinness.
Here is another guide on using sewing threads for embroidery. But this time, I will tell you how you can use thicker sewing threads, such as a 12 wt sewing thread.
You can usually find 12wt sewing threads used for decorative sewing or quilting. And since embroidery is a type of decorative sewing, it is no surprise that it can work well.
12wt is comparable to fine-weight Perle cotton, sulky, and two strands of floss. So you can embroider with a 12wt sewing thread with just one strand or piece. The result will still depend on your thread's appearance, but the thickness is pretty much the same.
Do not worry if you prefer wool because it can also work for embroidery! Some embroiderers recommend wool for machine applique, quilting, and some handwork.
Although wool sewing thread is more delicate than most crewel threads and handspun wool floss, it can also work well. You can use just one strand like the 12wt sewing thread because their weights are relatively close.
You will find that the stitching using wool sewing thread is soft and fuzzy, just as you would expect. You can also use it for fill stitching, and the result will be beautiful!
Interesting read: Pick the right thread for your Janome sewing machine
What thread should I use for machine embroidery?
There are different thread types that you can use, but 30 to 50wt silk threads are the most appropriate for machine embroidery. Although they are well worth considering, they cost more and are not as readily available as other threads. Here are more embroidery thread types:
As I mentioned, silk thread is the most appropriate thread for your embroidery machine. It absorbs dyes more brilliantly than other fibers. Many believe that it is the aristocrat of specialty threads because of this absorption ability.
Besides its absorption capacity, it also combines polyester's strength and cotton's stability. These characteristics allow silk threads to sew smoothly without breaking too easily.
It possesses a distinct sheen unmatched by other threads, which gives off beautiful results in embroidery! Silk threads come in different sizes, but the 30 to 50wts silk threads are the most appropriate for machine embroidery.
Rayon thread is the most popular embroidery thread option because of its widespread availability. Like silk threads, it also has an attractive high sheen and consistent, trouble-free performance.
You can also expect rayon thread to hold up to high-speed stitching without breaking or fraying too easily. Rayon threads come in various solid and variegated colors. Some even come in a new twist thread that adds automatic shading and dimension to flat designs.
Polyester embroidery thread
Polyester embroider thread is a popular and affordable option. It can provide an effect like rayon and also comes in various colors. Polyester does not shrink, bleed, or fade, which is why it can work well with children's garments.
Rayon and polyester are interchangeable and can perform similarly without breaking or fraying. Although rayon thread has a slightly higher sheen, you will find it challenging to distinguish the two when combined in a single design.
Another great thing about polyester embroidery thread is that it is affordable and colorfast. You will discover that it can even hold up to chlorine bleach.
Many embroiderers often overlook cotton thread for use in automatic embroider machines. Even so, it can perform beautifully and has a soft, lovely sheen. It comes in weights up to a very fine 100, which many consider as heirloom quality.
But remember that finer threads tend to be weaker, so it is best to use 30 to 50wt cotton thread for machine embroidery. You will find that these weights are stronger and can provide better coverage.
Metallic embroidery threads
Although it needs more care in handling, metallic thread is an ideal option if you want to add sparkling accents to your designs. They have a center core wrapped with metal foil that has colored polyester films.
If you want the most durable and most desirable type, you need to look for threads with rice paper coating. This coating over the center core prevents the metal from stripping away. Some threads have a silver alloy coating that adds to their strength.
Understandably, some metallic threads may perform better than others because of the manufacturing complexities. If you want to try this thread, I suggest you experiment with different brands to see which you like best.
Like metallic embroidery threads, glittery mylar threads, various manufacturing aspects affect thread quality. This thread type is a flat filament thread made of plies of film layered together, then cut into slices to form a flat filament thread.
Mylar embroidery threads come in various colors and holographic hues. These hues pick up color and light from surrounding objects and add luminous accents to machine embroidery.
Manufacturers design these embroidery threads to be much stronger than they originally were. But because they ten to break with high-speed sewing, you need to follow special handling instructions.
Can an embroidery thread be used for regular sewing?
Remember that thread is still the same, no matter what type it is, even if some are best for specific projects. So, yes, you can use embroidery threads for regular sewing. But, you also need to remember that just because it is possible does not mean it is the best thing to do.
There are things to watch out for if you have no other options but to use embroidery thread for regular sewing. Although some embroidery threads are durable, they may not be strong enough for particular sewing projects.
You also need to remember that embroidery threads may be more delicate than regular sewing threads. Because of their thinness, these threads may create more lint, which can affect your machine.
Related: 
Can I embroider with a sewing machine?
Do you want to try embroidery but do not have a specialized embroidery machine? Do not worry because yes, you can embroider with a sewing machine!
How to embroider using a sewing machine?
There are various thread types you can use to embroider on your sewing machine. And now that you know that you can embroider on a regular sewing machine, you can follow these tips on how to embroider using a sewing machine:
Lower your machine's feed dogs.
You will discover that you can have more space for movement while sewing by lowering or covering up the feed dogs. You can also guide your sewing rather than letting the machine pull and move the fabric.
Remember that different sewing machines have different operational instructions. It is best to consult your machine's manual to learn how to lower the feed dogs.
Use fully-wound bobbin thread.
You can use any thread in the bobbin, but you need to ensure that it is full. It is an effective way to use up thread colors that you do not intend to use for other projects. Doing so will also prevent interruptions while working on your project.
If you did not know yet, embroidery hoops are essential for machine embroidery. It will help keep your fabric smooth and taught and makes it easier to move the garment. Just pulling the fabric by hand will not have the same effect.
Use a stabilizer if necessary.
Stabilizers work best with slippery or thin fabrics that tend to pucker up when embroidered. You can use different styles, such as those that tear away around the embroidered area.
You can also use stabilizers that dissolve when you wash them in water. There are also other stabilizers that you can trim around the embroidered area when you finish stitching.