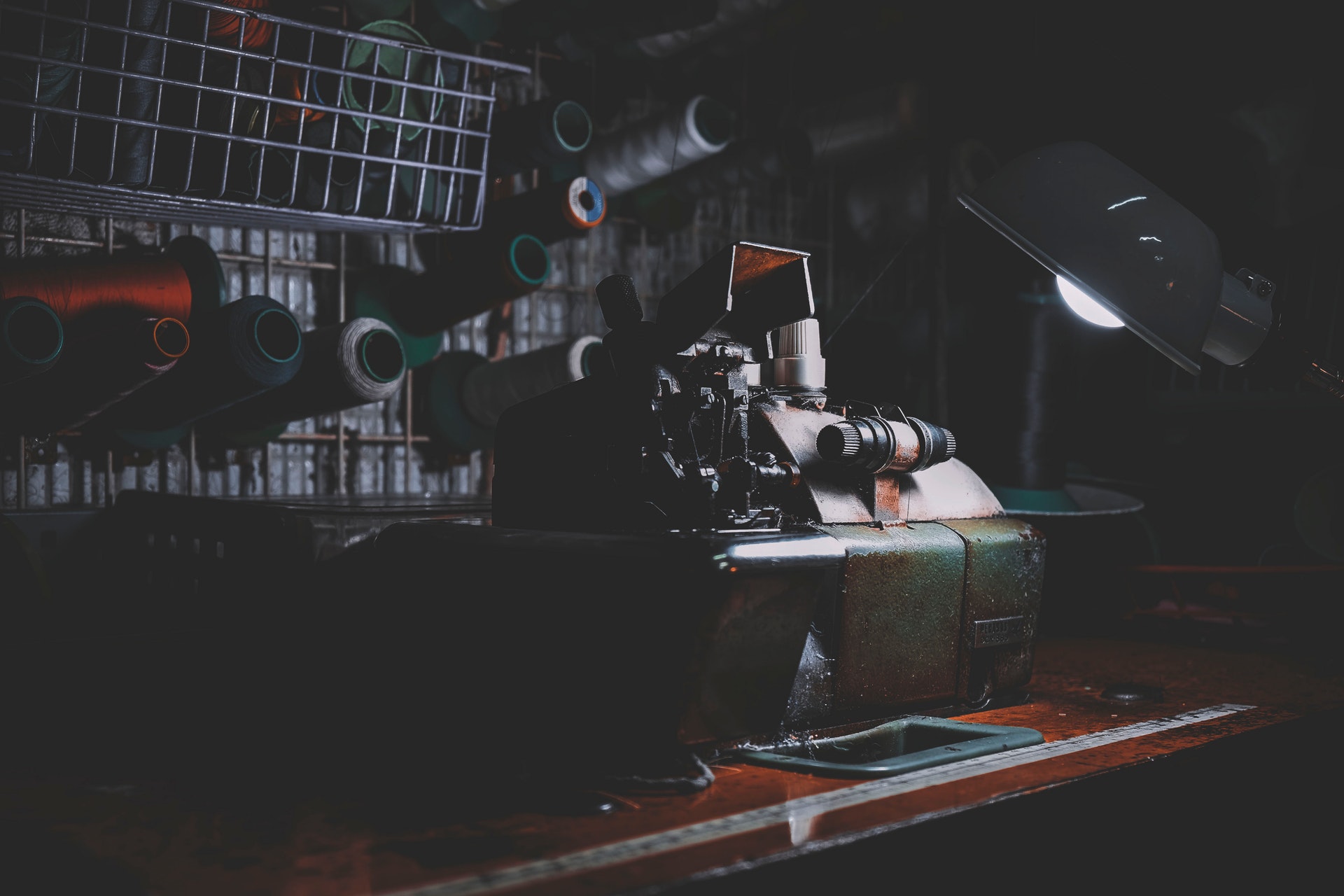 Kevlar is an incredibly strong material. So you need to pack many layers together to sew something effective out of kevlar.
You have to tightly sandwich the layers together to make the best use of them. Sew x patterns all over your kevlar like you would in a quilt. Doing so will compress it.
Kevlar resists high-speed, blunt objects, but it is not as effective against sharp low-speed objects like needles. There should be no problem with sewing this strong material. But you need to keep in mind that it is thicker than other fabrics.
Remember that kevlar is a strong material, so you need to use either a heavy-duty sewing machine or an all-metal sewing machine. These machines will be much durable and can handle the extra stress of your kevlar.
It will also be best if you use a canvas or jeans needle that is titanium-tipped. These tougher types of needles will be able to go through thick materials such as kevlar.
What is kevlar?
Kevlar is a heat-resistant and strong synthetic fiber. Manufacturers usually spun it into ropes or fabric sheets used as such or an ingredient in composite material components.
Kevlar is a high-strength, highly durable material that has many applications. Its properties make it an ideal fiber for personal protective equipment and fiber optic cables.
The strength of kevlar comes from its interchanged bonds and cross-linked hydrogen bonds. Kevlar also has an impressive tensile strength, which is over ten times stronger than steel.
What is kevlar used for?
Kevlar has many applications, such as gloves, jackets, sleeves, and other protective gear. You can use kevlar for the following:
Kevlar is useful in cryogenics because of its high strength for suspension purposes. You can commonly see kevlar used to suspend a paramagnetic salt enclosure from a superconducting magnet mandrel. Many found it to be useful in minimizing heat leaks.
Making personal armor is one of the most popular applications of kevlar. These pieces of armor include combat helmets, ballistic face masks, and ballistic vests. The famous helmet and vests used by the United States military forces use kevlar as a key component in their construction.
Other military uses of kevlar include bulletproof face masks and spall liners. You can also find kevlar in high-heat resistance uniforms and body armor used by uniformed personnel.
One of the most popular applications of kevlar is for personal protection. Kevlar-based protective gear is often lighter and thinner than those made from traditional materials. These pieces can be gloves, sleeves, jackets, and chaps.
You can also find kevlar used for motorcycle safety clothing, such as shoulder and elbow paddings. In fencing, protective jackets, breeches, plastrons, and mask bibs also have kevlar components.
Speed skaters also wear a kevlar under-layer fabric that prevents potential wounds from skates. Kevlar is also increasingly becoming popular in producing padded coverings that protect a picador's horse.
In Japanese archery, many use kevlar as an alternative to more costly hemp used for bowstrings. You can also see kevlar as one of the main materials used for paraglider suspension lines. Some bicycle tires also have inner linings made of kevlar that prevent punctures.
Many also add plies of kevlar to custom paddles in table tennis. Doing so will increase bounce and reduces weight on the paddle. Kevlar is also sometimes found strung in tennis racquets.
With the help of technology, Nike used kevlar in their shoes in 2013. It decreases the tip of the shoe's elasticity. Adidas also used kevlar in the laces of their F50 adiZeroPrime football foot.
Several manufacturing companies produce cycle tires with kevlar to protect them against punctures. Folding-bead bicycle tires also use kevlar as a bead instead of steel to reduce weight and add strength.
Many also found kevlar to have useful acoustic properties for loudspeaker cones. Many manufacturers also use kevlar to add strength to fiber optic cables.
You can also find kevlar used as an acoustic core on bows for string instruments. It provides strength, flexibility, and stability for the player. Some tailcords have kevlar components that connect the tailpiece to the endpin of bowed string instruments.
Some marching snare drums also have kevlar components, which allows an extremely high amount of tension. With this tension, the drums can produce a much cleaner sound. You can also find kevlar on some patches used to reinforce bass drum heads where the beater strikes.
Many manufacturers use kevlar in the woodwind reeds of Fibracell. They come as stiff but absorbing fibers suspended in a lightweight formulation.
Chassis and bodywork of motor vehicles
Some high-value performance cars, such as the Ferrari F40, use kevlar in their chassis and bodywork.
Kevlar's high heat resistance allows it to be useful in producing wicks for fire dancing props. Because kevlar does not absorb fuel very well, manufacturers blend it with other materials, such as fiberglass or cotton.
You can find kevlar in ropes and cables, where they are kept parallel within a polyethylene sleeve. These cables are useful in suspension bridges, such as the bridge at Aberfeldy in Scotland.
Kevlar can also stabilize cracking concrete cooling towers. Many do it by circumferential application followed by tensioning to close the cracks.
It is also a popular protective outer sheath for optical fiber cables. It is because kevlar's strength protects the cable from damage and kinking.
Scientists at the Georgia Institute of Technology used kevlar as a base textile for their clothing experiment. If they are successful, the innovative fabric can generate up to 80 milliwatts per square meter.
Montreal's Olympic Stadium for the 1976 Summer Olympics had key kevlar components in its design. But, it was incredibly unsuccessful as they completed it ten years late.
Expansion joints and hoses
You can find kevlar as a reinforcing layer in some rubber bellows expansion joints and rubber hoses. These are useful in high-temperature applications. You can also find it as a braid layer used outside of hose assemblies that adds protection against sharp objects.
Some smartphones use kevlar components because of their lack of interference with signal transmission. Some of these smartphones are the Motorola RAZR Family, the Motorola Droid Maxx, the OnePlus 2, and Pocophone F1.
Marine current turbines and wind turbines
Some kevlar fiber/epoxy matrix composite materials are useful in marine current turbines or wind turbines. It is because it is lightweight, and it has high specific strength.
Related: 
What is kevlar made from?
Kevlar consists of a chemical compound called poly-para-phenylene terepthalamide. Manufacturers produce it by creating a chemical reaction between an acid and a chemical solution.
How to sew kevlar into jeans?
Motorcycling is a dangerous activity, which is why you need all the protection that you can get or make. Follow this simple guide to make your DIY armored motorcycle pants:
First, decide which features you want to include in making your pants. You can choose the following characteristics for your armored pants if you want to:
Reinforced abrasion protection
Slip liner for better general comfort while wearing your pants
Full circumference pant-jacket zipper connection
Tailbone protector
Leather reinforcement at heels to avoid stepping on them
Knee sliders
Next, you need to prepare your materials and tools. What do you need to make your DIY armored motorcycle pants?
Jeans – it would be best if you use kevlar pants. But you can also use regular jeans as an alternative.
Reinforcement fabric – you need one full yard of fabric that is abrasion-resistant.
Appropriate zippers
Athletic mesh polyester fabric – you also need one full yard of this material for your inner slip liner.
Heavy-duty thread
Icon D30 back armor – if you want a tailbone protector.
Large velcro strips and knee sliders – if you want to add sliders.
Heavy-duty sewing machine
Seam ripper
Heavy-duty scissors
For the abrasion-resistant fabric, you can buy Schoeller Keprotec. It is affordable, and you can buy it in small quantities, unlike the normal knit-kevlar material. This material also has a high-tensile polyamide component and kevlar.
Make the tailbone protector first. (optional)
Trim a D30 CE 1 Back Protector with a razor.
Use a bench grinder to make the edges smooth.
Make a pocket for your tailbone protector using a thin fabric.
Sew the pocket into the right place on your pants with a size 100 jeans needle and a T138 upholstery thread. Remember not to sew through the pad. Instead, you need to catch the edge of the pouch made with the thin fabric.
Add your knee slider patches. (optional)
Sew together two pieces of 4" Mil-Spec Velcro. Use double stitching both between the pieces and when you stitch them to the pants.
You can also sew together many thinner velcro pieces if you cannot find 4" velcro.
Add the reinforcement layer to your pants.
Attach a full yard of Schoeller Keprotec's fabric. Place this at the center-back and simply improvise the shape of your pants. Make sure to extend the pants as flat as possible so your liner will fit correctly.
Unstitch the lower attachment points of the belt loops using your seam ripper.
Mark the center of the fabric and line it up with the center of your pants' rear. Remember that your pants should be inside out when you do this step.
Sew the fabric just below the beltline as close as possible. You need to make sure that you fold the fabric before sewing to prevent it from unraveling or rub against your body.
Stitch over the stitching that is already on your pants to add it to your main pants.
You can also add more cut-outs for the knee and groin areas for ventilation and more comfort.
Add a comfort liner.
Follow the same general procedure to attach your comfort liner as you did with the reinforcement layer.
After successfully attaching your comfort liner, you can now reattach the belt loops.