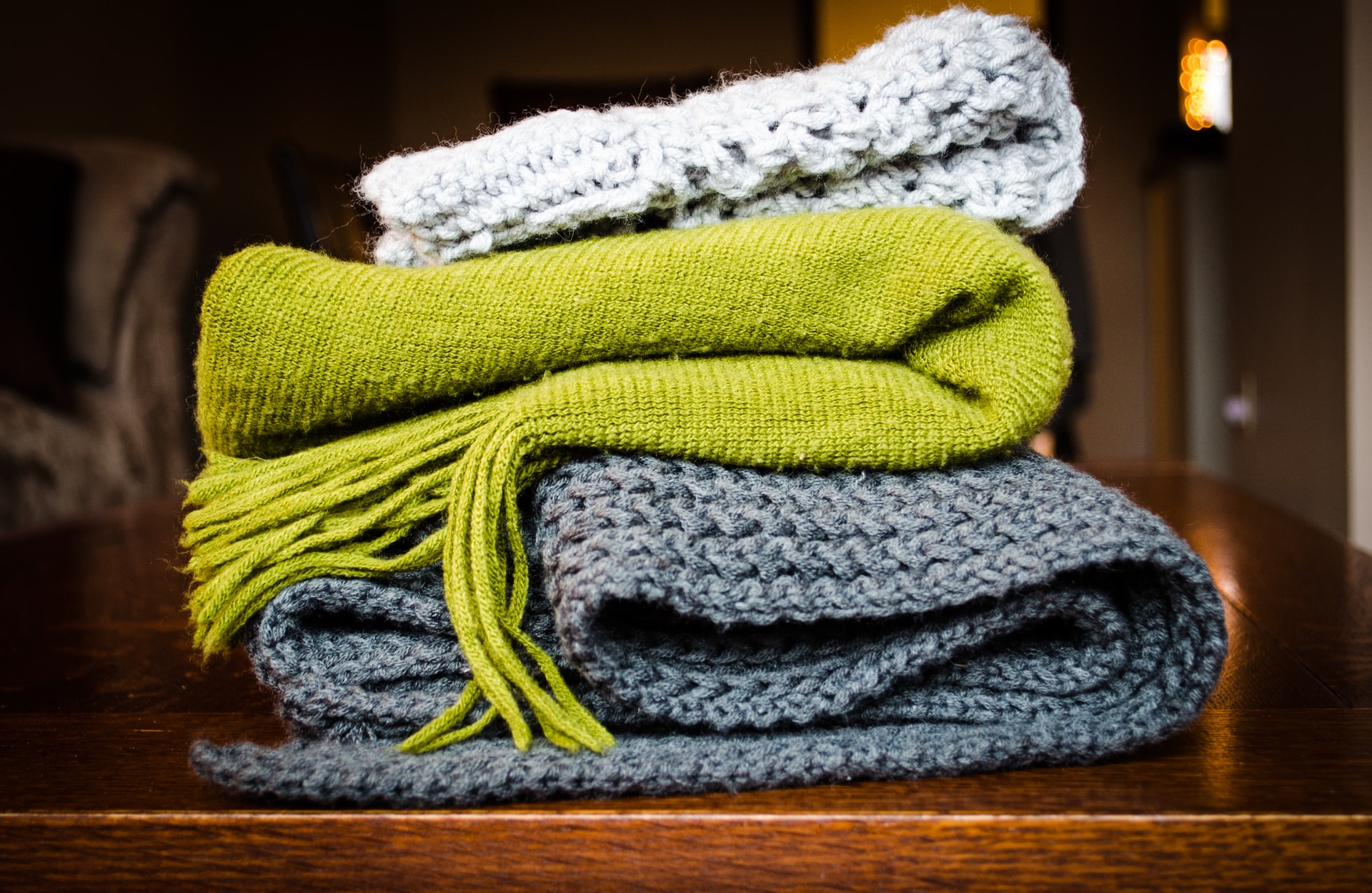 Crocheting and knitting are both enjoyable and practical hobbies. Using either of these crafting methods, you can create a piece of fabric to make items that you can use or give away as gifts to family and friends.
They are similar crafts because they both use yarn and needles/hooks but differ in the processes and tools used to produce a piece of fabric. You will need two needles for knitting, while you need only one hook to crochet.
You can create craft items in varied sizes and complexities, such as challenging as knitted chainmail or as simple as a handkerchief by either knitting or crocheting.
An afghan or a blanket is one of the basic pieces to knit or crochet. It can be the first project for a newbie knitter or a beginner in crochet because of its simple shape.
Knitting and crocheting a blanket has been done many times before by newbies and experts of these crafts. But which is the better process? If you are intrigued to know, please read on to see which is best to use on your next blanket project.
Is it better to crochet or knit a blanket?
Many people prefer crocheting a blanket to knitting one, as crocheting tends to be faster than knitting. But, choosing whether to knit or crochet a blanket also depends on personal preference, the size and thickness of the blanket you are making, and the material you will use for the blanket.
Listed below are reasons why people prefer crocheting a blanket to knitting.
Crocheting produces stiffer items than knitted items, making it an excellent option for blankets that do not need a flowy drape needed to make clothing.
Crocheting is less likely to unravel by mistake as compared to knitting. In knitting, you have many active stitches attached to your needle, while in crochet, there is only one active stitch attached to your hook.
It will be easier to crochet after learning the basics of crochet than knitting because you do not need to move the stitches between the two needles back and forth.
If you are making a huge blanket, it would be more difficult to knit one because you will need the full width of your blanket on the needles. With hundreds of stitches on the needles, there is a huge risk of the stitches slipping off the needles.
When crocheting a large or small blanket, you can stop wherever you are with your work with a lesser risk of unraveling by mistake.
Crocheting a row of stitches can be faster if you already know the basic crochet stitches. Knitting relatively takes more time as you cannot just put down your needles in the middle of knitting a row of stitches. For a blanket width with an average of 400 stitches, it may take half an hour to finish knitting a row.
You can create a blanket by crocheting smaller units. Crochet is known for the granny squares, which you can join together to form blankets of different sizes.
Knitting can also produce a blanket by knitting many little squares, but it will involve a lot of seaming later on after knitting all the squares, a process annoying to many knitters.
If you are crocheting a blanket, it is possible to take your crochet hook out of the project if you need it to make a different crochet piece. Slip the crochet hook out, place a locking stitch marker around the loop, leave your blanket project, then return to it when you are ready.
If you compare the finished knitting and crochet items, crochet items are bulkier, heavier, and more durable, while knitting creates flowy, stretchy, and flexible fabrics. The look and feel of crochet are more suitable for a blanket.
Which is warmer, knit or crochet?
Knitting and crochet can use the same yarn to create projects. Knitted items are usually warmer, but crocheted pieces can be made warm. So, it is possible to crochet a blanket that is equally warm as a knitted one.
Crochet and knit blankets are warm because stitches trap air between them to help keep the heat close to your body instead of releasing it into your surroundings. These cozy and warm blankets are ideal for the winter seasons.
You can make your crochet blanket warmer by using thicker yarn. Thicker blankets can make you feel warmer than thinner ones.
To make your blanket warmer, you can choose chunky yarn. Bulky yarn can produce a thicker crochet blanket that you can use during cold winter nights.
Choosing the right yarn is also important in crocheting a warmer blanket. Wool yarn is an excellent choice for crocheting blankets because it is warm and cozy but strong and durable.
Natural animal fibers like wool, alpaca, merino, and cashmere make the warmest and softest blankets. But wool is the ideal yarn to crochet blankets with because it is affordable and accessible.
Although these expensive yarns are perfect for making warm blankets, it will not be practical to use them as crocheting a blanket requires a huge amount of yarn.
Synthetic yarns like acrylic and polyester are great options for producing warm crochet blankets. They might not be as good insulators as natural animal fibers, but they are affordable, sturdier, and easier to wash.
Synthetic yarns are also available in a wider variety of colors compared to yarns from natural fibers.
Knitting may produce warmer blankets, but you can crochet an equally warm and cozy blanket with the right yarn and thickness.
Is it cheaper to knit or crochet?
Many people believe it is cheaper to crochet than knit. You need fewer basic materials to get started in crochet than knitting.
For a newbie in crochet, you will need only three hooks to make beginner projects, such as a blanket, shawl, table runner, or amigurumi .
You will probably need common crochet hook sizes 4.0mm, 5.0mm, and 6.0mm to create these projects. As you advance with your crochet skills, you might need to add a few more hooks to your collection to accommodate a wider variety of patterns.
You can start with $20 for your basic crochet materials and add another $50 to get more hooks as you progress with your crocheting skills.
Meanwhile, you will need a bigger budget to buy a starter knitting kit . You might need a wide range of knitting needles for varied knitting projects. Knitting requires different needles such as circular needles, double-pointed needles, and cable needles.
A good estimate to start knitting is around $30, and you may need to add $250 to knit most knitting patterns along your knitting journey.
It is always a good thing to consider which is easier to get into and choose one based on your capability and resources when starting a hobby.
It is also best to start with materials you can afford as you may discover eventually that the specific hobby is not for you. Crocheting beats knitting in this aspect.
Also check: 
Which is prettier, knitting or crocheting?
Crochet produces stitches that are more textured and bumpier. Knitting creates more delicate stitches, which are more appropriate for sweaters and cowls. Crochet is more suitable for projects that need bulkier stitches like scarves, hats, or blankets. Both finished items from knitting and crocheting look pretty, depending on how they are used.
Many people say that crocheted clothing looks less flattering than knitted clothing. In general, knitting produces drapey fabrics, while fabrics created by crochet are a bit bulky.
Knitting and crochet both produce beautiful fabrics. You can appreciate them more if you match the appearance and texture to the purpose of your item.
There are more crochet stitches than knitting stitches. Despite them being both pretty fabrics, many people agree that there are situations when crochet creations look better than knitted items. Below is a list and see if you agree:
Crochet has more stitches than knitting stitches
Crochet has more than 150 stitch patterns compared to knitting, with only two types of stitches, knit and purl. You do not need to buy every accessory or tool when knitting, you can simply have many stitch variations to create designs on your knitted project.
There are so many stitch patterns you can choose from with crochet to create various fabric designs.
Machine cannot replicate a crochet
Crochet pieces mostly look unique because they are handmade. Knitting can be replicated by a machine while crochet cannot. Crochet is always handmade; that is why most scarves and sweaters you find in stores are knitted.
You can only see crocheted pieces mostly in boutiques or craft shows, and they are usually not sold in bulk.
Crochet has granny squares
Granny squares make crochet special because you can do many things with them. You can join individual squares of different sizes, colors, and styles to make scarves, bags, clothing, blankets, etc.
You can bring out your creativity by using granny squares in your crochet project, as you do just about any design on a square before joining them together to create a useful and gorgeous crochet item.
Knitting has mitered square, which is equivalent to the granny square but does not offer as much variation in the design or texture.
Amigurumi looks nicer in crochet
Amigurumi gives a cleaner and nicer look with tight single crochets using any crochet hook and working in the round. Crocheted amigurumi has more defined stitches.
You can also make amigurumi creatures using knitting, but the stitching and the knitting needles create a different effect. Knitted amigurumi have a polished look because of the tiny stitches. They also depend more on color changes to create details.
By comparing the knitting and crochet processes, you can see that they are similar and quite different in some aspects. You can also note that most projects are possible for both crafts.
Some people may prefer crocheting over knitting or the other way around, but the choice of process to use is still based on the projects you are most interested in and your personal preference.