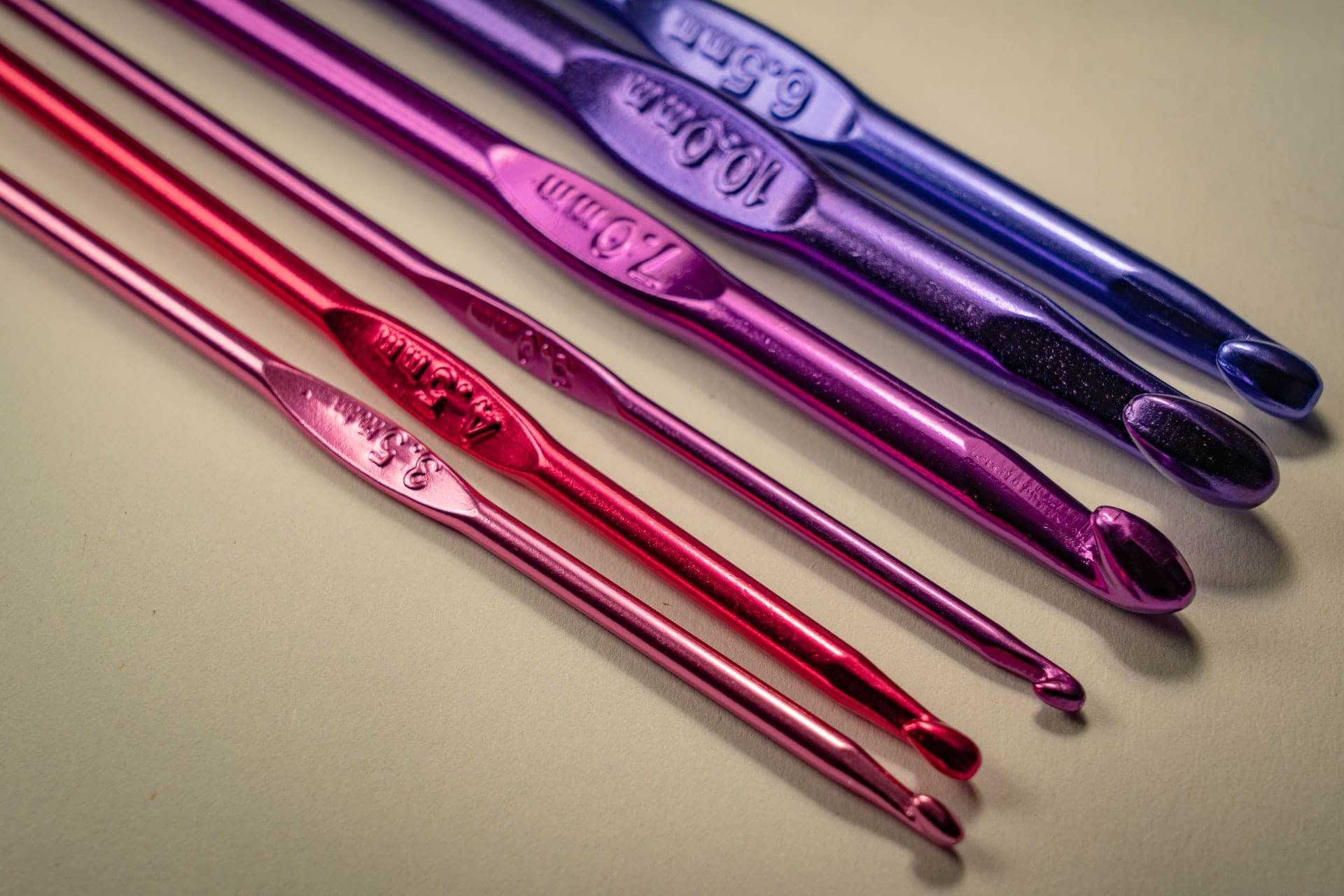 In knitting, the gauge is a crucial factor. It determines the number of stitches and rows you need to make per inch. This depends on the yarn weight or size and the needle size you use. Most knitting patterns give you the appropriate gauge to use. This is to ensure that you achieve the right size and drape of the project.
If you use small knitting needles, you often get smaller and tighter stitches. This is even more obvious when you use small needles on big yarns. There is no strict rule in gauge, especially if you are not using a pattern.
Seasoned knitters use the needle size and yarn according to their preference. But for novice knitters, it is still best to use the right gauge in your needles and yarns. This is to make sure you get to finish the project according to your expected outcome.
There are important key points to keep in mind when using small needles.
Small needles tend to create smaller stitches regardless of your yarn weight.
Using small needles make tighter and denser fabric.
Knitting with small needles makes stiffer and warmer fabric.
Small needles use less yarn because of its smaller stitches.
If you are a novice knitter and following a pattern, make sure to follow it to a tee. If you do not use the prescribed gauge, your finished product will be different from that of the pattern. Say you use smaller needles than the prescribed ones. Expect that your finished project will be smaller.
Using small knitting needles on heavy yarn creates a fabric with less drapability.
Knitting gauge does not prohibit you from using smaller needles. You still have the option to do so. The gauge only serves as your guide on what needle to use per needle size.
But if you want denser and stiffer fabric, you may opt to use a size smaller than the suggested gauge. What you need to ensure is the size of your finished project. See to it that you make the necessary adjustment with your cast on.
How Does Needle Size Affect Knitting?
Most knitting patterns prescribe the needle size and yarn you need. These details allow you to finish the design looking like a complete replica of the pattern. This means your finish project will have the same size, look, and texture as described in the pattern.
These factors are the reason why you need to use the right gauge for your knitting. Using the wrong needle size to your pattern can result in difficulties. It can lead to the wrong size or length of your finished project.
These are the three effects of needles size to your knitting.
The garment or fabric will not fit.

If you use smaller needles, your finished design will be smaller than expected. Say the pattern asked you to use needle size 11, but you rather use a 10.5. This will make your finished project smaller than what you expect.

Even if you use the yarn and you follow the number of cast-on specified in the pattern, your output is smaller. Keep in mind that a smaller needle size creates smaller and tighter stitches.

The opposite effect happens when you use bigger needles. Say you use size 13. Your finished project will be bigger and looser because your stitches are bigger.

You will either run out of yarn or have leftovers.

Still related to the example mentioned above. Say you use a smaller needle for the project. Your project will be smaller and so you will have leftover yarns.

Meanwhile, if you use bigger needles, you will have a bigger fabric. This will mean you might run out of yarn to complete the pattern.

Your finished project might not look as pictured in the pattern.

If you deviate from the pattern, your completed project is a bit different from the pattern. The size, texture, and drape are not the same as described or pictured in the pattern.

If you are using a pattern, make sure you follow its recommendations. In case you want to deviate, make sure you know how to adjust either the yarn weight or the length of the design. This can be tricky for beginners. So, if you are a novice knitter, stick to following the pattern first.
What Happens If You Knit With Two Different Size Needles?
Knitting with two different needle sizes often refers to Condo Knitting. This is simple yet unique. Both seasoned and novice knitters can do this technique. This creates lacy look stitches that are loose and drapey.
If you are going to use this technique, make sure to cast-on with the small needle. Then, use the large needle to knit every stitch. This technique is like doing a Garter stitch but with 2 different needle sizes.
There are two important factors to consider if you want to use this technique.
Yarn
Compatible needle sizes
Yarn

When doing this Condo Knitting, use a soft yarn. It is also advisable to use thin or medium weight yarns. This will give your fabric that soft and drapey finish. If you want to use chunky yarns, make sure your needles are both on the bigger sizes.

Compatible needle sizes

This technique calls for two different needle sizes. This means you will have to use straight needles. There is no specific pairing for this.
You may need to test your chosen needles on your yarn and see if they give your preferred stitches. For instance, you may pair needle size 7 and size 19 needles. Check if the combination works well with your yarn.
This technique works on soft drapey shawls, scarves, and loose cardigans.
How Do You Knit With Small Needles?
As explained in the previous chapters, the gauge is important in knitting. Whether you are following a pattern or not, you will have to figure the gauge that works well for you.
If you are a tight knitter you may need to use smaller needles to achieve your desired fabric tightness. If you want to create loose and drapey fabrics then bigger needles will help you achieve this.
Even if you have a pattern, it does not mean you cannot tweak it. You may use your preferred yarn weight or needle size. The gauge indicated in the pattern is only a recommendation. You still have the option to use your desired gauge.
What you need to remember is that worsted, chunky, and bulky yarns work on bigger needles. The fingering, DK, and other thin yarns work well on small needles. If you are going to use worsted yarns, use a needle size range of 7 to 9.
This needle size range can give you around 4.5 to 5 stitches per inch. If you use size 8 on worsted yarn, you are likely to get 4.5 stitches per inch. When this seems too loose for you then switch to size 7.
This will not create a drastic change in your design. The key is to either scale up or down to one size only. You tend to have too small or too tight fabric if you scale down your needle to two or three sizes.
For DK yarn weight, the needle size range of 5 to 6 works best. Again, if you use a smaller size needle such as size 4, you will have tighter knits. The logic is simple. Use a smaller size needle than the recommended if you want tighter or stiffer output.
Finding your comfortable gauge may take some swatches or testing. It does not always have to conform with the standard gauge. Use your preference as your guide for your knitting gauge. As long as you keep track of your project size, finding the right needle size will not be a problem.
Do Smaller Knitting Needles Use Less Yarn?
In theory, smaller needles will use a lesser amount of yarn. That is if you use the same pattern and do not adjust the length and cast-on of your design.
For instance, the pattern recommends that you use a size 8 needle on a 200 cast-on pattern. You know that size 8 will give you 4.5 stitches per inch. This means that the 200 divided by 4.5 is 44.44. The length of the pattern using this needle size is 44.44 inches (113 cm.).
If you use size 6 instead of 8, your stitches per inch are now 5.5. Here is how the changes happen. If you divide 200 by 5.5, your quotient is 36.36. This means that by using a size 6 needle, your design will now be 36.36 inches (92 cm.).
This shows that smaller needles use a lesser amount of yarn. But, you have to consider that your design also got smaller. This proves the theory but it does not mean you will get the same result pictured in the pattern.
If you will use a smaller needle but want to achieve the same size given in the pattern, then adjust your cast-on.
What Knitting Needles Are Best For Beginners?
Medium and large needles are suitable for novice knitters. The same goes for yarns. If you are a beginner, you may start with medium-weight and chunky yarns. Bigger needles and yarns will allow you to work easier and faster.
A good needle size range is 7 to 9. Needles with these sizes work well on worsted, chunky, and bulky yarns. These needles are great training needles. They make bigger stitches and are less straining to your fingers.
These needle sizes are perfect for making warm and thick scarves, shawls, and cowls.
What Is The Smallest Size Knitting Needle?
In the US standard, the smallest knitting needle is 0. This is the metric counterpart of size 2 mm. This needle size works on thin yarns. You can use this for knitting intricate lace patterns.
Only experienced knitters use this needle size for making lace designs. This can be challenging because your yarn is also very thin.
Is It Easier To Knit With Big Or Small Needles?
Novice knitters will find it easier to knit on medium to large needle sizes. Small needles can be tricky because you also have to work on smaller yarn. This combination can be challenging if you have not gained advanced knitting skills.
Does Using Larger Knitting Needles Use Less Yarn?
The answer depends on the yarn weight you use. If you use chunky and bulky yarns on large needles, the amount of yarn is proportionate to your design.
But if you use thinner yarns on knitting needles then you will use more yarns. Bigger needles make bigger and looser stitches. This means it will have to use up longer yarn to make one stitch.
This is why knowing the right gauge is crucial in knitting. The principle is easy to understand. Small needle size makes smaller and tighter stitches. Bigger needle sizes create bigger stitches.
Once you know these, you can defy your pattern and use your desired needle size. You will know how to work on your number of stitches to ensure your project will have the right size.
Knitting should not be a difficult craft. These needle sizes are mere recommendations for your guidance. You can still follow your personal choice.
You can use your preferred needle size according to your chosen yarn. You can make your project tighter or looser than your pattern. There is no hard rule in knitting. What you need is to understand the logic in these recommendations.
You have to keep in mind that these needle sizes were not made out of thin air. Each size works for a specific yarn weight. It is all up to you if you want to follow or deviate from it.
Any changes from your knitting pattern have corresponding effects. If you are not yet an experienced knitter, make sure to follow your pattern first. This is to make sure that you complete your project accordingly.
Deviating from your pattern can lead to mistakes and frustration. You, too, can tweak your patterns once you become more skilled and experienced.