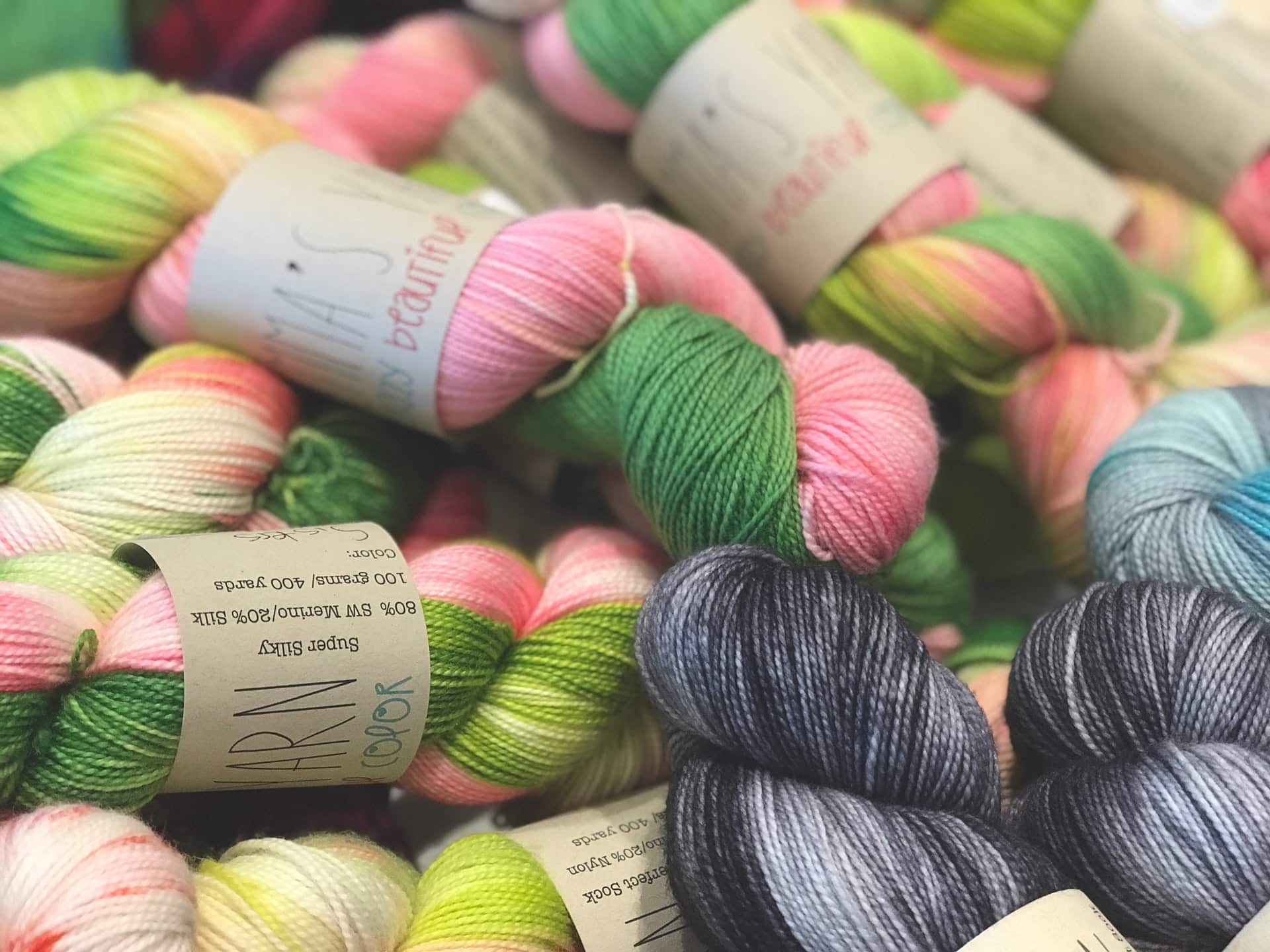 Yarns are the basic materials for crafting hobbies like knitting and crochet. You cannot make any project without investing in good quality yarns. The quality of your projects is as good as the quality of your yarn.
If you buy cheap yarns, you cannot expect to have a luxurious-looking output. This is why you need to buy quality yarns. As the old saying goes, quality comes at a price. The same goes for your yarns.
Many knitters have a dilemma when buying quality yarns because they are expensive. Good quality yarns are more expensive for several reasons. Manufacturers do not set the prices out of thin air.
Some factors affect the prices of your yarns. The raw material, production process, and the logistics are a few of these factors. Below are brief explanations on how these factors affect the prices of your yarn.
Raw Material
Some natural fibers that make your yarns come from animal hair and plant parts. Take the case of wool. The fibers that make wool can come from sheep, Mohair, Cashmere, Alpaca, and more.
It takes time before these animals grow their hair back. Harvesting and processing them also take time and effort. Manufacturers spend a significant amount in this phase alone. Labor and harvesting costs do not come cheap.
You must keep in mind that the harder it is to get the raw materials, the more expensive they become.
Production Process
Producing your yarns takes a long and complex process. Once the raw materials are harvested, they will undergo treatment and washing. After harvesting and treatments, these raw materials will still undergo several procedures.
These processes will convert them into fiber strands to make your yarns. These strands undergo a spinning process to make different yarn weights and thickness. All these processes involve overhead costs that manufacturers consider when pricing.
Logistics
Raw materials may come from various parts of the world. Transporting these materials from the source to the manufacturing facility involves expenses. The importation process is not cheap.
The logistics of the materials does not stop there. The company will spend again to transport these yarns to distributors and retailers.
Making yarns, especially the natural and luxurious ones, involves huge amounts of money. This is why some yarns are expensive.
Is Knitting An Expensive Hobby?
The answer depends on what materials you use and the kind of projects you make. When you make sweaters and garments, you tend to buy yarns that are soft and comforting. You may use wool, cashmere, Mohair, and so on. These yarns are not cheap.
A simple sweater may need at least three balls of wool. That is only an estimate. You know that the amount of yarn depends on the size of your sweater, needles, and weight of your yarn.
The bulkier your yarn the more expensive they get. If you use chunky yarns, you may need more skeins. This is because most chunky and bulky yarns have short yardage per skein.
But if you knit projects like blankets and scarves, you may use more affordable yarns. You can use synthetic or yarn blends. These yarns have lower price points because they are easier to make.
The expense you get to knit projects depends on your personal preference. Bigger projects mean more expense on yarns. Using expensive yarns also means more expense on your projects.
Is It Cheaper To Knit Or Buy?
Knitting projects is more than the price involved. Some knit their sweaters or scarves because they feel good about it. They see the benefits of knitting to a wider perspective.
Knitting offers a lot of physical, mental, and emotional benefits. For some, these are more important than the price they pay for the yarns. If you knit to make your garments, you will likely consider the costs.
When you knit your sweaters, you may incur huge costs. This is always true for novice knitters who do not have the tools yet. Buying your needles, yarns, and other materials will demand a big cash outlay.
Let us break down the expenses for an intermediate or seasoned knitter.
Yarns
For those who have bee knitting, they might already have the tools they need. All they need is to invest in yarns for their new projects. But some smart knitters, frog their previous projects and reuse the yarns.
Knitting Needles
Some projects may need a different needle size, so buying a couple of sets of needles may be necessary. But if their current needles work fine, then these will not be an expense.
Embellishments
There are times that the projects need some embellishments that you don't have in your kit. This means you need to buy them. And this will add to your knitting expense.
After considering these factors, what do you notice? Seasoned knitters do not have to spend so much whenever they make a project. Some of the materials they need are already in their kit. They can use some of their existing materials to create new ones.
Now, if you are still in the starting phase, it is a different scenario. It means you may still have limited supplies in your kit or you have not completed yet your tools. If this is the case, then you are likely to spend more to knit your project.
The best thing you can do to avoid spending so much is to start completing your kit. Buy one or two items at a time until you have all the essentials. This will prevent you from having a huge initial expense.
Why Is Chunky Yarn So Expensive?
Chunky yarns are great for blankets, winter scarves, and cowls. Merino wool and other soft chunky yarns more favorable for these projects. Although this yarn weight is ideal for these projects, many knitters find alternatives.
Well, you cannot blame them for seeking alternatives. Chunky yarns are a little expensive. But the price comes for a reason. Chunky yarns are heavy-weight yarns with 12 strands of threads.
This yarn weight is thick so it will have a higher price point. Aside from its weight and thickness, the fibers that make your chunky yarns affect its price. For instance, Merino chunky wool is way more expensive than acrylic chunky yarn.
The key point here is that the weight and the fiber that makes your chunky yarn affect the price.
What Is The Markup On Yarn?
Any business imposes markups on their products and services. This does not exempt yarn retailers. Yarn and craft stores need to consider markups on their prices. This is to cover the operating cost of the business.
Aside from the operating costs, they also need to profit from their sales. So, what is the usual markup for yarns? According to The National NeedleArts Association, the average retail markup is 50 percent.
Most store owners consider a 50 percent markup on their products. It means they retail yarns with a price point twice its original price. From this 50 percent, they will deduct the utility and labor costs to keep the store working.
They will also get a certain percentage from this markup which serves as their profit. Fifty percent is the average, but some stores impose 100 percent markup. It is hard to tell whether you bought yarn with 50 percent or 100 percent markup.
Each store has different operating costs, so each may impose higher than others. Some retailers add higher markups for premium yarns. Some retailers also consider a few factors when they add the markup.
Aside from the operating cost, and profit, retailers also consider the supply of the yarns. The more luxurious the yarns, the higher the markup. This is because there is a limited supply for these yarns.
What Is The Cheapest Yarn?
When you want to cut the cost on your yarn, choose synthetic yarns. These yarns are man-made so they are easy to produce. Among the synthetic yarns, Acrylic is the cheapest.
They may be cheap, but they are not always the best. They also have some great features. Synthetic yarns are not advisable for garments. Blended yarns are a better choice than pure synthetic yarns.
Synthetic yarns are great for projects such as blankets, scarves, shawls, and more. They may not be the most comfortable yarns, but they do make beautiful projects, too. Here are some of the reasons why some knitters use synthetic yarns.
Cheap
Synthetic yarns are cheap because they are easy to produce. Most synthetic yarns use plastics in their components.
Stain Resistant
This is related to having plastic components. The plastic components that make synthetic yarns resist staining.
Water-Resistant
Synthetic yarns are water-resistant because of their plastic component.
Popular Synthetic Fibers
Acrylic
Polyester
Rayon
Spandex
Microfiber
If the Acrylic yarn is the cheapest, why do knitters not use it often? To understand more about acrylic yarns, read on its properties.
Stiff Texture
Acrylic yarns are synthetic, so it does not have an inherent softness that of the natural fibers. It is not a good material for tight clothing projects because they do not fit well on the body.
Too Warm
Acrylic yarn is man-made, and so it is not breathable. This makes it too warm for your skin. Garments made from acrylic yarns do not give you regulated body temperature.
Flammable
Many knitters do not advocate the use of acrylic because it is flammable. Acrylic yarns have plastic components, so they melt and burn fast.
Toxic
Since acrylic has plastic components, they have a significant level of toxicity.
Choosing your yarns depends on your preference. You may want to use yarns made of natural fiber but they are too expensive. If you substitute them with synthetic or blends, it does not matter. What is important is you find joy knitting your projects.
What Is The Most Expensive Yarn?
Yarns made of natural fibers always come at a price. They are more expensive than other yarns. The following are the properties of natural fibers.
Absorbent
Natural fibers have inherent softness and absorbency. A good example is a cotton. Cotton makes most of the garments, towels, and bedsheets in the market.
Comfortable
Since natural fibers are breathable, they are comfortable to wear. This is why yarns made of natural fibers make great clothing projects.
Eco-friendly
Natural fibers both from animals and plants do not harm the environment.
Popular Natural Yarns
Wool (sheep, Alpaca, Merino, Mohair, Cashmere, etc.)
Silk
Cotton
Linen
Bamboo
The most expensive knitting yarn is Vicuña wool. This type of wool comes from the South American camelid that thrives in the high alpine areas of the Andes. Most of the Vicuña wool comes from Peru.
Vicuña wool retails for around $1,300 to $3,000 per yard (0.91 m.).
What Is The Most Luxurious Yarn?
As explained earlier, yarns made of natural fibers are expensive. Here, you will discover the most expensive and luxurious knitting yarns. These yarns come from rare animals like the Vicuña and Muskox.
These yarns provide some of the finest, softest, and comfortable fiber for garments. Here are the three most luxurious yarns in the market.
Vicuña wool
This type of wool comes from the South American camelid that thrives in the high alpine areas of the Andes. Most of the Vicuña wool comes from Peru.
Merino wool
This wool comes from Merino sheep. This has soft and fine fiber.
Muskox or Qiviut
This comes from the soft under-wool that sheds off from Muskox every spring. Most of the Qiviut fibers come from Canada.
Knitting may indeed require you to use several skeins or balls of yarns. This is the reason why some think that knitting is an expensive hobby.
The truth is you can make beautiful creations without spending so much on yarns. You can buy synthetic and blended yarns. These are cheaper alternatives than yarns made of natural fibers.
You may also use your previous projects. You may frog them and repurpose the yarns. It all depends on your resourcefulness.
Knitting is an enjoyable and fulfilling hobby. Look at knitting at a different viewpoint. It is your way of relaxation. It gives you a feeling of achievement. Knitting is more than your typical crafting hobby.
It does not matter what kind of yarn or tools you use. What matters most is your happiness and fulfillment with your creations.