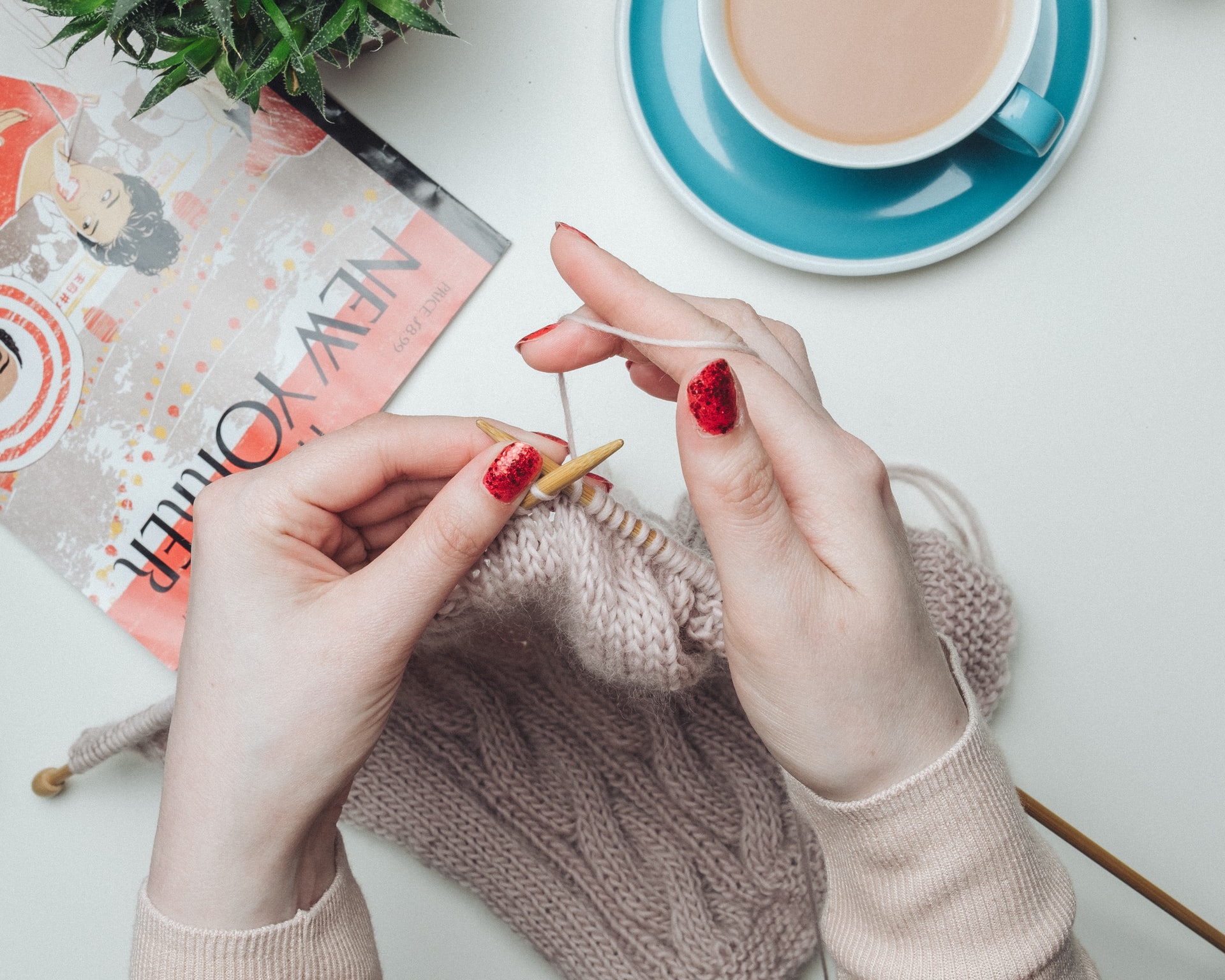 PM is the abbreviation for "place marker" in knitting. It directs you to place a stitch marker on your needle or knitting as instructed on your pattern.
When your knitting pattern indicates 'pm,' place a marker on your needle and let it sit there, then proceed to knit until you come to a point in your pattern that tells you what you need to do with that marker.
It is used alongside other knitting abbreviations such as slip marker, which also refers to an action you must do to your stitch marker once you reach that point in your knitting.
These knitting terms are essential when using stitch markers to keep track of the number of stitches or rows in your knitting.
What is the difference between a place marker and a slip marker in knitting?
"Place marker" is the instruction in the knitting pattern where you need to place a stitch marker on the needle or a stitch after knitting a specified number of stitches or rows. Meanwhile, "slip marker" is what you do to the marker you placed when you come back to it. You slip the marker from the left to the right needle when you arrive at this point of your knitting.
PM is the short term for "place marker," while SM or SLM are abbreviations for "slip marker."
When the pattern says place marker, then you do that. You place a marker on your needle, then let it sit there as you knit along.
For example, your pattern says, "k5, pm, knit across." You knit five stitches, place a marker, then knit across to the end of the row.
As you go along knitting further down the pattern, you will come across instructions on what you will do with the marker you placed.
When your knitting pattern tells you to "slip marker," you must keep the marker in its place between the same two stitches. You only need to slip it from one needle to the other.
A knitting instruction that looks like this, "k to marker, sm, knit across," means you should knit until you reach the marker, slip the tag from the left needle to the right needle, then knit across to the end of the row.
What can I use as a marker in knitting?
You can use two types of markers for knitting; the open and closed stitch markers. The closed stitch marker is also called an o-ring marker or ring marker. Meanwhile, available stitch markers can be opened and closed and easy to attach and remove from your knitting.
Closed Stitch Markers
The closed or o-ring stitch marker is usually a familiar ring that you can slip over the end of your knitting needle. These markers' bright and varied colors and designs make them easier to see against the knitted work.
Sometimes, they come in different geometric shapes like stars, triangles, or squares. These stitch markers also come in varied colors, making knitting more exciting and enjoyable.
These ring stitch markers come in different sizes to fit the different sizes of knitting needles. You can slip them quickly on your knitting needles as you work.
They are usually made of plastic, rubber, metal, wood, and other materials. You can make closed stitch markers from wire, such as those used for jewelry-making. This type of stitch marker is ideal for large needle sizes.
Open Stitch Markers
Open stitch markers are the more versatile kind. They can be opened and closed and attached to either the needle or stitch. You can easily remove or place them on your knitting as needed. You can also use open stitch markers in crochet.
Open stitch markers are split rings, locking stitch markers, or removable markers.
The most common locking stitch markers that you can find in craft stores look like safety pins. Others have lobster claws like those used in bracelets or necklaces that you can clamp on a specific place you need to mark on your knitting.
Another benefit you can get from locking stitch markers because they will not easily fall off of your knitting. It would be wise to permanently lock in the stitch marker when knitting in the round.
Also, if you happen to knit them into your knitting project, you can open the lock and remove it.
When choosing the suitable stitch markers to buy, you must take note of these tips to get the most out of your markers.
Identify the majority of the projects you are making. If you do more knitting than crochet, closed stitch markers will be the more helpful tool for you.
It would be best to consider the sizes of the knitting needles you frequently use. If you need to buy plenty of stitch markers, make sure that they will easily slip through your needles.
When buying stitch markers, make sure they are smooth and clean. If your stitch marker causes a snag on your knitting, it will cause more inconvenience than benefit your work.
It would be best to buy stitch markers in packs with a few hundred pieces. It is better if you have plenty as they can get lost easily due to their size. You may also need more if you are working on large projects or knitting different projects at a time.
How do you use stitch markers?
You use stitch markers in knitting to mark something important on your knitting. You place a stitch marker when you have to increase or decrease, change yarn color, or start a new pattern repeat.
Below are several ways stitch markers are helpful for your knitting.
Mark the end of a row
You can use a marker to indicate the end of a row, especially when knitting in the round using circular knitting needles. It is hard to know where the stitches begin and end when knitting in the round. So, you place a marker on one needle when you join in the round, then slip the marker to the other needle once you pass by it again.
Reminder for pattern changes
Stitch markers are very convenient tools to remind you of changes in your knitting pattern. A stitch marker can remind you if you need to increase or decrease in a particular part of your work. It can also help you mark areas where you need to place blocks of stitches.
Mark the right side of your work
Sometimes in knitting, you will find patterns that are hard to know which side is the right side. A concrete example is when doing a knitting project using the garter stitch.
Place a locking stitch marker a few stitches from the edge on the right side of your knitting. The marker will remind you where the right side of your work is as you go along with your knitting.
Repair a dropped stitch
If you noticed a dropped stitch in your knitting, do not fret. You can assess your work if it needs to be frogged, or you can work your way to fix it by weaving the stitch back in. Get a locking stitch marker and place it into the loop to avoid your work from unraveling.
Use stitch markers to count rows
If you are working on knitting with many repeating patterns, placing stitch marks can make it easier to count rows. It would be easier to mark every ten rows than counting 100 individual rows. Identifying stitch marks is also helpful when matching the number of rows of front and back parts of knitted garments.
Doing big projects
If the knitting pattern you are making is loaded with stitches, you can prevent missing or making extra stitches along the way when you use stitch markers. You can place markers every 10 or 20 stitches, so it would be easier for you to keep track of your stitches and lower the possibility of making mistakes.
Divide your project into sections
Stitch markers are helpful to divide your project into sections of your knitting with different stitches. By placing stitch markers in between the other areas, it would be easier to manage your knitting. Knitting designs that would benefit from putting stitch markers are colorwork, cable, and lace patterns.
You can use the color of the stitch marker to identify the sections that you divided from the others.
Mark the beginning of an edge from the knitting
Stitch markers can help separate the knitted part from the border when adding edge stitches to your knitting.
Use the marker as your motivation
Using one locking stitch marker, place it at a stitch on the current row you are knitting. Continue knitting and see how far your knitting has moved from your marker. It is quite a simple idea but very rewarding.
Use locking stitch markers for seaming your knitting
If you need to join the small pieces of your knitting together by seaming, your locking stitch markers will be handy for holding the edges together temporarily.
Recommended: 82 Brilliant Knitting Youtube Channels
How do you use a closed stitch marker?
A closed stitch marker is used mainly for knitting. It is most suitable for knitting because you can slip it easily on the knitting needle to help you keep count of your stitches. You can drop the closed stitch marker after a stitch you want to mark, then knit along.
Closed stitch markers come in different shapes, sizes, and colors. The most common you can find are round stitch markers. But these days, you can find varied styles and colors of stitch makers that can make knitting more entertaining and colorful.
You can also find them in different materials such as plastic, metal, wood, rubber, and other probable materials.
Closed stitch markers should be smooth to avoid snags on your knitting. Have plenty of closed stitch markers if you are knitting a large project. You may need plenty of markers to track hundreds of rows and stitches as you knit.
Also, check:
How do you use the progress keeper in knitting?
You need to attach a progress keeper to a stitch on your knitting to mark a place. It differs from a stitch marker which you can place on the knitting needle to mark a spot. Progress keepers come in varied shapes, colors, and designs.
You can also use progress markers as stitch markers. Some progress markers can look like safety pins that easily slip on your knitting needle.
You can be very creative with your progress markers, as long as they serve their purpose of marking the stitches.
Progress markers that you can find in craft shops or local yarn stores look fancy and very creative that they sometimes look like earrings or bracelet charms.
You can use progress markers for these various functions:
One of the main functions of a progress maker is to see how much you knit in a day.
You can use them to mark the front and back sides.
You can use progress makers to mark rows that you are counting.
If you dropped a stitch, you could lock a progress marker to the stitch to keep it from unraveling until you can come back to its place and weave it in your knitting.
If your progress keepers look like safety pins, you may be able to use them as stitch markers and slip them onto the knitting needle.
Like a stitch marker, a progress marker is a small tool but useful in knitting. It is very convenient and adds more fun and enjoyment in carrying out the craft.
These progress markers are usually cute and tiny, which can easily get lost. After using them, make sure you get a container to keep your stitch markers together. You also have to make sure that you have a lot of stitch markers because you will need plenty if you are making a large knitting project.