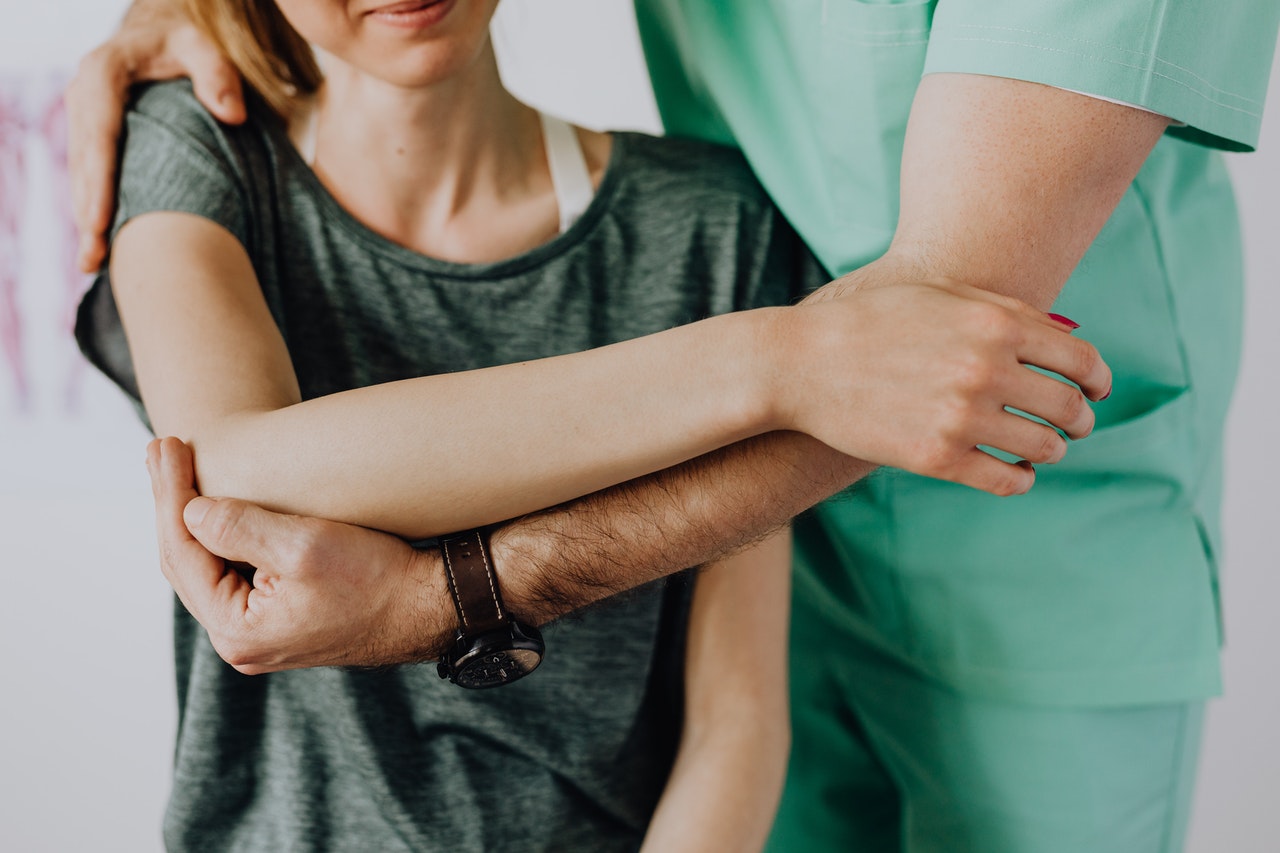 Crochet is one of the most relaxing hobbies you can find. Aside from crocheting being a profitable entity, it is a great way to de-stress from a tiring workday or a much-needed break from the never-ending chores at home. But did you know that your favorite past-time can cause you pain, too?
Frozen shoulder is a disorder affecting the shoulder joint capsule. This ailment results in pain, stiffness, and movement loss in the shoulder joint. It is not clear yet what causes a frozen shoulder. But it is observed that poor posture could cause ligaments around the shoulder to shorten, leading to a frozen shoulder. Some hobbies that involve prolonged sitting, such as crocheting, knitting, and sewing, can cause a frozen shoulder.
You may love crocheting or any needlecraft that it is one of the best things you wake up for. But as they say, too much of something is bad, and no matter how calming or relaxing these crafts are, you might inflict yourself with pain unknowingly.
What is a frozen shoulder?
Frozen shoulder, also known as adhesive capsulitis, is a condition described by stiffness and pain in the shoulder joint. Symptoms show gradually and worsen over time, then finally goes away in a span of one year to three years.
The cause of a frozen shoulder is unclear. But the risk is greater for people with diabetes, Parkinson's disease, thyroid problems, heart ailments, and tuberculosis. People who have had prolonged immobility of the shoulder are at higher risk of frozen shoulder. Reduced shoulder mobility is usually the result of a broken arm, stroke, rotator cuff injury, or surgery recovery.
People who do repetitive activities such as crocheting or knitting are prone to shoulder pain, leading to a frozen shoulder. Frozen shoulder progresses slowly and in three stages wherein each stage can last several months.
Freezing Stage
The range of motion of your shoulder starts to become limited. Any movement of your shoulder causes pain. The pain usually gets worse over time and may hurt more at night. This stage can last from 6 to 9 months.
Frozen Stage
Pain may start to lessen during this stage. But the shoulder becomes stiffer and more difficult to use. This stage can last for 4 to 12 months.
Thawing Stage
The range of motion in your shoulder starts to improve during this stage. This stage can take anywhere from 6 months to 2 years.
Frozen shoulder also happens more in women than in men. If you are around 40 to 60 years old, you are also more at risk of this ailment.
As someone who spends a lot of time doing crafts, frozen shoulder can be avoided from happening to you. Taking short breaks from your crochet work by doing simple stretches can prevent you from suffering from a frozen shoulder.
If affected with a frozen shoulder, you can take over-the-counter medicines like aspirin or ibuprofen for the pain. If these pain medicines do not ease the pain, you might need to consult your healthcare provider for a stronger medication.
Your doctor might also prescribe you to go to a physical therapist who can teach you stretching exercises to improve your motion range.
If the pain persists and does not improve over time, other kinds of treatments may be recommended by your physician. These treatments may include:
Corticosteroid Injection
A steroid is injected into your shoulder joint to lessen the pain and improve the range of motion.
Joint Distension
Your doctor will inject sterile water into your shoulder capsule to stretch it and help your shoulder move more easily.
Physical Therapy
Physical therapy may or may not affect the pain experienced from a frozen shoulder. But it may be more useful during certain stages of the frozen shoulder than others.
Surgery
If all else fails, you might need to have surgery. But surgery is very rarely used to treat frozen shoulder. The procedure used arthroscopic surgery. The surgical method is done with lighted, pencil-sized tools inserted through tiny cuts in your shoulder.
Can a frozen shoulder fix itself?
The majority of frozen shoulders improve on their own in around 6 to 12 months, or even up to 18 months. With no treatment, the return of motion usually is gradual, and do not expect that normal, full-range motion will return. Normally, most people find improvement from relatively simple treatments.
Can crocheting cause shoulder pain?
Crocheting, although calming and de-stressing, can make you develop pain in certain parts of your body. Crocheting is a repetitive and relaxing activity yet may cause shoulder pains when done excessively.
Sitting for a long time doing your crochet can lead to back or neck pains. When you become so absorbed in your crochet work, you sometimes forget about your posture. To avoid experiencing shoulder or back pains, here are a few strategies you might want to follow.
Mind the way you sit. Sit up straight and do not slouch.
Sit on a comfortable chair with good back support.
Put both feet flat on the floor with your knees level or slightly higher than your hips.
Maintain your elbows close to your sides and prop pillows to support your arm.
While doing your crochet work, make it a point to stretch and move around once in a while to prevent stiffness of the neck or back.
You can do a few exercises to release the tension on your neck and back during your crochet breaks. You can tilt your head back and then side to side. Roll your shoulders a few times to loosen them. Do the same to your upper back.
Recommended pages: 
How do you stop the pain when crocheting?
A hobby like crocheting is a calming and relaxing activity that you can look forward to after a day's toil. It is a great way to wind down after a hectic day. But soothing as it is, you may develop pains in your body over time due to its repetitiveness and lack of mobility on most parts of your body.
If you want to keep up and not give up your hobby, you can follow these strategies to stop the pain when crocheting more so as prevent it from happening.
Take a break.
If you want to keep on doing what you love, you need to listen to what your body tells you. Taking care of your body is as simple as taking a short break once in a while when crocheting. Marathon crocheting is a recipe for body pains.
If you do not experience pain yet, taking frequent breaks will give your body the rest it needs. However, if you are already nursing some pain, you can limit yourself to an hour or two of crocheting if you want to keep on crocheting for a long time.
If you do not want to quit crocheting for good, you may need to give your body a long break from this repetitive action. It would be the best thing to do, especially when you are already feeling pain. Rest your hands, wrists, elbows, neck, back, and shoulder for a few weeks or a few days to heal and rejuvenate. Give yourself some downtime from crochet so that you can keep on and stay on.
Do some stretching.
While you are taking your break, do some calisthenics to stretch those strained muscles.
For your wrists and hands:
Tightly squeeze your hands into fists, then rotate your wrists clockwise five times. Alternately widely open your fingers, then squeeze tightly together into fists five times. Then, with your fists closed, rotate your wrists counterclockwise five times. Finally, shake out your hands and wrists.
For the neck, shoulder, and back:
Looking down at your crochet work for a long time and repetitively doing it can cause neck and upper back pain. You can relieve neck tension by turning your head five times from side to side. Do this step with your ears towards your shoulder but keeping your shoulders down. Next, flex your head forward, then back for five times also.
To release shoulder and upper back tension:
Roll your shoulders forward and backward five times in each direction. Squeeze your shoulder blades together tightly, count to 10, relax for 20 counts. Do this procedure three times.
It takes only a few minutes to complete these simple exercises and a bit of downtime from your crochet. But doing so will benefit your body and keep you crocheting for as long as you can.
Switching to ergonomic crochet hooks can relieve stress on your hands and wrists, making it more comfortable for you to work on your crochet.
Prop up some pillows for support.
The idea of doing crochet work is to relax so, make your area feel comfortable. Support your arms with pillows or folded blankets while you sit working on your crochet. Make sure to support your back with a few pillows to relieve strain in your upper, middle, and lower back as you crochet.
Apply topical treatments.
When you feel pain from crocheting and need an immediate remedy, you can place an ice pack on the inflamed area to reduce the pain. Sometimes, hot therapy is needed to relieve the pain so, a warm bath or shower can give relief. You can also apply a heating pad to the affected area to lessen the pain.
Find additional triggers of pain.
You may have done all or most of the strategies recommended, but the pain still does not dissipate. Identify other activities of your day that may initiate pain other than crocheting. During the day, your other physical activities, such as carrying heavy groceries, may also cause back and shoulder pain.
Using yarns that have very little give, such as cotton, linen, and bamboo fibers, can cause strain on your arms and shoulders. You can switch to another project using softer yarns like wools, blends, or acrylics to reduce your muscles' strain.
Ask a health provider.
When not sure about managing the pain you feel on your shoulder or back, have yourself evaluated by a physician. The doctor is the right person who can diagnose your ailment and prescribe the right medication or treatment for your injury.
Visit a physical therapist.
Your physician may recommend that you visit a physical therapist. A physical therapist can provide you with simple exercises that you can do at home to lessen the pain. Sometimes, a physical therapist can perform a treatment called dry needling. It is a procedure that is similar to acupuncture. This method uses tiny needles placed inside the muscle, producing controlled inflammation. The new blood flow aided by the tiny needles helps in the healing process.
If crocheting is something to soothe and calm you, you will not allow your body to get strained enough to make you quit doing that thing that relaxes you.