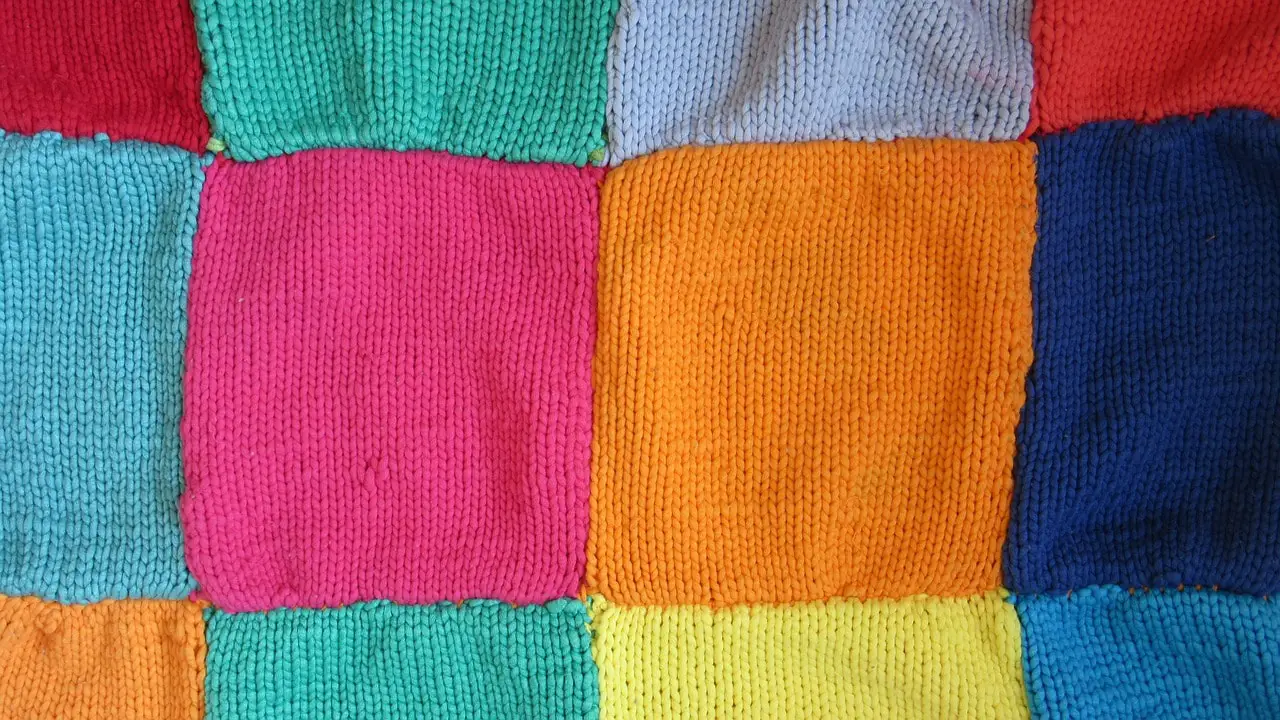 Most novice knitters prefer to knit squares at first because it is fast and easy to do. These days, knitting squares is not just for newbies anymore. Many longtime knitters have also embraced the trend of knitting squares to create various exciting knitting projects, not only limited to blankets.
You can create more useful items by sewing your knitted squares together. And there are many ways that you can sew them together. Some are relatively simple, while others are a bit complex and requires a bit more practice.
You actually can sew your knitted squares together with two fast and easy ways – vertical invisible seaming and whip stitch.
How do you sew knitted patchwork squares together?
You can sew your knitted squares basically with vertical invisible seaming, which can join your squares together and give your knitted project a neat finish. You can sew your knitted squares together using the following steps.
Arrange two knitted squares side by side, with the right sides facing up.
Insert your yarn needle under the first horizontal bar at the knitted square on your left. Pull your yarn through.
Then, insert your yarn needle on the first horizontal bar at the leftmost corner of the knitted piece on your right. Pull the yarn through.
Repeat steps 2 and 3 until you reach the top of the squares. Note: Pull the yarn to tighten your stitches every 2 or 3 inches. Pulling the yarn also makes the seam disappear, thus the name vertical invisible seam.
What is whip stitch in knitting?
A whip stitch also called an overcast stitch, is a very basic seam. Both novice and expert knitters can benefit from this fast and easy stitch. If you want a quick way to sew your knitted squares together to form useful and beautiful knitting projects, the whip stitch is your way to go.
For longtime knitters, the whip stitch can also be a decorative way to join knitted squares together. You can use a contrasting yarn if you want your seam to add to your knitted squares' design. You can make your whip stitch seam more decorative by stitching on the right sides of your knitted squares. If you want your stitching to be less visible, use a yarn color with the same color as your knitted fabric.
How do you whip stitch knitted squares together?
Whipstitch is one of the most common seams used to sew knitting pieces together. It is also typically used to join knitted squares together to create a blanket and other quick and straightforward knitting projects.
Whip stitch is fundamental and does not require complicated stitches and long experience in seaming. Follow these easy steps to sew your knitted squares into beautiful creations using the whip stitch.
First, stack your two knitted squares together with the wrong sides facing out. If you knitted using the stockinette stitch, then you are looking at the purl stitches. Make sure that your squares are aligned evenly.
Cut your seaming yarn with a length that is three times longer than the length of the seam. Thread your yarn needle with the seaming yarn.
Find the edge of your square. Insert the needle from back to the front of both squares' edges, starting from the rightmost part. Be sure to leave a 4-inch tail for weaving in later.
Next, insert the needle from the back to the front of the next edge stitch.
Pull the yarn through, allowing it to wrap around the top edge. Make sure not to pull the yarn too tightly to avoid distorting the knitted fabrics.
Repeat steps 4 and 5 until you reach the end of the seam.
After sewing the entire seam, cut your yarn and leave a 4-inch tail. Weave in this tail and the tail you left from the beginning of your stitching.
You can use the whip stitch to sew knitted squares using garter stitch and other combinations of knitting stitches following these simple procedures. Whip stitch is ideal for sewing knitted squares for flat panel knitting projects such as blankets or scarves, which need to lay nice and flat.
Related:
How to rotate knitting 90 degrees?
What do you do with knitted squares?
Squares are usually the first things knitters learn to make. Not too long ago, knitted squares were mostly used to make blankets. Lately, there has been quite an interest in knitted squares that many different designs and patterns can be found online.
Whether you are just starting to knit or already an expert, you will find these easy and simple knitted squares projects exciting.
You can make a lovely potholder by sewing four knitted squares with varied colors together. Add a little variation and texture by attaching the knit side with the purl side and or the top edge to the side seam. The knitted potholder is a great newbie project as it does not require many squares sewn together.
An effortless but useful project to learn is making a cushion cover from knitted squares. You can have as many variations as you want. You can create a colorful cushion cover out of 8 knitted squares. You may choose to knit two big squares the same size as your pillow and attach the sides to make a simple cushion cover. Knitted squares are fun to work with for simple projects like these because the designs you can make for each knit square are endless.
Your friends, your family, and even yourself, carry your phone anywhere and everywhere. If you think of the best personal gift you can give, why not share something you made yourself? Knit squares and sew them together to create a phone case you can hand out to your friends and loved ones. Knit them in their favorite colors (if you know them), and your gift will surely be a prized possession.
Is your yarn stash growing, but you have no time to knit big projects? Knit squares and sew them into dishcloths. They are quick and easy to knit and are very useful in your kitchen every day. Make your humble dishcloth more exciting by knitting them in squares of varied colors.
A charming way to introduce a baby to shapes and textures is a soft toy cube. Knit six squares and sew the sides of five squares together to form a cube. Insert stuffing and close the cube by sewing the sixth square. Knitting different stitches and patterns for each square will give the cube different textures to help develop an infant's cognitive skills. Simple soft toys like these can provide babies with unlimited fun.
One of the first projects to knit, a scarf, cannot be easier done than knitted squares. You can make the simple scarf more interesting by introducing different textures and shades with your knitted squares. Make your scarf one of a kind. A scarf is a quick project to make as you do not need so many squares to get your finished product.
When knitting squares, the blanket always comes to mind. The blanket is still an easy and fast knitting project since it is just a flat panel wherein you join knitted squares together. Nowadays, knitters make fascinating designs for blankets, creating different characters by organizing knitted squares by colors following a pattern.