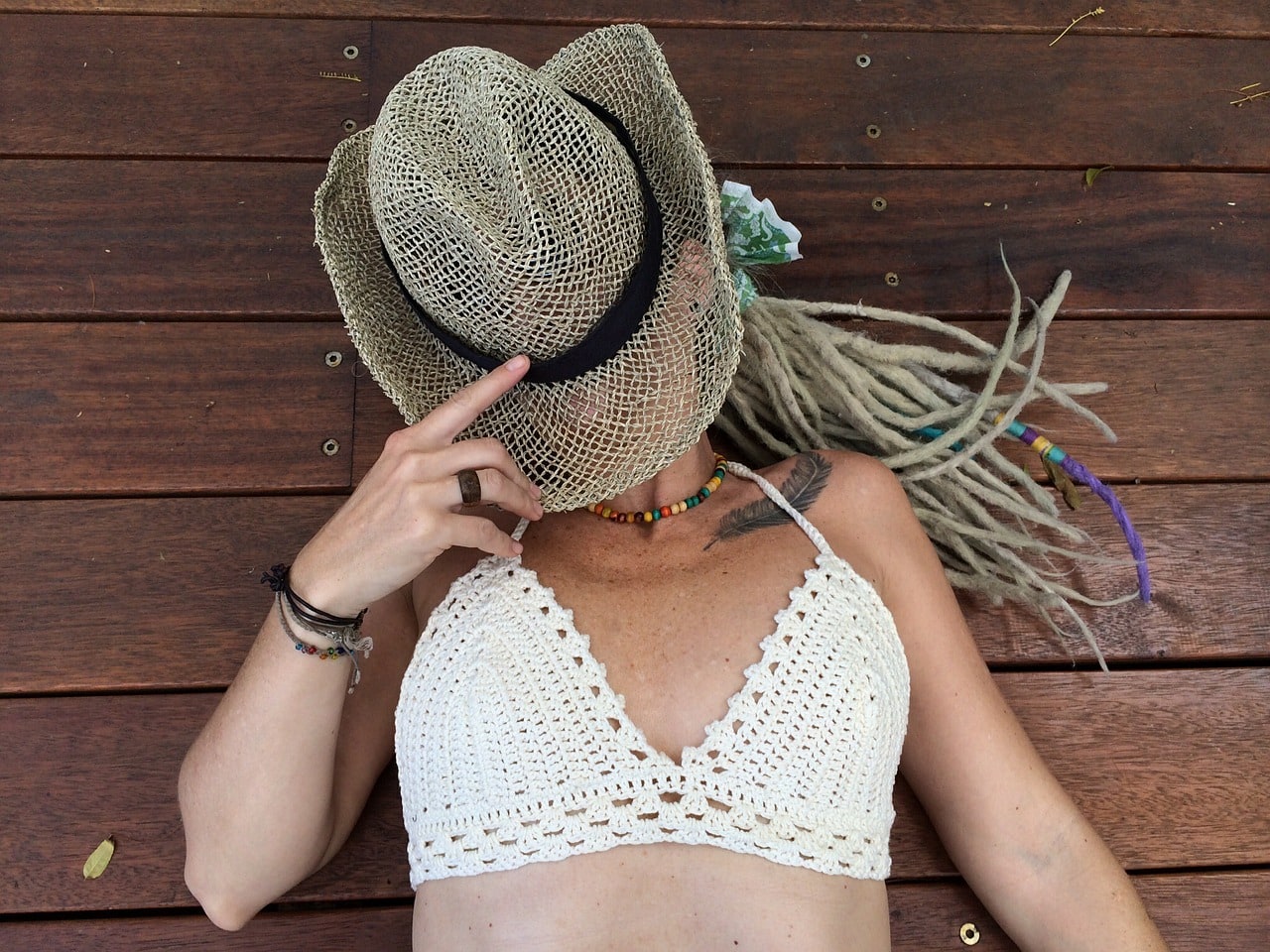 You can wear crochet bikinis at the beach or in the pool. You can get them wet as long as they use the right materials to make them. Crochet bikinis for perfect for recreational purposes. You can swim wearing them, but you cannot swim in them in laps.
Crochet bikinis are perfect for tanning, posing, and walking around the beach or pool area. These gorgeous swimwears are best for your summer getaways.
You can wear crochet bikinis as part of your summer ensemble. Wear it while you hang out with your friends in a bar by the beach. Take your photos splashing the water or playing with the sand. You can take quick dips in the water with your crochet bikinis.
It's undeniable that crochet bikinis are sexy summer attire. They are not intended for prolonged use in the water. They tend to absorb water and get heavy. They have holes that can be uncomfortable on sandy resorts.
But crochet bikinis are perfect for that chic summer look. But let's just keep them that way. Keep your crochet bikinis as part of your summer fashion statement.
What Is The Best Yarn To Use For Bathing Suits?
Finding the best crochet bathing suit yarns is a little tricky. But, oftentimes acrylic yarn is best for this type of garment. Other yarns like wool and cotton are too absorbent and carry a lot of water weight.
Some yarn shrinks too fast, while some tend to get loose and fall apart when in water. Before you get down to the nitty-gritty of things. Here are some factors you should consider when buying yarns.
You can choose any color for your yarn as long as they are colorfast. Some crochet bathing suits have complex designs and colorful yarns. They often bleed when soaked in salt or chlorine-treated water.
Choose colorfast brands like DMC, Anchor, and more. Make sure you use the right yarn because looking sloppy after each dip is the last thing you want.
When you buy yarns for your crochet swimsuits, avoid natural fiber like wool or cotton. These natural fibers take on a lot of water weight and they shrink on hot temperatures.
The best yarns are those from synthetic or blends. These are synthetic acrylic yarns and blends with bamboo and silk. Acrylic as mentioned earlier is best for swimwear as it does not absorb too much water and it dries up fast.
Blends are threads that combine synthetic with natural fibers like bamboo and silk. The combination of these materials makes sheen and elegant looking crochet swimsuits.
It's necessary to buy durable yarns. Pretty and colorful yarns don't always mean durable. You will expose your crochet swimsuits in the sea, chlorine-treated water, and UV rays from the sun. It is best to choose yarns that can withstand these harsh elements.
This is somehow related to the materials of your yarns. Choose yarns that are soft on the skin. You don't want swimsuits that rub and irritate your skin.
Although wool is a popular yarn among crochet crafters, it's not appropriate for swimwear. Acrylic and synthetic blends are the best yarns for crochet swimsuits.
When Was Acrylic Yarn Invented?
Acrylic yarn is a great fiber for your crochet swimwear. The DuPont de Nemours, Inc. started producing this synthetic fiber in 1941. They trademarked it as Orlon and produced large quantities in the 50s.
Acrylic yarn is a synthetic or man-made fiber. The long-chain synthetic polymers make your acrylic fibers. In simple terms, acrylic is a kind of plastic fiber. The succeeding details explain the benefits of acrylic yarn.
Since this yarn is man-made, it's easy to mass-produce. This is why you can acrylic yarns in all craft and textile shops. You can also buy this yarn online.
If you compare this to other threads, acrylic is more affordable. Using cost-efficient yarns allows you to create more projects without a huge cost.
Most synthetic fibers are more durable than natural fibers. This means creating projects using acrylic yarns will last longer.
Beginner crafters prefer acrylic yarn because they see the stitches and prevent mistakes. Using this yarn, you can figure out where to put your next stitch.
Some people are sensitive to natural fibers like animal fibers. Some people get allergic reactions when exposed to wool. Synthetic fibers like acrylic are non-allergenic.
Most man-made fibers are washable and do not shrink. Since crochet swimsuits get wet most of the time, it's best to use washable and shrink-resistant yarn.
Can You Waterproof Yarn?
Natural yarns are not water-resistant nor waterproof. But synthetic and blend yarns are most of the time water-resistant because of the polymer. If you want to waterproof your yarns for your projects, it's easy.
You can use paraffin or beeswax for this process. Before you start your crochet project, it's better to wax your yarns first. You can start with a few meters and just continue waxing as you go on with your project.
Waxing is simple. Get a chuck of paraffin or beeswax and run it over your thread. Make sure that the wax covers the entire yarn by pressing it with your thumb as you pull the thread.
Another option is by using waterproofing and seam sealant sprays. You spray any of these chemicals on to your finished projects. You can buy them in crafts stores, textile shops, and online stores.
When you apply these chemicals to your finished projects, make sure you do it in an open area. This will prevent the chemicals to linger around your home or other home furnishings.
Spray these chemicals on both sides of your swimsuit. Let it dry before using them. It will be best if your swimwear can fully absorb the waterproofing chemicals. Let it sit for at least 24 hours.
Related: 
How Do You Crochet A Swimsuit?
Making your crochet swimsuit is a fun project. You can create the style and the color you want for your swimsuit. But making an entire swimsuit may not be practical. The crochet bikini can be problematic and uncomfortable at times.
So, here are some easy-to-follow steps on how to crochet your swimsuit top. This is a better option since you can mix and match it with your other bikinis. It will also be perfect for your jeans shorts as you stroll by the seaside.
Crochet the Foundation Row
Get a medium-weight acrylic yarn and size J-10 (6.0 mm) hook. Acrylic yarn is best so that your bikini will stay in shape after several washes.
Create a slipknot and tighten it on the crochet hook. Wrap the yarn on your index and middle fingers twice. Then, pull the first loop over the second loop. You need to tighten the loop around your finger and slip it on the hook. Pull the tail so you can tighten the slipknot.
Make a chain according to the width of your bust area. Coil the yarn on the hook once and then pull it through the slipknot. This makes one chain. Repeat it for 45 times or more to cover the width of your chest.
You're done with your chain if it's long enough to go from 1 armpit to the other.
Chain 3 more stitches to start your first row. Coil the yarn on the hook once, then pull it to make 1 chain. Do this twice for a total of three.
Make double crochet on the fourth chain until the end. Loop your yarn on the hook once. Then insert your hook in the fourth chain from your hook. Loop again and pull 1 loop into the chain. Then, coil the yarn again and pull onto the two loops. Coil once again and pull into the last two loops on your hook. This makes your one double crochet stitch.
Continue the double crochet three to five times to complete your swimsuit band. Then, chain 3 and turn the project around to start the new row. Make a double crochet stitch across the row. Do this for about 3 to 5 rows depending on your desired width for the band.
Trim and tie the last stitch if you achieved the desired width. After you finish the bottom of your bikini top, pull out the last loop at around 3 inches (7.6 cm). Trim the yarn around 3 inches (7.6 cm) from your last stitch in the row. Then, you need to insert the end into the loop and pull the tail. Tighten the loop by making a knot at the end of the row.
Do a slipknot then chain 6. Coil the yarn on your middle and index finger twice. Pull the first loop onto the second loop. Tighten the loop over your hook. Yarn over your hook once and pull. This makes your first chain. Do five more chains for a total of six.
Make a single crochet stitch across the chain. Then, you need to insert the hook into your first chain. Then, yarn over the hook. Pull the loop into the chain. Get yarn again, then pull into 2. This completes your first single crochet stitch.
Form a total of four single crochet stitches on your last chain. Make a single crochet stitch through it twice, when you get to the last chain. Next is to make a chain of 1, then single crochet twice into the same chain.
Create a single crochet stitch on the opposite side of your chain. Do this single crochet back to the chain of the opposite side. Make one single crochet stitch onto each of the chains. Do this as you are going back to the other end of your chain.
Make a single crochet stitch on the opposite side of your chain. Do this single crochet back to the chain of the opposite side. Make one single crochet stitch onto each of the chains. Do this as you are going back to the other end of your chain.
Chain 1, then move your work on its opposite side. When you reach the start of the chain again, do a chain of 1. Turn your work so it is facing you.
Repeat the entire process until you get your desired cup size.
Finishing Your Swimsuit Top
Put the top edge of the band you made on the bottom edges of the swimsuit cups. Determine the placement of the cups and insert 2 to 3 pins through the band and the cups to secure and attach them. Make sure to check the position of the cups by putting your pre-made swimsuit top against your chest.
Sew the cups to the band together using a needle and the same yarn.
Then create 4 chains to secure the bikini. Make sure that the chains are long enough to reach the entire width of your back. This will be around 45 chains.
Sew this chain into the ends of your sewn band and cups. Make a few stitches to secure it, then make a knot on to the last stitch.
Trim any extra yarn on the ends of your chains. Once you finish securing the chains to the swimsuit top, remove any extra yarn hanging on the bikini.Now that you finished your crochet swimsuit top, you are ready to hit the beach this summer!
Crochet bikinis and swimsuits are great summer fashion statements. They make a perfect ensemble for those picture-perfect poses. What makes these crochet bikinis and swimsuits alluring is their unique appeal.
These summer wears are versatile. You can them as is or mix-match them with your other outfits. And the best part of it, is you can make them yourself. It means you can make all the styles and colors you want, and be fashionable throughout summer.
You can make gorgeous designs for your friends – they will surely love it. You can even sell them for profits! Being creative, fashionable, and earning extra seem a lot of fun, don't you think?