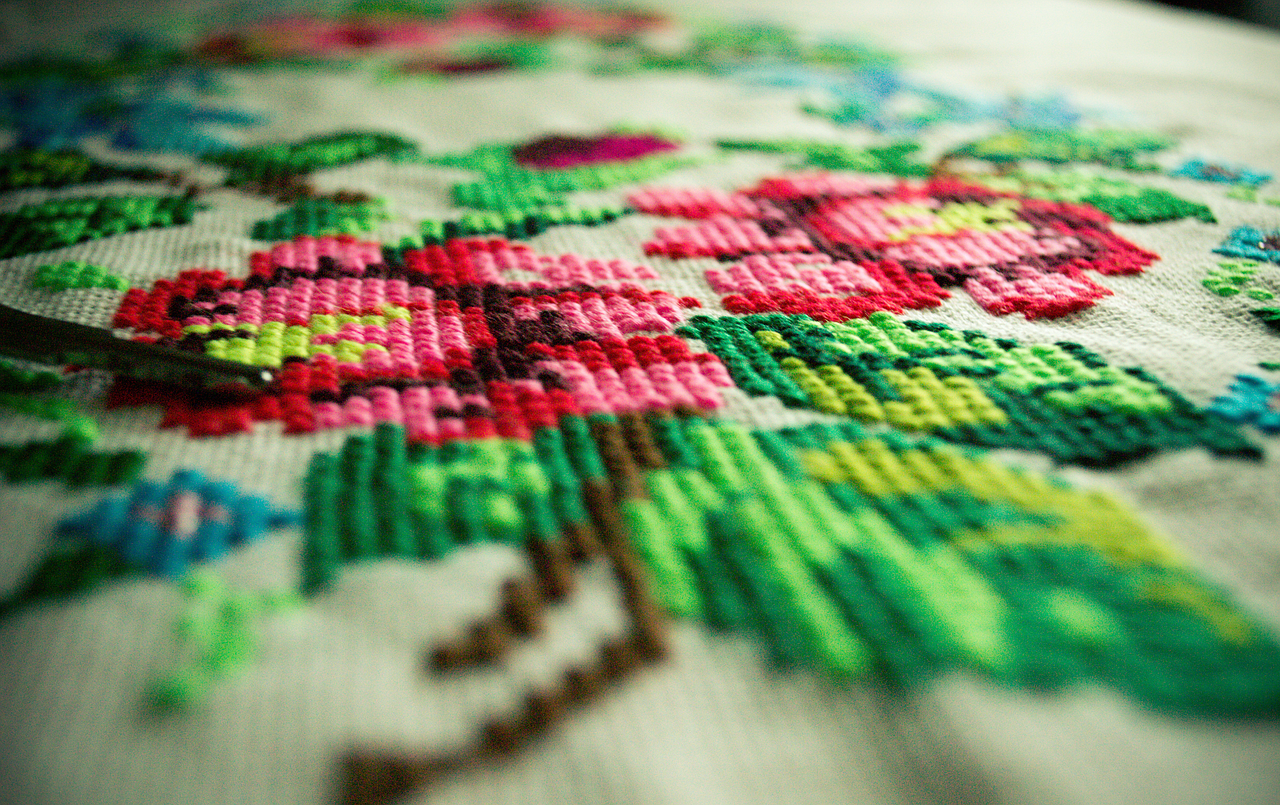 If you are looking around for cross stitch patterns or kits, you can choose from two types- the stamped cross stitch and the counted cross stitch.
Both are created using X-shaped stitches to create a pattern on the cloth. There is a difference in the way the materials look. With stamped cross stitch, the pattern is already stamped on the fabric, while for counted cross stitch, you will start with a blank fabric.
What is the difference between stamped and counted cross stitch?
When you visit craft shops, you will find two kinds of cross stitches – the stamped and the counted cross stitch. These two cross-stitch types have similar outputs, but they differ in some aspects. Stamped cross stitch has the pattern or design already stamped on the cloth. On the other hand, you will begin your stitches on a blank canvas with counted cross stitches.
How do you cross stitch with a stamped pattern?
When you cross stitch using a stamped pattern, you will find that the colors imprinted on the fabric have corresponding floss colors. Match the colors on the pattern to the floss colors to create the design.
Stamped cross stitch is also called no-count cross stitch. There is no counting of stitches because the pattern is already printed on the Aida fabric.
A stamped cross stitch kit usually comes with the stamped fabric, floss, color chart, and stitching instructions. Other people liken it to a paint-by-number that has everything pretty much laid out.
First, you start by looking at the colors on the fabric, finding the matching floss, and then stitch using the stamped pattern as your design guide. When you have finished crocheting, washing the fabric removes the stamped design.
If you want to try out cross-stitching minus the complex patterns, then stamped cross stitch is the one for you. Cross stitching is easy with stamped cross stitch. You don't need to concentrate very hard that you may lose count and miss a stitch. You will find everything printed on the fabric; the colors, symbols, and the position of stitches on the fabric.
Cross-stitchers who choose stamped cross-stitching find it more relaxing to the eyes and mind. With this method, you can stitch directly on the fabric without ever having to count.
Is counted cross stitch easy?
Counted cross stitch is one of the easiest forms of embroidery. You follow a design or pattern written on paper, and it comes with a color key that you should match with the color of the floss. Each color also has a matching symbol which forms the design on the pattern.
Counted cross stitch is easy because you only need to make sure that you have the right number of stitches and stitch according to the pattern. It may be discouraging at first, but it becomes enjoyable and relaxing once you get used to it.
Counted cross stitches can be more challenging because some patterns can be intricate due to blended threads. Sometimes, other types of stitches are used, and even the size of the pattern itself contributes to its difficulty.
Which is easier stamped or counted cross stitch?
Cross-stitchers have different views on which of the two is easier. Some say that stamped cross stitch is simpler and easier because the pattern is already printed on the fabric. But you can also find basic counted cross stitch patterns that are also easy to do.
Which type of cross stitching is easier depends on some factors. Check these out if you agree. Choosing which one you like best to do still depends on personal preference, not which is easier or more challenging.
Skill Level
Some crocheters recommend stamped cross-stitching as ideal for beginners. With a complete stamped cross stitch kit, you can start stitching right away. You don't need to go through finding the center of your fabric first before you can start stitching.
With stamped cross stitch, you can start from any part of your pattern or any floss color that you choose. Stamped cross stitch is a good starting point for newbies or children who are interested in cross-stitch.
Counted cross stitch can be a little tricky because you need to find the center of the fabric before you can start. It would be best if you counted your stitches properly; else, your project would spell disaster.
But nowhere does it say that stamped cross-stitching is only for newbies because it is easy. And counted cross stitch is not only for the experienced cross-stitchers but anyone who knows how to count.
The Complexity of the Pattern
Stamped cross stitch patterns are usually not as detailed as the counted cross stitch patterns. Usually, the colors used on stamped cross stitches are basic, and it does not use as many fractional stitches as in counted cross stitches.
Counted cross stitch patterns can produce more complex patterns with wider color variety and smaller details.
Final Product
The finished pieces of the stamped and the counted cross stitches also differ. A finished counted cross stitch is usually very detailed, with a lot of colors and finer gradients. These cross stitch pieces are usually hung on walls like paintings.
Stamped cross stitches have simpler designs and usually come in small patterns. The stamped cross stitch designs are commonly used to decorate pillowcases, placemats, or table runners.
The question of which type of cross stitch is easier still depends on what design is on the fabric. Stamped cross stitch can also have large and complex patterns, while counted cross stitch can also come in basic patterns.
The easier choice of the two would be something you are willing to stitch from start to finish.
What is 14ct stamped cross stitch?
The 14ct stamped cross stitch refers to a printed cross stitch pattern using Aida fabric with 14 squares per inch. It means stitching on this type of fabric will give you 14 stitches per square inch. The 14ct Aida fabric has a perfectly square weave that makes it easy to create neat and regular stitches. It is also the ideal fabric count for beginners in cross stitch.
A 14ct stamped cross stitch kit usually comes with a 14ct Aida fabric stamped with a guiding pattern. The kit also includes pre-sorted threads with colors corresponding to the symbols or blocks on the 14ct fabric. It is recommended to use two strands for the X-stitches as well as for the back stitches. Needle size of 24 is commonly used to stitch on 14ct fabric.
Water-soluble printing dye is used for stamping the design on the fabric, so it is best not to get it wet while the cross-stitch project is not yet finished.
Similar pages: 
Is counted cross stitch still popular?
Cross stitch is a famous craft in many parts of the world and has been around for centuries. It declined in the 1800s, but its popularity peaked again in the 1960s. It became accessible again when some people increased their leisure time through counted cross stitch.
These days, counted cross stitch is quite famous again among stitchers. However, another form of cross stitching emerged in the 1990s, the stamped cross stitch. A lot of people still create works of art using counted cross stitches to this day. Many people are even discovering this relaxing craft for the first time.
Why is still there huge interest in crafts such as counted cross stitch these days?
Counted cross stitch is still very much alive at present. There is always a time when people are looking for ways to calm the nerves due to the stress we experience daily. Cross stitch, just like any of the other crafts done by hand, like crocheting or knitting, allows a person to sit back, relax and make some stitches.
Cross stitching has a positive effect on the mental well-being of people who pursue this craft. It gives them a respite from the overwhelming demands of work or daily chores. Sitting down for a few minutes and a few stitches can dissolve stress even for a while. It is also a great feeling that you are getting something beautiful and useful when you finish your cross-stitch piece.
Counted cross stitch can teach focus by allowing the brain to concentrate on the task at hand. Repeatedly counting and creating x-shaped stitches on the fabric can teach focus. It can be a great activity for kids to learn the importance of focus by counting the stitches properly to avoid mistakes that can eat up too much time.
Counted cross stitch is also a great venue to teach patience aside from focus. When the patterns can get overwhelming and take such a long time to finish is a situation that can teach patience.
Gives a Sense of Calmness
Some stitchers equate cross-stitching to calmness. The act of repeatedly doing the same type of stitch creates a sense of calmness similar to meditating.
Cross stitching gives a person a break from the hustle and bustle of life full of chores, work and anxiety-laden activities.
Cross stitching can be a perfect bonding activity at home for parents and children. Teaching counted cross stitch to children is a great way to give them other meaningful activities to use with their time.
It is a great idea to teach children counted cross-stitching so that you can pass this relaxing craft on to the next generations. It is also a great way to create something that they can give as gifts to family or friends.
Promotes a Sense of Community
As many people are getting interested in counted cross-stitch, you can find many cross-stitch groups online. Many stitchers share their finished work and compare cross stitch-related ideas.
It is a great feeling when you find people, even online, who understand your affinity to this type of activity to share ideas and successes with.
Counted cross stitch is probably more popular these days because of the worldwide reach of the internet. It is now even easier to access patterns you want with the countless cross-stitch businesses you can find online.
Once you find the pattern of your choice, whether stamped or counted, don't waste time and stitch away.