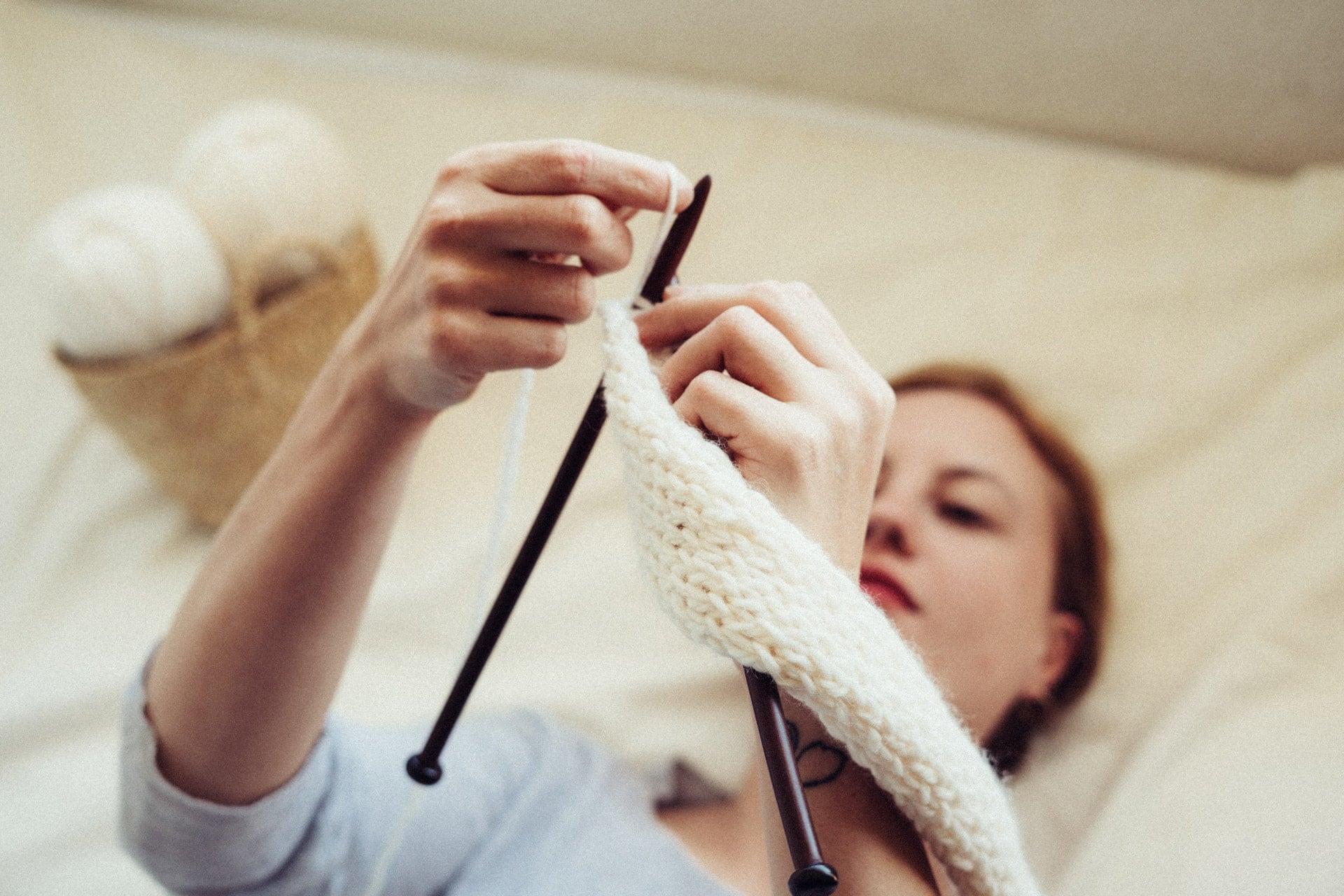 Knitting is one of the most relaxing and calming activities you can do after an exhausting day at work or after bustling around with your chores at home. But another important thing you must know is that knitting is also good for the brain.
For a long time now, we are aware that knitting helps improve our mood but not its benefits to the brain. Yarn crafts like knitting keep the brain sharp. Knitting helps stimulate the brain to keep it healthy. The various movements involved in knitting exercise your brain and improve your memory. Knitting forces your brain to use its memory actively, and the more you use your brain, the healthier it becomes.
Knitting includes a lot of counting, multiplying, and measuring, which are all math skills. One of the brain benefits that knitting can give is to improve mental maths. That is also another reason why this needlework is good for the brain of all ages.
When you knit, you are subconsciously doing maths and using your memory by remembering steps you need to do, such as how many rows you need to knit, when to knit and when to purl, and what color or pattern comes next. Knitting away, you did not think that you are sharpening your math skills but your mind as well.
What does knitting do for the brain?
Knitting has soothing powers, yet it also stimulates the brain. Knitting makes a great activity for all people, young and old because it involves all brain parts at once. Every movement in knitting needs different areas of the brain with very specific functions.
Frontal lobe – judgment, planning, and problem-solving
Occipital lobe – interprets vision (color, light, movement)
Parietal lobe – interprets words, signals from vision, motor, sensory, and memory
Temporal lobe – memory, sequencing, and organization
Cerebellum – coordinates the precision and timing of movement.
In a neuropsychiatry study, it was observed that engaging in craftwork like knitting lowers the risk of developing mild cognitive impairment (MCI) by 30 to 50% in seniors. Keeping the mind active is vital as aging affects memory. By exercising your brain often with knitting, the longer it will last. You get an improved memory, a relaxed mood, and a knitted item all at the same time.
Does knitting make you smarter?
Indeed, it does. In fact, the alternative Waldorf School teaches first-grades knitting first before teaching them how to read. They believe children can learn focus and concentration and improve fine motor skills, which they need to read and write through knitting.
Knitting is a hobby that requires a great level of focus on the work being done, especially when you are just a newbie. Through time and as you advance in your knitting journey, you will develop great attention to detail, which is needed as you go through more complex patterns and designs.
Activities such as knitting improve cognitive skills. Your mind is forced to make things work when problems arise, such as when you realized you dropped a stitch or purled instead of knitting. Simple issues such as these help you with problem-solving skills and maintain a sense of calmness that you will eventually need as you go through knitting and life.
Knitting stimulates your mind to be creative. Even if the movements are repetitive and using only string and two metal rods, you can create anything that you want. Reading a knitting pattern requires you to have a certain amount of patience in understanding the knitting lingo that finishing a knitting project is quite an excellent feat.
Is knitting good for mental health?
It is a scientific fact that knitting and other craftwork is good for mental health. A study of a group of students in a university in New Zealand who engaged in doing crafts concluded that the students felt calmer and happier even the day after.
The calming effect of knitting's repetitive movements prevents the adrenalin from acting up and activates the parasympathetic nervous system to dampen the body's fight-or-flight response. Knitting has been observed to boost the brain to produce the hormone dopamine, which is a feel-good neurotransmitter.
Knitting can also put you in a state of mindfulness, where you focus only on one thing and let go of other things that can occupy the mind. Knitting has this effect of drowning the background and focus on the task at the moment. Being in this state of mindfulness calms and relaxes the mind.
Besides improving your mental health, there is a tangible benefit in knitting; you get a scarf, blanket, or sweater.
Does knitting prevent dementia?
According to a study by the New England Journal of Medicine and the Mayo Clinic, playing board games, reading and knitting are examples of mental exercises that can lower the risk of dementia.
Knitting is a cognitive activity that requires a patient to focus inwards to accomplish a task. Creative activities such as knitting, painting, and crafting, which involve the work of one's hands in sync with the brain, give dementia patients a natural surge of dopamine, called the "natural anti-depressant."
As mentioned before, knitting stimulates different parts of the brain, including those that function for memory and attention span. Dementia is a condition that affects both of these functions. Knitting puts these functions back to work and keeps them healthy despite the gradual loss of cognitive ability due to aging. A study done with people aged 50 -65 in Minnesota showed that those who knitted at an early age and continued to knit later in life had a lowered risk of dementia.
Knitting and other similar craftwork have preventive or delaying effects in people who are at risk of dementia and very calming to patients who are already suffering from this illness.
Is knitting good for anxiety?
The repetitive motions and the sense of focus brought about by knitting help distract from symptoms of anxiety. One international study showed a strong connection between knitting and feelings of happiness and calmness.
Knitting and crocheting have been observed to help people with anxiety related to eating disorders and Obsessive-Compulsive Disorder. The need for organized activities by people with anxiety is satisfied by the counting and repetitive movements associated with knitting. The rhythmic motion of knitting soothes the mind, allowing it to focus on the task and keep worries at bay.
Can knitting reduce stress?
Many knitters attest that knitting has a considerable effect on relieving stress. A lot of people from all walks of life consider knitting as a great pastime to release the stresses of day-to-day activities.
The rhythmic, repetitive movements of knitting have a meditative effect and, in fact, lowers the heart rate and blood pressure to a relaxed state. The soothing and calming effect of knitting helps prevent stress-related illnesses.
Knitting can also be considered a relaxation tool to replace other habits such as smoking, drinking, or binge-eating.
Knitting nowadays is far from the mundane task that grandmas do at home. You can even see many busy career women picking up their needles and so some clickety-clacking. As some say, it relieves your stress, and you get a sweater at the end.
More pages: