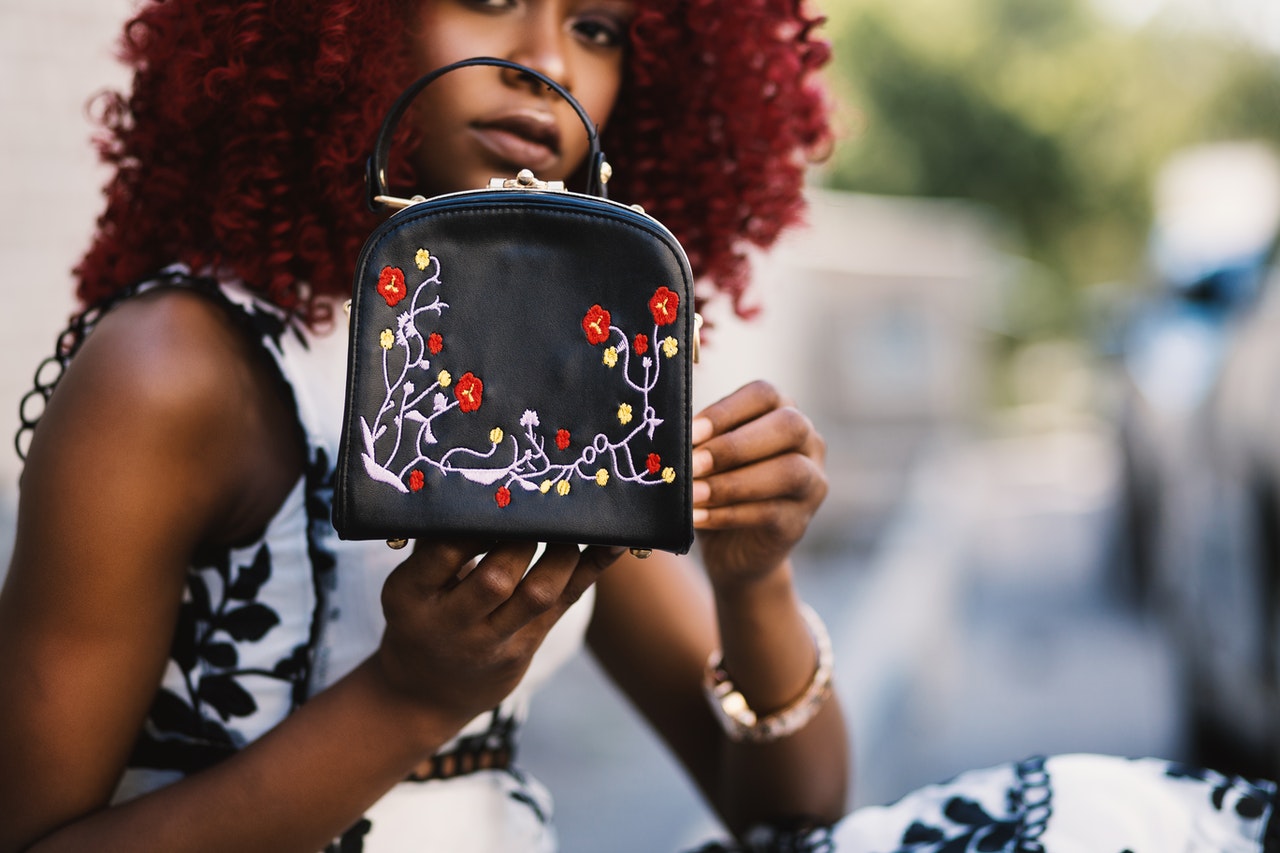 Crewel is a type of surface embroidery which uses wool threads on linen twill. Types of embroidery usually differ on the stitches used to create the design. But in the case of crewel embroidery, it is unique because of the wool threads used to embroider on the fabric.
What is the difference between embroidery and crewel?
The definition of embroidery is the craft of decorating fabric or other materials using a needle to apply thread or yarn. Crewel is under the umbrella of embroidery because crewel is a type of embroidery unique from the rest because of the thread used, which is wool.
The thread used to embroider crewelwork is wool. So, you can expect that the design on the finished embroidery piece will have some texture and dimension due to the thickness of the thread used.
What does crewel mean?
The word crewel has unknown origins, but it is thought to have come from an ancient word describing the curl in the staple; the single hair of the wool. The long-staple of crewel wool is fine and can be strongly twisted.
These days, crewel is used to describe many things. The two-ply worsted wool thread is called crewel. It is also used to refer to the handmade craft of embroidering wool thread onto linen twill fabric or the stitches used, mainly the Stem Stitch.
Why is it called crewel work?
Crewelwork is called such because it uses two-ply worsted wool yarn called crewel on a freestyle type of embroidery. Crewelwork is unique not because of the stitches used to create the design. It is different from other embroidery styles because of the crewel wool thread used to embroider on twill, cotton or linen fabric.
Crewelwork dates back to the 16th and 17th centuries, mainly in England and its American colonies. Crewelwork was at its peak at that period because of the Elizabethan and Jacobean fashion. The style used embroidered fabrics as furniture coverings and wall hangings.
Traditional crewelwork designs were from embroidery pattern books that were published in Europe in the 16th century. Crewelwork designs were also inspired by Palampores, hand-painted cotton fabrics imported to England from India. One popular traditional crewel design is the Tree of Life pattern. Other design sources for crewelwork were embroidered Chinese fabrics from Portugal.
You can define modern crewel work as applying various stitches to the surface of fabric using wool. The fabric commonly used is linen with the design printed on it.
What is Jacobean crewel work?
The early 17th century England can be defined as the Golden Age of crewelwork. A period when the British sea traders brought embroidery merchandise from India. About that time, local manufacturers were also imitating steel sewing needles.
The king at that time was King James I, which is Jacobus in Latin. It is where the name of the well-known embroidery style Jacobean crewelwork was derived.
The usual motifs of the Jacobean crewel embroidery were birds, flowers, the tree of life and other nature-inspired scenes. Most of the crewel stitches traditionally used then are still used today.
The Jacobean crewel embroidery crossed oceans from England to the colonized American countries. Crewelwork occupied the time of well-to-do women who stitched crewel embroidery designs on skirt petticoats or elaborate designs on canopied beds.
Are crewel and embroidery needles the same?
Crewel and embroidery needles have the same characteristics. They have sharp tips and larger eyes than regular sewing needles. The sharp tips help the needle to pierce tightly woven embroidery fabrics like linen or felt. It also aids in piercing through the previously stitched wool threads on the fabric.
Crewel needles have large eyes to accommodate thick embroidery wool threads used for crewelwork. Another advantage of using a needle with a large eye is that it can work with more than one piece of crewel wool thread at a time.
Embroidery needles are also called crewel needles since they are used for crewel embroidery. Crewel needles are the same as any needle used for any embroidery technique, which needs a sharp tip and large eyes.
What kind of thread is used for crewel embroidery?
Traditional crewel embroidery uses a two-ply wool thread called crewel wool. The classic crewel wool is a loosely twisted two-ply worsted wool. The fiber comes from long-haired English sheep, combed and spun until it becomes smooth like a rope and is not as soft and fuzzy as a knitting yarn.
Crewel yarn is a heavier thread compared to the regular embroidery floss. Modern crewel yarn is made of natural wool or synthetic wool (acrylic) and is mostly embroidered on heavy fabrics. Crewel wool is not a very strong thread, so stitchers only advise using thread lengths of up to 14 inches. Using long threads to embroider can wear them out easily and cause them to break.
When looking for a thread for crewel embroidery, craft shops usually label them as crewel wool. It usually comes as a two-ply thread, but you can also find one-ply versions. Crewel yarn is used as it is without having to separate the threads, unlike embroidery floss.
Crewel wool threads are usually sold by the hank or by the skein. If you need a large quantity for your embroidery, you buy the hank. But if you are more into creating small crewel workpieces, it would be best to buy by the skein.
Different brands of crewel wool may produce different textures on your embroidery. It is a good thing if that is the outcome that you would like for your finished project. But if you prefer uniform thread thickness, it would be best to stick to a single brand.
You can use bright-colored threads on modern crewelwork these days. Artificial wool or acrylic, which is cheaper than natural wool and can be dyed in a wide variety of colors, can make this possible.
What fabric is used for crewelwork?
Traditional crewel embroidery is stitched on linen either in a twill weave or a regular weave. Linen has the right enough balance of having a close weave that can keep the stitches in place and accommodate the thick crewel wool to pass through.
Linen twill is the perfect fabric for the freeform stitching style of crewel embroidery. You can find it in craft stores in white or off-white in either 100% linen or a linen blend. Linen is the traditional fabric used for crewel embroidery, but many crewelwork these days use other fabric types.
Modern crewel embroidery uses different fabric types like cotton, wool, silk, jute, and fabric blends.
Crewelwork is defined by the thread it uses, wool, but is not particular with the fabric background. So, with crewel embroidery, you can use any fabric that you fancy as long as it can accommodate the thickness of the crewel wool.
How do you do crewel embroidery?
There are no exclusive stitches for crewel embroidery. If you look at the stitches of crewel embroidery pieces, you will see familiar and basic stitches used in the other types of surface embroidery.
But of course, there are the most commonly used and therefore most characteristic of the crewelwork. Here are some of the basic stitches that you will find in most crewel embroidery pieces.
Stem stitch and Crewel Outline look essentially the same and serve the same purpose. They only differ in the way the stitch is done. The thread is carried above the needle for the Stem Stitch, while for the Crewel Outline, the thread is carried below.
The stem or crewel outline stitch creates nice curved lines and smooth outlines. When stitched closely together in parallel rows, they are perfect space fillers. The stitches are worked from left to right. The stitches twist to form a continuous line. They are mostly used as stems or outlines of embroidery designs.
The Satin Stitch is made of flat stitches laid closely side by side. It is usually used to fill small spaces in designs such as flowers or leaves.
The chain stitch is an easy-to-make stitch and also a fast and simple way to fill a space.
To make a chain:
Bring your needle from the back of your cloth.
Pull the yarn through, then insert the needle from the front into the original hole.
Pull the yarn to the back but form a loop on the front side.
Repeat the process until you form a chain of stitches.
Work your stitches loosely to see the chain effect.
The buttonhole stitch is worked between parallel lines. It is a great stitch to create thick borders on embroidery designs.
To make the buttonhole stitch:
Bring your needle with thread from back to front on the bottom line.
Stitch back to the top line but leave your thread loose.
Bring the needle again through the bottom line, but when stitching into the top line, pass the needle through the loop of the previous stitch.
The French Knot is a famous stitch used when you want your embroidery to have dimension. It can also be used as a design stitch in place of beads.
To make a French knot:
Bring your needle from the back of the fabric, then grasp the thread with your thumb and forefinger, holding it taut.
In a circular motion, hook the thread of the needle before piercing it through the fabric.
You will form a bead-like knot on the front of your fabric.
Seed stitches are small, randomly directed back stitches that are sometimes used as space fillers or background.
Trellis and couching are two great stitching techniques used in crewel to fill very large spaces without taking so much time.
The long and short stitches, also known as soft shading, give a characteristic of crewel embroidery, a dramatic color gradation.
The soft shading is achieved by splitting the thread of the upper stitch with the needle when making the stitch below it. Also, the stitches are laid into each other like bricks.
Crewel embroidery is usually thicker and heavier than traditional embroidery. Crewel wool used to stitch the designs is thicker and gives the finished piece a raised and textured feel.
More pages: 
What are crewel embroidery kits?
Crewel embroidery has evolved throughout the years. At present, you can find crewel embroidery kits with modern designs and patterns and using a wide variety of fabrics. But one thing stays the same, and it is why this type of embroidery is called crewel- the wool threads.
Crewel modern embroidery kits usually include printed fabric, pre-sorted wool, acrylic yarns, needles, and instructions. Modern crewel kits usually have the crewel embroidery design printed on the pre-cut fabric and are ready for sewing.
Traditional crewel designs are still made at present. But many patterns used in crewel embroidery kits today promote contemporary designs. By using modern motifs, younger generations of crewel stitchers can identify better with this needle art. But the tradition of using wool thread and the characteristic stitches remain.
The finished crewelwork has also evolved in purpose and dimension. Most crewel work designs are small and framed for display or used as applique for a pillow. You can also find crewel embroidery kits with crewel design outputs that you can turn into handmade greeting cards.