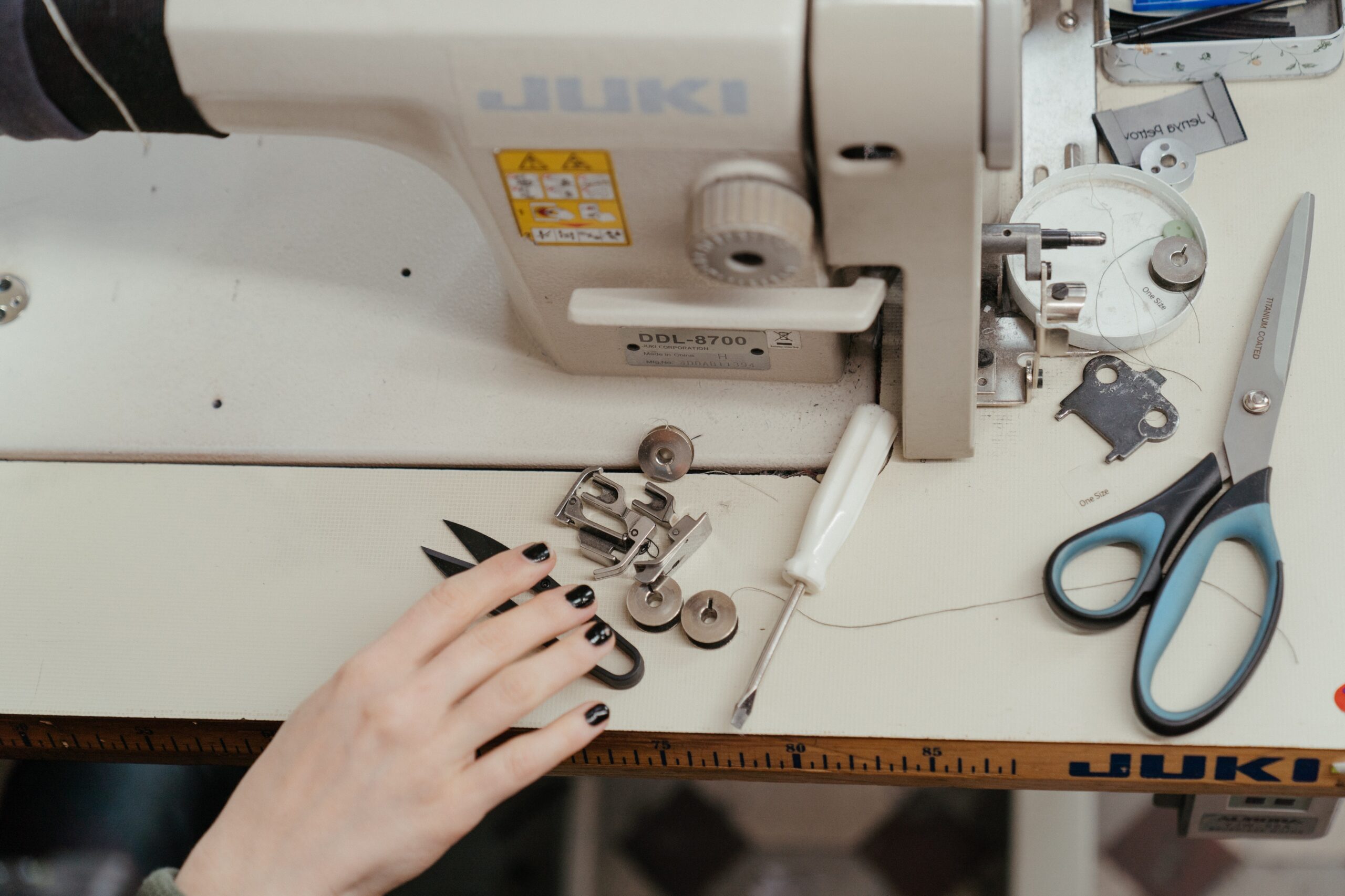 If you look at the answers of various sewists, you would be quite amazed at the number. Most own more than two, but many have double-digit sewing units. You might wonder how sewists arrived at this huge number of sewing machines. Maybe a more appropriate question would be, "How many sewing machines do you own?" Read on to know and understand why you would want to own more sewing machines than one.
How many sewing machines do you need?
As a newbie sewist, you would at most need only one sewing machine to learn how to sew. But as you pick up more learnings about sewing and your skills level up, you may need a machine with features other than straight stitching. Sewists who have been doing this needlecraft for quite some time own more than one sewing machine unit.
You may have your reasons for owning that many sewing machines you have right now. But as they often say, to each his own devices. You cannot put an exact number to how many sewing machines a sewist needs. Why you would need that many sewing machines, sewists give these reasons:
Types of Projects 
Budget
Sewing skills
Computer-savviness
For Collection
How do I choose a sewing machine?
You can find an overwhelmingly large variety of sewing machines available in the market these days. And as a sewing enthusiast, you might find it difficult to choose from the huge range of sewing machine brands and models you see around you.
If you already know the types of sewing projects you want to do, it can help you decide which kinds of sewing machines you should include in your stash. Domestic sewing machines, even the most basic ones, are good starter machines if you are in to dressmaking.If you are into embroidery or quilting, there are sewing machines built specifically for those needleworks. You can choose from a wide array of heavy-duty sewing machines that can sew thick or layered fabrics for bag-making.
Another important thing to consider is your budget. Sewing machines come in a wide range of prices. You can get sewing machines from less than $100 to as high as $9000.Now that you know what kinds of projects you want to do, it should help you decide how much money you are willing to shell out. The prices of sewing machines usually depend on the brand or the model. Usually, the tried and tested brands that have been running for centuries are the most expensive.These popular brands also have less pricey sewing machine models to accommodate a wide range of sewing clientele. Some sewing machines are more expensive because of their more modern and advanced features. For a smart buy, get the one (or the ones) that gives you the best value for your bucks.
It would be best for a beginner sewist to start with a mechanical sewing machine. A mechanical sewing machine has limited stitches and features. But they are easier to operate and more affordable than electronic or computerized ones. When choosing a sewing machine, your sewing skills come into play.A domestic sewing machine is a good buy for a newbie in sewing. It is beginner-friendly but has enough features to make your sewing faster and more efficient. It can also include many household sewing tasks such as mending tears, sewing seams and darning holes on clothing.For sewing experts, a standard sewing machine would not be enough. Sewists who have been in this craft for a long time already know what features to look for. An ordinary sewing machine that can only make straight stitches will not be enough to handle complicated sewing projects. Expert sewists need equally capable sewing machines that can bring out their creativity more.If you have been sewing a long time, you have more advanced sewing skills. Eventually, you will need sewing machines with equally advanced features and techniques that are more suited to your skills. That is why most sewists own more than one model of a sewing machine.
Most modern sewing machines built these days are computerized. They are overflowing with highly advanced features to give the best sewing experience. But your computer-savviness will determine your choices of sewing machines.With these computerized models, sewing will be easier by pushing some buttons or tapping on an LCD screen. You can easily find the stitches and settings that you need for your project at the touch of a button. You can thread your needle or cut your thread automatically.If you have started sewing on a mechanical sewing machine, a reliable computerized sewing machine will still be easy to operate for you. Everything these days are mostly computerized. It is also easy to find online tutorials on how to operate these modern sewing machines.Computerized sewing machines flood the stores these days. But many sewists still choose the basic mechanical sewing machines. Some sewists still choose these kinds of machines because it is straightforward to use and sturdier.
Some sewists own more than one sewing machine, not because they need them or they use them. Some get sewing machines as gifts from families or friends, and they are added to their growing collection. Some sewists get them from estate sales which are sold at irresistible prices. Most of these good finds at estate sales are vintage sewing machines. And one good thing is that they are fully functioning but can be great additions to vintage collections.The sewist who collects sewing machines does not justify the need for more sewing machines. The sewing machine collector is lucky not to have to consider the budget and space for more sewing machines in mind.
What is a good sewing machine for home use?
Planning to buy your first sewing machine? Or do you want to make an addition to your sewing machine collection? Before you go and spend on one or more, here are a few basic things about sewing machines that you must know.
Sewing machines can be grouped into two main categories:
If you are into the garment business, you are probably more familiar with industrial or commercial sewing machines. These machines are fast and make professionally-made garments. But are expectedly more expensive than the standard sewing machines.
When you are only using a sewing machine for your hobby or ordinary household sewing, domestic sewing machines can do the job. Domestic sewing machines usually have basic sewing features.
If you are a beginner, a household sewing machine is probably the best type that you should get to learn how to sew. You can use domestic sewing machines for any sewing projects that you can think of.
Sewing machines also stepped up with the times and technology. So, now, the wide variety of sewing machines can confuse you into getting more than what you need.
To simplify your choices, you can categorize sewing machines depending on their specialized functions:
Mechanical Sewing Machine

Mechanical sewing machines are the most basic sewing machine that you can find. It is an excellent must-have for every sewing lover. It has the least stitch types and settings. With mechanical sewing machines, you need to switch dials to get to the stitches that you need. Sewing is also pretty straightforward, so it is the best sewing machine model for starting to sew.

Electronic Sewing Machine

An electronic sewing machine, also called a computerized sewing machine, has automated controls. You can choose your stitches and change settings through touch screens or buttons. For a beginner, the sewing features offered by a computerized sewing machine can be overwhelming. But for advanced sewists, an electronic sewing machine makes sewing a lot easier.

Embroidery Machine

For sewists who do more embroidery than sewing, there are sewing machines that are only used for embroidery work. You can also find standard sewing machines in some brands like Janome or Bernette with hundreds of stitches to choose from, which can be used for embroidery and ordinary sewing. They are usually listed as standard computerized sewing machines and not as embroidery machines. Most modern sewing machines manufactured lately come with many stitches to choose from that can work as embroidery machines. This sewing machine is ideal for you if you like embroidery work aside from your normal sewing tasks.

Overlock Machine

Expert sewists who already own one standard sewing machine or more usually have an overlock machine. This specialized type of sewing machine is also called a serger machine. The serger machine sews seams together using up to five threads together and trims off the edges simultaneously. Many sewists who sew as their day job own a serger. This machine can save a lot of time and produces very clean seams and edges.

Cover Stitch Machine

A cover stitch machine is also a special kind of sewing machine. Its purpose is similar to a serger machine, creating hems. The unique thing about the cover stitch machine is that the hems it creates are stretchy. A cover stitch machine is a great complement to a standard sewing machine that does the normal stitches. It is an ideal machine to have when you are into sewing jerseys, athletic apparel, and swimwear.
What should I look for when buying a sewing machine?
There is no such thing as a perfect sewing machine. A single sewing machine may have all the things you need to sew but not all the features you want. So, you can understand why advanced sewists acquire more sewing machines than their hands can operate.
When purchasing a sewing machine, you must consider your budget and space for your sewing machine. Finding the best sewing machine out of all the countless amazing choices around you can be daunting.
If you are lucky to find most of these features in a single sewing machine, you go ahead and grab it. Listed below are features that can give you a more enjoyable and relaxing sewing experience.
Free arm

Most modern sewing machines have the free arm feature. You will need it when sewing sleeves, cuffs, and pant legs which need to slide easily on the arm of your machine.

Foot Pressure Adjustment

It would be helpful if you can adjust the foot pressure on your sewing machine. This feature gives your machine the ability to sew different thicknesses of fabric.

Automatic Needle Threader

An automatic needle threader allows you to start quickly with your sewing. It saves a lot of time, especially for those who do not have a perfect vision.

Adjustable Needle

This feature can help sewists in stitching accurate seam allowances. If you can move your needle from left to right and vice versa, you can adjust your seam as needed.

Automatic One-step Buttonhole

If your sewing projects involve sewing buttons, an automatic one-step buttonhole is an essential feature of your machine. It makes sewing buttonholes quick and easy.

Strong Motor
A strong motor is important if you want your machine to last a long time. A sewing machine with a strong motor sews faster. It is a powerful sewing machine for denim and other heavier fabrics.
These are just a few of the essential features my sewing machine must-haves to make sewing faster, easier, and more enjoyable. What is on your list?