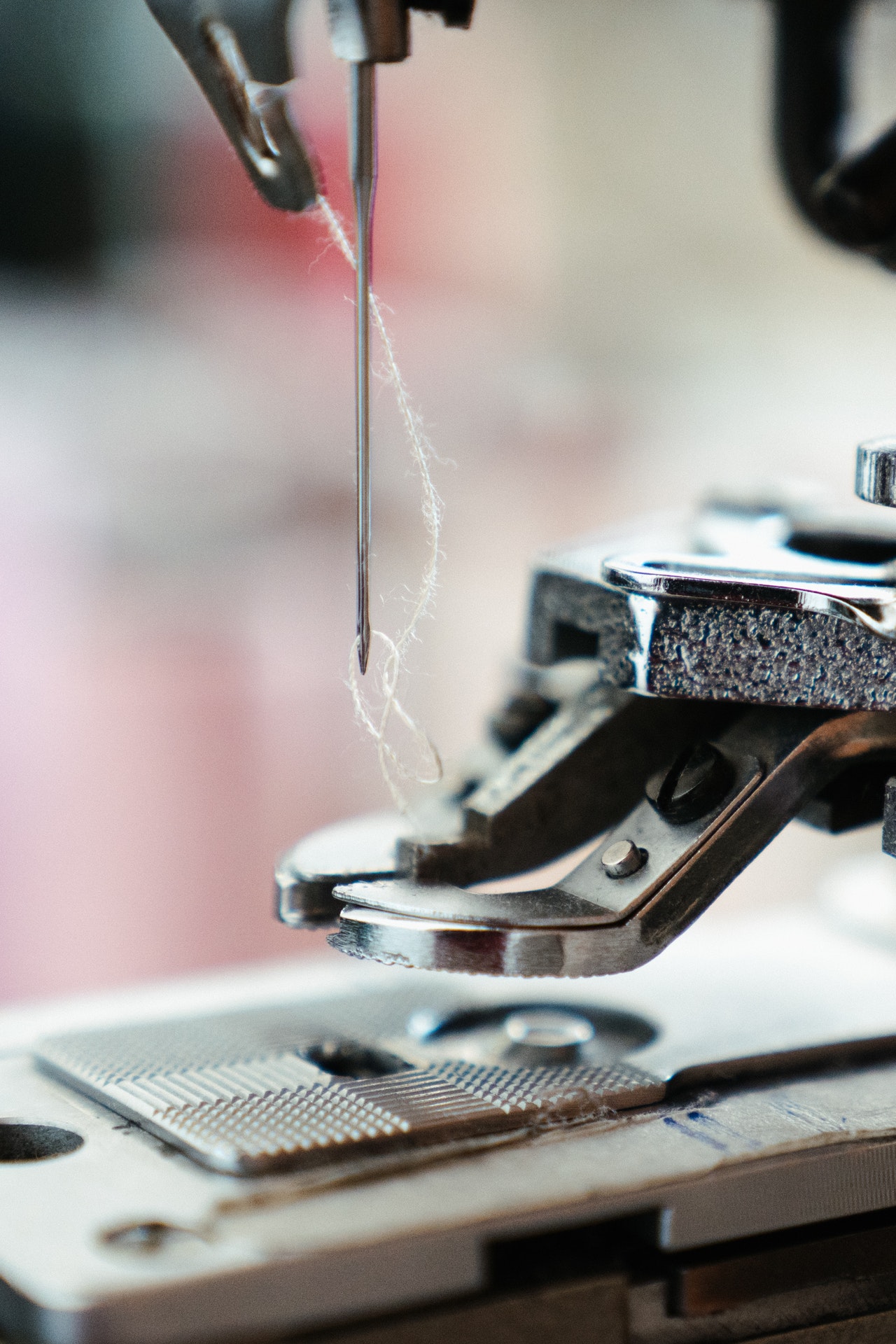 Your sewing machine is making knots because of a bunch of reasons. There is a long list of reasons why your thread knots up. But the majority of the cases are caused by tension.
When thread bunches up on the top or bottom of your fabric, it can be quite frustrating. Bunching of threads is also called "birdnesting". This looping of the thread is a common sewing machine problem, yet it is also the most annoying.
Whether you are a newbie or a sewing pro, thread knotting in your machine can happen to you. As they say, do not sweat the small stuff because this problem has an easy fix.
Why is my sewing machine knotting up?
Many factors may trigger thread bunching or "birdnesting" when you are sewing. And if you have no idea why this happens, it can cause you to panic.
Thread bunching up when you are sewing can happen in different parts of your sewing machine. You may see tangled threads on top of the fabric, at the bottom of it, or in the bobbin area.
The state of your fabric or your machine may look exasperating with all these clumps of thread. But you must know that there is always a solution when you get down to the very reason why it happened.
Here is a quick list of what could be the culprit in making knots in your sewing machine.
Thread tails are too short.
The sewing machine is not threaded correctly.
The bobbin is not inserted properly.
The needle needs to be changed.
Tension is not right for the fabric.
Bobbin area is dirty.
Bobbin size is wrong.
The presser foot is up.
Feed dogs are down.
The sewing machine is not oiled.
More topics: 
How do I stop my thread from tangling on my sewing machine?
Threads that bunch up while sewing may be due to a lot of reasons. Here are a few things you can try to do with your machine if you are faced with tangling thread issues.
Make your thread tails longer.Some start sewing without holding the thread tails first. If you leave a thread tail shorter than two inches, your thread may get sucked in the sewing machine as you sew. When this happens, your threads can bunch up. Some sewing experts suggest at least 5 inches or 15 cm of thread tails.Another solution is to hold the thread tails until you have sewn a few inches. It is essential to pay attention to the length of your thread tails before you start sewing. The same goes for both the top and the bobbin threads. If your thread tails get sucked into the machine, you need to pull the thread out and rethread your machine.
Rethread your top thread.It is possible to thread your sewing machine incorrectly, even if you have been sewing for a long time. When your threads bunch up, one of the first things that should come to mind is to thread your machine correctly. If you do not thread your sewing machine properly, the birdnesting occurs on the fabric's bobbin side. If this happens, do not assume instantly that the problem is the bobbin.You have to unthread your sewing machine first, then rethread it. Your thread take-up lever should be in the highest position. Attach your spool of thread. Then, pull your thread through your tension discs and thread guides.Finally, pull your thread through the needle's eye and leave about 5 inches of thread tail. When in doubt on how to do your threading, it is always best to refer to your sewing machine's manual. This way, you can be sure that you are guiding the thread through all the guides in your sewing machine.
Insert your bobbin properly.If you put the bobbin in your bobbin case wrong, your bobbin thread might unwind the wrong way. Bunched up thread under the fabric is a sign that your bobbin is not inserted correctly. If your bobbin is not unwinding correctly, the bobbin thread will not form proper knots with the top thread to make stitches.To make sure that there will be no tangled knots underneath your fabric, make sure that your bobbin is placed correctly in its case. If you are unsure which direction your thread moves in your bobbin, check the user's manual. Some sewing machines, such as those manufactured by Kenmore brand, require your thread to go clockwise inside the bobbin case, while some need it to go counterclockwise.It is also possible that you have inserted your bobbin case in the machine incorrectly. If you take apart your bobbin area for cleaning, make sure that you put everything back in its place.
Change your needle to a new one.A dull needle can contribute to the bunching of threads. The purpose of the needle is to interlock the top thread with the thread from the bobbin. When your needle is dull, it may not be able to perform this action.Instead, it may cause a knot to form on the bobbin area of your fabric. One of the simplest solutions to resolve sewing machine problems such as knotting of threads is to replace the dull needle. Changing to a sharp, new needle will create smooth and straight stitches.
Adjust the tension as necessary.The thread tension on your machine depends on the fabric and the thread that you are using. There is no such thing as a "one-size-fits-all" tension. The knotting of threads is likely when the tension is not right for your thread or fabric.If you are using a heavier fabric, you have to change your tension based on your fabric's thickness. You may also have to change the tension of your thread when using light and delicate fabric. You can use a test scrap of fabric to make sure that your tension works with your fabric and thread. If your stitches are straight and smooth, your tension is right for your fabric.Those who have more experience in sewing recommend keeping an extra bobbin case set for a type of thread that you use often. Doing so avoids adjusting the tension on the extra bobbin every time you change to a new thread.
Clean your sewing machine regularly.Your sewing machine gathers lint and dust over time as you sew. The bobbin area is prone to get filled with lint. Lint in your bobbin case can get in the way of your needle. Lint can prevent the hook in your bobbin case from creating clean and smooth stitches.A great way to remove all the dirt, dust, and lint on your machine is to use canned air. It is a safe and easy way to remove lint or any dirt from hard-to-reach parts on your machine.A regular clean-up schedule for your machine is a sure way to extend your machine's life and prevent sewing problems from happening.
Use the right bobbin size.If the bobbin you use for your machine is either too big or too small, it may cause your thread to make knots. Your machine comes with around 3 to 5 bobbins that you can use. Some prefer to have more so that they do not have to replace the thread on the bobbins.To avoid knotting issues, use only the bobbins that are the proper size for your sewing machine. A smaller or larger bobbin can cause threads to jam. Make sure to buy bobbins that are compatible with your sewing machine.
Presser foot should be down when sewing.When you are sewing, make sure that your presser foot is down. If the presser foot is up as you sew, you will form knots at the base of your fabric. Sewing beginner or not, you must always keep in mind that the presser foot should always be down when sewing.The right time to put your presser foot up is when rethreading your machine. When you rethread when the presser foot is down, you make the tension disks tight. You are preventing the thread from staying properly between the disks.
Put your feed dogs up.The little teeth that you can see from the throat plate are called feed dogs. They are the mechanism that pulls your fabric through the sewing machine. You do not need feed dogs if you are sewing delicate fabrics or doing freehand sewing.It would be best to raise your feed dogs for ordinary sewing and typical fabrics. If you put your feed dogs down, you get some bunched-up thread underneath your fabric. Feed dogs are needed to be up to make your fabric move and make the stitches not only form in one location.
Oil your machine.Oiling your machine can keep it running smoothly and prevent jams from happening that could cause the thread to jumble. Regularly oiling your sewing machine prevents its parts from wearing on each other and make your machine run properly.If you do not oil your sewing machine regularly, you will have problems with machine timing. If your machine timing is off, your needle and bobbin will not work accurately. This situation leads to bunching and knotting of thread.Keeping your domestic sewing machine oiled regularly can avoid frequent visits to the repairman for timing issues and wear and tear.
Any of the issues mentioned above may cause your thread to knot while sewing. But these knotting and tangling issues are quite easy to solve. If none of these quick and easy solutions offered answers your thread-knotting issue, then maybe it is time you call for help and get your sewing machine serviced by an expert.