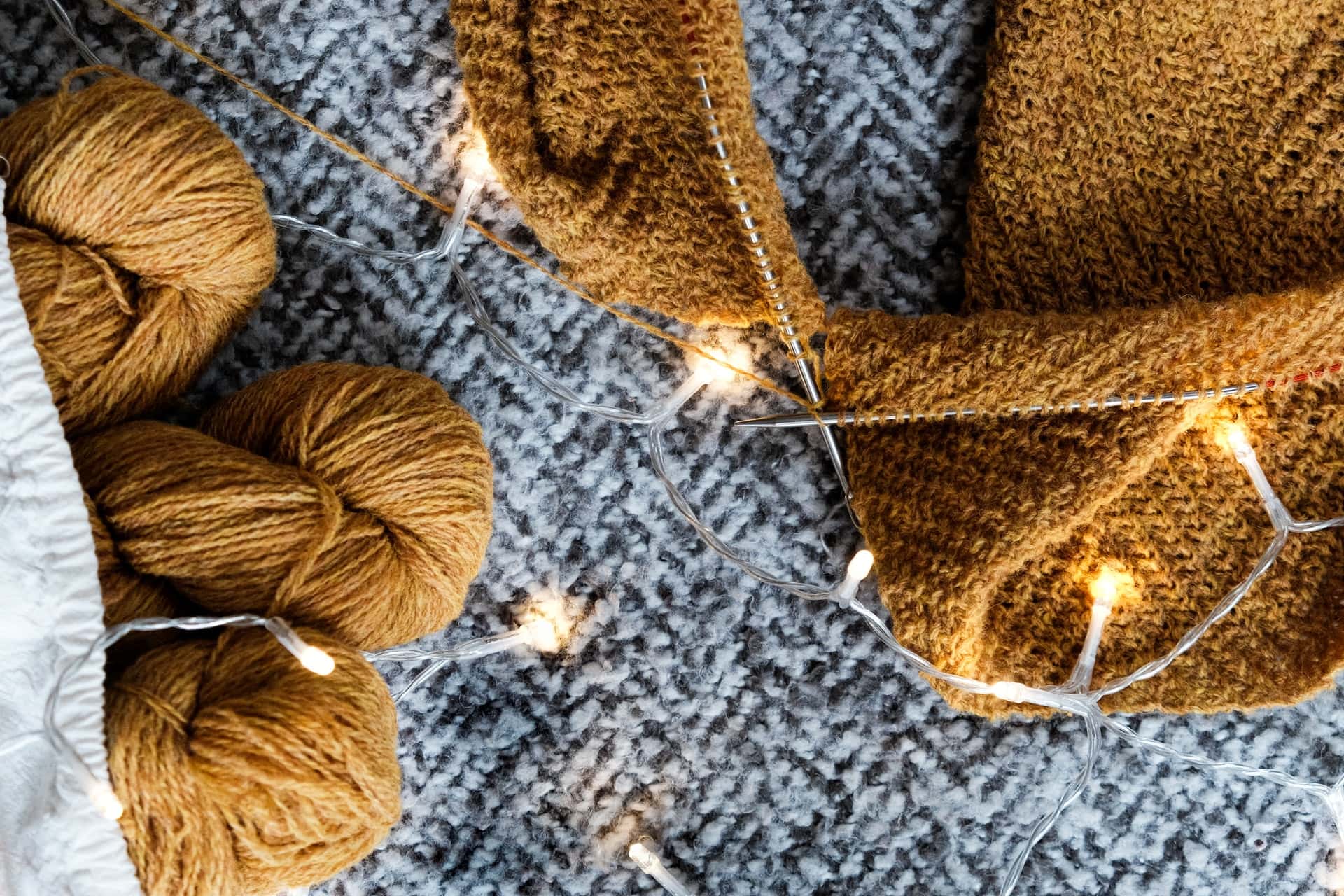 If you are new to knitting, a knitted project that looks bad or different from the pattern is sometimes inevitable. You must have encountered some mistakes that may not seem evident at first.
These errors include using the wrong technique, the wrong yarn size, the wrong needle size, and the improper tension applied. Not having a polished piece should not stop you from enjoying knitting. Every mistake has a solution to it.
It is natural to feel frustrated when you encounter some pitfalls. Follow this guide to know what these common knitting mistakes are, how to identify them early, and how to fix them.
1. You dropped your stitch in the middle of a row.
Do not panic because this situation happens all the time. Dropping a stitch is probably the most common mistake knitting beginners encounter. It usually happens when you put your knitting down for a while or when you are merely not paying enough attention to your work.
Your yarn can even work its way deep down into the fabric. You will feel frustrated when it happens, but remember that everything has a solution. The first thing you should learn is how to identify it early when it happens.
Always remember that you can spot mistakes early when you pay close attention to your work. Regularly look at your fabric to identify anything that seems unusual. You can also count your stitches to make sure your stitch count matches the exact number on the pattern you are using.
When you stop knitting in the middle of a row, you will most probably lose track of your direction unless you use stitch markers. Doing so is also a sure way to lose some stitches. If you want to take a break from knitting, you need to do so after finishing a row.
But fixing this mistake is easier than you might think. Looking at your work, you will see that the dropped stitch is hanging out at the bottom of what may seem like a series of ladder steps. These steps are your working yarn from each row that came out of that dropped stitch.
To fix it, you need to pull the lost stitch back up the step-like yarn. Follow these simple steps to recreate a stitch at each step-like thread, or each row:
Use your left needle to pick up the last stitch that you see. The right side of that stitch must be in front of your needle. The step-like working yarn must be hanging out above it.
Insert your left needle under the lowest step-like working yarn. Now you must have the old stitch and the working yarn from the row above your dropped stitch on your needle.
Insert your right needle into your dropped stitch and pull it over the first ladder step of yarn that is on your needle.
Finally, put your left needle under the next available step-like yarn and repeat steps 1 to 3 to recreate the stitch for that row.
Continue to pull the stitch up each row to reform it until you get to the top. These stitches may look a little loose, but this will improve as you continue working on it.
2. Your stitches are too tight.
This mistake is another mistake that is common to knitting beginners. There are three common reasons why your stitches are too tight.
Your stitches may get tight when you make the stitches on the tapered part of your needle. Basically, you are making new stitches smaller than the size of your needles. When you push them onto the rest or your needle, they get tight.
Your stitches may get tight when you tug your yarn after working each row.
The most common reason why your stitches tighten is when you hold your yarn tension too tight.
The most useful indicator for this mistake is when your stitches get super snug to your needle. You will also have a difficult time moving them back and forth.
To fix these mistakes, you need to remember first that errors are inevitable for beginners. Take deep breaths and keep calm, especially when you feel that you are having a headache while knitting. Follow these tips to fix and avoid it in your future knitting projects:
Always push your stitches back onto the widest part of your needle each time you make a new one.
Stop tugging on your working yarn. Instead of doing so, you need to hold it loosely. Each time you make a new stitch, you must gently lift your right needle to make it slightly bigger.
Practice using a comfortable tension that you can consistently work with while knitting.
Find the type of needle that is most comfortable for you. Bamboo or wood needles will hold your yarn a bit better than metal ones. But if you want your stitches to slide more easily, metal ones might be the right one for you.
3. Your stitches are too loose
You need to find a happy medium when it comes to knitting tension. Your stitches might fall off your needle if they are too loose. They could also create a loose fabric, which is not what you would want for your project.
Many knitting beginners usually pull their needles apart, which can cause the stitches to loosen. Instead of doing so, you need to hold your needles closer together to prevent making a wide gap in your knitting.
The way you hold your working yarn could also be one reason your stitches are loose. Try to control the loose thread by using your fingers. You can turn to blocking techniques if all the tightening methods that you know fail to tighten your stitches.
4. You have extra stitches.
There are several reasons why knitters commit this mistake. There might be an accidental increase at the beginning of a row. You have three options to fix this:
If the mistake is on an edge that you will sew into a seam, you can simply decrease it again. You need to place a waste yarn marker where you had the extra stitch. Take the extra stitch in the seam allowance when you are sewing up the garment.
You can drop the second stitch off your needle and unravel it to the point where you made the unintentional increase. Redistribute your extra yarn into the adjacent stitches.
You can unravel your work to where you made the increase and continue from there.
Other reasons why you have extra stitches may be accidental yarn overs or split stitches. If this is the case, you can unknit to the stitch and unwrap the yarn from the needle or knit it as one again.
5. Your knitting looks uneven.
Your knitting may look uneven or messy when your yarn tension is inconsistent. Some stitches are loose, and some are tight. The solution to this mistake may not be as direct as the others. You need to improve your yarn tension with practice. Washing or blocking could also help.
6. You find your yarn attached to the second stitch instead of the first.
This error may happen when your yarn somehow slips off while working the last stitch of your previous row. You may have missed pulling your thread through to make a new stitch, which is why your yarn attaches to the second stitch instead of the first.
What you can do to fix this error is turn your work around and slip the last stitch back onto your left needle. After doing so, you can work on the stitch again. You can now flip your work again and start the new row.
7. Some of your stitches cross over the other.
The first common reason why your stitches cross over each other is an incomplete stitch. It happens when you insert your needle into the stitch and wrap it around your needle. But somehow, you slipped the old stitch without pulling the new one through it.
You can fix it by slipping the intervening stitches back to your left needle. You can also unknit them and put them back on your left needle. After doing so, you need to knit it again to make sure you completed the new stitch.
It can also happen when you insert your needle into a stitch slightly lower than you should. To fix this mistake, you can knit across your needle t and slip the double stitch off. Unravel it after doing so. Pick up the dropped stitch and put it back on your needle.
Your stitches may also cross each other when you accidentally go too low as you pull your new stitch through the old one. You can fix it by doing the same solution for the incorrect insert.
8. Your knitting has holes.
Your knitting may have holes when you accidentally create yarn overs. It happens when you somehow make an extra yarn over on your needle by knit a stitch while the working yarn is in front.
To prevent this mistake from happening, you need to make sure that your yarn is in the back when you knit a stitch. To fix an accidental thread over, you need to unknit to the mistake and unwrap it. You can continue knitting after doing so.
You will also see holes if you knit into the front of the stitch when making an m1 increase. You can avoid this mistake by knitting into the back loop when making an m1 increase.
The third reason you might see holes in your knitting is when you start in the wrong direction after picking up your work in the middle of a row. Remember that you need to stop at the end of the row to avoid this mistake.
9. You have twisted stitches.
You will have twisted stitches when you pick up a stitch and put it on your needle the wrong way. It may also happen when you knit through the back of a stitch or you are knitting without looking. The most useful way to identify this early is to regularly look at your knitting and see how your stitches appear.
You can fix this by returning right above the twisted stitch. Pull out any stitch above it and the offending stitch. Now you can pick up your dropped stitch and correctly knit the rest of your work.
10. Your project is too big or too small.
One of the most common reasons why your knitting project turns out too big or too small is because you used the wrong gauge. Gauge is not vital for all pieces, but you need to pay close attention to it when your pattern requires it.
You can check your gauge by making a swatch and placing a ruler over the fabric. You need to count how many stitches there are in a few inches. Then, you divide them by the number of inches to get the average number of stitches you need to make per inch.
Make sure to make a swatch, block it, and carefully check your gauge before knitting. If your gauge is too small, you can use a needle that is one size bigger. But if your gauge is too big, you can use a needle that is one size smaller.
Also check: